dahi sandwich recipe | hung curd sandwich | cold sandwiches recipes with detailed photo and video recipe. a simple, healthy and easy kids tiffin box recipe which can be prepared within minutes yet delivers all the nutrition to your kids. while generally it is categorised as kids snack, but can be easily relished for breakfast and for evening snack by adults.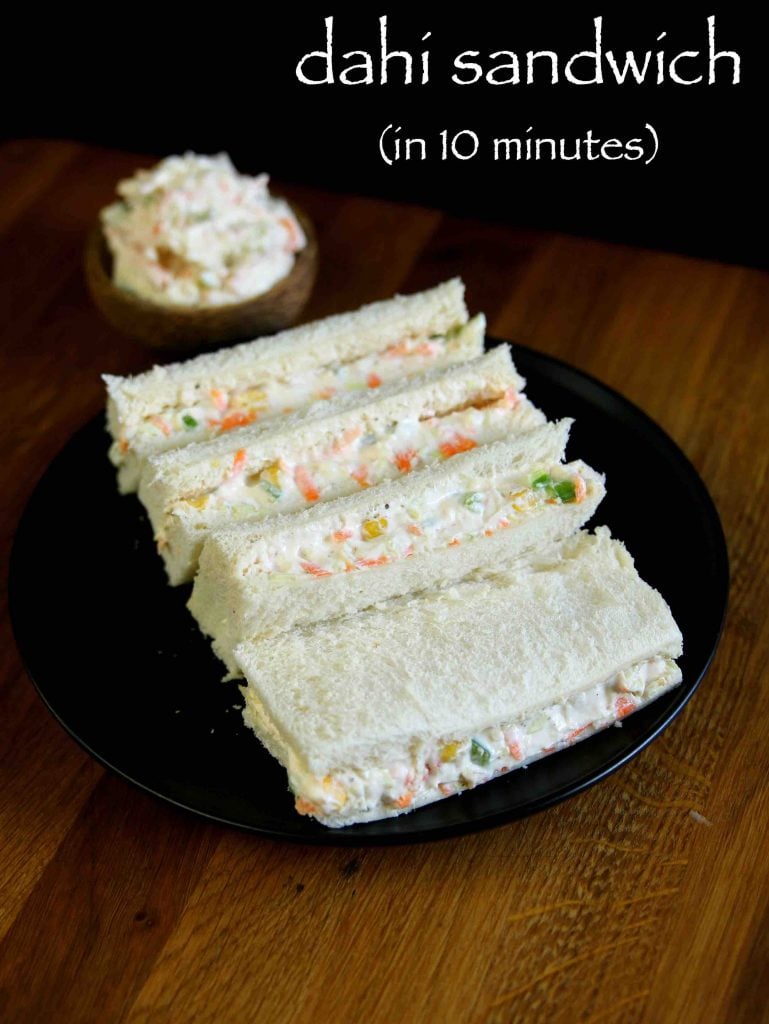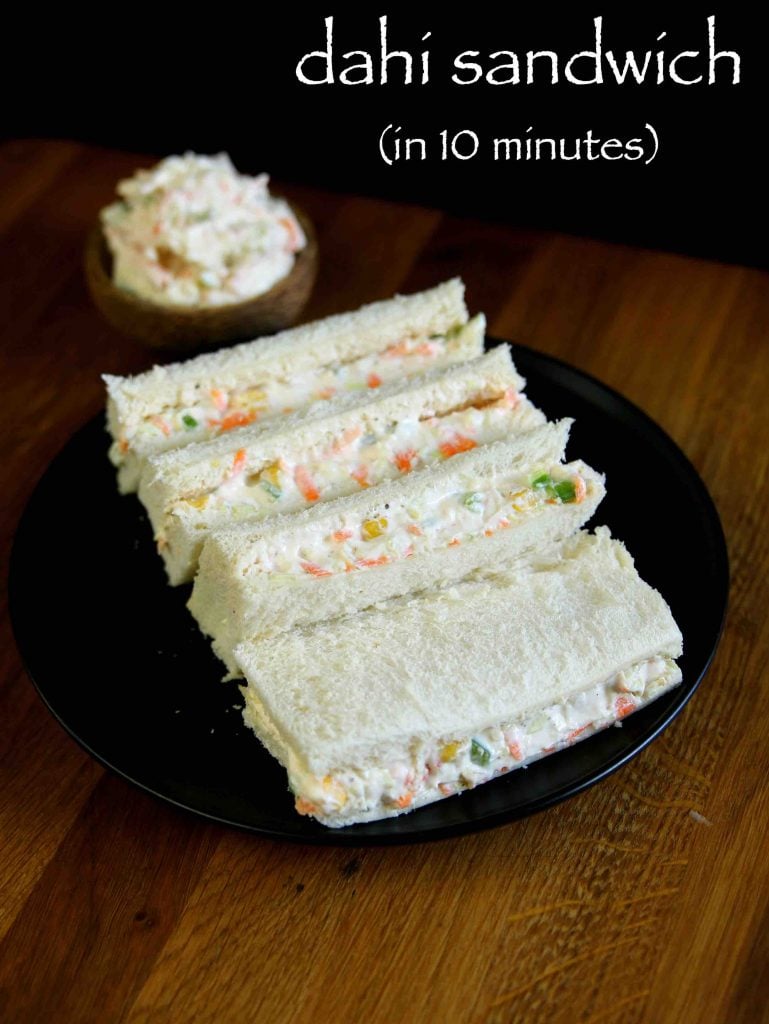 dahi sandwich recipe | hung curd sandwich | cold sandwiches recipes with step by step photo and video recipe. typically sandwich recipes are either pressed in a grill or a toast just before the serving. but this recipe is termed as cold sandwich because of no grill and toast and is filled with hung curd and finely chopped vegetables. the stuffing can be prepared well ahead in advance and can be used as in when required.
i have already shared another variety of the same dahi sandwich which i have toasted the sandwich in tawa before serving. you can search it in my blog as curd sandwich. however i wanted to share a cold sandwich recipe with hung curd which is easy and yet healthy too. also in this recipe i have prepared the hung curd by draining the water. but if it is too much for you, you can fall back for the store bought yoghurt. you should be good using the store bought greek yogurt which is thick with less moisture.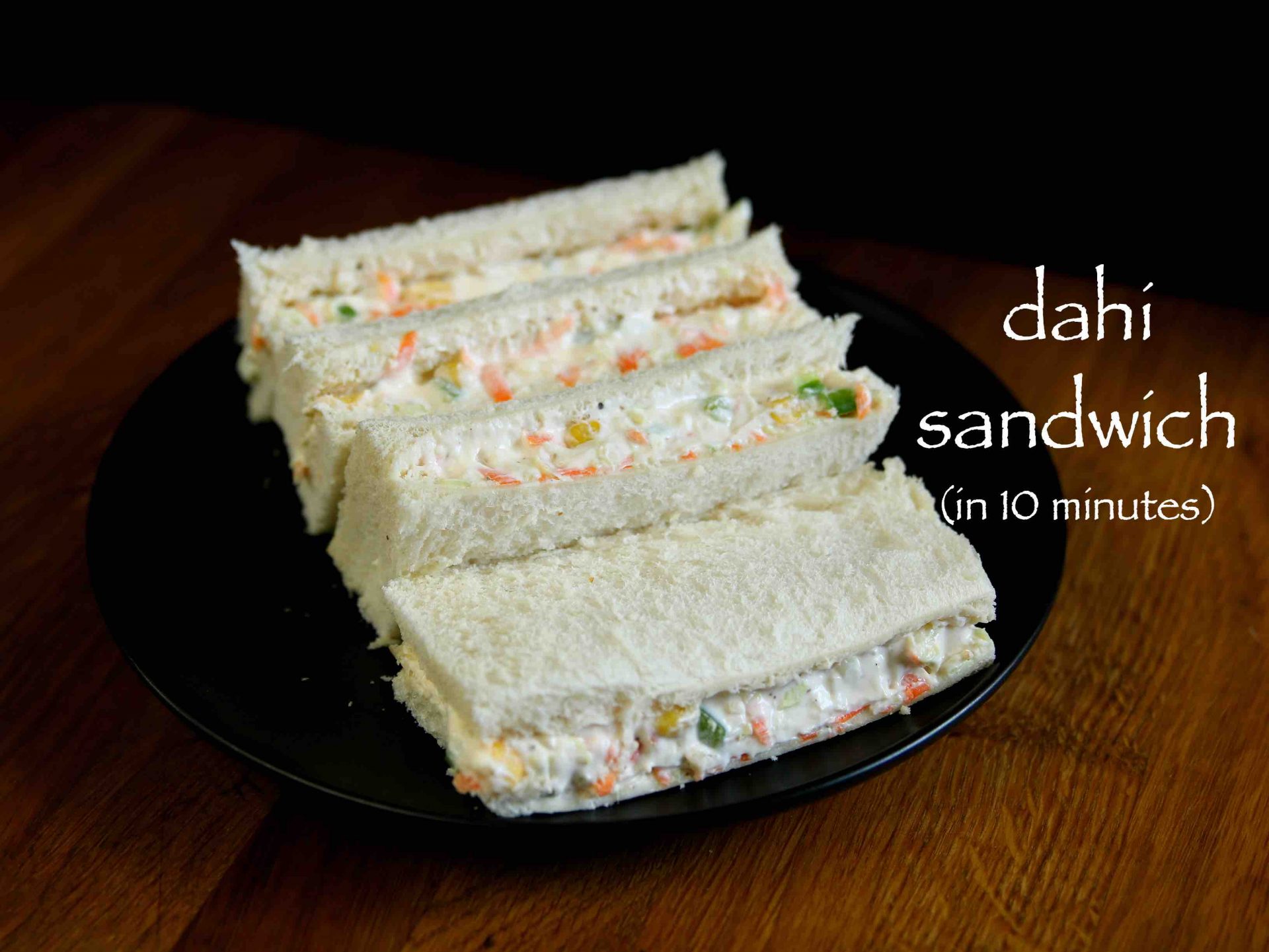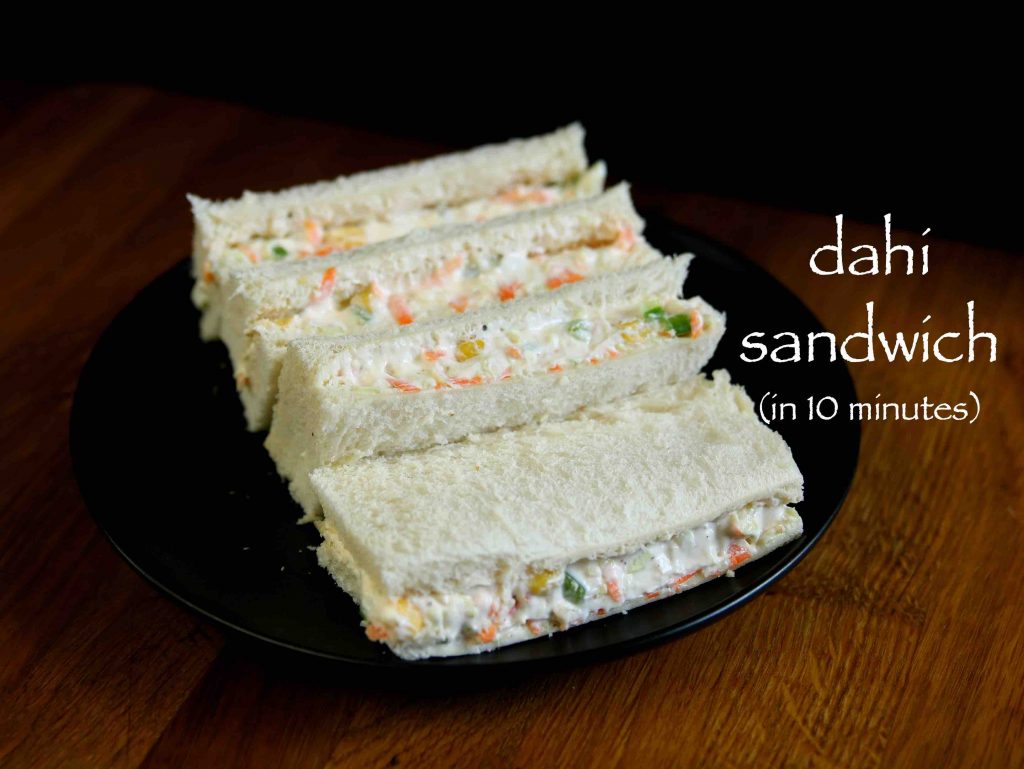 while it is the simplest sandwich recipe ever, yet some tips and recommendations for a perfect dahi sandwich recipe. firstly, i have used normal white sandwich bread slices to prepare cold sandwich. but you can extend this recipe with brown breads or even multigrain bread too. secondly, if you find your hung curd sour you can add 1-2 tsp of powdered sugar to neutralise it. lastly, if you are serving this to adults, then you can add 1 tsp of chilli sauce with pepper to make it spicier.
finally i would like to highlight my other sandwich recipes collection with dahi sandwich recipe post. it includes, masala toast, chilli cheese sandwich, tomato cheese sandwich, rava toast, chilli cheese toast, tri colour sandwich, aloo masala grilled sandwich and cream cheese sandwich recipe. in addition, do visit my other recipes collection like,
dahi sandwich or hung curd sandwich video recipe:
recipe card for dahi sandwich or cold sandwiches recipe:
how to make cold sandwich with step by step photo:
firstly, prepare the hung curd by placing a sieve in a large bowl layered with a cloth.

pour 2 cups of thick curd and tie tight. alternatively use greek yogurt to skip this step.

refrigerate it for 2 hours or till the curd drops off all water and turns thick.

after 2 hours, the curd turns thick and creamy.


add in ¼ cup eggless mayonnaise and mix well.

further add 2 tbsp carrot, 2 tbsp cabbage, 2 tbsp capsicum, 2 tbsp corn, ½ tsp pepper and ¼ tsp salt.

combine well and keep aside.


now cut the sides of 2 bread slices. this is optional, however sandwich taste great.

spread 2 tbsp of prepared curd sandwich stuffing.

cover with another slice of bread and press gently.

finally, cut half and serve dahi sandwich or pack to kids lunch box.

notes:
firstly, use fresh and thick curd for more creamy and tasty dahi sandwich.
also add green chilli or chilli sauce if looking for more spicy flavour.
additionally, add vegetables of your choice to make sandwich nutritious.
lastly, dahi sandwich recipe taste great when prepared with thick and cream curd.