fruit cocktail recipe | fresh fruit cocktails for summer | fruit salad with detailed photo and video recipe. an interesting healthy fruit salad recipe made with a choice of fruits and creamy yogurt. it is a unique alternative to the same monotonous wheat bix or perhaps for corn flakes with fruit and milk. it is a healthy and filling recipe which provides all the health benefits and nutrients and thus making a complete meal.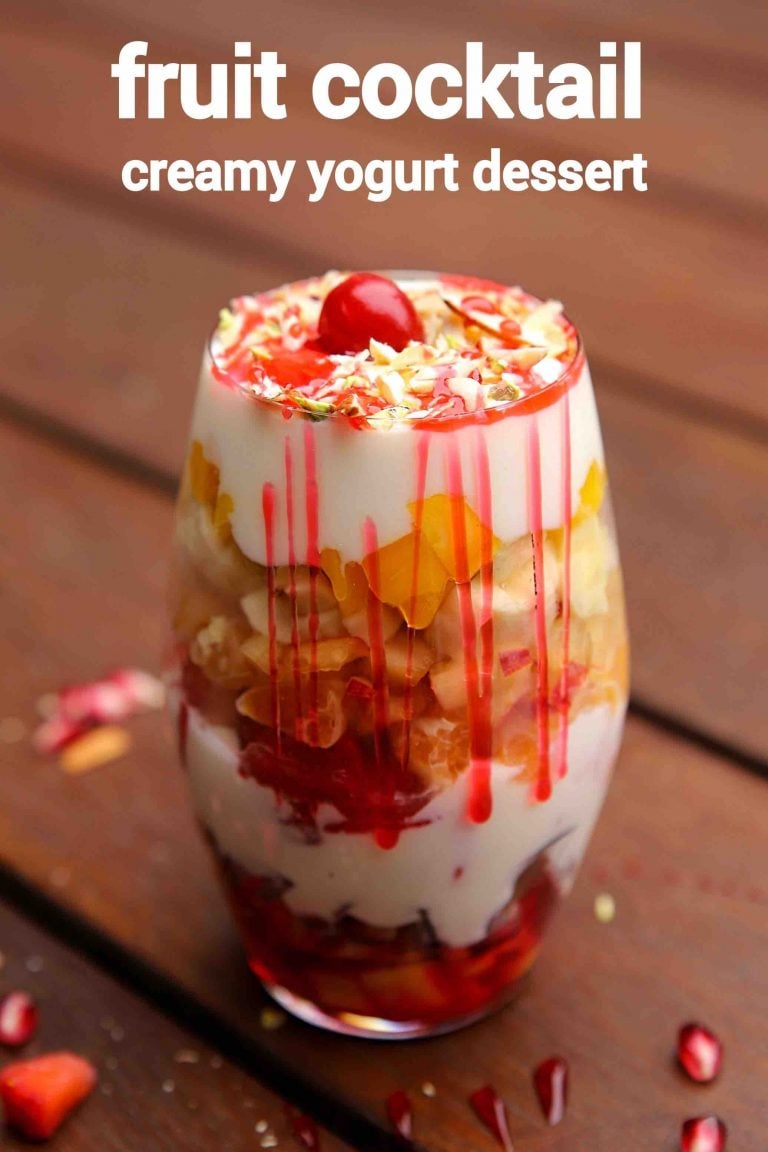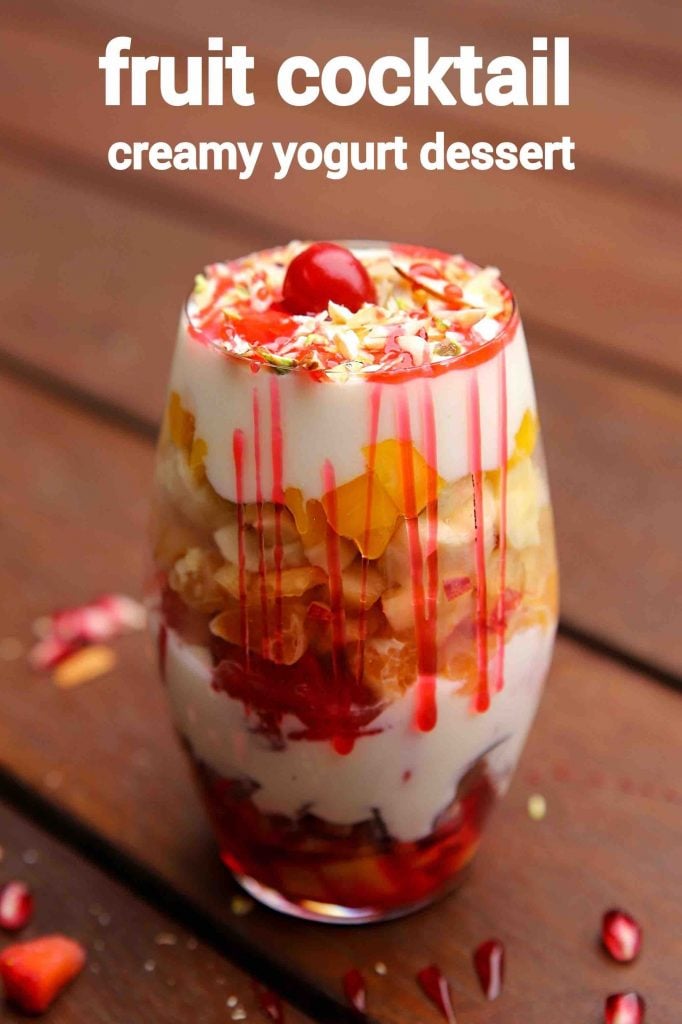 fruit cocktail recipe | fresh fruit cocktails for summer | fruit salad with step by step photo and video recipe. cocktail recipes are generally made with a mix of beverages including alcohol. but it can be made with different ingredients like fruits, drinks, beverages and also with ice creams. one such variation recipe is fruit cocktail which is basically made with a combination of various tropical fruits and creamy yoghurt.
i have shared quite a few salads or raita recipes till now in my blog, but this recipe is very unique. basically, i have used the yoghurt and cream combine to make a liquid cocktail. and this mixture is used to layer and separate the different types of fruit. perhaps the first assumption, when you hear about the cocktail or salad, is that every ingredient is mixed thoroughly. but in this recipe i have layered it separately and is mixed only when it is consumed. in addition, the best part of this recipe is the audience. it is appreciated by a wide audience including the kids. hence it is an ideal recipe who hates having direct fruits and this can be a very good alternative.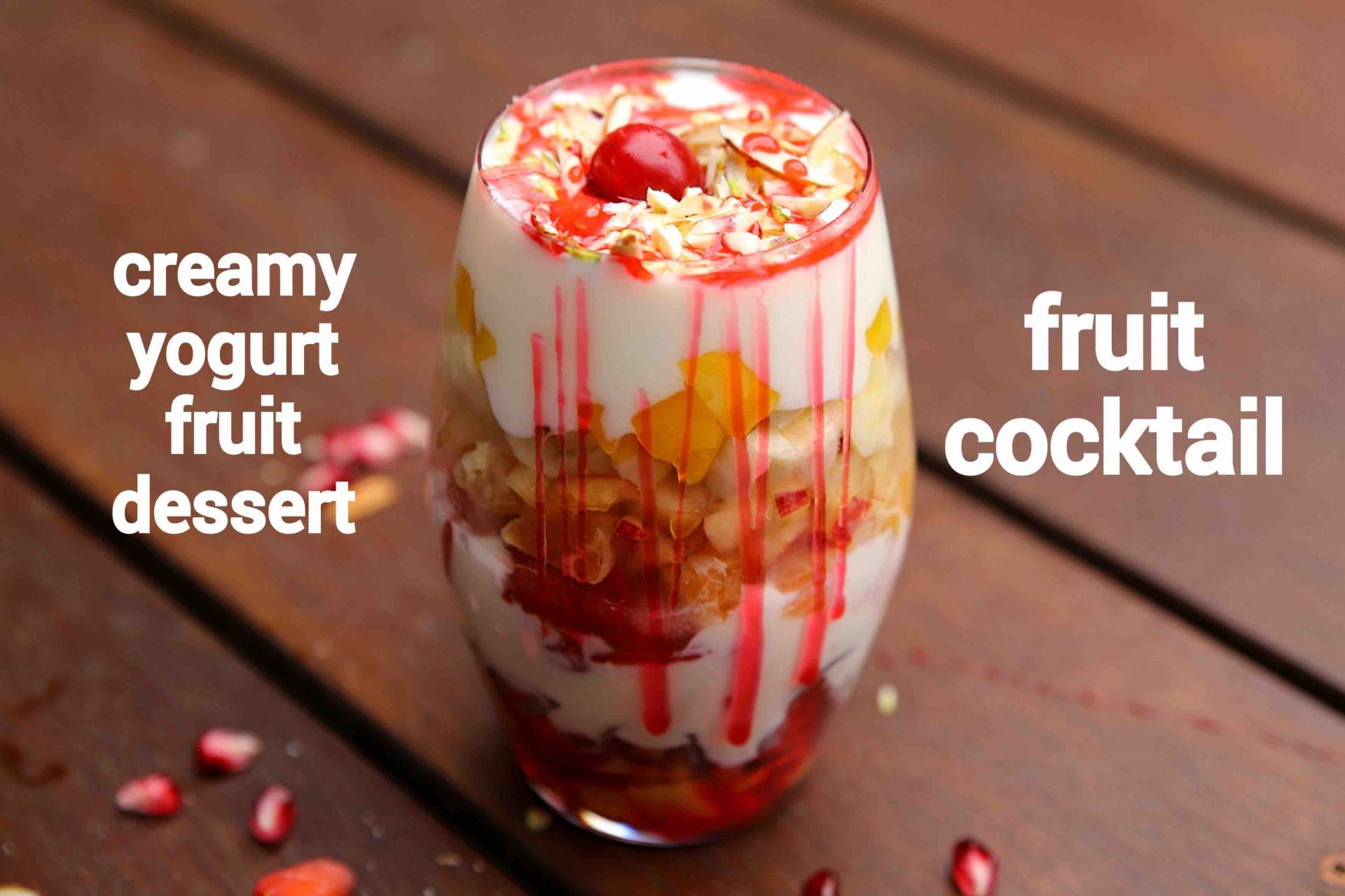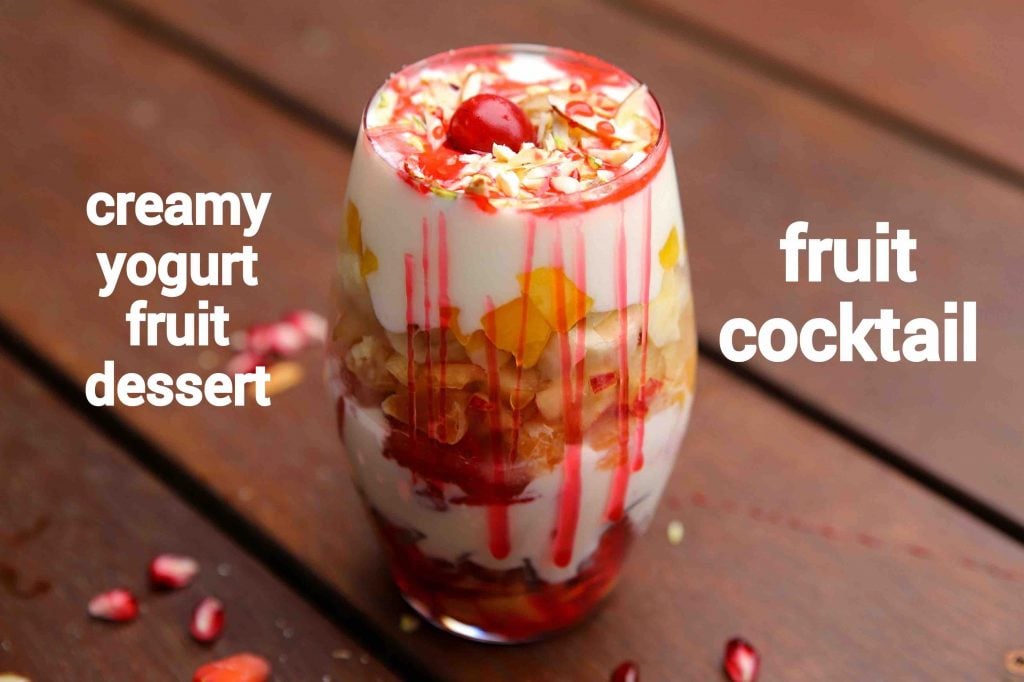 anyway, some other variations, tips, suggestions for this creamy and flavoured fruit cocktail recipe. firstly, the choice of fruits is completely open-ended and you can choose as per your preference. having said that try to group it in such a way that it ends up in bright coloured dessert. ideally, any bright and attractive coloured dish should attract any kids. secondly, assemble the fruit layering when it is about to be served. it may turn soggy and may lose its shape when it is mixed with yoghurt cream. lastly, try to use thick and whisked curd for this recipe. particularly fresh curd as the stale may end up having a sour taste.
finally, i would like to highlight my other salad recipes collection with this recipe of fruit cocktail recipe. it mainly includes recipes like moong dal salad, fruit chaat, peanut salad, boondi raita, pasta salad, fruit salad with ice cream, chana chaat, kachumber and corn salad recipe. in addition, do visit my other related recipes collection like,
fruit cocktail video recipe:
recipe card for fruit cocktail recipe:
how to make fruit salad with step by step photo:
firstly, in a bowl take ½ cup cream. use heavy cream or whipping cream.

beat for 2 minutes or until the soft peaks appear.

also add 1 cup hung curd and 1 tsp vanilla extract. you can alternatively use greek yogurt.

continue to beat until the mixture turns creamy.


creamy yogurt mixture is ready. refrigerate to keep it chilled.

to serve, in a tall glass add 2 tbsp rooh afza. you can alternatively use jelly or sabja seeds.

now layer with 2 tbsp mango, 2 tbsp pomegranate and 2 tbsp grapes.


add in 3 tbsp of prepared creamy yogurt mixture.

also, add 1 tbsp honey for sweetness.

further layer with 2 tbsp strawberry, 2 tbsp orange, 2 tbsp apple, 2 tbsp banana and 1 tbsp mango.

again add 3 tbsp of prepared creamy yogurt mixture.

top with 2 tbsp dry fruits. garnish with rooh afza and cherry.

finally, creamy fruit cocktail is ready to be served chilled.

notes:
firstly, add fruits of your choice to make it nutritious.
also, if you are looking for more sweetness then increase honey or add sugar.
additionally, make sure to use thick curd to make dessert creamy and rich.
finally, fruit cocktail recipe tastes good for 3 days when refrigerated.