pasta salad recipe | macaroni salad | how to make pasta salad with detailed photo and video recipe. a healthy and tasty salad dish made with elbow macaroni, sliced vegetables and eggless mayonnaise. it is one of the popular appetiser or side dish which can also be served as the main dish for diet or weight conscious people. it is easy and quick to prepare and can be easily refrigerated to serve later.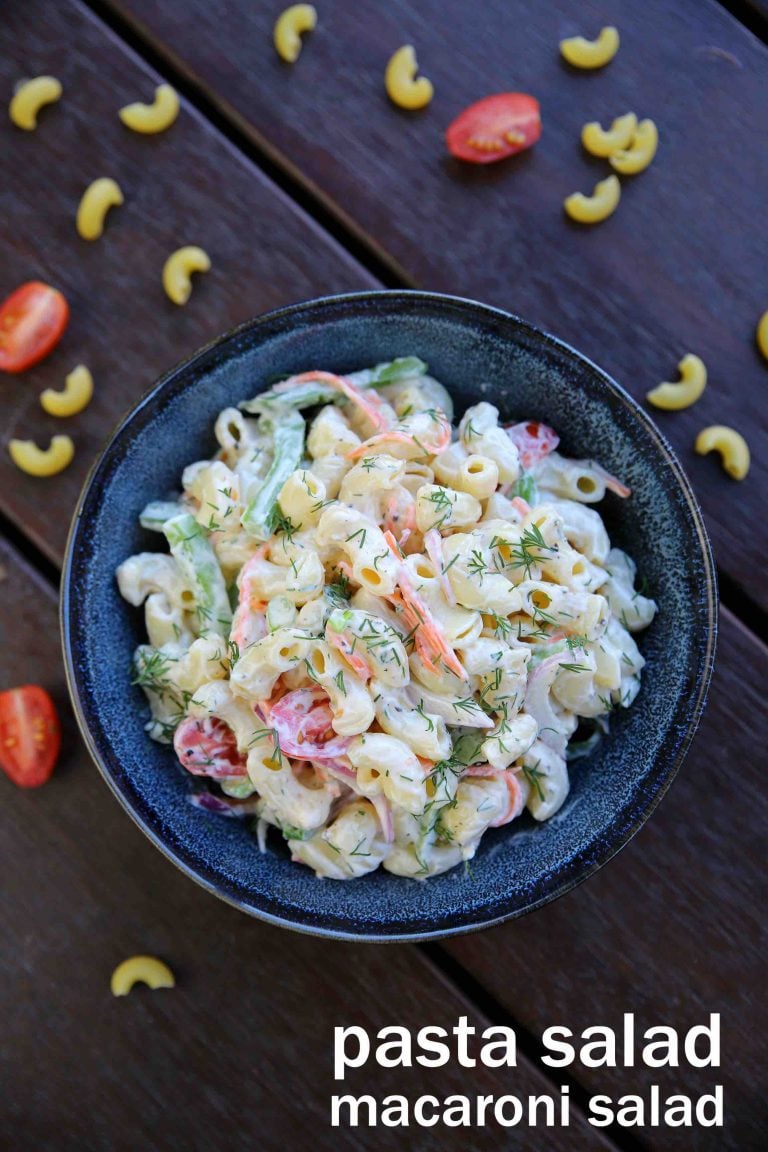 pasta salad recipe | macaroni salad | how to make pasta salad with step by step photo and video recipe. salad recipes are typically light, healthy and tasty recipes which are consumed for its health benefits. typically it is either a combination of sliced raw vegetables and cereals with salad dressing. but this recipe dedicates to italian pasta salad made with elbow macaroni and salad dressing.
in this recipe or italian pasta salad i have used veeba eggless mayonnaise which makes it ideal for this recipe. having said that, i have also posted a simple eggless mayonnaise recipe which can also be used for this. also in this recipe i have used elbow pasta which makes it ideal for macaroni salad. but you can use any types of pasta including the penne, spiral, cylindrical or even ribbon pasta. moreover with respect to vegetables, i have tried to keep it minimal. basically i have added veggies like onion, capsicum, carrots and cheery tomatoes. this can be something easily extend to veggies like broccoli, corns, and leafy vegetables like, spinach and choy sum as per your taste and preference.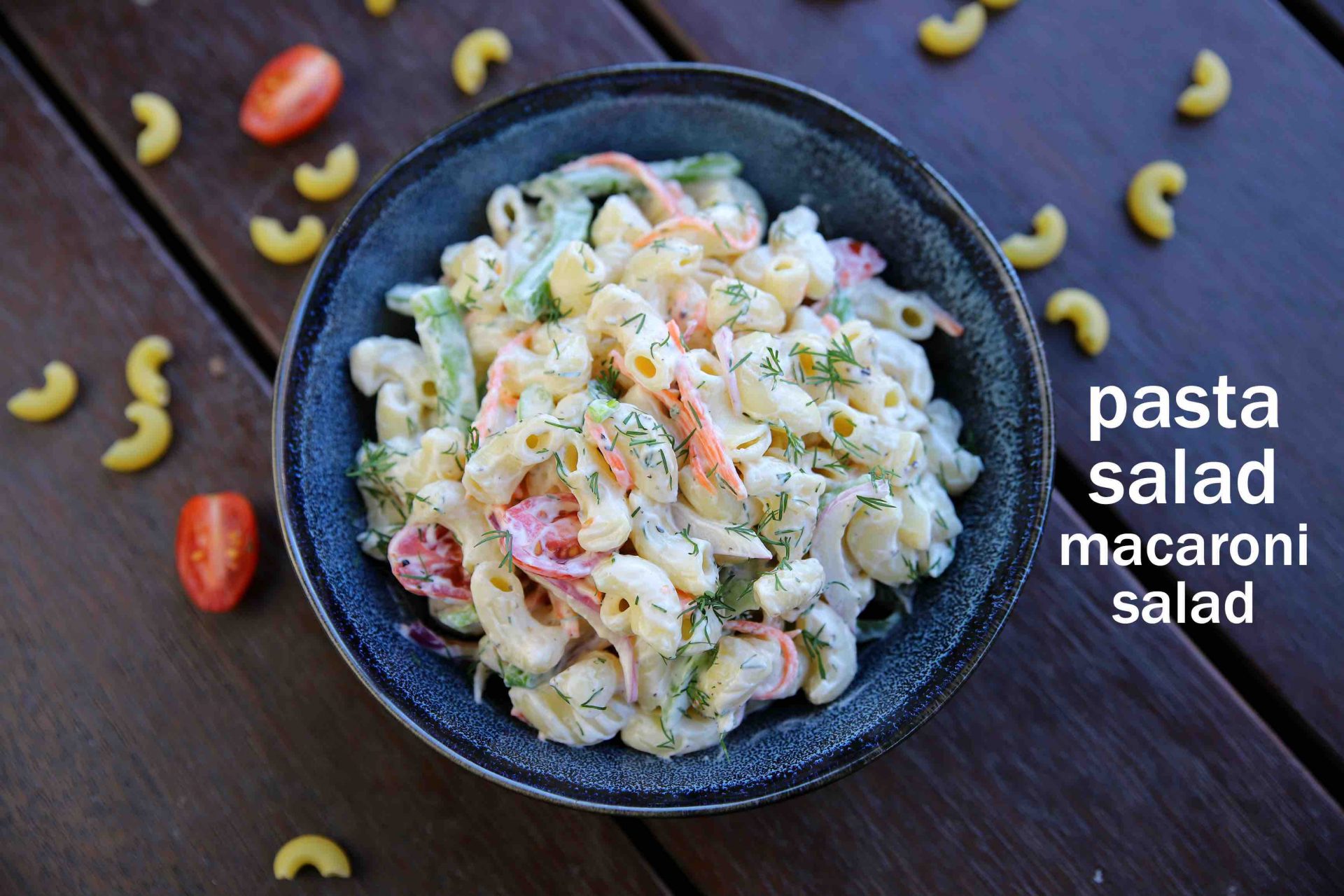 furthermore, some easy tips, suggestions and recommendations for pasta salad recipe. firstly, while cooking pasta make sure to add 1 tsp of oil, this helps to get non-sticky pasta. also, add sugar to the dressing if you are serving for kids, as it enhances the flavour. additionally, to prepare traditional pasta salad, add ¼ tsp of mustard powder to the dressing. finally, the salad can be refrigerated overnight and enjoy the next day for a richer, creamy pasta salad.
finally i request you to check my other salad recipes collection with this post of pasta salad recipe. it includes recipes like, kachumber, moong dal salad, fruit salad, chana chaat, corn salad, crispy noodles salad, raw banana pachadi, cabbage pachadi, carrot pachadi and tomato pachadi recipe. further i would like to include my other related recipes collection like,
pasta salad video recipe:
recipe card for pasta salad recipe:
how to make macaroni salad with step by step photo:
firstly, in a large saucepan boil 4 cup water along with 1 tsp oil and ¾ tsp salt.

once the water comes to a boil, add 1 cup elbow macaroni or pasta shape of your choice.

boil for 8 minutes or refer package instruction to know the cooking time.

boil the pasta till it turns al dente (cooked so as to be still firm when bitten).


drain off the pasta and pour a cup of cold water to stop the cooking process. keep aside.

now in a large bowl take 4 tsp eggless mayonnaise. (i have used veeba eggless mayonnaise, however, you can also use fresh homemade eggless mayonnaise as well)

also add ½ tsp pepper, 1 tsp lemon juice and ¼ tsp salt.


mix well and salad dressing is ready.

now add ¼ onion, ½ carrot, ¼ capsicum, 5 cherry tomato and 2 tbsp spring onion.
also, add cooked and cooked macaroni.

mix gently, making sure the dressing is coated well.

cover and rest in the refrigerator for an hour to absorb all the flavours.

finally, serve pasta salad/macaroni salad garnished with chopped dill leaves.

notes:
firstly, take any shape of pasta of your choice. however, pasta salad tastes great when prepared with elbow macaroni.
also, add vegetables of your choice like lettuce, blanched broccoli, olives and cucumber.
additionally, for a healthy alternative of mayonnaise use hung curd. i prefer using eggless mayonnaise as they are more creamy and tasty.
finally, pasta salad/macaroni salad recipes taste great when served chilled.