peanut chaat recipe | boiled peanut chaat salad | groundnut chat with detailed photo and video recipe. simple and easy chaat recipe made with boiled peanuts, spices and finely chopped veggies. it is an ideal and healthy snack to be served any time for almost everyone including kids and adults. there are myriad ways to make this peanut chaat, but this recipe post is made with boiled peanuts and thus making oil-free chaat.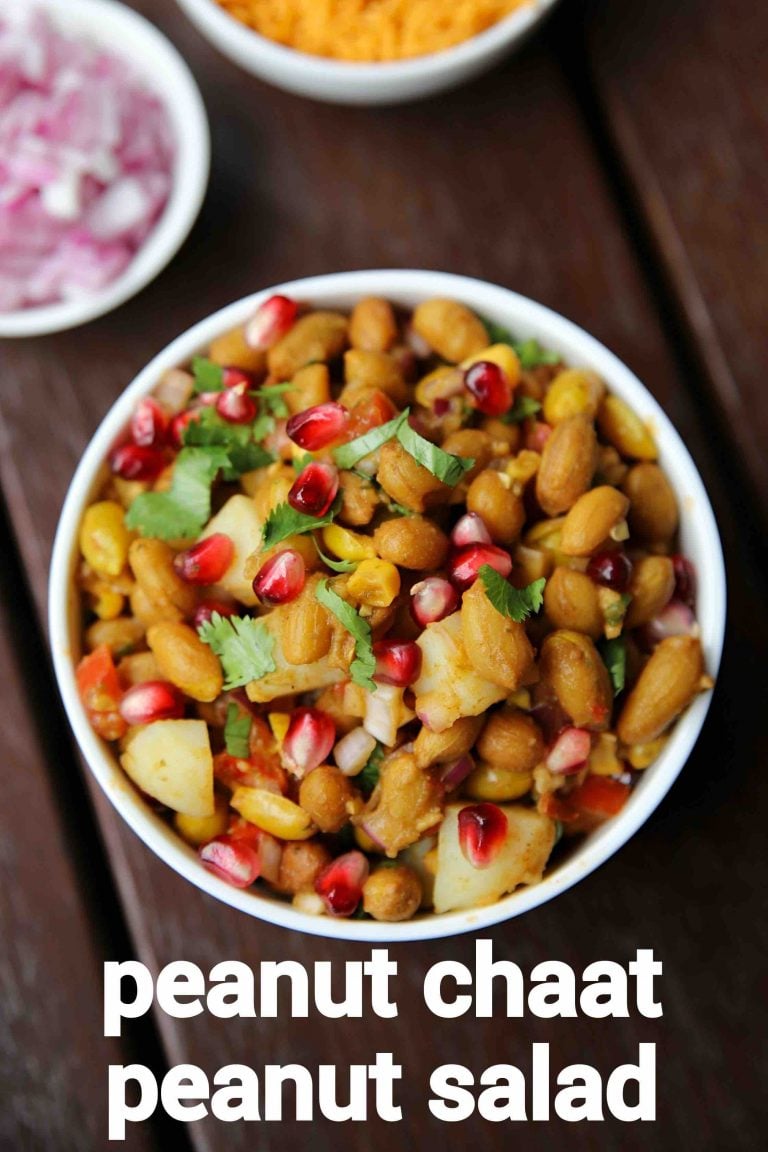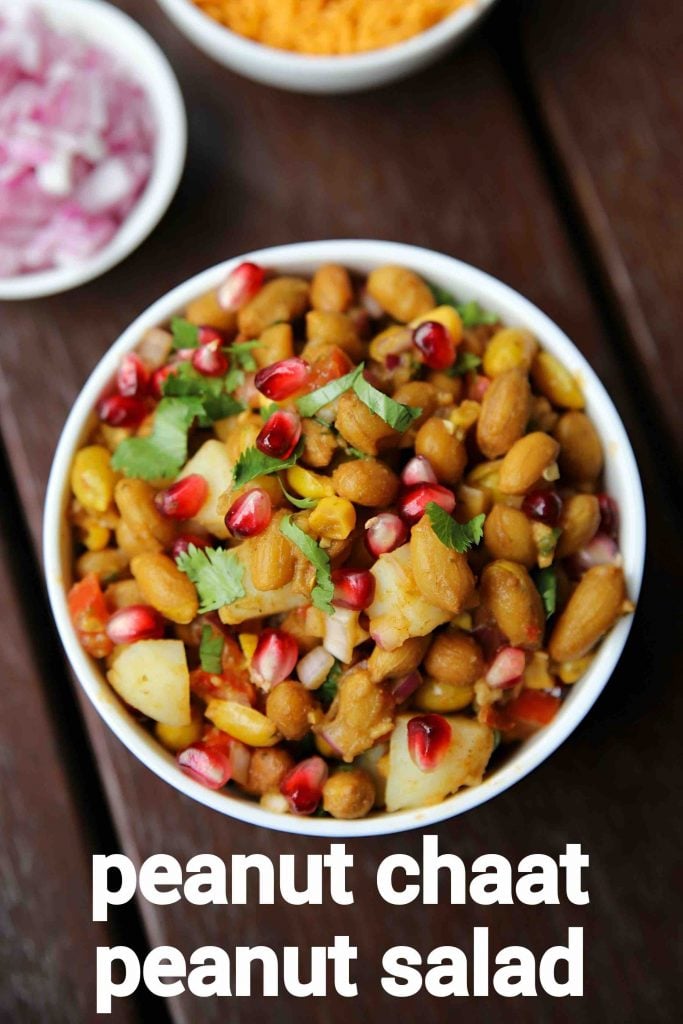 peanut chaat recipe | boiled peanut chaat salad | groundnut chat with step by step photo and video recipe. chaat or salad recipe is a common snack across india and is served for a different purpose. it is generally made with deep-fried snacks and spicy sauce exploding with flavours. but then there are few healthy chaat recipes and boiled peanut chaat salad is one such recipe which can be served as both snack and salad.
as i mentioned there are many ways to make a peanut chaat salad. as a matter of fact, i have already posted another variation of peanut chaat recipe which is made with deep fried peanuts. it is also known as raja masala or congress kadele kayi chaat. but in this recipe, i have boiled the peanuts before using it in the salad. and thus making it a healthy and appetising snack. in addition, the spices added to this snack are mild to medium as compared to any other chaat recipe. hence this chaat or also known as a salad can be served to almost all age groups and will be liked by everyone.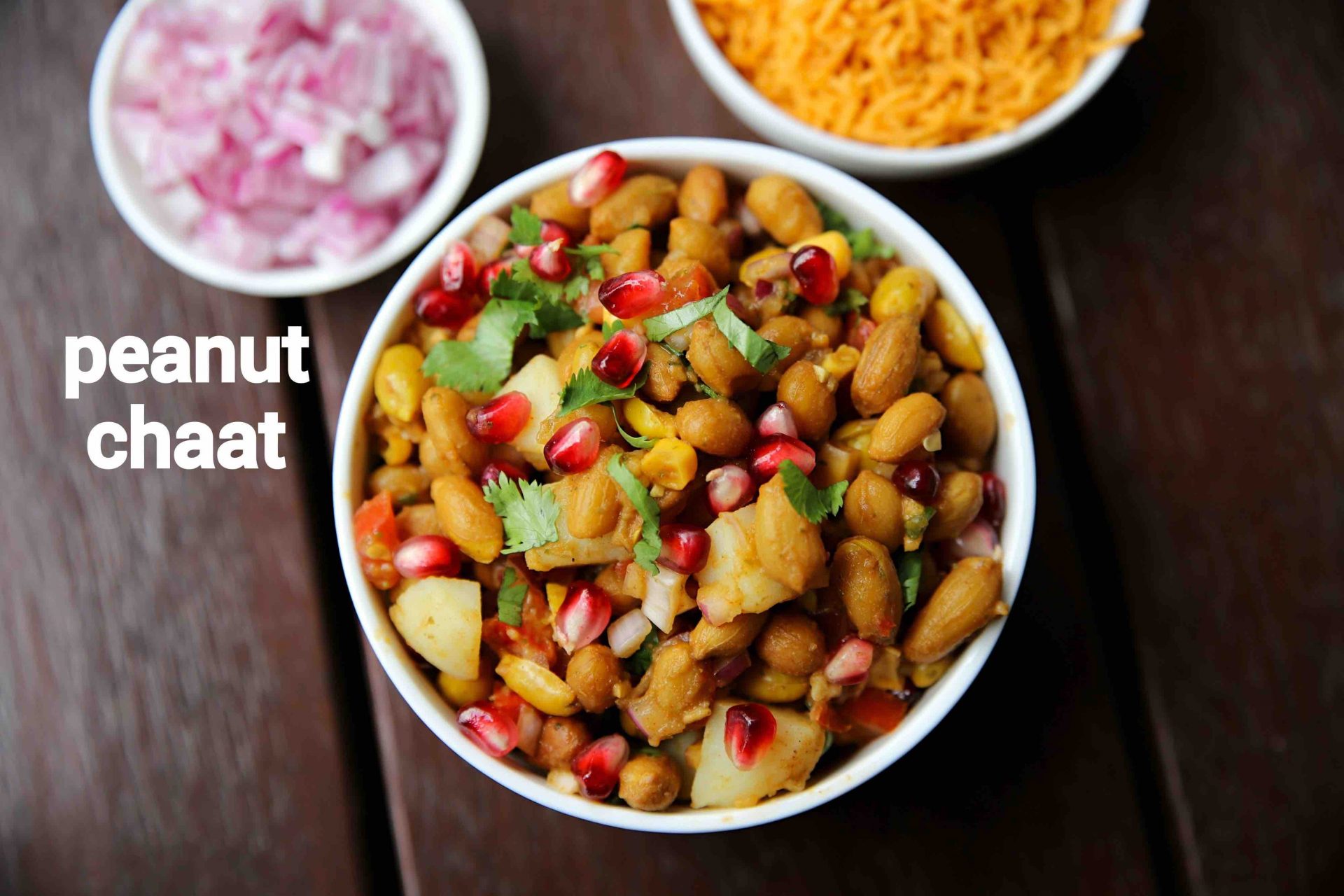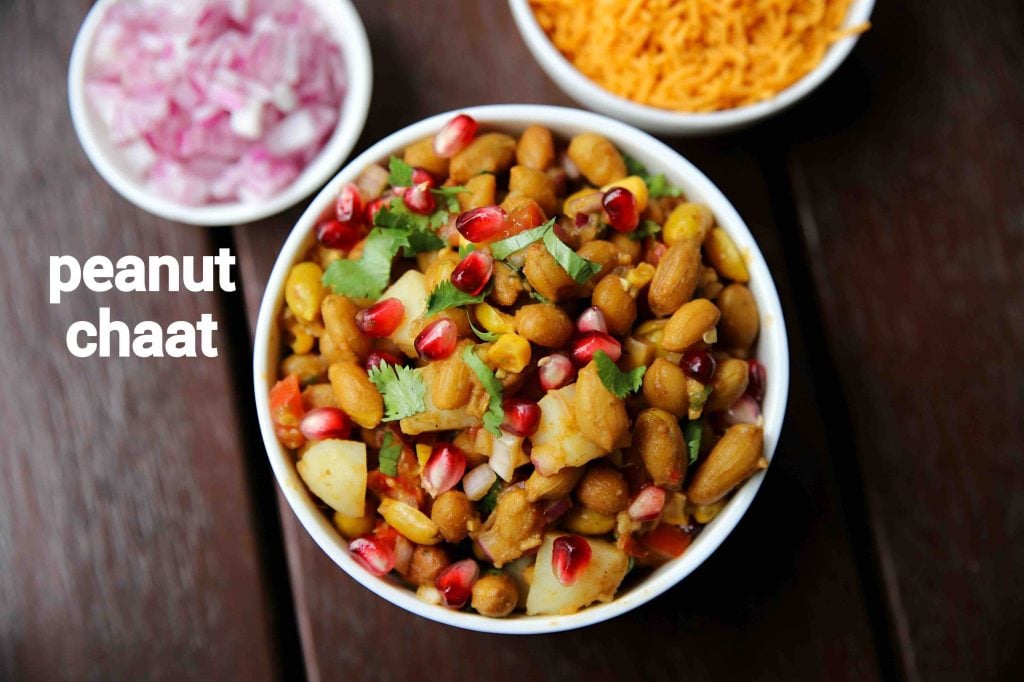 furthermore, i would like to highlight some tips, variations and suggestions to make it a perfect peanut chaat recipe. firstly, you can pre-cook or boil these peanuts and start mixing it whenever required. this would not only ensure the freshness but also saves time. secondly, the addition of finely chopped veggies is purely open-ended and can vary as per individual preference. you may add grated carrots, capsicum, spring onion and other veggies. lastly, you can follow the same procedure of chaat recipe with other nuts like cashew, almonds, walnuts and even chickpeas.
finally, do visit my other detailed indian chaat recipes collection with this post of peanut chaat recipe. it mainly includes recipes like basket chaat, katori chaat, masala puri chaat, sev puri, aloo chaat, dahi puri, pani puri, bhel puri and chana chaat recipe. in addition, do visit my other related recipes collection like,
peanut chaat salad video recipe:
recipe card for peanut chaat salad:
how to make groundnut chat with step by step photo:
firstly, in a pressure cook take 1 cup peanut, ½ tsp turmeric and 1 tsp salt.

add 2 cup water and pressure cook for 3 whistles.

drain off the water once the pressure is released.

take the boiled peanuts into large bowl.


add ¼ tsp chilli powder, ½ tsp chaat masala and 1 tsp green chutney.

mix well making sure the spices are well combined.

further add ½ onion, 2 tbsp tomato, 2 tbsp sweet corn, 1 tsp raw mango, 2 tbsp pomegranate, ½ potato.


also add 2 tbsp coriander, 1 tsp lemon juice and ¼ tsp salt.

mix well making sure everything is well combined.

finally, enjoy peanut chaat as a evening snack.

notes:
firstly, you can use fresh peanuts or raw peanuts in this recipe.
also, add enough salt while cooking peanuts, else they taste bland.
additionally, add vegetables of your choice to make salad nutritious.
finally, peanut chaat recipe or peanut salad recipe stays good for 2 days when refrigerated.