tomato chitranna recipe | tomato rice recipe | tomoto chitranna with detailed photo video recipe. an easy and simple flavoured rice recipe made with leftover rice and tomatoes. it is an extension to the popular lemon-based chitranna recipe where the rice is made more tangy and spicy with tomato and spices. it is an ideal morning breakfast recipe or perhaps a lunch box recipe which tastes good when served with coconut chutney.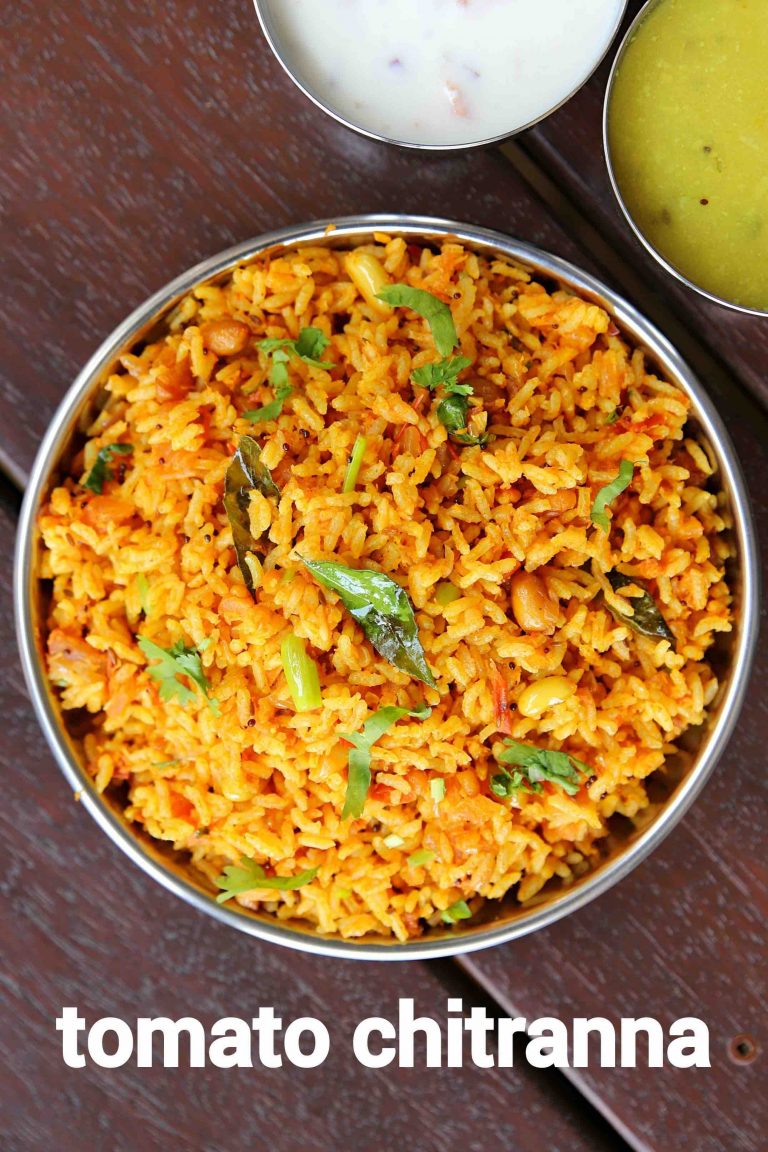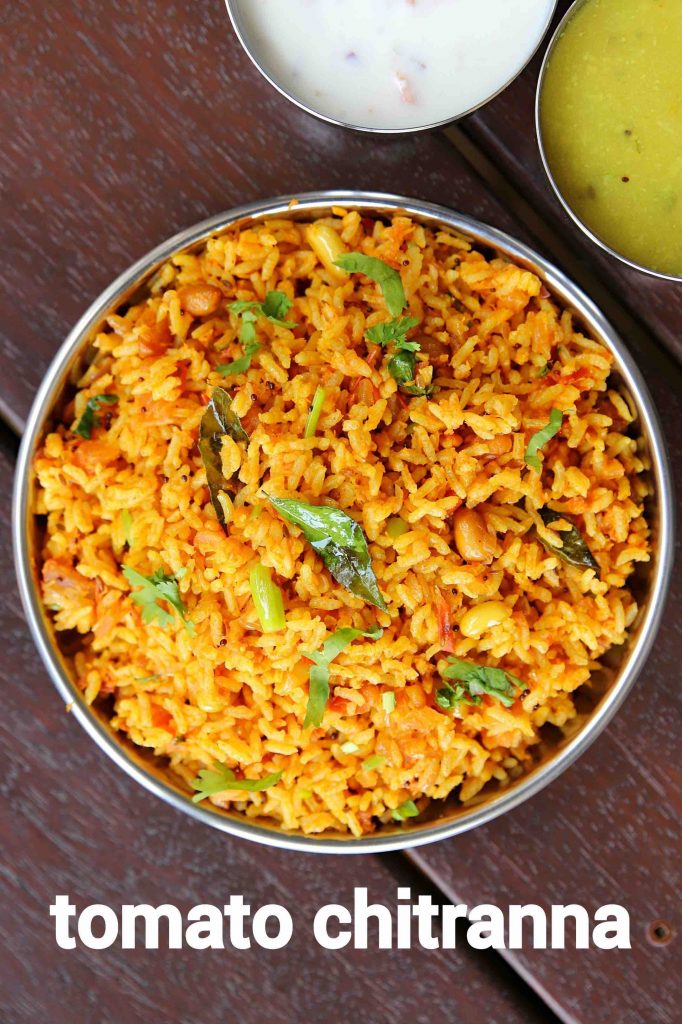 tomato chitranna recipe | tomato rice recipe | tomoto chitranna with step by step photo and video recipe. morning breakfast recipes can be very challenging especially for working couples. moreover it can also be more challenging when you have a task to utilize leftover rice and also to come up with something tasty and filling. one such simple and easy rice based recipe with leftover rice is the tomato chitranna recipe.
i have posted several types of chitranna, including, the lemon based, mango based, udupi style and also plain tomato rice. but the recipe of tomato chitranna recipe is a unique combination of lemon, tomatoes and udupi style chitranna based spices. as matter of fact i was recently introduced to this recipe during my recent visit to my hometown. i had visited my aunt's house for lunch and she had prepared as en-tree. i was pleasantly surprised with the combination of tangy and spice taste in each bite. without much due, i asked for the recipe and informed about posting it as video post in my blog. she was more than happy to be part of it and shared a detailed recipe with all the ingredients.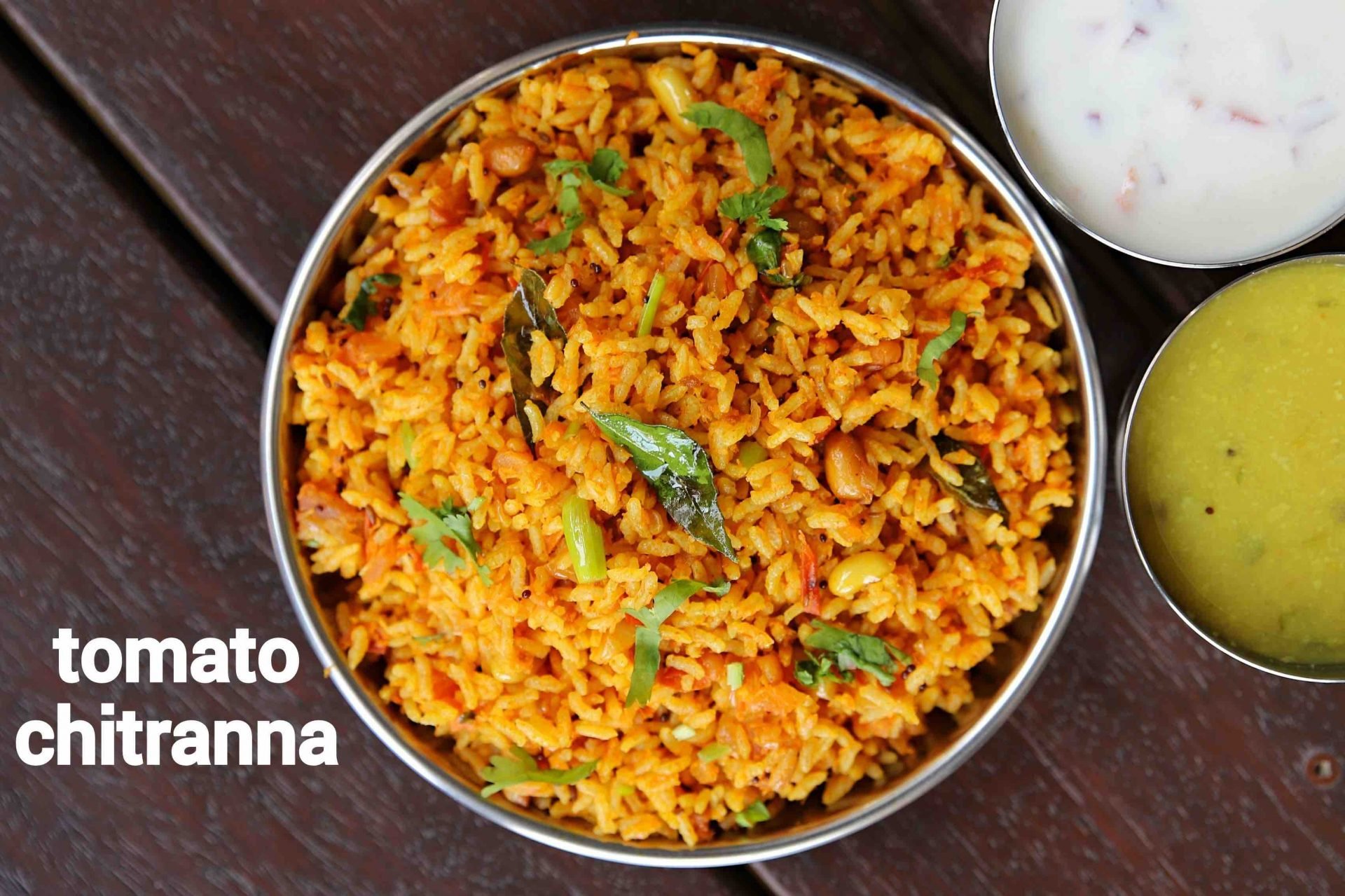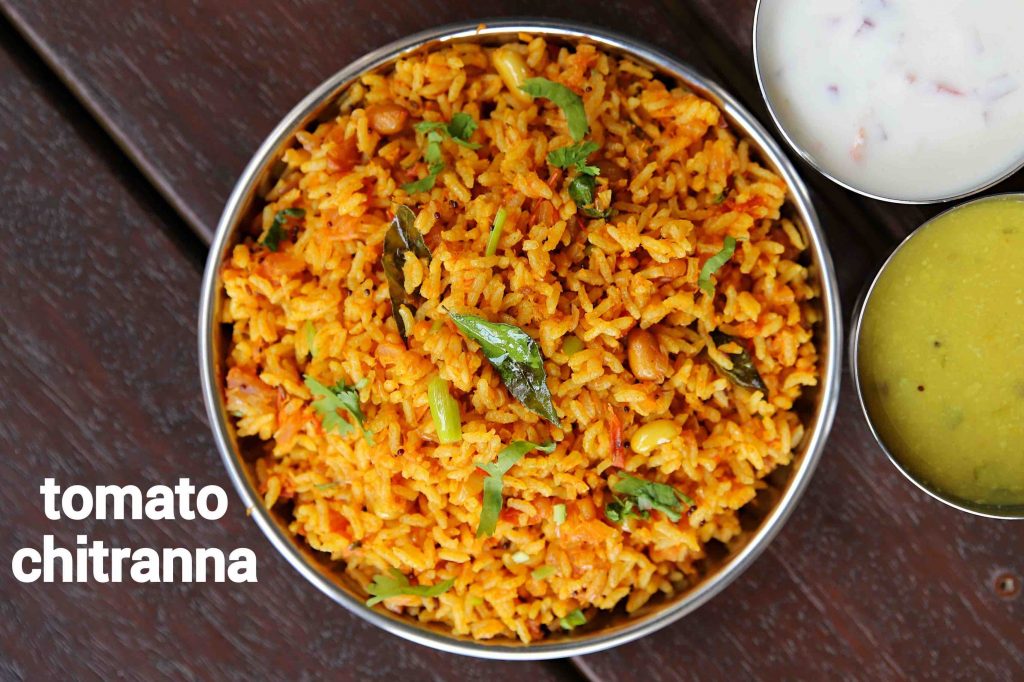 anyway, i would like to conclude with few tips, suggestions and variations for a flavoured tomato chitranna recipe. firstly, i would heavily recommend using dry (moisture-free) or especially leftover rice for this recipe. if you wish to make it with freshly cooked rice ensure to spread it in a plate to dry all the moisture. secondly, it is highly recommended to use ripe and juicy tomatoes so that it releases the required flavours. particularly you might be good to use roma tomatoes for this recipe. lastly, the recipe do not require any sides as such. but tastes good when served with coconut chutney, spicy condiments or any lentil based dal or sambar recipes.
finally, i request you to check my other detailed rice recipes collection with this post of tomato chitranna recipe. it mainly includes recipes like tomato rice, tomato pulao, tomato biryani, mango rice, curry leaves rice, lemon rice, udupi chitranna, paneer fried rice, brinji rice, daddojanam. further, to these i would also like to highlight my other interesting recipes collection like,
tomato chitranna video recipe:
recipe card for tomato chitranna recipe:
how to make tomato rice with step by step photo:
firstly, in a large kadai heat 2 tbsp oil and roast 2 tbsp peanuts on low flame.

roast until peanuts turn crunchy, set aside.

in the hot oil add 1 tsp mustard, 1 tsp urad dal, 1 tsp chana dal, ½ tsp cumin, pinch hing and few curry leaves.

splutter the tempering without burning.


now add 1 onion, 1 inch ginger and saute well.

also add 2 tomato and saute for a minute.

cover and cook until tomatoes turn soft and mushy.


further, add ¼ tsp turmeric, ¾ tsp chilli powder and 1 tsp salt. saute until spices turn aromatic.

add in 2½ cup cooked rice and mix gently.

cover and cook on low flame for 5 minutes or until flavours are absorbed.

add 2 tbsp coconut and 2 tbsp coriander. mix well.

finally, enjoy tomato chitranna with raita.

notes:
firstly, use leftover rice as it will be not sticky.
also, reduce the amount of tomato and add lemon juice for tanginess.
additionally, adding coconut is completely optional.
finally, tomato chitranna recipe tastes great for lunch box or morning breakfast.