how to clean & maintain cast iron tawa / skillet pan | 5 ways to handle dosa tawa with photos. cast iron tawa is one of the most famous and oldest tawa used by many people. they are made up of melted iron and very thick and heavy when compared to non stick tawa. i have mentioned 5 major tips in this article. however there are many more.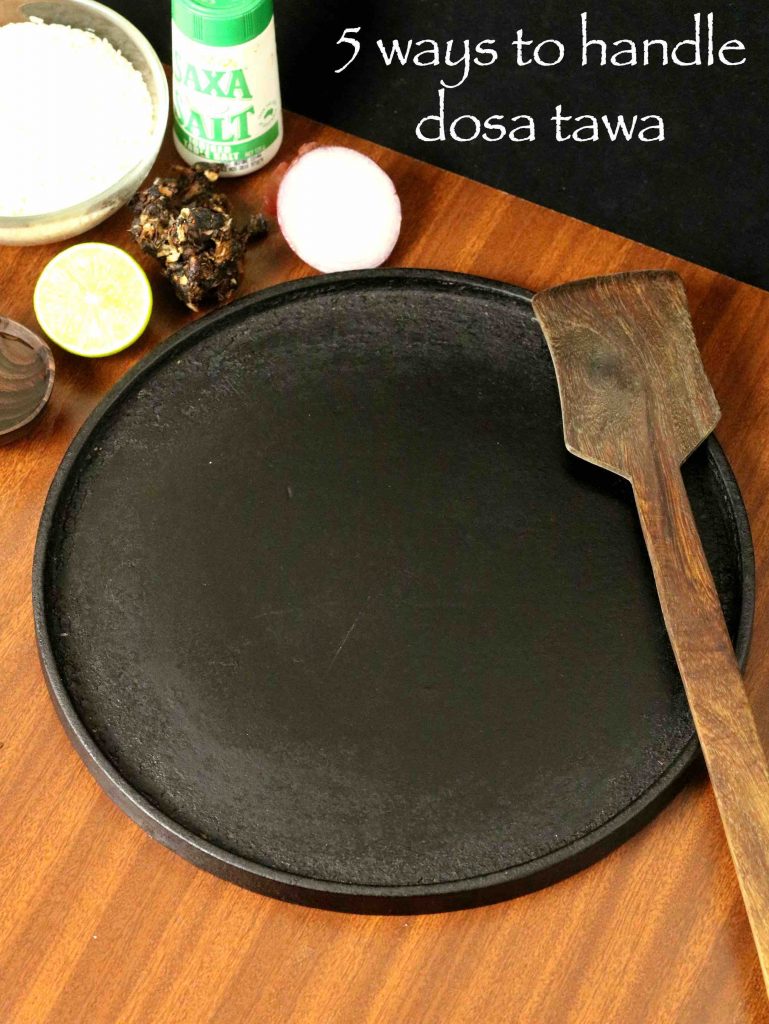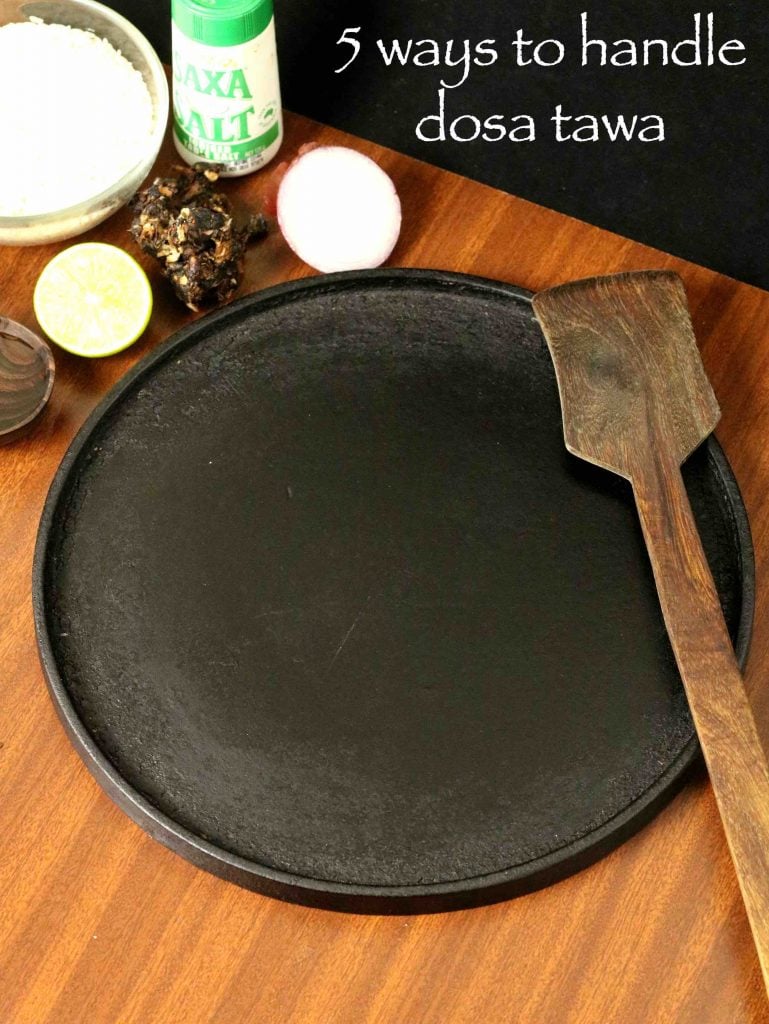 how to clean & maintain cast iron tawa / skillet pan | 5 ways to handle dosa tawa
with step by step photos. cast iron tawa provides iron to our food and red blood cell and reduces the chance of
anemia
. cast iron tawa is called 'kabbinada tawa patra' in kannada, 'kaccha loha tawa'  in hindi, 'lokhanda tavyavara takuna' in mrathi, 'loha tawa padela' in gujarati, 'inumu tava natincaru' in telugu, 'irumbu dosai kal' in tamil and 'irump tava ittu' in malayalam.
always use thick cast iron griddle, for preparing dosa. they are poor conductor of heat and has a good heat retention property. additionally, they develop a non stick coating when treated properly. furthemore, they heat to a high temperature and cool suddenly. in addition, there are many advantages of cast iron tawa. cast iron tawa are easy to use, durable and last forever when treated properly. it is used in stove, oven, grill or on a fire with very less oil. skillet pan are chemical free and food is cooked evenly. also they contain iron, and are healthy. finally, cast iron griddle /  tawa are less expensive and can be afforded by common people.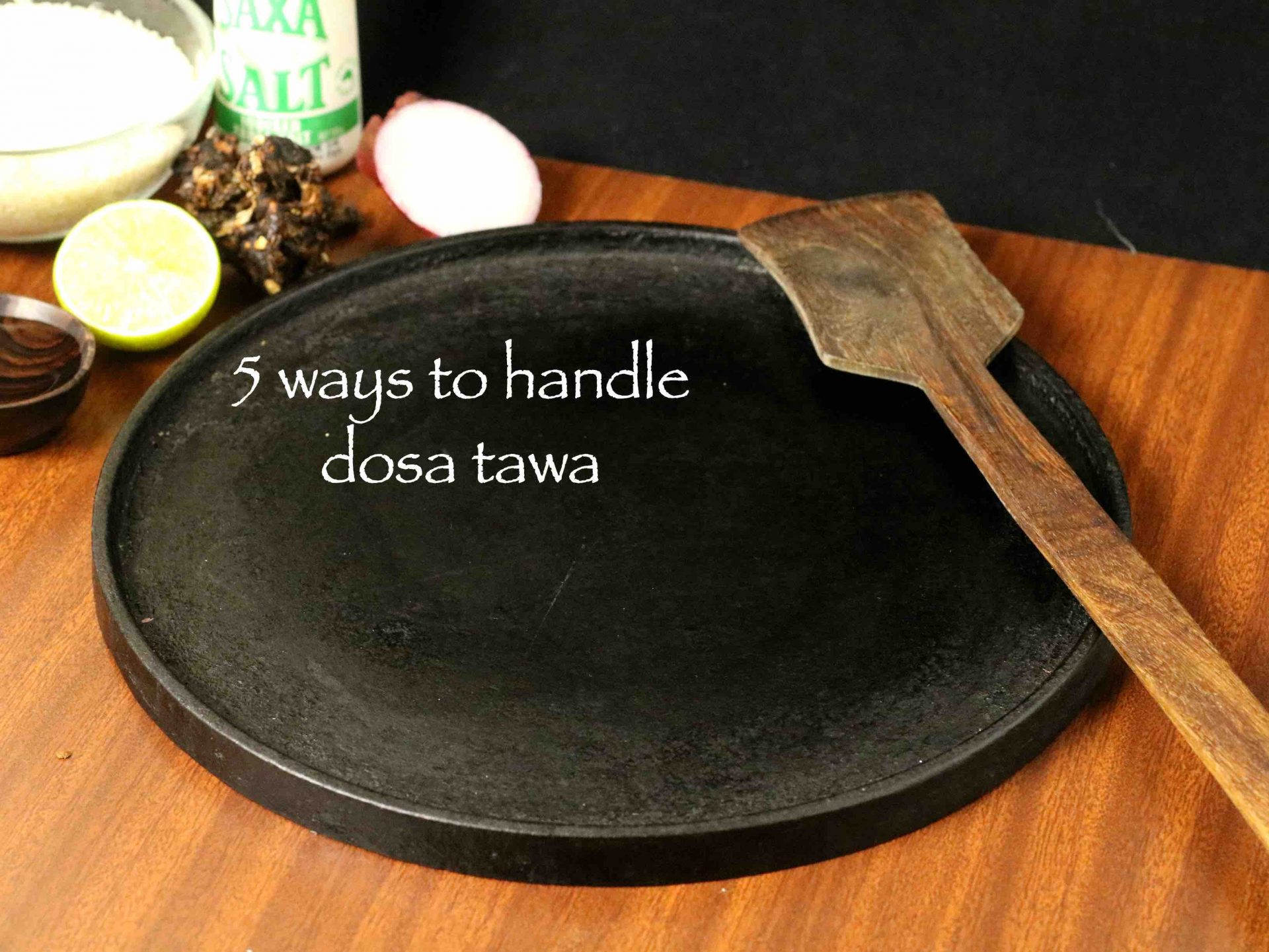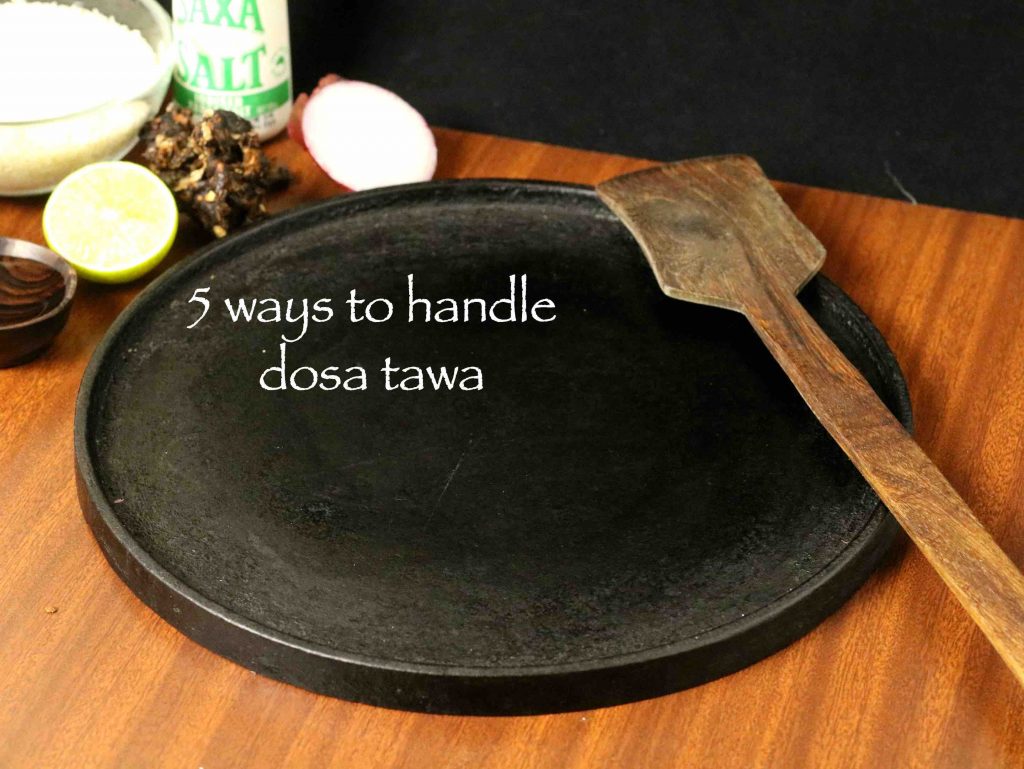 furthermore, cast iron tawa has few disadvantages. tawa turns to be too hot and difficult to handle the heat. cast iron tawa gets rusted when not used frequently. cast iron tawa is heavy, however when dropped, they break. a new cast iron tawa is always difficult to maintain however, as the tawa gets older, they get better.
finally, i would like to conclude with one of the most important benefit of cast iron tawa. cast iron tawa is most common tawa in every indian kitchen especially in south. they are best for making crispy non sticky dosa and rotti. they give very unique taste and odour to the dosa made in skillet pan.
top recipes using cast iron tawa:
tips to clean & maintain cast iron / skillet pan:
firstly, rub the tawa with gingelly oil and soak in washed rice water for a week.

to make golden brown and prevent dosa from sticking. rub the tawa with half onion before spreading dosas.


additionally, heat the tawa, sprinkle salt, switch off the flame, wipe with cloth and grease oil after it cools.

additionally, clean the tawa with hot water and rub with oil. keep in oven for one hour upside down.

furthermore, to remove rust – rub tamarind or citric acid, leave for an hour and wash it with warm water.

notes :
firstly, do not make chapathi in dosa tawa. keep a separate tawa for dosa.
secondly, wipe off with head of brinjal / bottle gourd or onion to prevent dosa from sticking.

also, avoid using hard soaps, detergents and steel scrubber.
always rinse with warm water or wipe with wet tissue after each use.
also, use liquid soap and sponge if the tawa is too oily and also wipe with a dry cloth.

furthermore, never wash cast iron tawa when it is too hot.
make sure to wipe off clean when tawa is not in use. as water may lead to rust.
additionally, never put cold liquids on cast iron tawa as they may lead to crack.
also, dry the tawa, apply oil and keep aside after each use. else tawa might get rust.
also, to treat tawa, apply malabar palak (basalesoppu / mayalu / valchi bhaji / pui shaak) paste for a week.
finally, avoid acidic foods like lemon & cucumber for cooking in cast iron tawa as they may damage seasoning.