chocolate cookies recipe | chocolate biscuits in cooker | no bake cookies with detailed photo and video recipe. a popular and tasty eggless biscuits recipes made with chocolate powder in indian pressure cooker. traditionally the cookies are made in a baking oven, but this recipe post uses pressure cooker for those who do not have an oven. the cookies are generally made and served as a snack with a cup of tea or coffee, but can also be served as dessert recipe.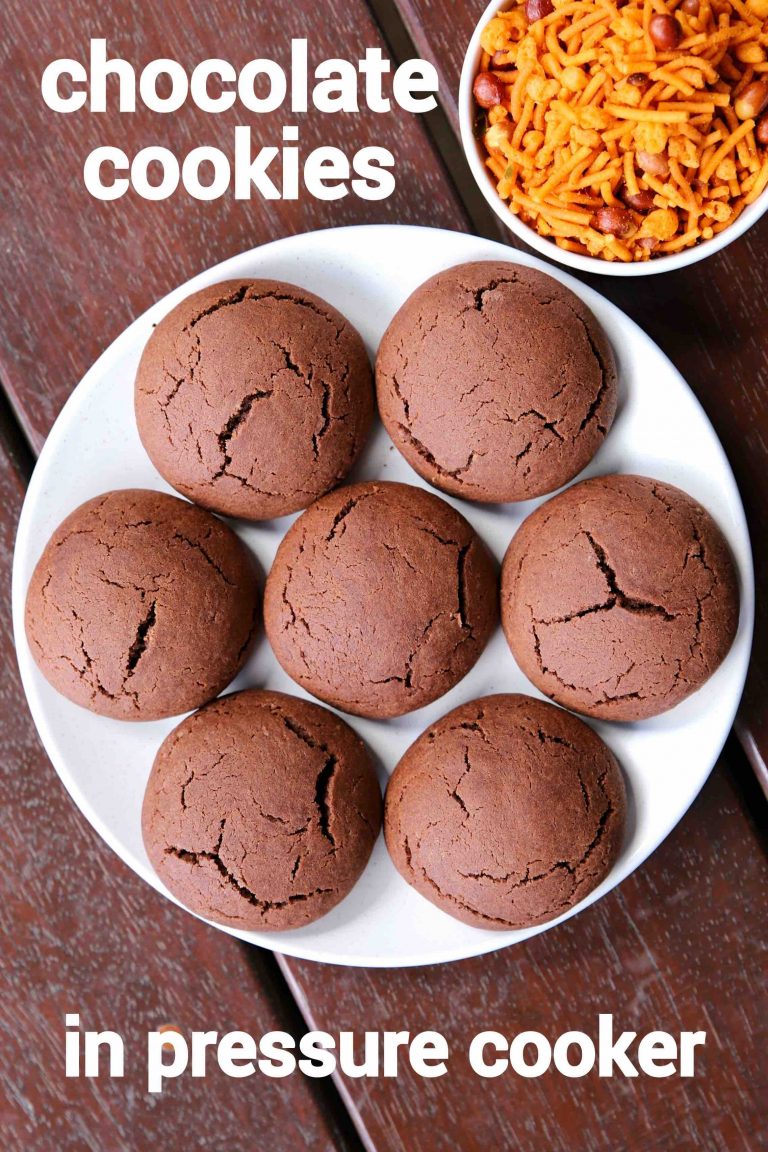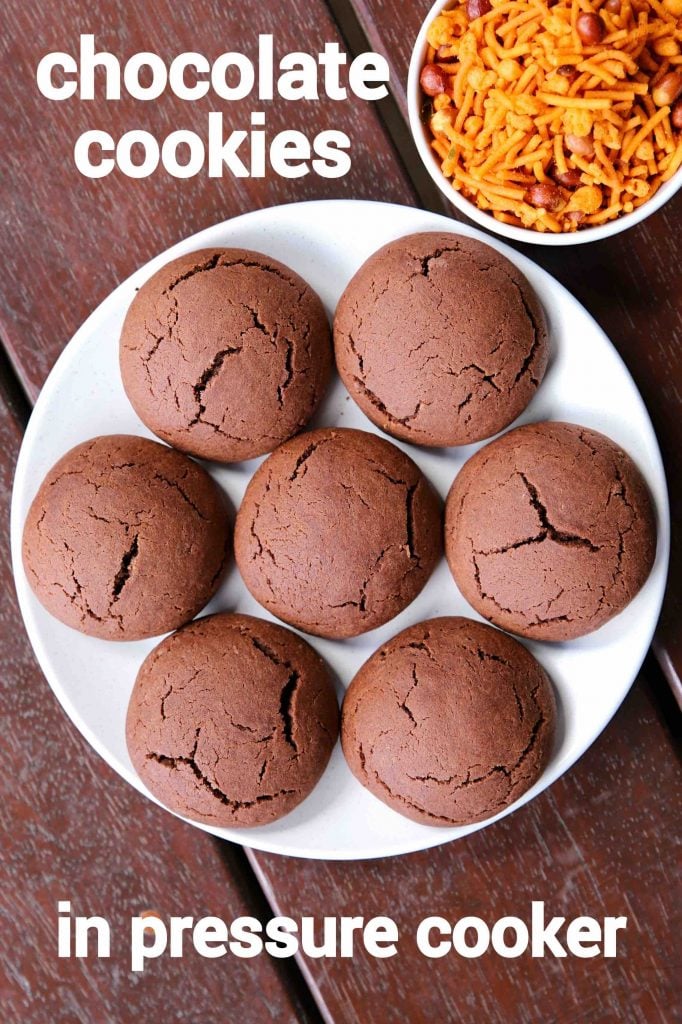 chocolate cookies recipe | chocolate biscuits in cooker | no bake cookies with step by step photo and video recipe. cookies and biscuits are not a native recipe to the indian cuisine. yet has been widely adopted by indians and has also been experimented to a different form. one such easy and simple cookies recipe is chocolate cookies recipe or chocolate biscuits in cooker known for its recipe made without an oven.
i have posted quite a few cookies or biscuits till now in my blog. but this is my first cookies recipes in cooker. lately, i have been getting several requests from my readers to post a video eggless recipe made in cooker. i have posted several cake recipes using the pressure cooker. the steps are the same when compared to the cake but there is a small issue of making biscuits in cooker. as such, there is no difference in quality. but the number of quantity or cookies comes out of each sitting from pressure cooker baking is either 3 or four. this can be really a discomfort, especially when you are planning to make it in bulk. otherwise, still, a legit cookies recipe using pressure cooker.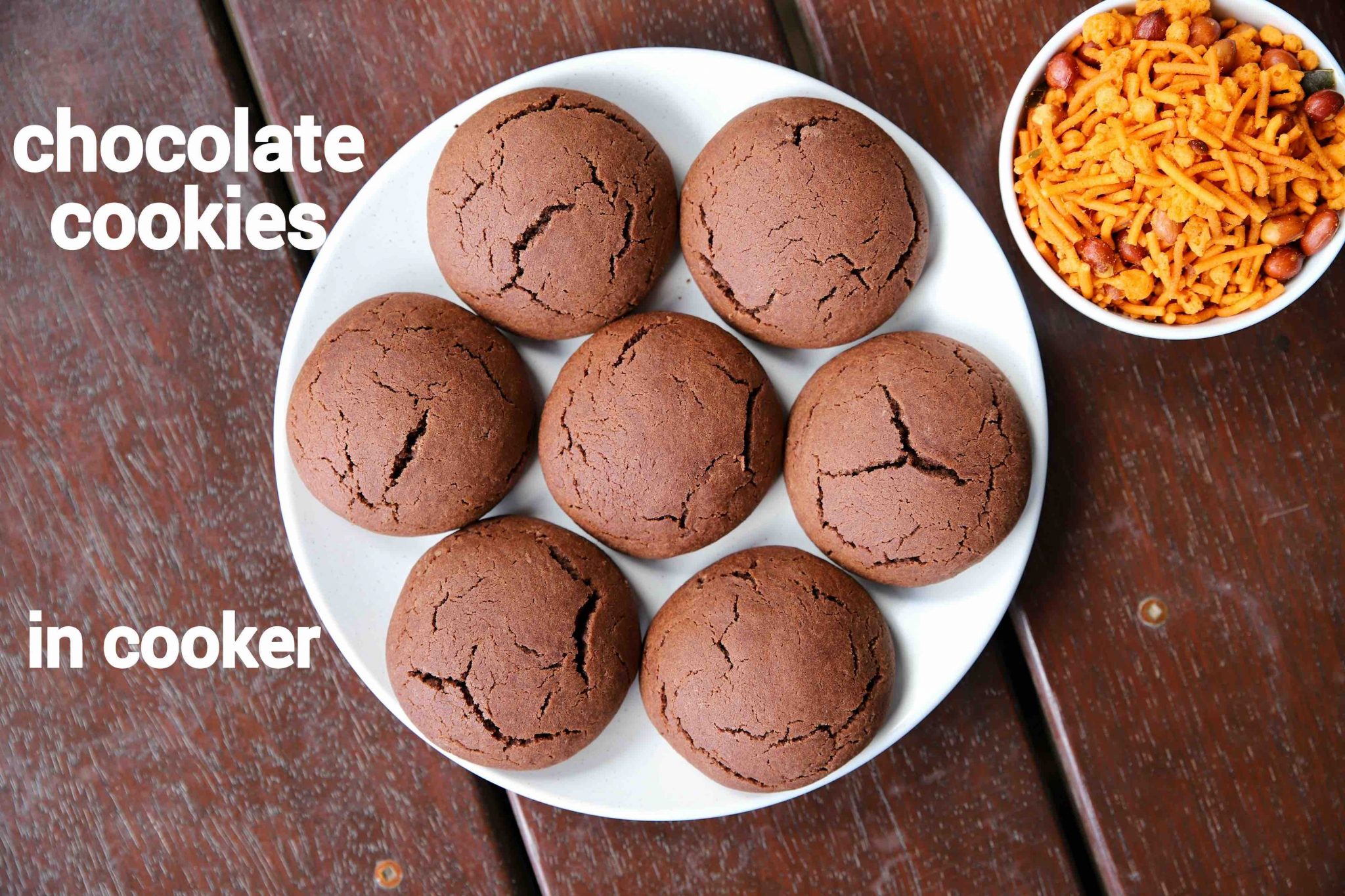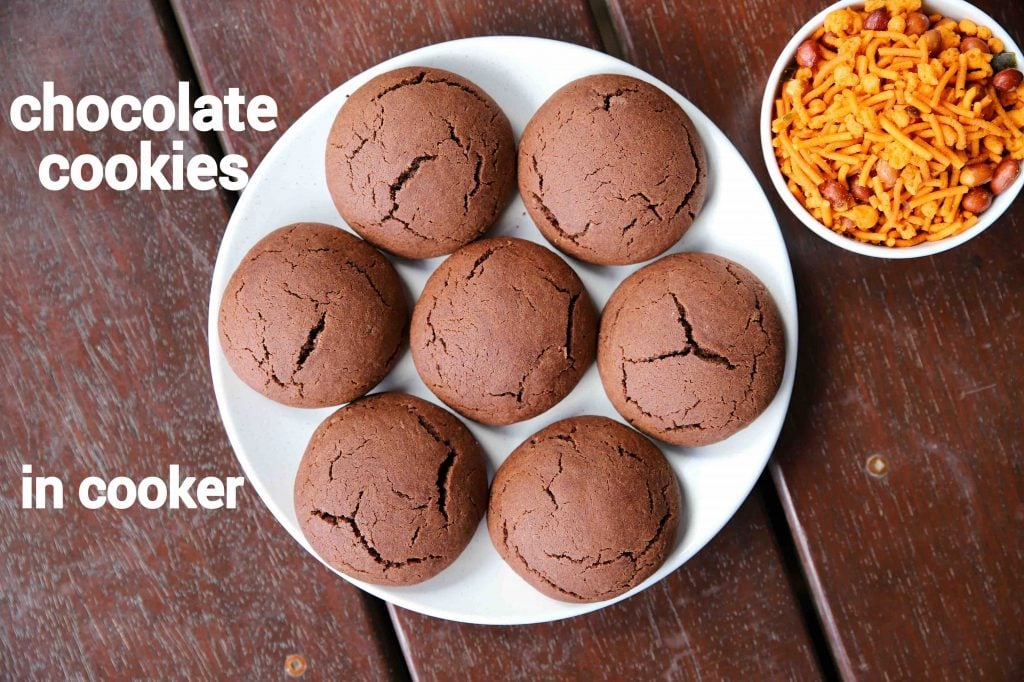 furthermore, i would also like to highlight some tips, suggestions and variations to chocolate cookies recipe. firstly, if you clearly notice the video, i have placed the cookie dough in pressure cooker base with sufficient space in between. this allows to bake the cookie properly and also shape it. secondly, in this cookie dough, i have used only plain chocolate powder without any particular flavour in it. you may add chocolate chip cookies, gems, white chocolate or any other flavour. lastly, store these cookies in an airtight container for longer shelf life. also, store it in a dry and warm place.
finally, i request you to highlight my cookies or biscuits recipes collection with this post of chocolate biscuits in cooker. it also includes my other detailed recipes like tutti frutti cookies, jeera biscuits, kaju biscuit, coconut cookies, nankhatai, oat cookies, thekua, chocolate chip cookies, biscuit, peanut butter cookies. in addition to this, i would also like to mention my other recipes collection like,
chocolate cookies video recipe:
recipe card for chocolate biscuits in cooker recipe:
how to make chocolate cookies with step by step photo:
firstly, in a large bowl take 100 grams butter, 1 cup powdered sugar and 1 tsp vanilla extract.

beat on low speed until everything is well combined.

continue to beat sugar and mixture until it turns whitish and silky smooth.

place a sieve and add 1¼ maida, ¼ cup cocoa powder, ½ tsp baking powder and pinch salt.


sieve the flour making sure there are no lumps.

now with the help of spatula mix the flour gently.

crumble and mix until the flour is well combined with butter mixture.


add 2 tbsp milk or as required if the mixture is dry.

bring together and form a dough without kneading. form a soft dough making sure not to knead.

to prepare cookie in a pressure cooker add in 1½ cup of salt and place a small cup or cooker rack. also, place a plate above it.

close the lid of cooker without keeping the gasket and whistle. heat for 5 to 10 minutes. as a result, gives a preheat oven atmosphere.

now pinch a ball sized dough and flatten slightly.

place the cookie dough over the plate giving good space in between.

now cover and cook on a medium flame for 17 minutes. you can alternatively, preheat and bake at 180-degree celsius for 15 minutes.

the cookie will be soft initially. cool completely and the chocolate cookie turns crisp and crunchy.

finally, store the chocolate cookies in an airtight container and enjoy for a week.

notes:
firstly, for more chocolatey flavour, you can also top with choco chips on top before baking.
also, make sure to use room temperature butter, else it will be difficult to beat.
additionally, as a healthy alternative, you can replace maida with wheat flour.
finally, chocolate cookies recipe taste good when prepared with good quality cocoa powder.