jeera biscuits recipes | jeera cookies | zeera biscuits | cumin cookies with detailed photo and video recipe. an easy and simple cookies or biscuits recipe made with cumin seeds and wheat flour. the uniqueness of these cookies is that it does not contain plain flour, sugar or even jaggery as compared to other cookies recipes. it is an ideal munching snack or coffee snack and should be liked by all age groups including kids and adults.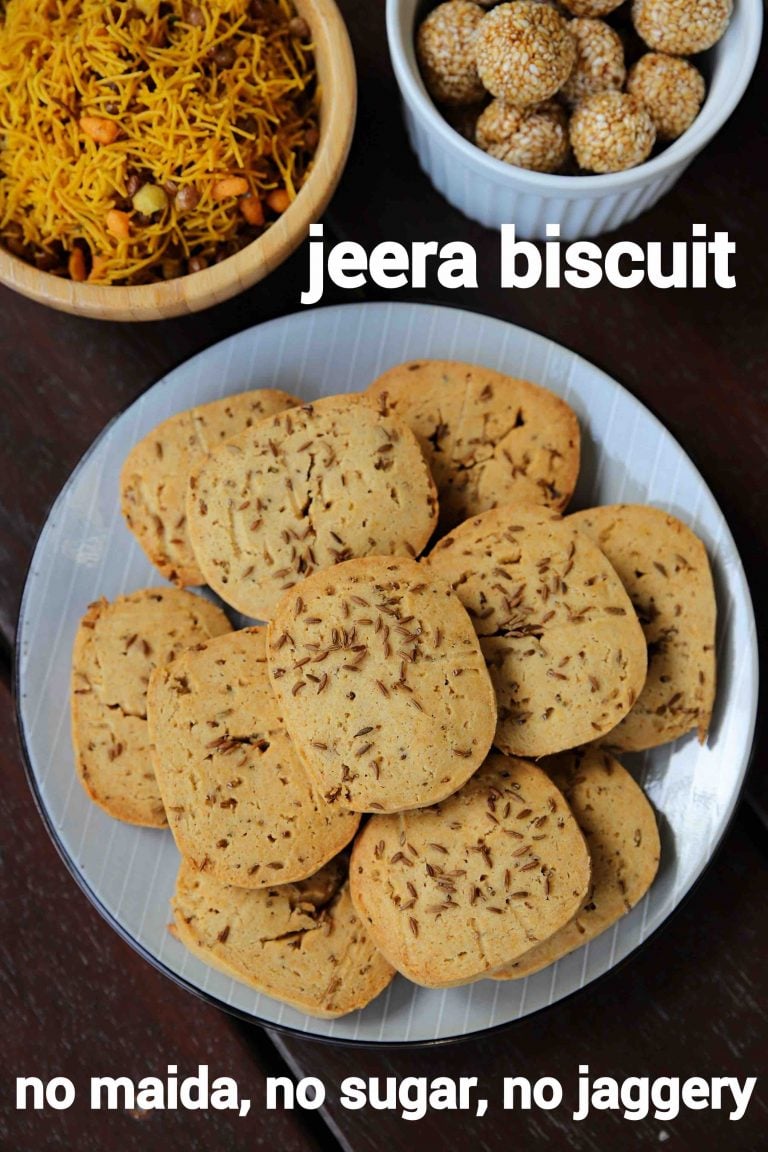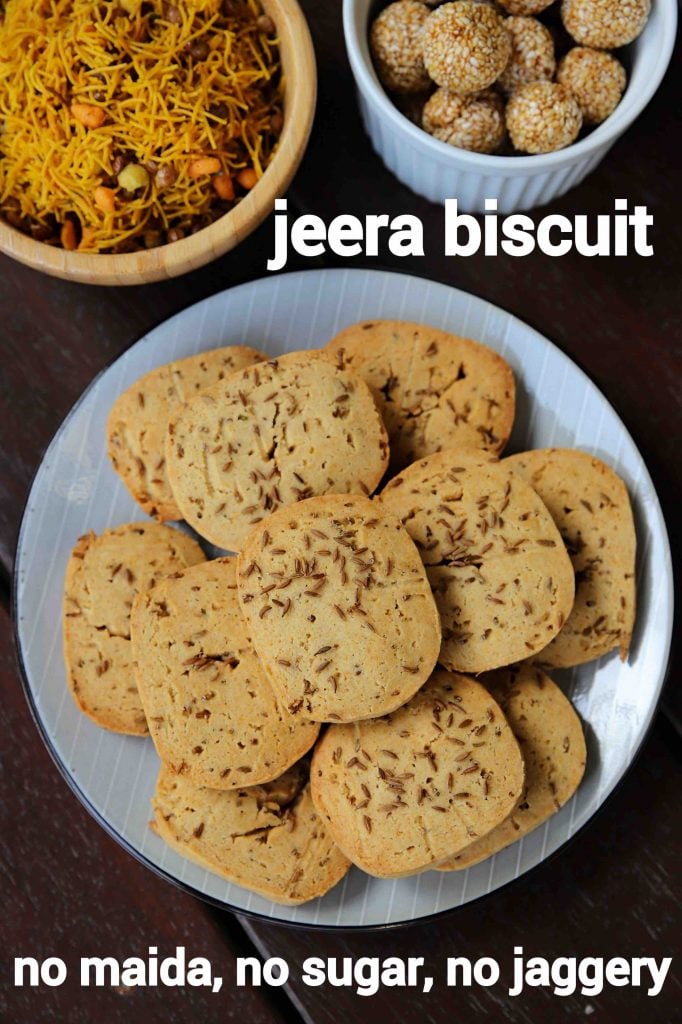 jeera biscuits recipes | jeera cookies | zeera biscuits | cumin cookies with step by step photo and video recipe. cookies or biscuits are generally an adapted or an influenced recipe to indian cuisine. it is generally made with plain flour and flavoured with other ingredients to be served as a snack. lately, there are some indian variations to the popular cookie variation and jeera biscuits recipes is one such simple and easy recipe.
as i previously mentioned, this recipe of jeera biscuits is one of the healthiest cookies recipes. the recipe is made with wheat flour as an alternative to plain flour and does not contain sugar or jaggery for sweetness. as a matter of fact, the recipe is a savoury cookie and the only salt is used for taste. this makes it an ideal tiffin box snack for your kids. having said that, your kid might not particularly like it as it does not contain the sweetness. and hence you can add small amount jaggery to have that sweet and salty taste in your biscuits. in addition to it, you may particularly like it when it is dipped and consumed with coffee or tea, as it adds the extra sweet taste and beverage flavour to it.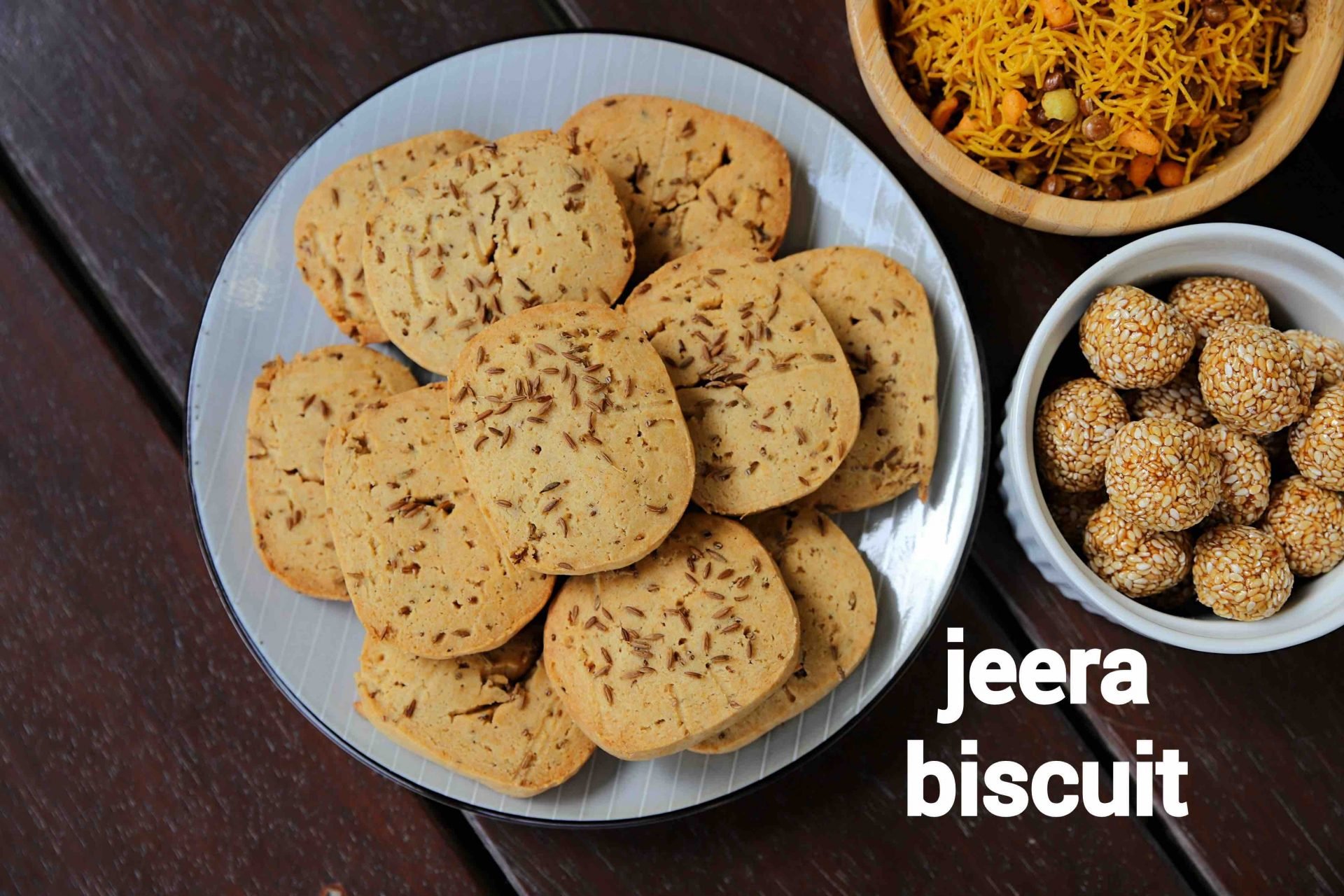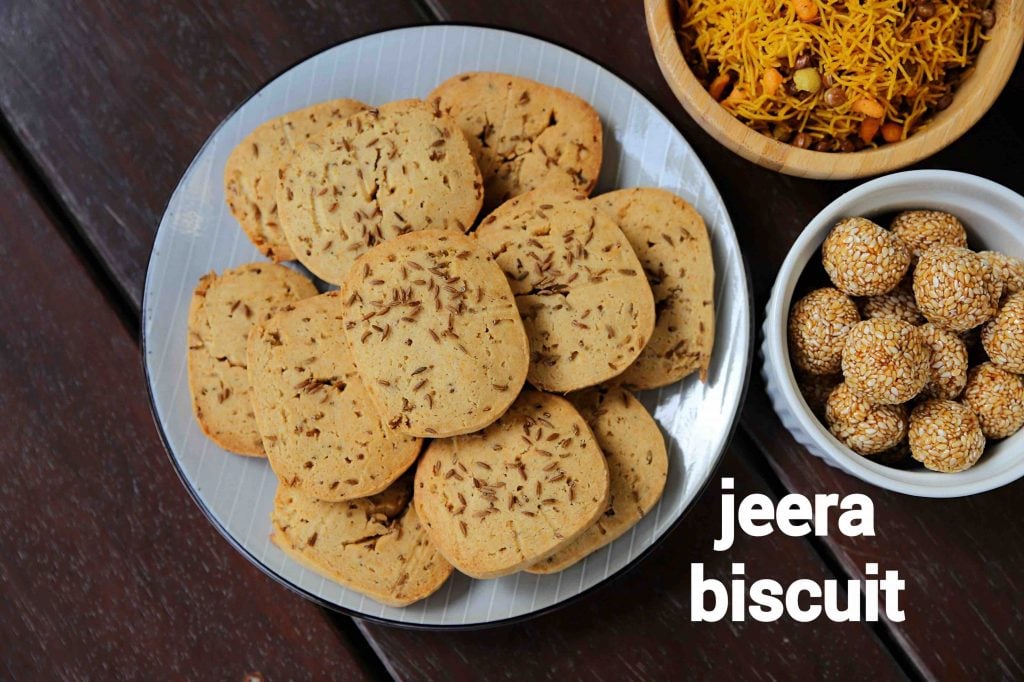 anyway, i would like to highlight some of my tips, suggestions and variations to jeera biscuits recipes. firstly, the recipes taste great when it is made with plain flour, but may not be liked as maida is not like by everyone. hence the use of plain flour or wheat flour is completely dependent upon your choice. secondly, on top of jeera, tutti frutti, cherry and even mixed nuts like cashews, almonds and walnuts can be added. i have limited myself to cumin so that it remains authentic with cumin flavour. lastly, these cumin cookies have a longer shelf life and hence it is recommended to preserve in an airtight container.
finally, i request you to check my other cookies or biscuits recipes collection with this post of jeera biscuits recipes. it mainly includes other cookie variations like kaju biscuit, coconut cookies, nankhatai, biscuit, peanut butter cookies, butter cookies, oat cookies, thekua, chocolate chip cookies. further to these i would also like to highlight my other detailed recipes collection like,
jeera biscuits s video recipe:
recipe card for jeera biscuits s recipe:
how to make jeera cookies with step by step photo:
firstly, in a large bowl take ½ cup butter and beat well.

beat until butter turns smooth and creamy.

place a sieve and add 1½ cup wheat flour, ½ tsp salt, ½ tsp baking powder and ¼ tsp baking soda.

sieve the flour well making sure there are no lumps.


now add 1 tbsp cumin and mix well.

mix to a crumble texture.

further, add 3 tbsp milk and start to prepare the dough.


do not knead the dough, just combine together.

shape the dough into cylindrical log and shape ends.

wrap in clip wrap and refrigerate for 30 minutes.

cut into thick slices and place on the baking tray. also, sprinkle little jeera on top and press gently.

preheat the oven and bake at 180 degree celsius for 15 minutes.

finally, cool completely and enjoy jeera biscuits for a week.

notes:
firstly, cool completely the cookies to turn crisp and crunchy.
also, if you prefer sweetness, then add ¼ cup powdered sugar and beat well with butter.
also, refrigerating the dough helps the biscuit to hold shape while baking.
finally, jeera biscuits recipe tastes great when served with evening chai.