red chutney recipe for chaat | chilli garlic chutney | red garlic chutney with detailed photo and video recipe. a spicy and colourful chutney recipe, which is mainly used as taste enhancer or to make things spicy especially in street food. it is mainly prepared with the combination garlic cloves and soaked red chillies with some lemon juice to reduce the heat.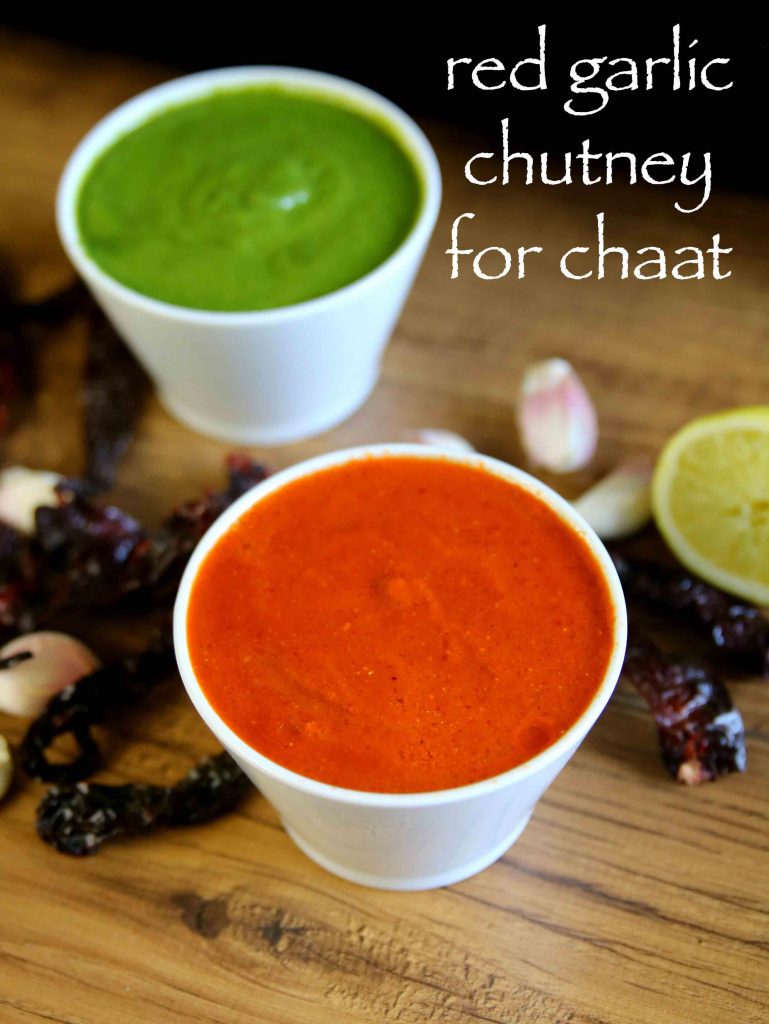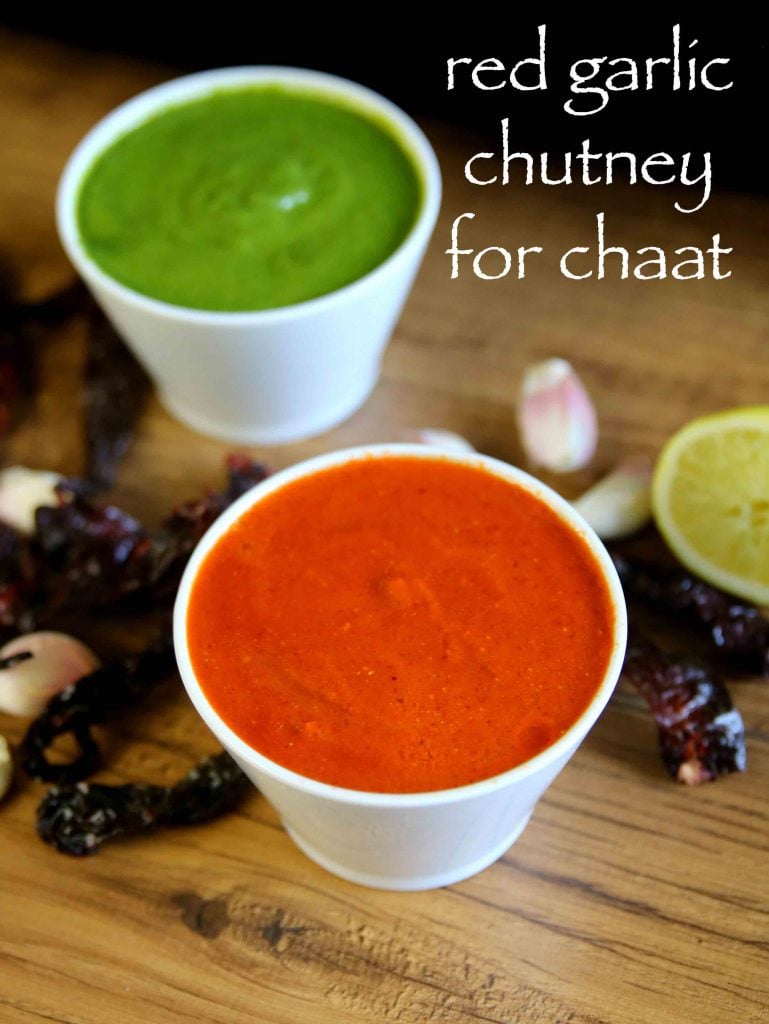 red chutney recipe for chaat | chilli garlic chutney | red garlic chutney with step by step photo and video recipe. it is one of the must chutney recipe whenever you are planning for some lip smacking indian chaat recipes. in other words, any chaat recipe is incomplete without red garlic chutney and it would taste ordinary. basically the combination of green chutney, tamarind chutney and red chutney recipe would lift any chaat recipe.
the colour and texture of this red garlic chutney may give a impression of extra hot and spicy, but it is not the case. i have soaked the red chillies which would lower the temperature and its spiciness. also i have used red kashmiri chillies which are comparatively less spicy yet gives dark red colour. further, if you still feel it is too much handle, then you can add peanuts or roasted chana dal while grounding. it should lower the spiciness considerably.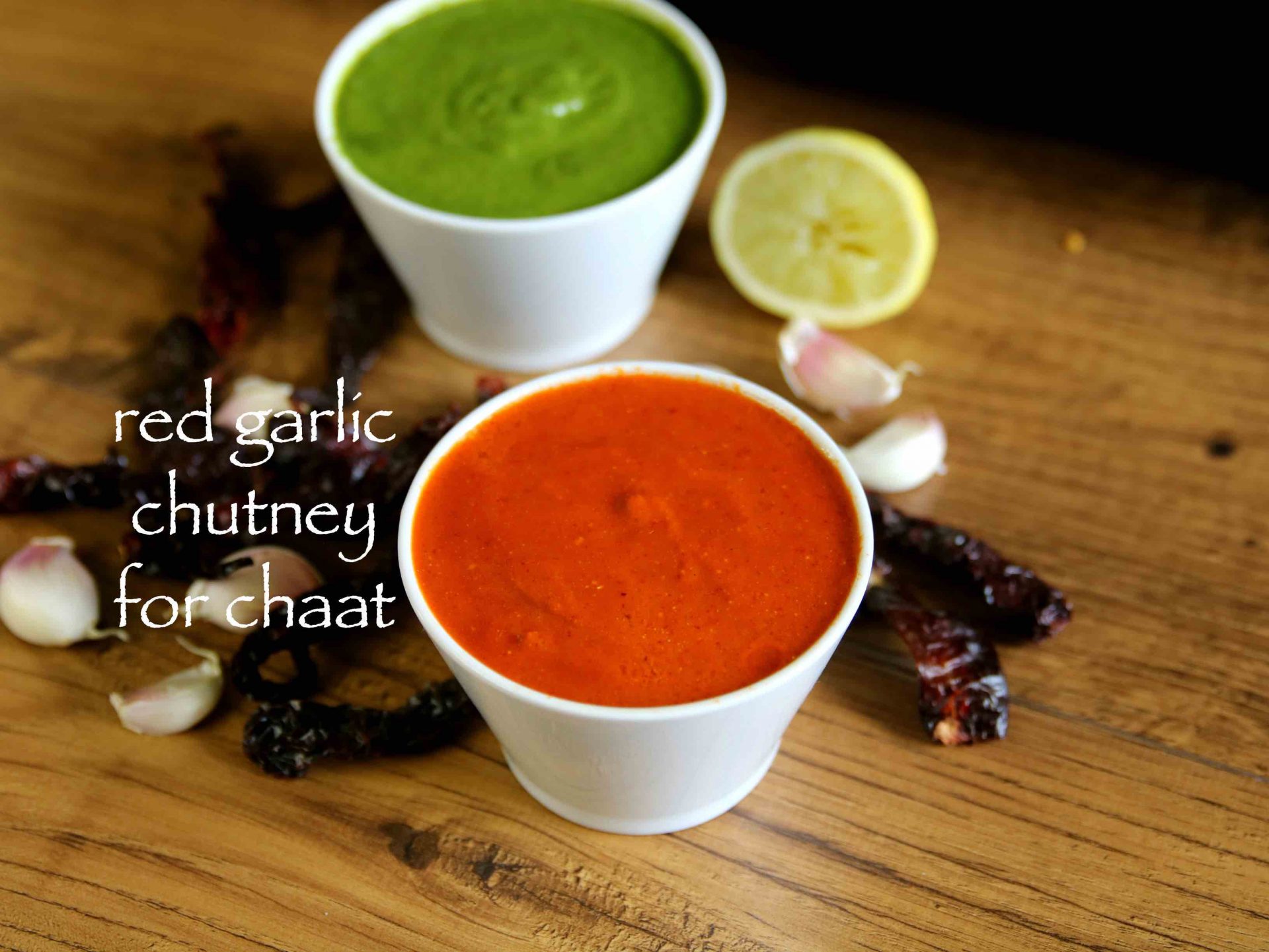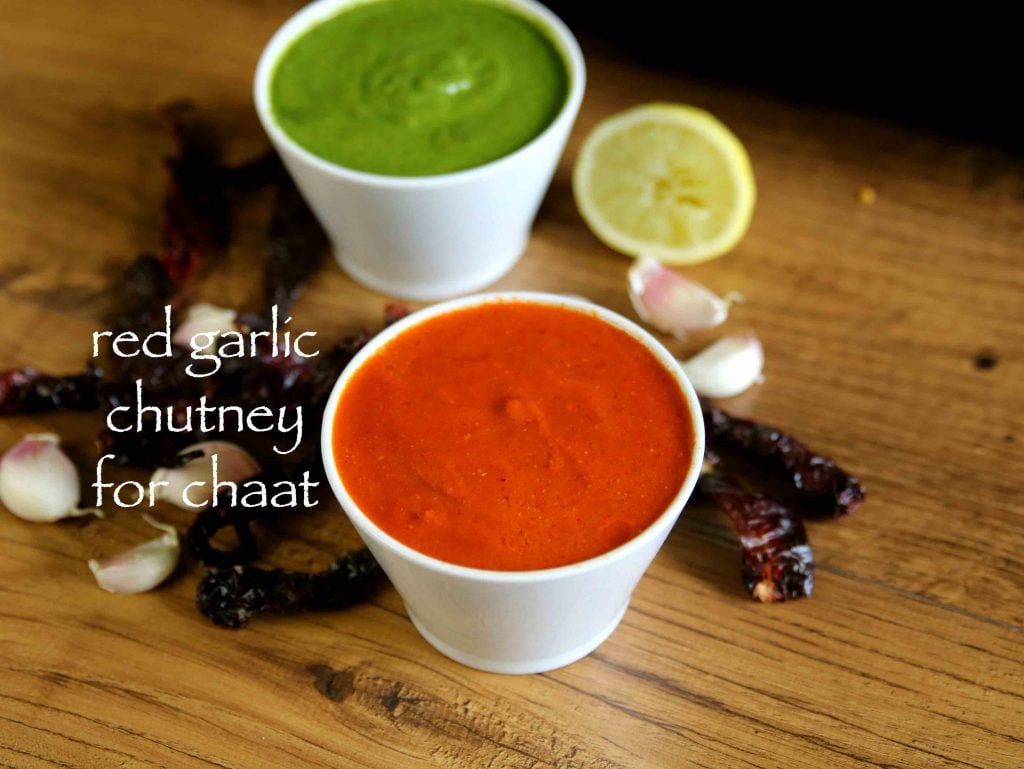 furthermore, some important tips and recommendations for a balanced spicy red chutney recipe for chaat. firstly, i heavily recommend to use kashmiri red chillies as it is less spicy and also gives a good red colour to the chutney. secondly, you can also de seed the chillies before grounding them to chutney. this should reduce the heat considerably and make it a mild spice chutney. lastly, while grounding you can maintain a thick consistency, but while serving or using make it thin in consistency.
finally i would like to highlight my other chutney recipes collection from my blog. this includes, green chutney, red chutney for dosa, tomato chutney, coconut chutney, peanut chutney, onion chutney, capsicum chutney, tomato onion chutney and hotel style chutney recipe. in addition do visit my other recipes collection with this post of red chutney recipe like,
red chutney recipe for chaat or chilli garlic chutney video recipe:
recipe card for chilli garlic chutney or red garlic chutney:
how to make red chutney recipe for chaat with step by step photo:
firstly, soak 7 dried kashmiri red chilli in ½ cup hot water for 15 minutes.

drain off the water and transfer the chilli to blender.

also add 8 clove garlic and 1 inch ginger.

additionally add ¼ tsp cumin powder, 1 tsp chaat masala, ½ tsp sugar and ½ tsp salt.


blend to smooth paste adding ¼ cup water.

transfer to a cup and mix 1 tbsp lemon juice.

notes:
firstly, increase the amount of red chilli based on spice level.
also adding roasted gram dal makes chutney more thick.
additionally, adjust the amount of water based on the consistency you are looking for.
finally, red garlic chutney for chaat stays good for a month when stored in refrigerator.