sponge dosa recipe | curd dosa recipe | set dosa without urad dal recipe with detailed photo and video recipe. a soft and sponge dosa prepared with rice and poha which is mixed with curd which helps in fermentation. note that in this dosa no urad dal as compared to the traditional set dosa recipe.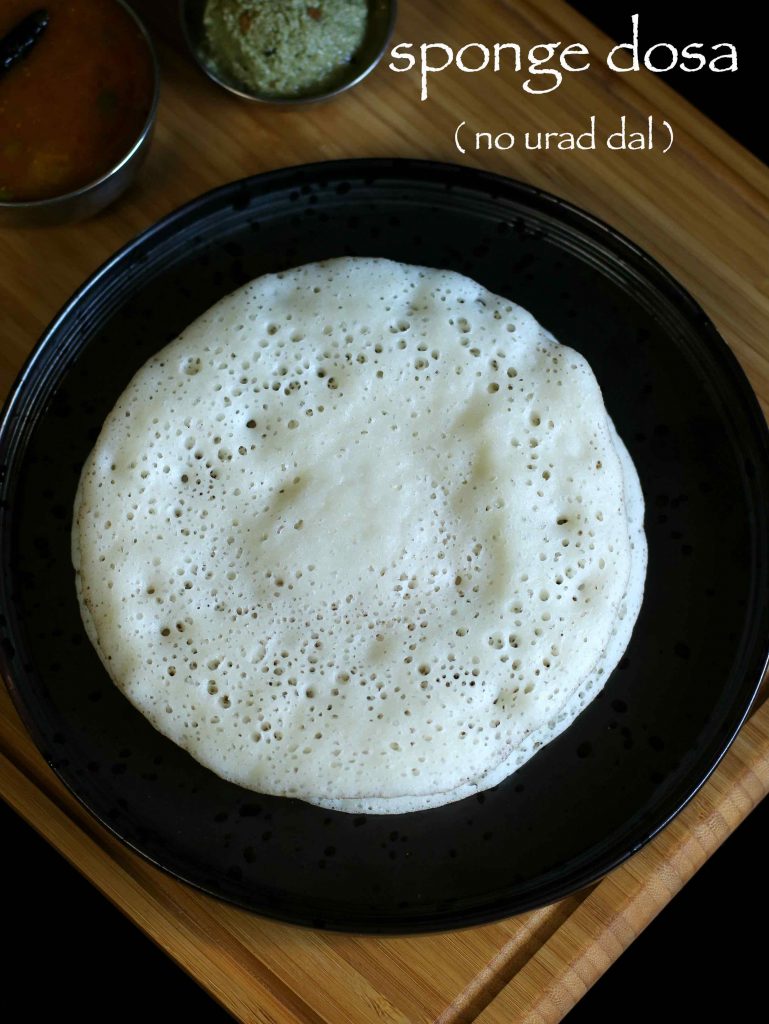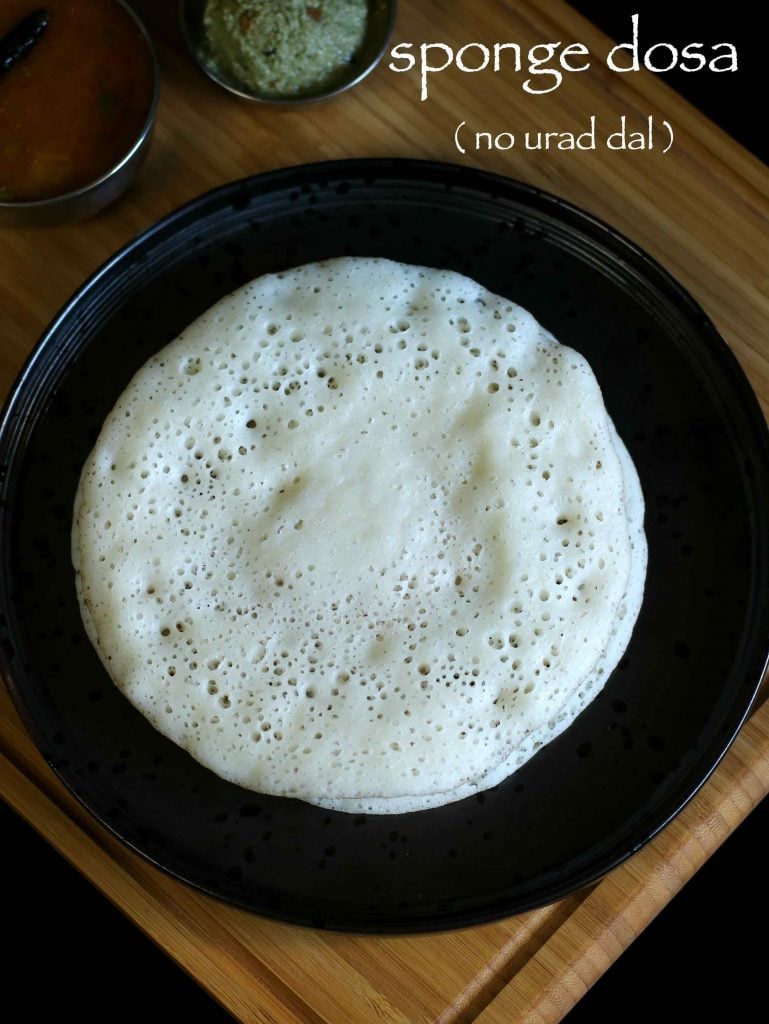 sponge dosa recipe | curd dosa recipe | set dosa without urad dal recipe with detailed photo and video recipe. basically an easy dosa or pancake-crepe recipe prepared with curd which brings porous and spongy texture. it is ideal breakfast recipe but not limited to it which is served with chutney recipes, veg sagu, potato sagu and sambar.
dosa recipe is always a special recipe for me and my family. especially being south indian, our breakfast mainly circles around idli, dosa, chutney and sambar. however, preparing just masala dosa or plain idli can be monotonous and certainly i need variety in my breakfast option. one such great option is sponge dosa or curd dosa and even better because it does not require urad dal. just grind the rice flour and flattened rice and mix it with curd to ferment it. isn't it a economical recipe for dosa? i suppose so.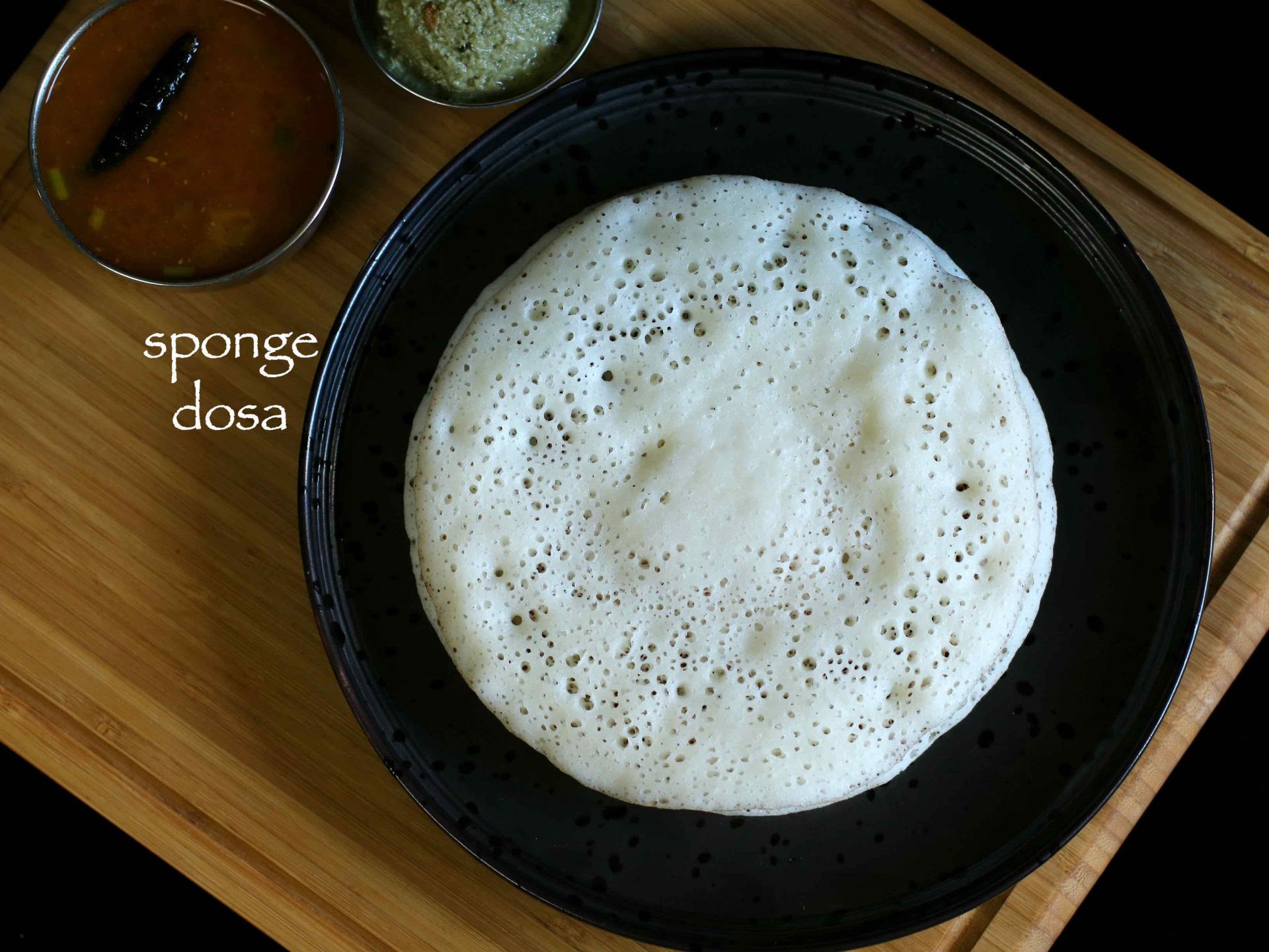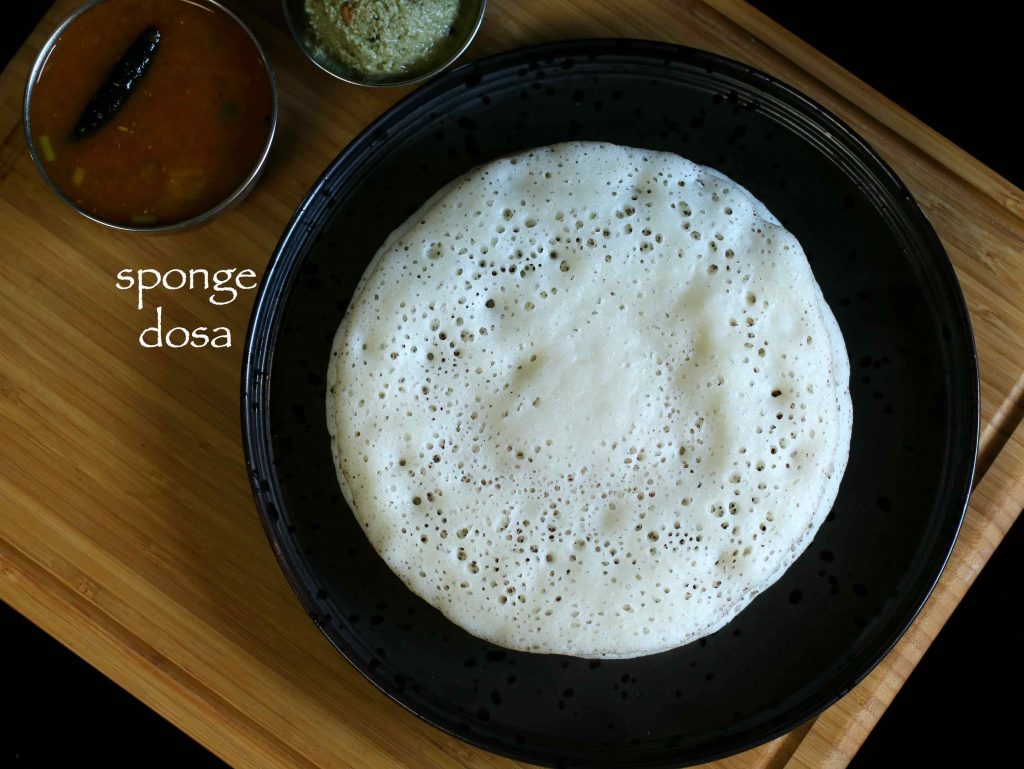 furthermore, i would like to share some tips and tricks for a soft and porous curd dosa recipe. firstly, do not forget to add thin poha while grounding. poha helps to make dosa soft and spongy, also fasten the fermentation process. secondly, after pouring the dosa batter to dosa pan, no need to spread it via spoon. the batter should spread by itself, otherwise your batter is thick if it does not spread. lastly, you can add tsp of ghee or oil while frying dosa. however, i personally do not like it and i have not added it.
finally, i do recommend to visit my other dosa recipes collection and idli recipe collection. particularly, set dosa, masala dosa, mysore masala dosa, neer dosa, plain dosa, rava dosa, instant dosa recipe. in addition i request you to visit my other recipes collection like,
sponge dosa or curd dosa video recipe:
recipe card for sponge dosa or curd dosa recipe:
how to make sponge dosa or curd dosa with step by step photo recipe:
firstly, in a large bowl, soak 1 cup of rice and methi seeds for atleast 5 hours.

further, blend the soaked rice along with poha adding water as required. adding poha makes dosa more soft.

blend to slightly coarse paste. this helps to give nice texture to dosa.

transfer the batter to a large bowl.


further add curd. do not use sour curd as we are going to ferment, which turns curd even more sour.

mix well making sure the batter has combined completely.

also clean the sides with the spatula.


cover and ferment in a warm place for 8- 12 hours depending on the climate.

additionally add salt.

and mix the batter slightly without spoiling the air incorporated in batter.

add water if required to adjust the consistency. batter should be thiner than normal dosa batter as it should spread easily after pouring on tawa.
heat the griddle. smear some oil over the tawa and wipe off with a tissue paper. (do not add oil if using non-stick pan)

and pour a ladleful of the batter on it and spread it very gently. dosa should be thick and do not make the dosa thin.

then cover the dosa for a minute and cook till the top of dosa is cooked completely in presence of steam.

add ghee / oil if required. however it is not required and note we are not roasting the dosa on other side.
furthermore, the dosa turns to be full of holes and very soft indicating the batter has well fermented.

finally serve immediately with coconut chutney and sambar.

notes:
firstly, do not use sour curd as we are going to ferment, which turns curd even more sour.
furthermore, do not pour the dosa thin as they are very soft and wont have any strength.
additionally, add a pinch of baking soda to skip the fermentation process. however, i suggest to ferment for a healthier option.
moreover, if you live in cold climate then preheat the oven and place the batter in it. this helps to keep warm and ferment the batter well. (just pre-heat and switch off the oven)
finally, do not spread the sponge dosa batter / curd dosa batter as it should be thick like set dosa.