veg tawa fry recipe | tawa sabzi recipe | tawa fry vegetables | tawa fry sabji with detailed photo and video recipe. a unique and interesting dry sabji or vegetable-based appetizer recipe made with a choice of vegetables and a combination of spices. it is particularly made and served as a starter but can also be served as a dry curry with a choice of inidan flatbreads or rice variation. there isn't any hard and fast rule for the choice of vegetables, but the set of veggies used in this post makes it an ideal combination.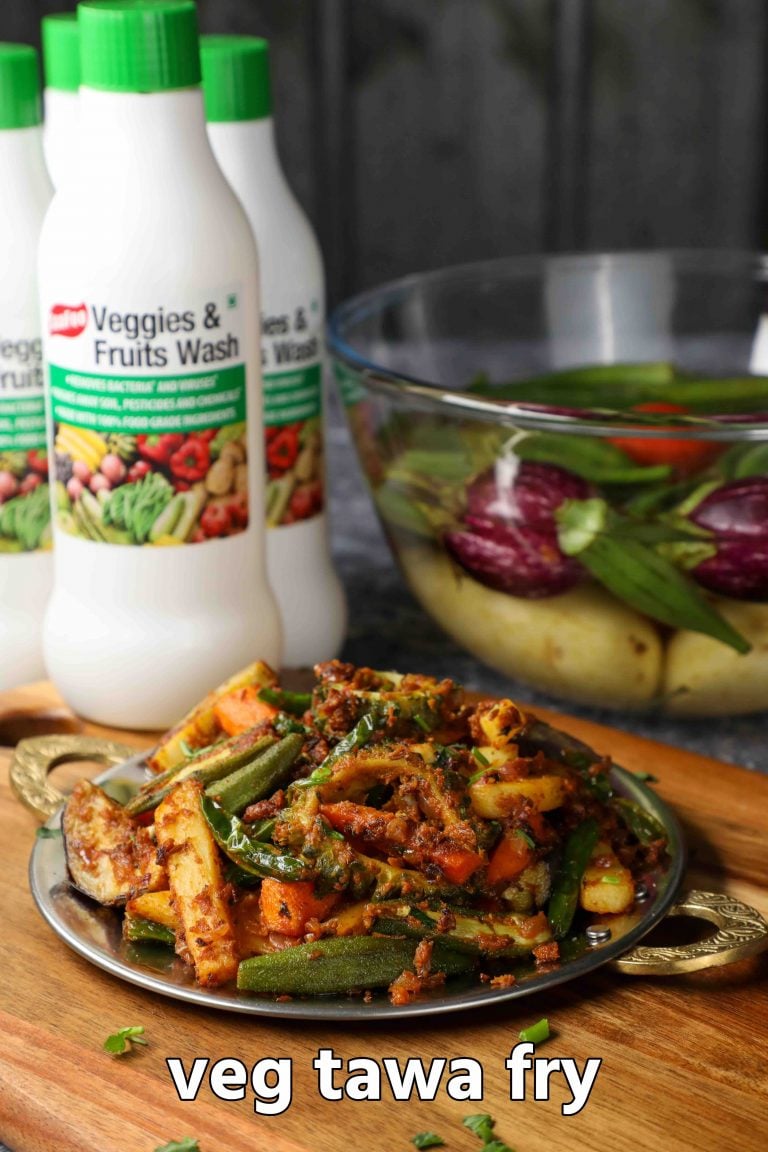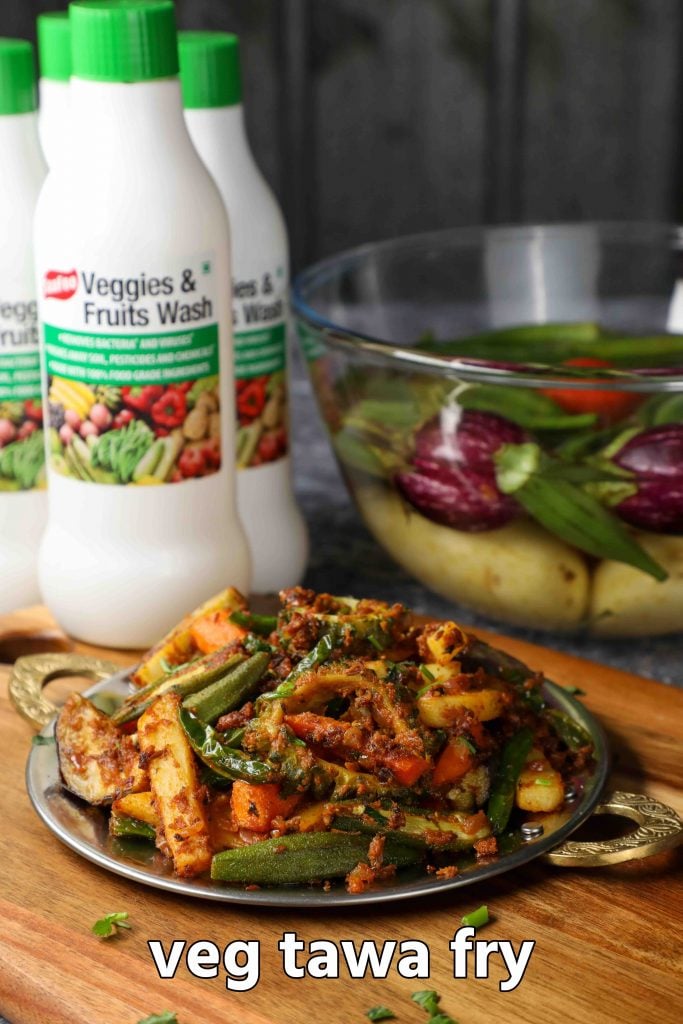 veg tawa fry recipe | tawa sabzi recipe | tawa fry vegetables | tawa fry sabji with step by step photo and video recipe. tawa based recipes are a popular street food recipe variation and are typically served as snack variants. the uniqueness of this recipe is the use of open tawa pan to cook the recipe which would add more flavour to it. one such healthy and a tasty tawa based recipe is veg tawa fry recipe known for its spice flavour, crispy and tender taste.
before talking about this recipe, i would like to clear one thing. this recipe post is a sponsored post from saafoo – cavinkare brand. basically, it is a vegetables & fruits wash liquid to remove all the specks of dirt and pesticides. unlike other veggies or fruit wash, saafoo is made 100% food-grade ingredients, like neem, turmeric, apple cider vinegar and salt. i would heavily recommend it and must for recipes like veg tawa fry recipe, as it is prepared with different types of vegetables. moreover, during this pandemic, it is always best to be prepared with such extra care for our day to day food ingredients. there is meat wash alternative to this and you can very well use it for the choice of meat variants. i personally have not used it as i am vegetarian but i am confident about this brand.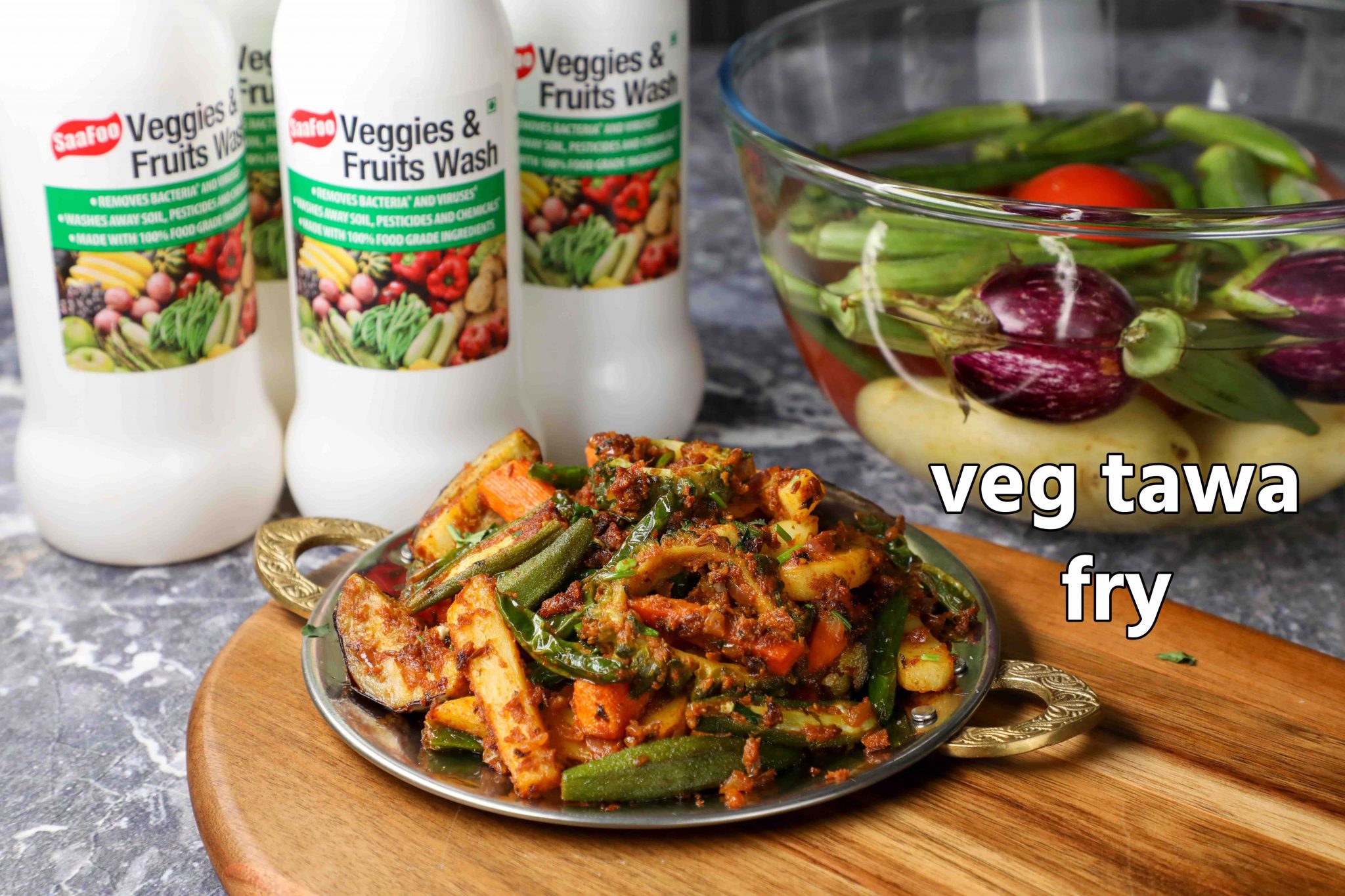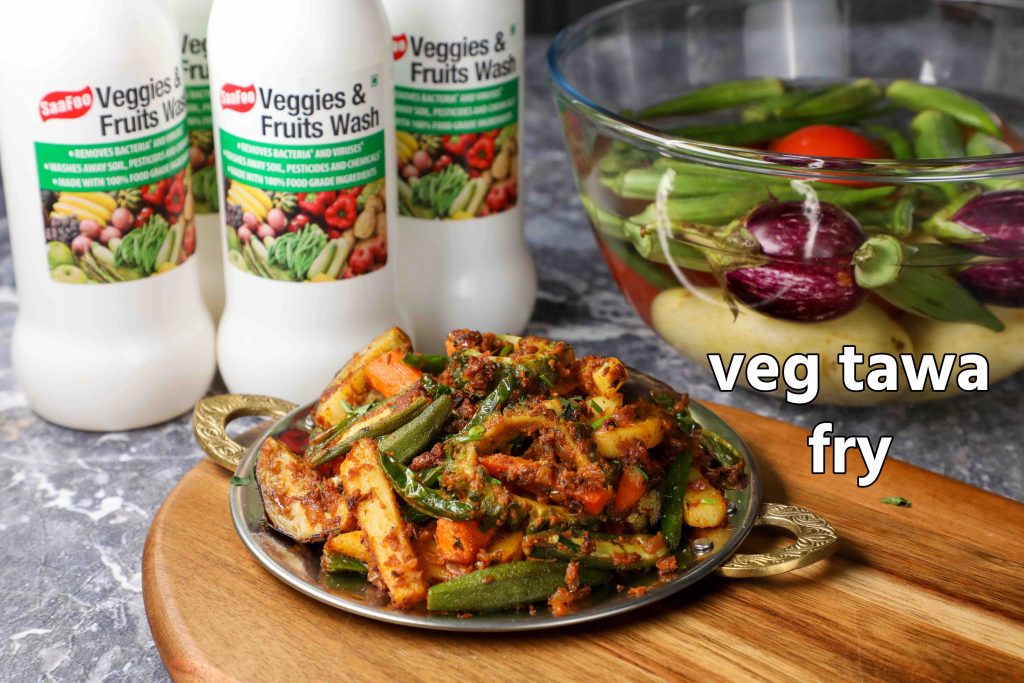 furthermore, i would like to add some more tips, suggestions and variants to the veg tawa fry recipe. firstly, the use of vegetables in this recipe is open-ended and you can use as your preferences. having said that, try to balance the flavour by adding different flavoured and taste vegetables. for instance, i have added bitter gourd, carrot and potato for the bitter, sweet and starchy taste respectively. secondly, try to use the open pan for this recipe as it is made in the streets. if you do not have a pan, you can also use chapati or dosa tawa for the same purpose. lastly, i have deep-fried the vegetables in different batches based on their cooking time. you may have to batch the veggies accordingly if you are changing the set of vegetables used as per your preferences.
finally, i would also like to mention my other curry recipes collection with this post of veg tawa fry recipe. it mainly includes my other related recipes like papaya s, salna, ridge gourd, bharli vangi, garlic paneer curry, kadhi pakora, curry base, kakarakaya pulusu, bharwa baingan, paneer nawabi curry. further to these i would also like to mention my other recipe categories like,
veg tawa fry video recipe:
recipe card for veg tawa fry recipe:
how to make tawa sabzi with step by step photo:
firstly, fry the vegetables till they turn crunchy and keep aside. i have taken 1 potato, 1 carrot, 5 beans, 2 brinjal, 5 okra and ½ bitter gourd.

in a large tawa, heat 2 tsp oil, 1 tsp butter.

add ½ tsp cumin, 1 bay leaf, ½ tsp kasuri methi till it turns aromatic.

now add ½ onion, 1 tsp ginger garlic paste and saute well.


keeping the flame on low, add ½ tsp chilli powder, ¼ tsp turmeric, ½ tsp cumin powder, ½ tsp coriander powder, ¼ tsp garam masala and ½ tsp salt.

saute on low flame until the spices turn aromatic.

now add ½ cup tomato puree and saute until it is cooked well.


further add fried vegetables, 1 tsp aamchur and mix well.

if required add 2 tbsp water and cook for a minute.

now add 2 tbsp coriander and give a good mix.

finally, enjoy tawa sabzi or veg tawa fry as a starter or with roti.

notes:
firstly, make sure to fry the vegetables until it turns crunchy.
also, you can use vegetables of your choice to make it interesting.
additionally, you can fry the vegetables before in hand and mix with masala before serving.
finally, tawa sabzi or veg tawa fry tastes great when prepared over iron tawa.