yakhni pulao recipe | vegetable yakhni pilaf | veg yakhni pulao with detailed photo and video recipe. a unique style of preparing the traditional pilaf or pulao recipe with vegetables and vegetable stock. traditionally yakhni pulao is mainly prepared with choice of meat and chicken stock, but this recipe post is vegetarian version of it. the vegetable yakhni pilaf tastes great with spicy curry, dal or raita recipes.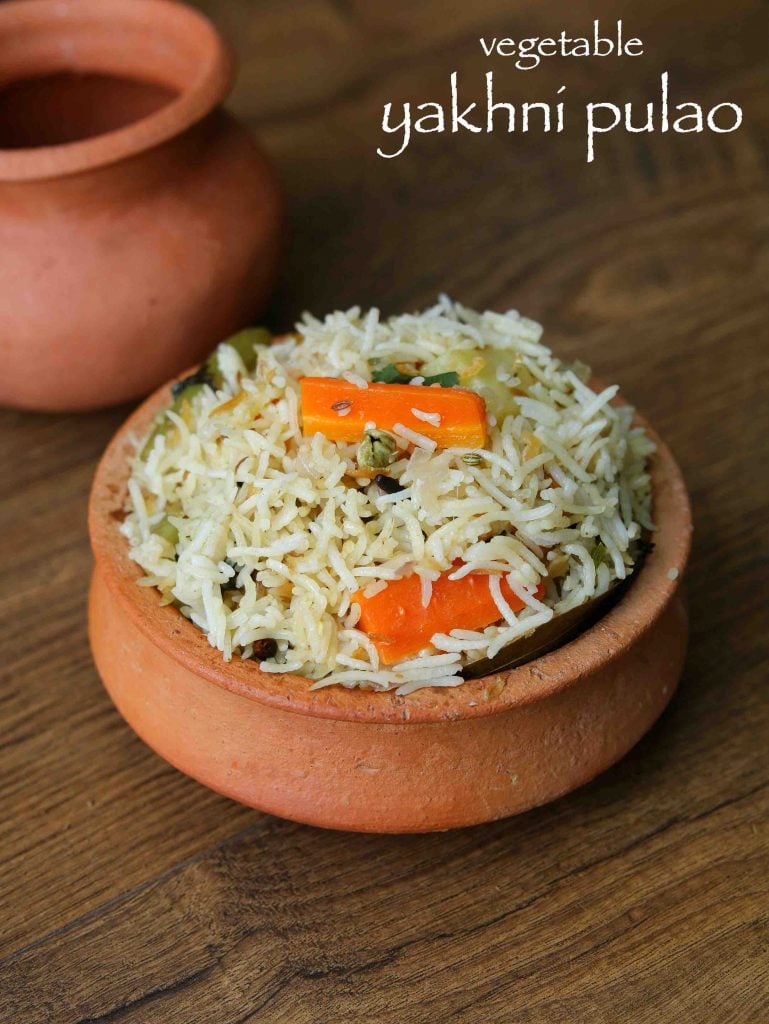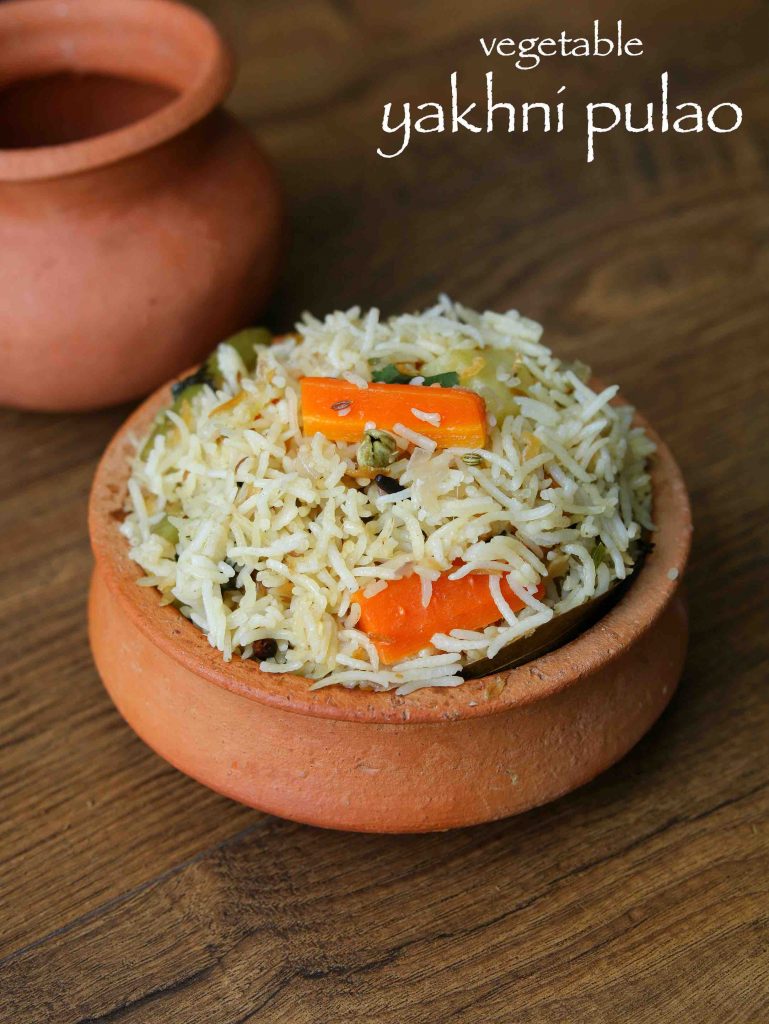 yakhni pulao recipe | vegetable yakhni pilaf | veg yakhni pulao with step by step photo and video recipe. unlike other pulao recipes, yakhni pilaf recipes are prepared with a different techniques and methods. the main ingredient for yakhni recipes is the broth or stock which is used to boil and cook the rice / vegetables. in addition a choice of meat is added while boiling, however in this recipe i have only vegetables with veg stock for not meat eaters.
it is perhaps one of the popular rice recipe from north india cuisine and also from pakistan. yakhni pulao is one of the delicacy awadhi cuisine which is native to lukhnow, uttar pradesh. it is very popular among the native mulsim community of lukhnow and is a must rice recipe with their celebration feast. in addition it is also a popular pilaf recipe in kashmiri cuisine and is mainly prepared with chicken stock. the rice, spices and vegetables are cooked and boiled in a choice of stock which makes it flavorful and full of aroma. yakhni pilaf is even compared with the traditional lukhnowi biryani recipe and you may find some argument about the similarity. but i personally believe that both are totally different recipes with biryani more stronger on spices.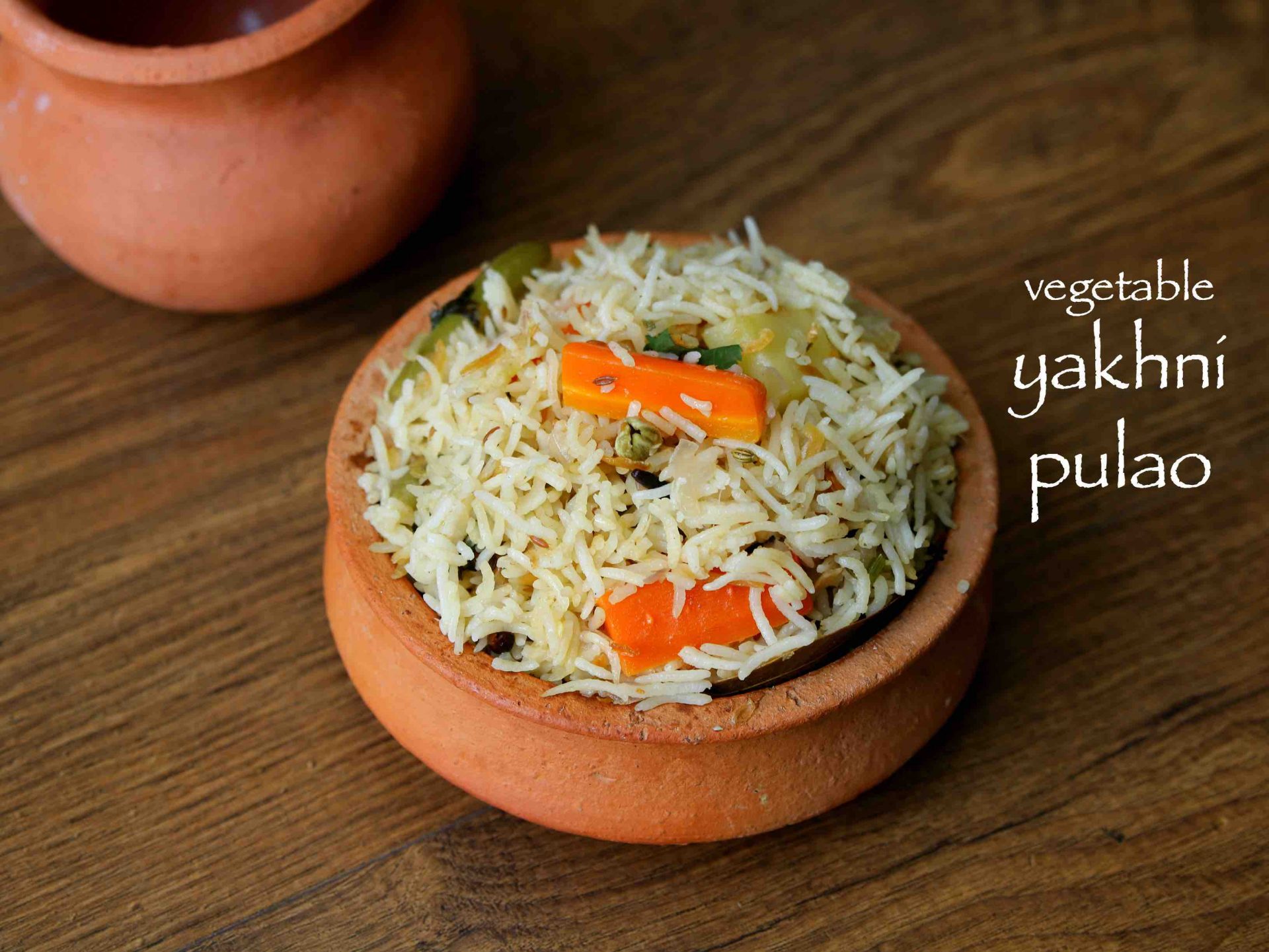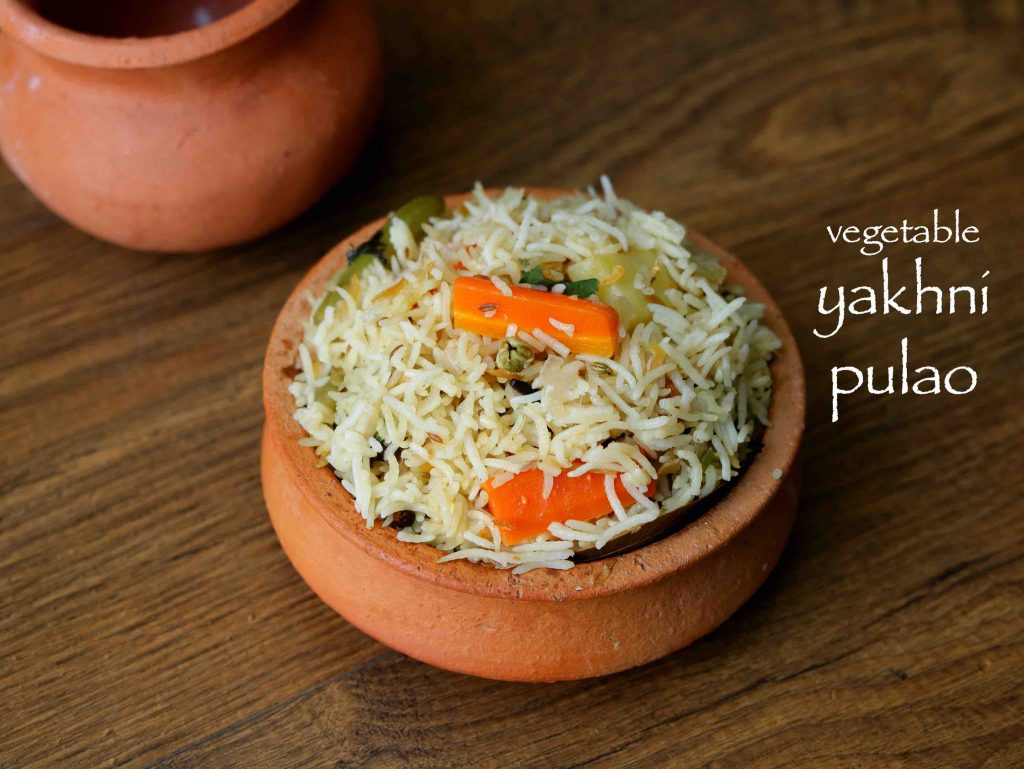 while the recipe for yakhni pulao is extremely simple, yet some tips and recommendations for a perfect pilaf recipe. firstly, as i mentioned previously, yakhni pilaf is traditionally prepared with chicken stock and choice of meat. if you are comfortable with meat than feel free to use them. secondly, the quantity of stock or broth should be approximately 1:2 ratio of rice and stock. if you are running short of it, you can extend it by adding more water. lastly, i would heavily recommend to use soaked basmati rice for this recipe for best results. i had tried once with sona masuri and i wasn't happy with the end result.
finally do visit my other pulav recipes collection with this recipe post of vegetable yakhni pulao recipe. it includes recipes like, chana pulav, rajma pulao, capsicum pulao, kashmiri pulav, coriander pulao, mint rice, vegetable pulao and tawa pulao recipe. in addition do visit my other recipes collection from my blog like,
yakhni pulao video recipe:
recipe card for vegetable yakhni pilaf:
how to make yakhni pulao recipe with step by step photo:
firstly, prepare the veg stock by boiling vegetables in 2½ cup water along with 1 tsp salt.

simmer for 10 minutes or till vegetables get half cooked.

drain off and reserve the stock.

in a large kadai heat 1 tbsp ghee and saute 1 bay leaf, 1 inch cinnamon, 5 cloves, 2 pods cardamom, 1 tsp cumin, ½ tsp fennel and ½ tsp pepper.


add in 1 onion and saute well.

also saute 1 tsp ginger garlic paste till the raw aroma disappears.

further add in boiled vegetables and saute for 2 minutes.


now add ¼ cup curd and saute on low flame.

additionally add in 2 cups of prepared veg stock and 1 slit green chilli. mix well.

add in 1 cup basmati rice soaked for 30 minutes and mix well.

further add 2 tbsp fried onion and 2 tbsp coriander.

cover and simmer for 20 minutes or till rice gets cooked completely. you can alternatively pressure cook for 2 whistles on medium flame.

finally, serve veg yakhni pulao with raita or paneer curries.

notes:
firstly, use freshly prepared veg stock or store brought stock.
also, add vegetables of your choice to make it more nutritious.
additionally, do not over cook vegetables while prepareing veg stock, as we are further cooking it with rice.
finally, veg yakhni pulao taste great when prepared with concentrated veg stock.