aate ki chakli recipe | wheat chakli recipe | gehu ke aate ki chakli with detailed photo and video recipe. an interesting and easy deep fried snack recipe made with wheat flour and spices. this an extension to the traditional chakli or murukku recipe which is made with rice flour and urad dal flour combination. this snack can be easily made for the popular festival like janmashtami or ganesh chaturthi, but not just limited for it.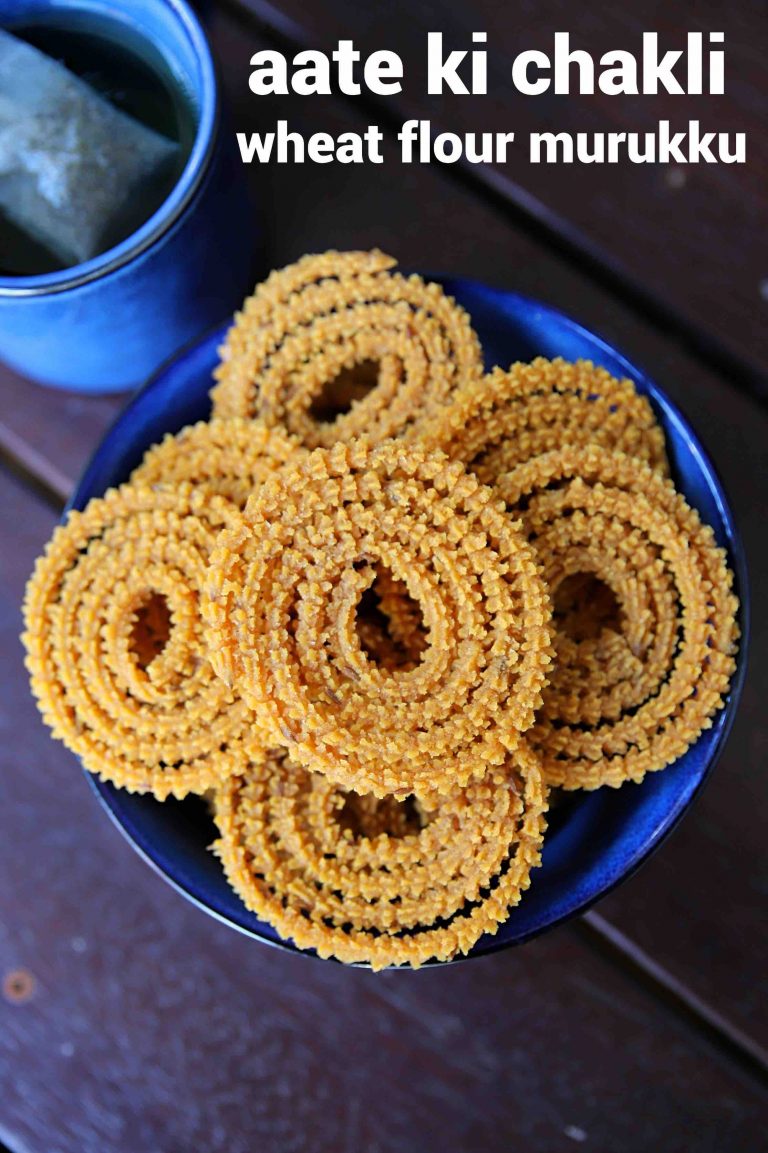 aate ki chakli recipe | wheat chakli recipe | gehu ke aate ki chakli with step by step photo and video recipe. chakli or murukku recipes have been one of the favourite festival snacks across india. traditionally it is made with rice flour and urad dal combination, but lately, there have been myriad variations to this simple recipe. one such healthy and easy variation is the aate ki chakli or wheat chakli known for its crispness and tasty.
well, i am not a huge fan of alteration to the traditional recipe, but trust me i am a huge fan of this altered or experimented chakli recipe. obviously, the traditional one has its own place and taste factor. but the easiness and the end to end time required to make this recipe is worth mentioning. having said that some may have the reservations about making a wheat-based chakli as some community or region restrict wheat flour for festival recipes. i don't have any such restrictions and i make it for almost all festivals. as a matter fact, i find the wheat flour recipes are more thrifty and economical yet producing the same result. hence it is completely up to individual preference.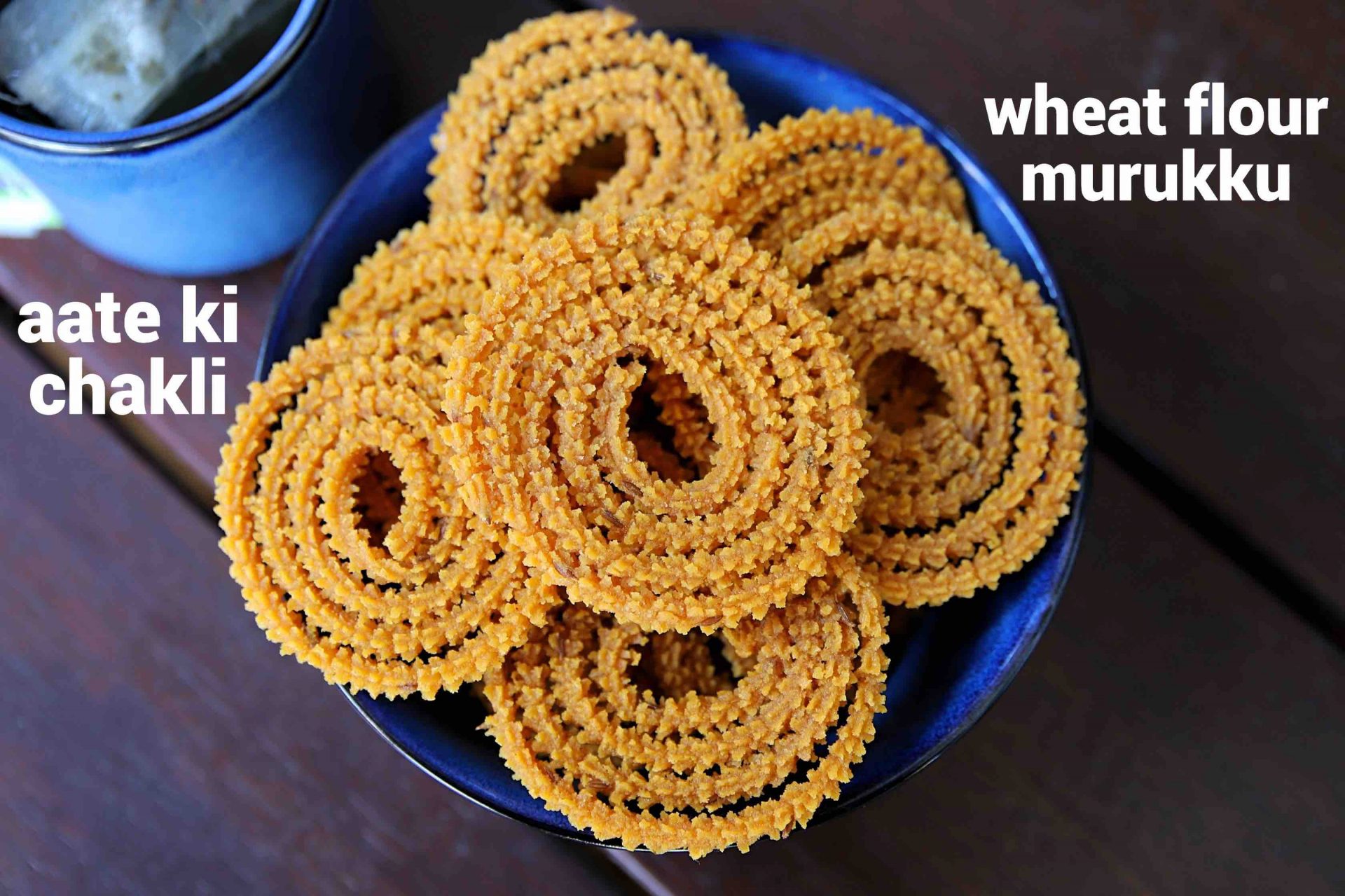 furthermore some of the critical and important tips, suggestions and variations for a perfect aate ki chakli recipe. firstly, i have steamed the wheat flour and rice flour in a pressure cooker without the whistle. this would help to have a crisp and brittle texture to the chakli. also before the steaming process, i have not added any wet ingredients, especially butter or even oil. while some may contradict to this argument and may prefer adding it, but i prefer without it. lastly, store these in an airtight container for better shelf life. also while deep frying, deep fry these in small batches in a low to medium flame.
finally, i request you to check my other related festival snacks recipes collection with this post of aate ki chakli recipe. it mainly includes recipes collection like aloo bhujia, sev bhaji, rice cutlet, paneer frankie, susla, palak cutlet, dudhi na muthiya, khichu, aloo tikki, methi puri. in addition, i request you to check my other detailed recipes collection like,
aate ki chakli video recipe:
recipe card for aate ki chakli recipe:
how to make wheat chakli with step by step photo:
firstly, take a bowl and place clean cotton cloth.

add in 2 cup wheat flour and ¼ cup rice flour. cover tightly by folding the cloth.

place into the cooker to steam for 15 minutes without putting on the whistle.

now open the cooker and see the flour would have hardened.


break the lumps and sieve to prevent any lumps. the flour should be slightly warm while siving.

add in 1 tsp cumin, ¼ tsp turmeric, 1 tsp chilli powder, pinch hing and 1 tsp salt.

mix well making sure the spices are well combined.


add ½ cup water and knead the dough.

knead to a smooth and soft dough adding water as required.

now take star mould and fix to the chakli maker.

grease the chakli maker with some oil. this prevents dough from sticking to mould.

furthermore, make a cylindrical shape out of dough and place the dough inside the maker.

tighten the lid and start preparing chaklis. on the wet cloth or butter paper make small spiral shape chaklis by pressing.

seal the ends so that it doesn't fall apart while deep frying.

take one murukku at a time and slide it into the hot oil. or bake in a preheated oven at 180-degree celsius for 15 minutes.

flip the murukku and fry on medium flame till they turn crispy from both sides.

furthermore, drain over a paper towel to remove excess oil.

finally, once cooled enjoy aate ki chakli or store in an airtight container for 2 weeks.

notes:
firstly, steam the flour well to get soft and crispy chakli.
also, do not add more water while kneading as chakli will tend to absorb oil.
additionally, fry on medium to low flame to cook uniformly from inside.
finally, aate ki chakli recipe tastes great when served with adrak tea.