sev bhaji recipe | shev bhaji | sev bhaji ki sabji | shev chi bhaji with detailed photo and video recipe. a unique curry recipe made with the combination of spicy gathiya and curry from khandeshi kala masala. it is also known with many other names and one of the popular synonyms is bhavnagari shev or tikhat sev. it is generally served with roti or chapathi, but it tastes great when served with pav bread or even with rice.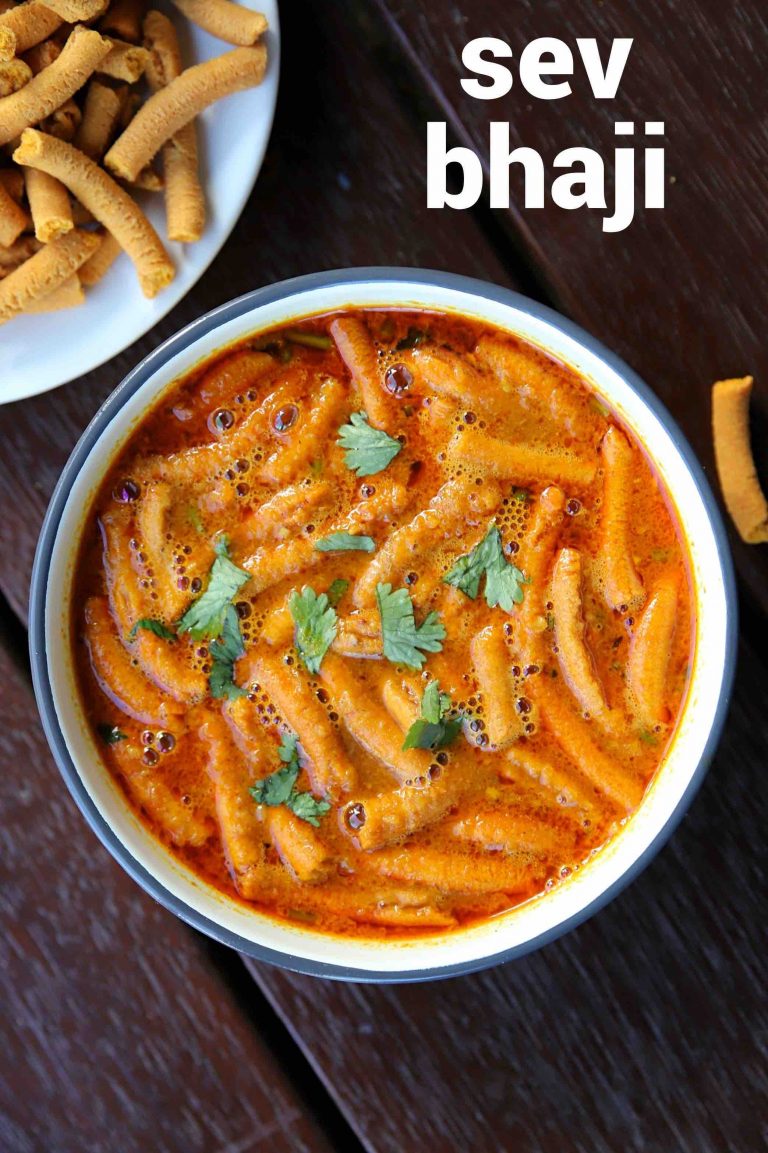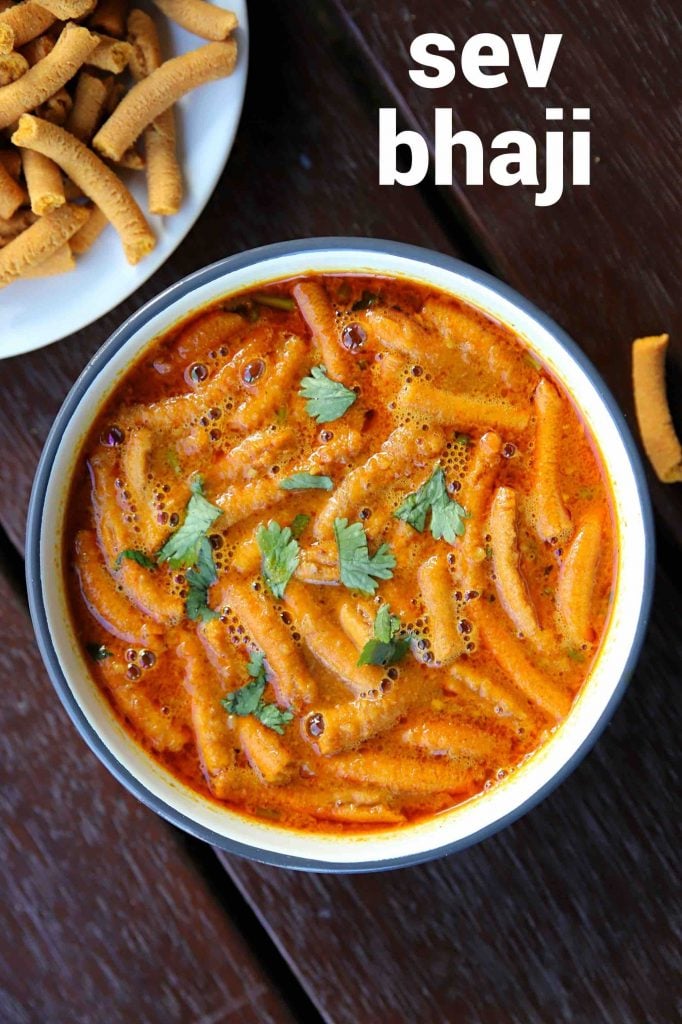 sev bhaji recipe | shev bhaji | sev bhaji ki sabji | shev chi bhaji with step by step photo and video recipe. maharashtiran cuisine has always been a fusion of south india and north india. it would always have a flavour of both and particularly with the gravy based curries which would use both south indian and north indian technique. sev bhaji recipe is one such gravy recipe which has coconut-based masala from an authentic blend of spices.
generally, most of the indian curries are made with either combination of vegetables, meat or with dairy products like paneer. yet there is another category from the western india where deep-fried snacks are used/combined with spicy/sour gravy and served with bread. sev bhaji or shev bhaji is one such popular variety where spicy gathiya is topped over spicy coconut-based thin gravy. the recipe slightly brushes with other western indian cuisine popular curries like misal pav or even sev tamatar sabzi. well if you ask me, i personally like the shev chi bhaji and sev tamatar version. its because it is much easy and quick to prepare to compare it to misal pav. having said that misal pav is much tastier and flavoured as it touch bases many ingredients.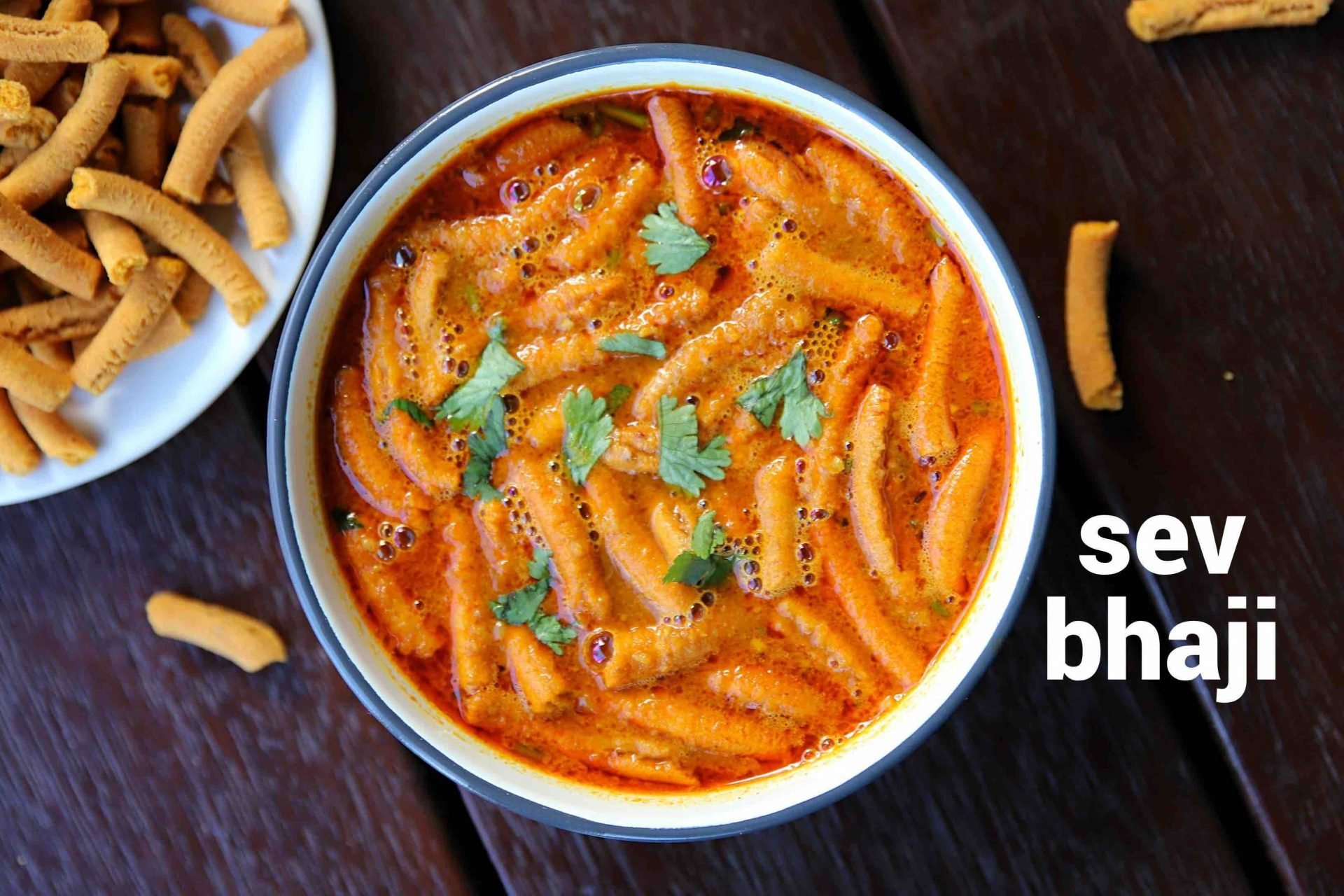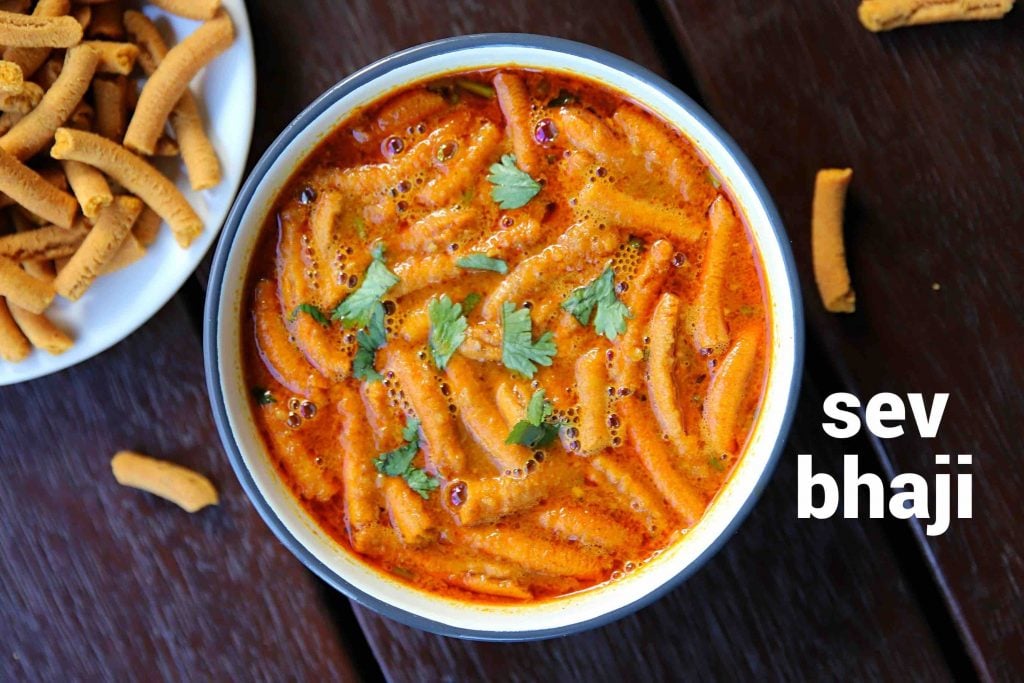 furthermore, i would like to highlight some of my tips, suggestions and variations for the sev bhaji recipe. firstly, i have prepared the gathiya from the scratch and that should be the ideal for this recipe. having said that, you can also use store-bought gathiya or thick sev which should cut down your cooking time. secondly, combine the sev or gathiya only when you are ready to serve the curry. in other words, top the sev in small batches in a bowl as required. lastly, i have used normal garam masala as i did not had the access to the kala garam masala. but if you have access to it, you should be using it.
finally, i request you to check for my other curry or sabji recipes collection with this post of sev bhaji recipe. it mainly includes recipes like sev tameta nu shaak, methi bhaji, potato curry for masala dosa, poori bhaji, aloo shimla mirch ki sabji, gobhi ki sabji, matar paneer, kaddu ki sabji, paneer bhurji gravy, mushroom ki sabji. further to these i request you to check my other related recipes collection like,
sev bhaji video recipe:
recipe card for shev bhaji recipe:
how to make sev bhaji with step by step photo:
tikhat sev / spicy gathiya preparation:
firstly, in a bowl take 2 cup besan, ¼ tsp turmeric, 1 tsp chilli powder, ¼ tsp ajwain and ½ tsp salt. mix well.

pour 2 tbsp hot oil over the flour and mix well.

crumble and mix until the flour is moist.

now add ½ cup water (or as required) and knead the dough.


the dough will be slightly sticky, grease hand with oil and knead to smooth, soft and non-sticky dough.

grease the large-holed mould with some oil and stuff dough into it.

further, press and spread the tikhat sev in hot oil forming a circle in the oil and make sure you do not overlap.


after a minute, flip over and fry the other side till it turns golden and crisp.

finally, drain over kitchen paper to absorb oil and break tikhat sev into pieces.

khat or bhaji preparation:
firstly, in a pan heat 2 tsp oil and roast 1 onion, 3 clove garlic and 1 inch ginger until they turn golden brown.

now add ½ cup dry coconut and continue to roast on medium flame until they turn golden brown.

cool completely, and transfer to the blender.

also, add ¾ tsp chilli powder, 1 tsp garam masala, ¼ tsp turmeric.

blend to a thick paste adding ¼ cup water.

now heat 2 tbsp oil in a kadai and add the prepared masala paste.

saute on low flame until the oil is released from masala paste. traditionally, khandeshi kala masala is used in place of garam masala.

add 3 cup water, ½ tsp jaggery and ½ tsp salt.

mix well adjusting consistency as required.

continue to boil for 3 minutes or until the flavours are absorbed.

add 2 tbsp coriander and khat or rassa is ready.

to serve, in a bowl pour khat (rassa) and top with tikhat sev, coriander.

finally, enjoy sev bhaji with bhakari, chapathi or pav.

notes:
firstly, you can use store brought tikhat sev or spicy gathiya.
also, the khat consistency should be watery as sev will absorb and thickens.
additionally, just before serving add sev to prevent from turning soggy.
finally, sev bhaji recipe is traditionally prepared with khandeshi kala masala.