adai recipe | adai dosa recipe | how to make south indian adai dosai with detailed photo and video recipe. a south indian savoury pan cake recipe prepared mainly with combination of lentils and spices. it is a healthy and protein packed dish which can be enjoyed for morning breakfast with coconut chutney. unlike the traditional dosa recipes which are thicker and prepared with rice and urad dal, adai dosa is thick and heavier with rice and combination of lentils with spices.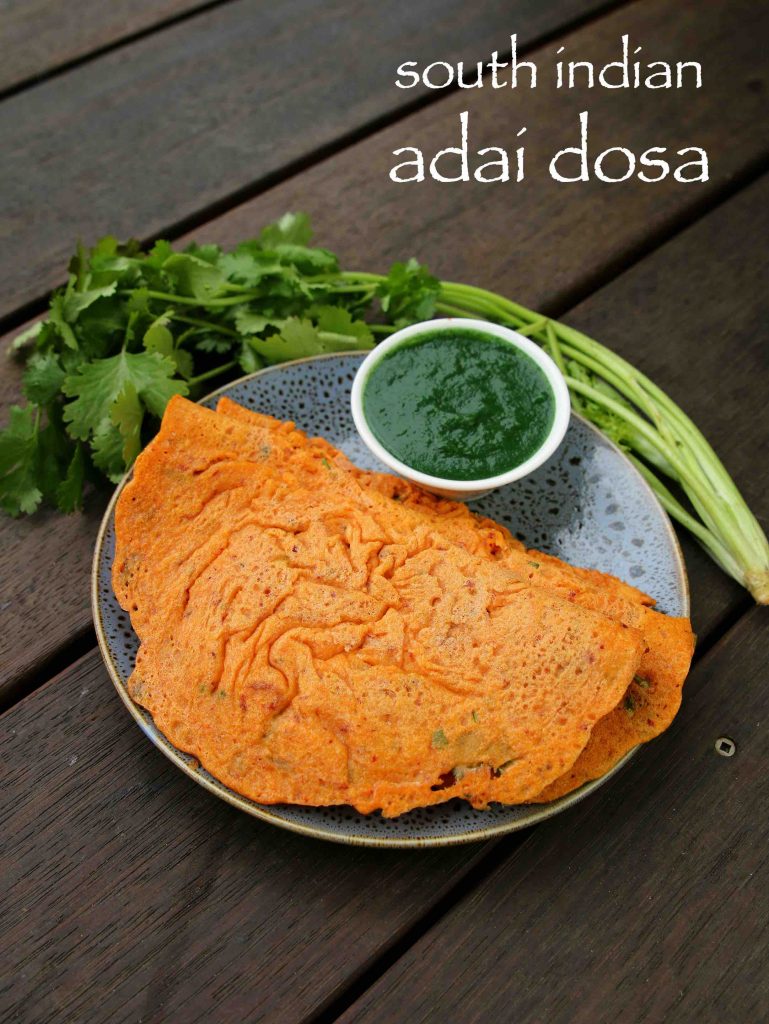 adai recipe | adai dosa recipe | how to make south indian adai dosai with step by step photo and video recipe. generally the combination of lentils of toor dal, channa dal, urad dal and moong dal which is soaked and grounded to thick batter. in addition the batter include jaggery or red chillies which infuse sweet and spice factor to adai dosa.
traditionally adai recipe is served with coconut and vegetable stew i.e avial. and perhaps it is one of the classical combo for breakfast for many south indians. however i personally prefer it with simple coconut chutney or peanut chutney. i just do not like the combination of avial and adai dosa, as the combination of avial and rice is my personal favourite. i wish to have my breakfast more on savoury side rather than sweet or creamy one. luckily even my husband has the same taste preferences and hence our adai dosa breakfast remains very simple with chutney options.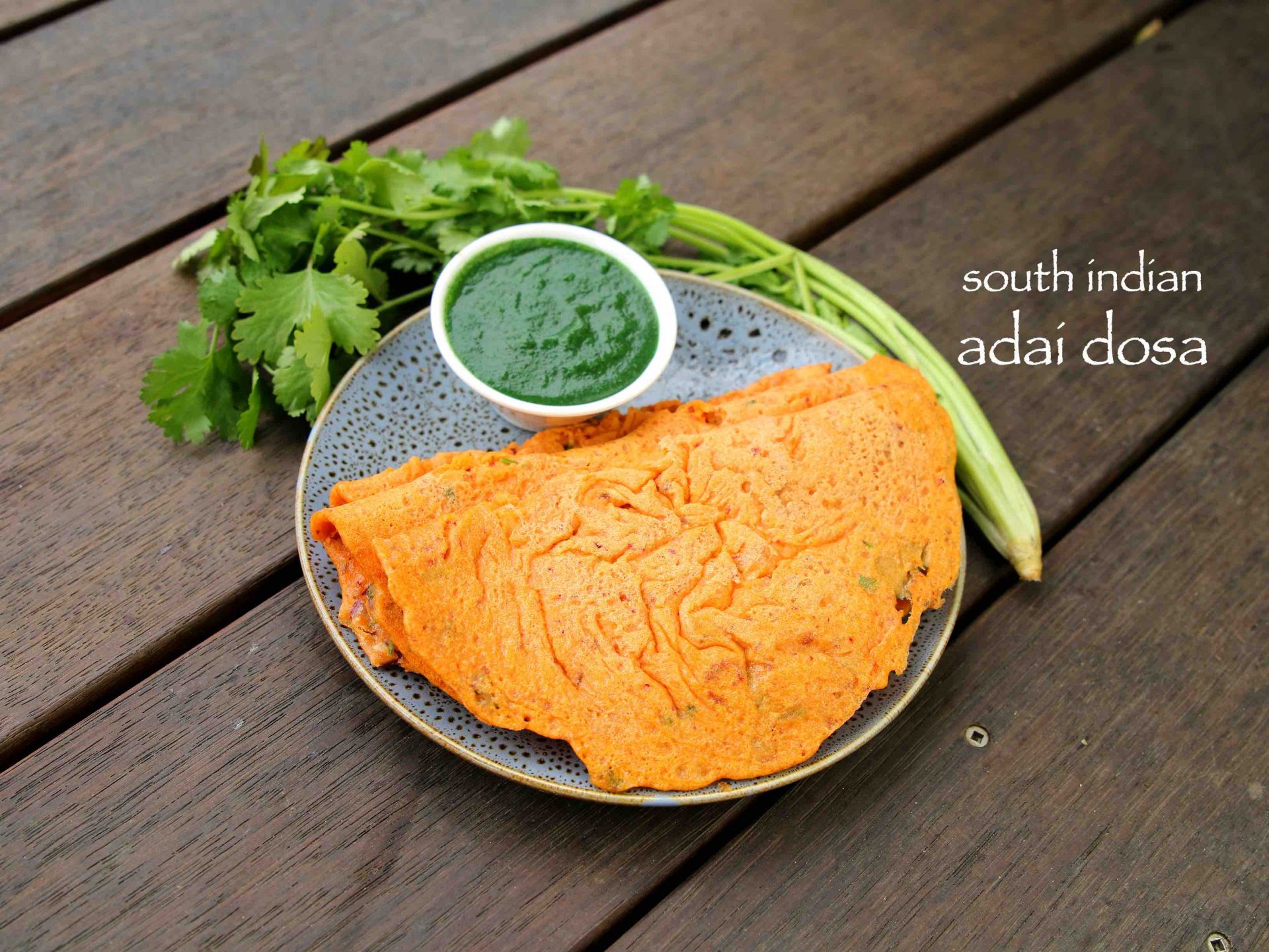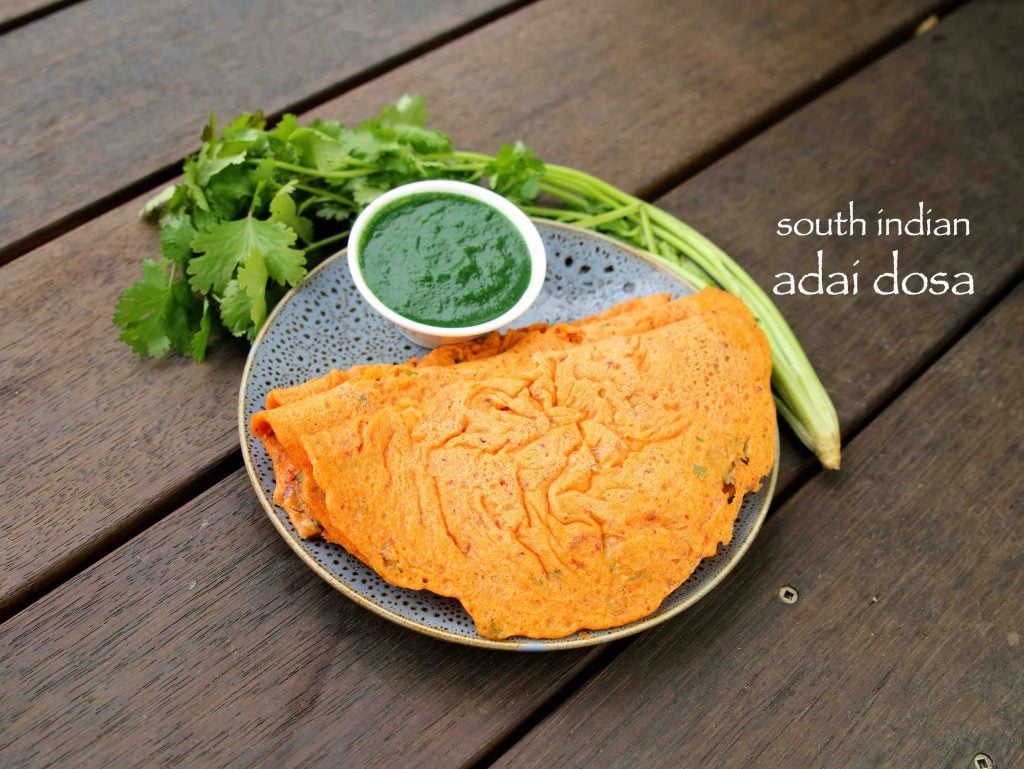 the recipe for adai is extremely simple without much fuss, yet some easy tips and variations for a healthy adai dosa recipe. firstly, the recipe can be easily extended and varied by eliminating one of the lentils mentioned above. for ex: you can skip toor dal and prepare it with just other dal and it should taste almost similar to the authentic one. secondly, traditional adai dosa batter is thick and dosa turns to be a thick pan cake. alternatively you can also make the batter watery like neer dosa or rava dosa and pour on dosa pan similar to it. lastly, you can make the dosa more spicy by adding ingredients like garlic, fennel, and coriander leaves to make spicy or kara adai dosai recipe.
finally i would like to highlight my other south indian dosa recipes collection with this post of adai recipe. it includes recipes like, rava dosa, masala dosa, pav bhaji dosa, spring dosa, poha dosa, set dosa, pesarattu dosa, and onion rava masala dosa recipe. also i have other recipes collection which may be of interest to you with this recipe like,
adai dosa video recipe:
recipe card for adai dosa recipe:
how to make adai recipe with step by step photo:
firstly, in a large bowl take 1 cup rice, ¼ cup toor dal, ¼ cup chana dal, 2 tbsp urad dal, 2 tbsp moong dal, ¼ tsp methi and 5 dried red chilli.

add enough water and soak for 5 hours.

drain off the water and transfer to a mixi.

blend to slightly coarse paste adding water as required. do not blend to very smooth batter now very coarse batter.


transfer the batter into large mixing bowl.

add in 2 tbsp onion, 2 tbsp coriander, 1 tbsp leaves and ½ tsp ginger paste.

also add 1 tsp cumin, pinch of hing and 1 tsp salt.


mix well making sure everything is combined well.

check for thick flowing consistency, add more water if required.

further, pour a ladleful of batter onto a hot tawa and spread gently.

pour a tsp of oil over adai.

allow to cook on low to medium flame.

now flip the adai and cook both sides by pressing gently.

finally, fold the adai dosa and serve with green chutney or coconut chutney.

notes:
firstly, add leafy vegetables of your choice like drumstick leaves to adai more healthy.
also, pour adai slightly thick, as it is difficult to spread when onions are present.
additionally, cook on low to medium flame; else adai will not get cooked from inside.
finally, adai dosa taste great when served hot.