poha dosa recipe | soft sponge aval dosa recipe | avalakki dose recipe with detailed photo and video recipe. a soft and spongy south indian dosa recipe which is an ideal breakfast recipe for weekend mornings or brunch. it is typically served or eaten with choice of chutney recipes with sambar recipe.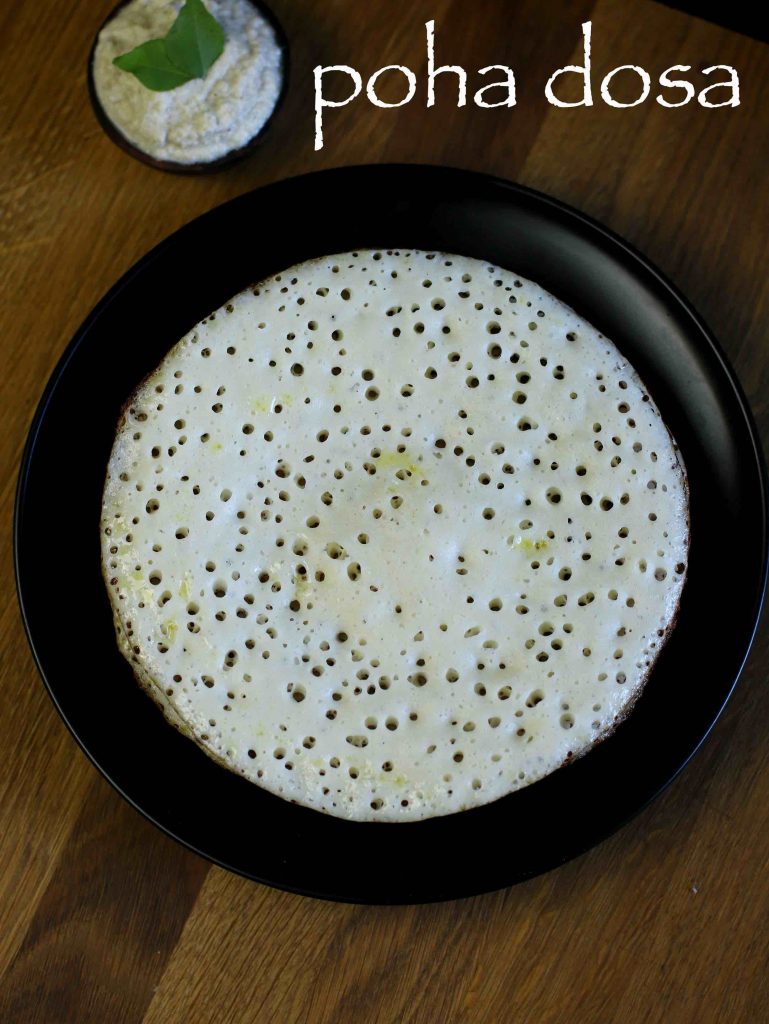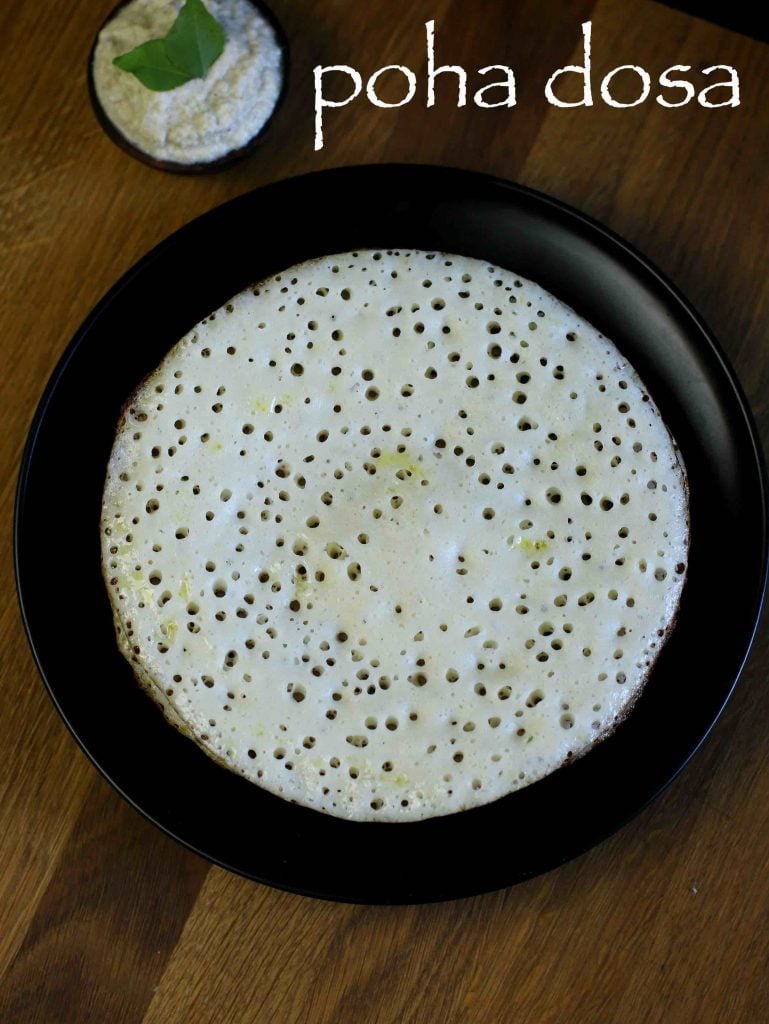 poha dosa recipe | soft sponge aval dosa recipe | avalakki dose recipe with step by step photo and video recipe. another variation of dosa recipe prepared with poha / aval / avalakki, rice, urad and curd or yogurt. typically the 3:1 proportion of rice and urad dal is followed for traditional dosa recipe. however in this recipe 4:1 ratio of rice and urad dal with extra poha and curd is added.
i have already shared the traditional karnataka set dosa or set dose recipe and also another variant of sponge or curd dosa. to be honest, poha dosa recipe is combination of both the recipe which yields same texture and softness, yet unique taste of poha and yogurt. i typically prepare this recipe even with leftover masala dosa batter too. i grind the poha and curd mixture to fine paste separately and mix it to dosa batter and leave it to ferment. also, the aval dosa batter is poured thick to dosa pan and not thin like traditional masala dosa.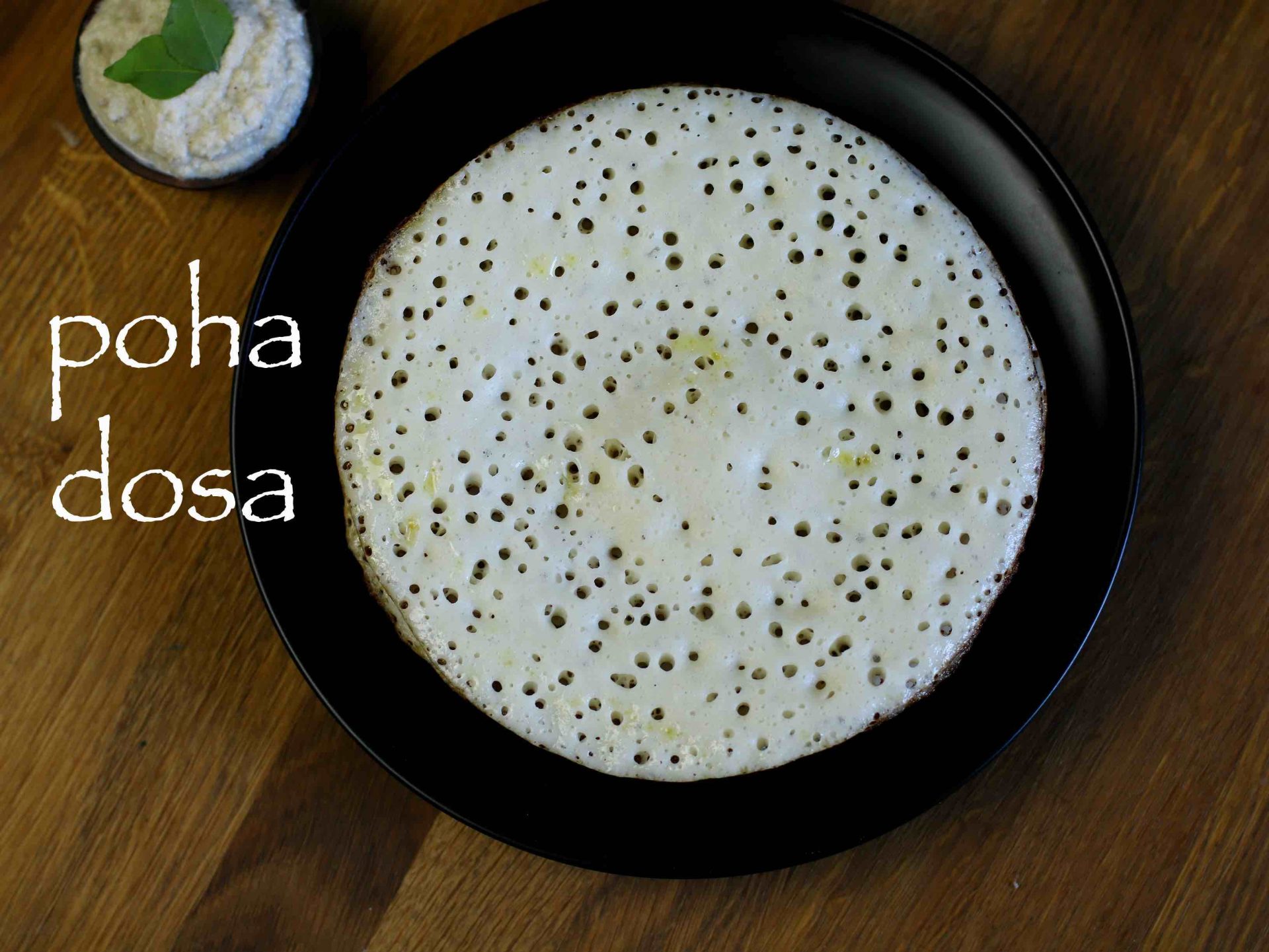 furthermore, some important tips and suggestions for a perfect soft and sponge poha dosa recipe. firstly, i used fresh yogurt or curd for aval dosa recipe and not sour curd. sour curd will help to hasten the fermentation process and also it may turn dosa sour in taste. secondly, always pour dosa thick on dosa pan and never try to spread like masala dosa. poha makes dosa very soft and the dosa may not hold the shape. lastly, you can also prepare instant poha dosa recipe by adding baking soda and skip the entire fermentation process.
finally, i request you to check my other south indian dosa recipes collection with this poha dosa recipe post. this includes, rava dosa, ragi dosa, cheese dosa, mysore masala dosa, benne dosa, tuppa dosa, sandwich dosa and godi dosa recipe. in addition do visit my other recipes collection from my blog like,
poha dosa or soft sponge aval dosa video recipe:
recipe card for poha dosa or aval dosa:
how to make poha dosa with step by step photo:
firstly, in a large bowl soak 1 cup rice, ¼ cup urad dal and ¼ tsp methi seeds for 5 hours.

further, drain off the water and blend to smooth batter adding water as required.

transfer to a large bowl.

now in a same blender add in 1 cup thin poha and ¾ cup curd.


blend to smooth paste. add water if required.

transfer to the same bowl.

mix well making sure everything combined well. add more water if required.


cover and ferment in a warm place for 8- 12 hours depending on the climate.

next day, mix the batter and check for flowing consistency batter. add water if required to adjust the consistency. batter should be thiner than normal dosa batter as it should spread easily after pouring on tawa.

furthermore, add salt as required and mix well.

heat the griddle and pour a ladleful of the batter on it and spread it very gently. dosa should be thick and do not make the dosa thin.

add ghee / oil if required. however it is not required.

then cover the dosa for a minute and cook till the top of dosa is cooked completely in presence of steam. note we are not roasting the dosa on other side.

furthermore, the dosa turns to be full of holes and very soft indicating the batter has well fermented.

finally serve immediately with coconut chutney and sambar.

notes:
firstly, ferment the batter well to get nice soft and spongy dosa.
alternatively, add a pinch of baking soda if you want to skip the fermentation process.
also, adding urad dal, helps in fermentation process.
furthermore, do not pour the dosa thin as they are very soft and wont have any strength.
finally, do not spread the poha dosa batter as it should be thick like set dosa.