cheesy maggi recipe | chilli cheese maggi with detailed photo and video recipe. an extremely popular street food recipe, particularly in urban city made with maggi noodles and cheese. it is basically an alteration to the popular masala maggi recipe where cheese and chilli flakes are added. generally, maggi recipes are served for morning breakfast, but this recipe is an ideal evening snack recipe.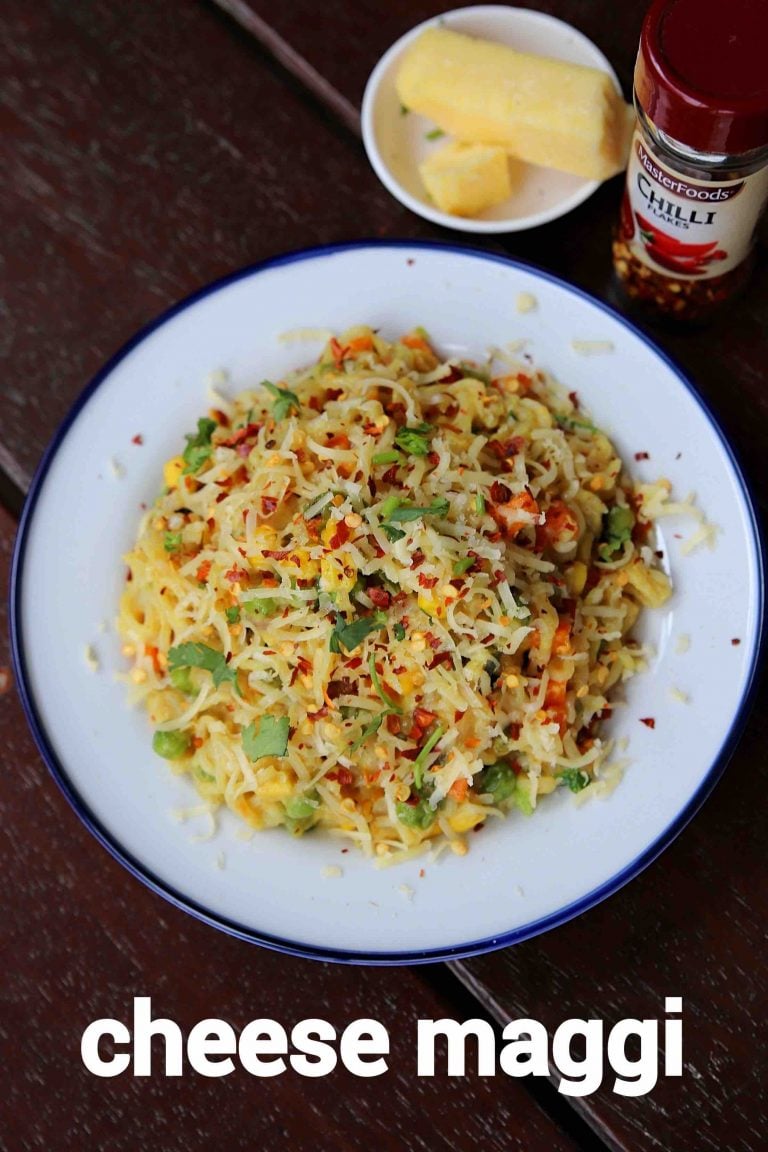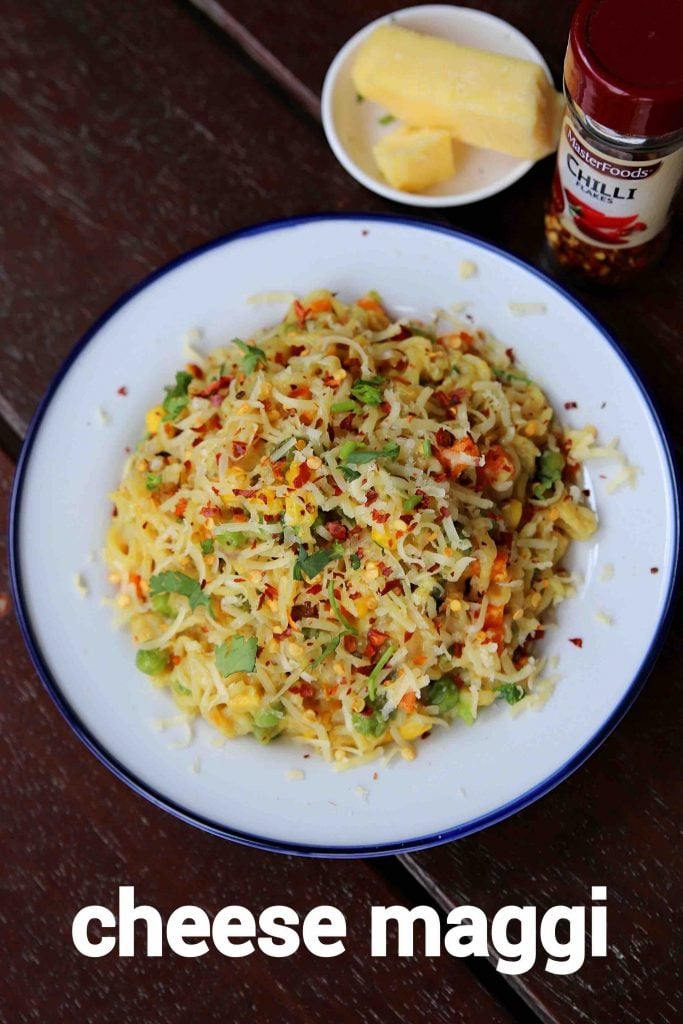 cheesy maggi recipe | chilli cheese maggi with step by step photo and video recipe. maggi recipes have become a popular recipe, especially with teenagers and kids. it is instant, tasty and more importantly full of flavours in an economical way. it has lead to many alteration and experiments to the standard recipe. one such simple and easy snack alteration is cheesy maggi recipe loaded with melting cheese.
well, maggi recipes do not need any particular introduction. it is perhaps one of the popular staple food for many indians without affecting any culinary dialects. yet there have been many alterations to its basic and standard provided by its manufacturer. it could be a pickle based maggi or it could be a simple vegetable loaded masala maggi. for all these variations, you can add one particular ingredient which would not alter its basic taste, and only improving it. cheese is one such ingredient where you can add it to any spicy masala recipe to make it cheesy one. cheesy maggi recipe, belongs to one variation and can be served for any occasions including morning breakfast.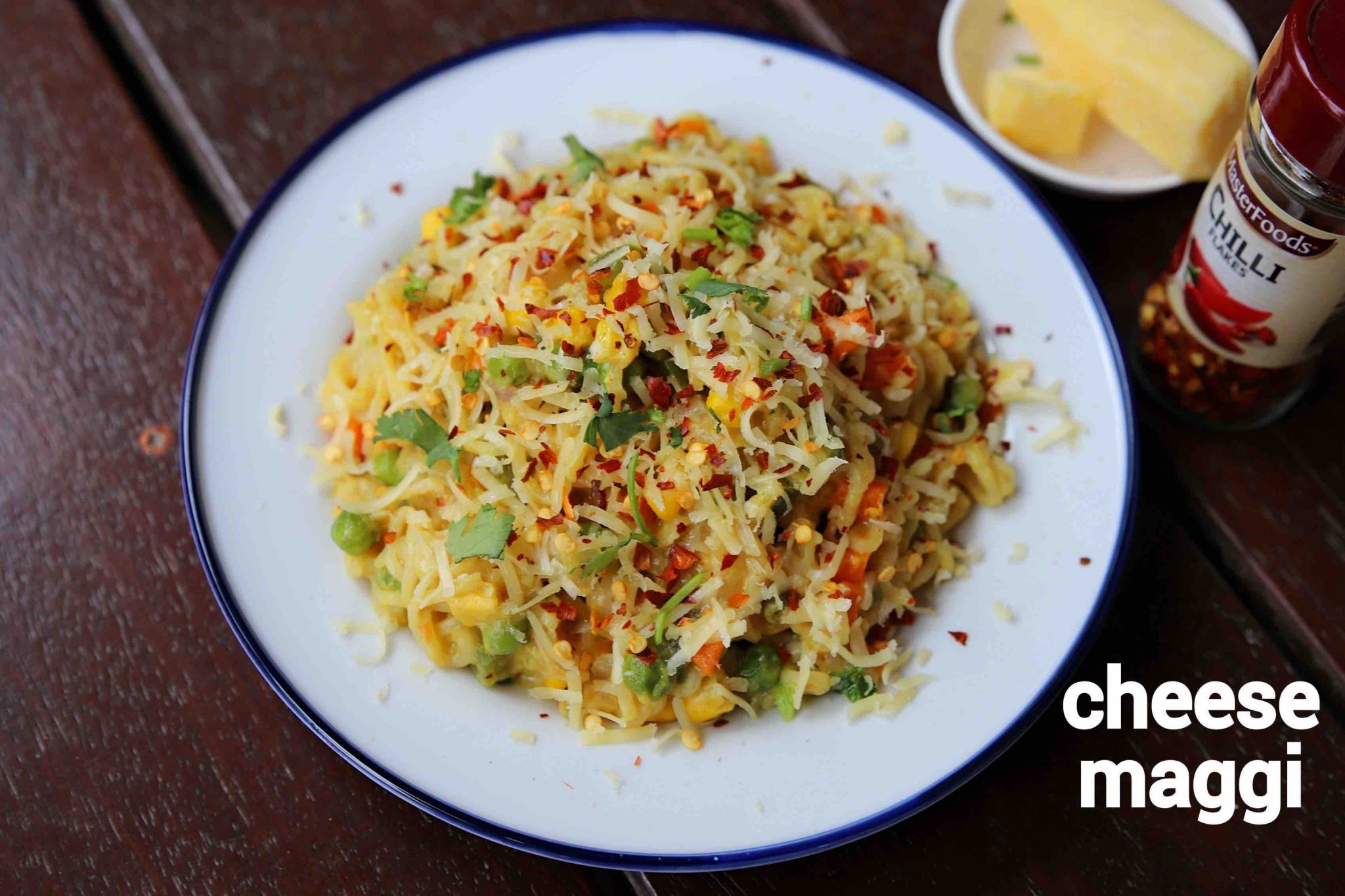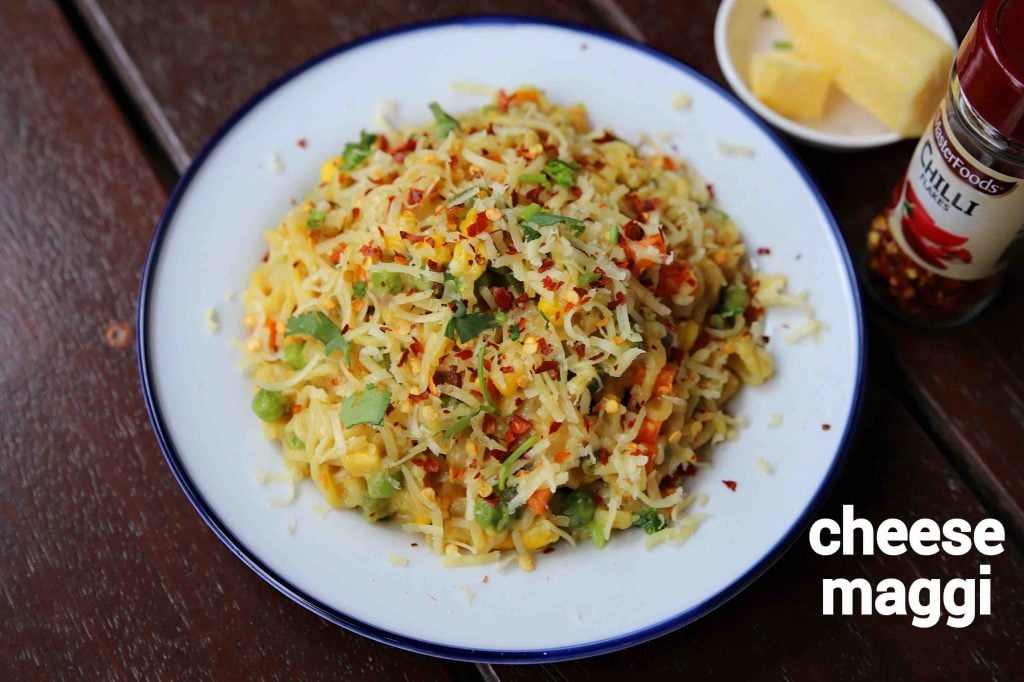 furthermore, some easy and important tips, suggestions and variations for cheesy maggi recipe. firstly, i would heavily recommend using cheddar cheese for this recipe. it would make it less gooey and just melts it to the recipe. yet if you need more gooey, you can use mozzarella or combination of both. secondly, i have added basic veggies like peas, beans, carrots and sweet corn. having said that, it is completely open-ended and you can use any vegetables you wish. lastly, once the cheese is added to the recipe, it has to be served immediately. basically, when rested it would solidify and may not have the same eating experience. hence delay the addition of cheese if you are not planning to serve immediately.
finally, i would like to highlight my other street food recipes collection with this post of cheese maggi recipe. it mainly includes recipes variations like crispy corn, kat vada, sukha bhel, paneer pav bhaji, ragda puri, chilli parotta, veg pakora, sev puri, veggie burger, bread balls. further to these i would like to mention my other similar recipes collection like,
cheese maggi video recipe:
recipe card for cheese maggi recipe:
how to make cheesy maggi with step by step photo:
firstly, in a large kadai heat 3 tsp oil and saute 2 chilli and 3 cloves garlic.

also, add ½ onion and saute until it softens slightly.

now add ½ tomato, ½ capsicum, ½ carrot, 2 tbsp peas and 2 tbsp sweet corn.

saute for a minute without cover cooking vegetables.


further, add 1½ cup water, cut 2 slices of cheese and 1 maggi tastemaker.

mix well until the cheese melts completely.

now add in 1 maggi noodles dipping it completely in water.


cover and boil for a minute.

mix in between and continue to cook until the noodles are cooked well.

add in 2 tbsp coriander and mix well.

finally, grate the cheddar cheese and sprinkle chilli flakes on cheesy maggi before serving.

notes:
firstly, adding vegetables is completely optional.
also, you can use the cheese of your choice.
additionally, adding chilli will enhance the flavour as cheese just makes it creamy.
finally, serve cheese maggi immediately as it thickens once cooled.