kaju katli recipe | kaju barfi recipe | kaju katli sweet | kaju ki barfi with detailed photo and video recipe. a popular indian sweet dessert recipe made with powdered cashew and sugar syrup. it is perhaps one of the popular indian sweet recipe which is made for all the celebrations, occasions and festival seasons. it is a simple and easy sweet snack recipe made with only 2 ingredients, but can be tricky with the sugar syrup consistency which may actually spoil the texture.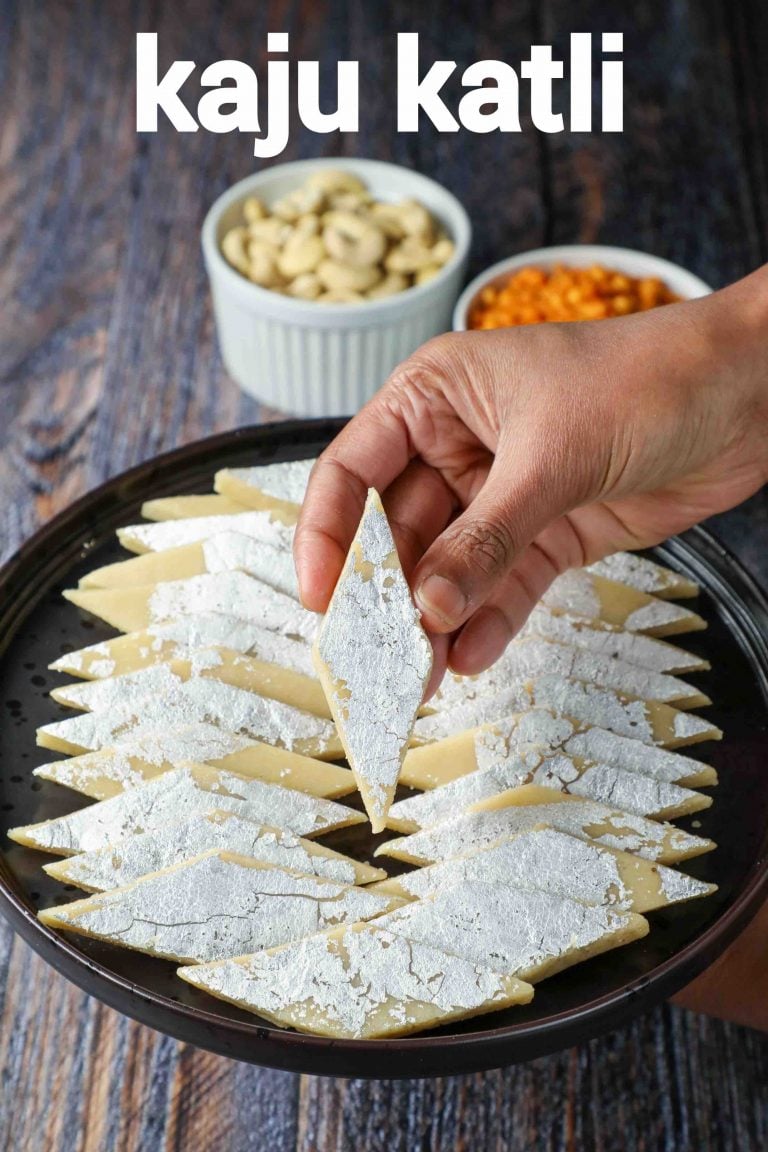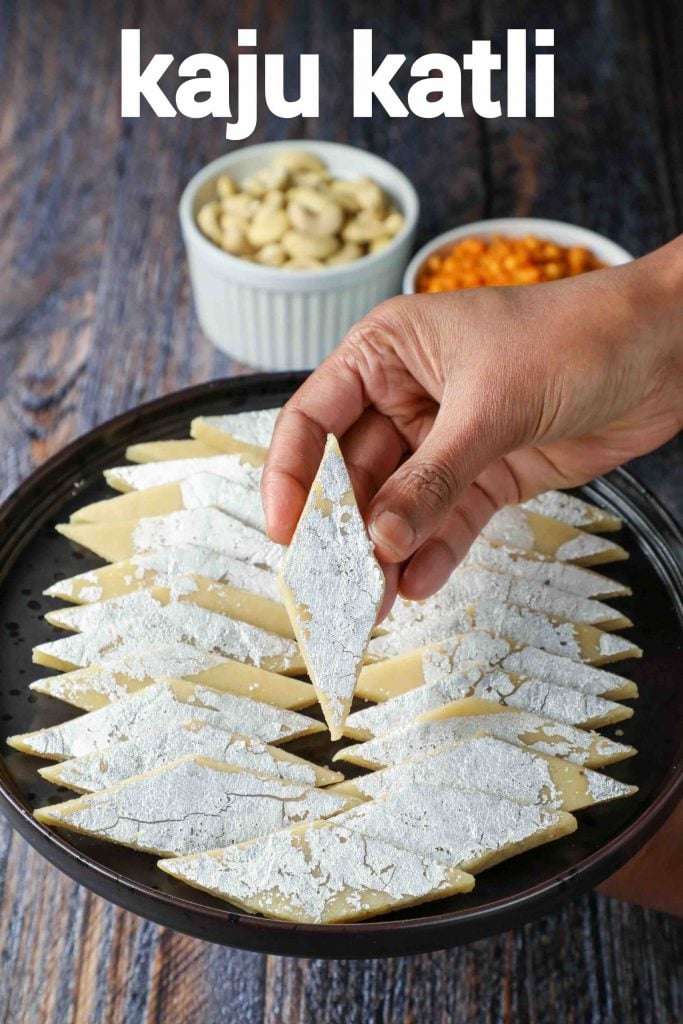 kaju katli recipe | kaju barfi recipe | kaju katli sweet | kaju ki barfi with step by step photo and video recipe. dry fruits based sweets or desserts are very common recipes across india. it is generally made with just one choice of nuts, but can also be used as a combination of dry fruits to make a sugarless sweet snack. out of these, the premium sweet recipe is the kaju katli recipe or the kaju barfi known for its mouth-watering and soothing texture and taste.
well, the recipe of kaju katli is popular across india, but there are different types and variations to the way it is prepared. the difference and variations would be in its thickness and the texture consistency. i tried to make it soft and sort of chewy in texture. but some prefer it to be hard like a barfi. it is purely controlled by the sugar syrup consistency. i have used the one string consistency and if you increase it to 2 or 3 it would be harder. kaju barfi has to be moist in my perspective, but you may slightly vary it as per your taste. moreover, you may also add some edible colour to the sugar syrup to make it more colourful. i have added the silver wok as you get in most of the bakery or halwai, but it is again purely optional.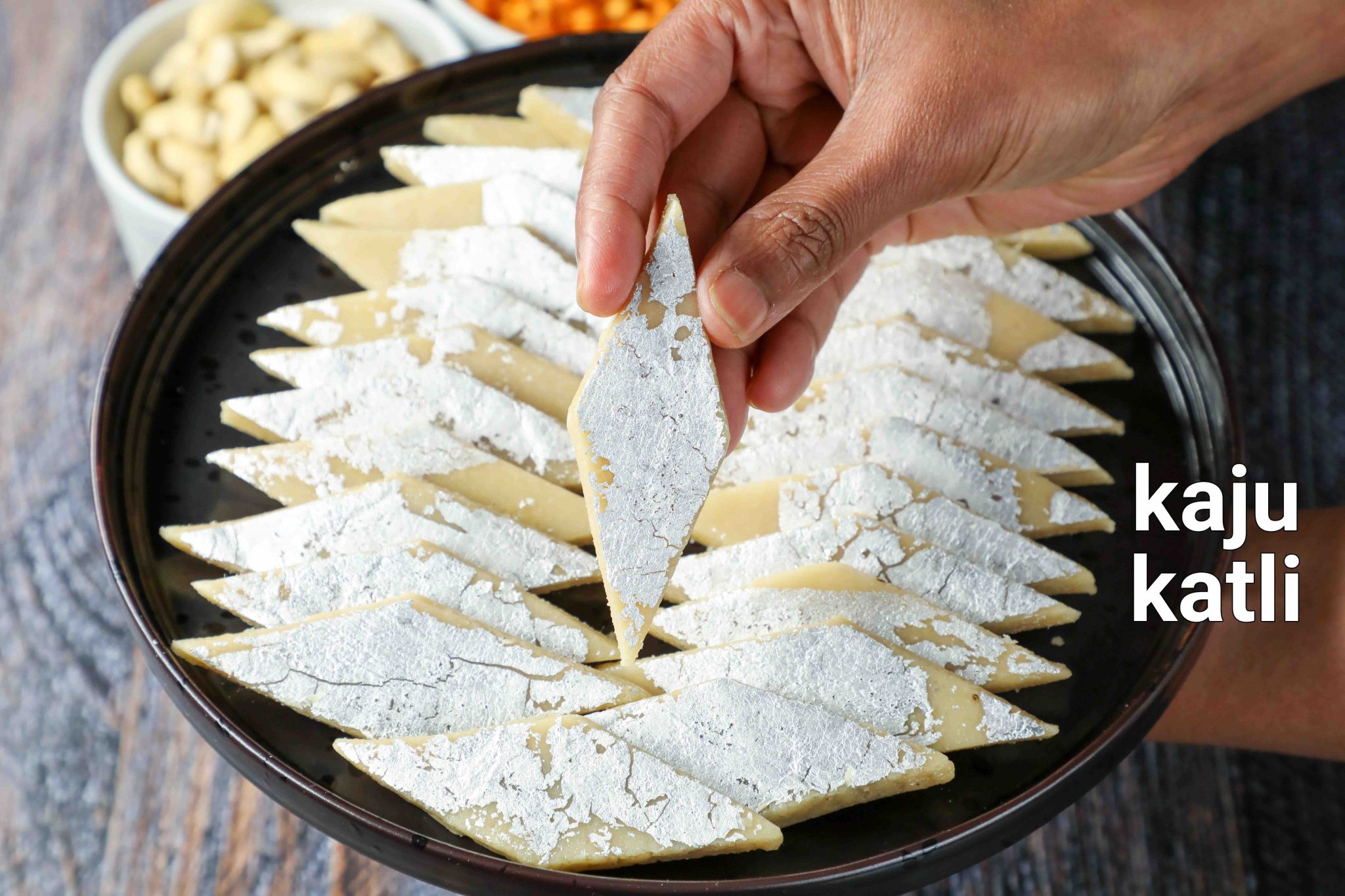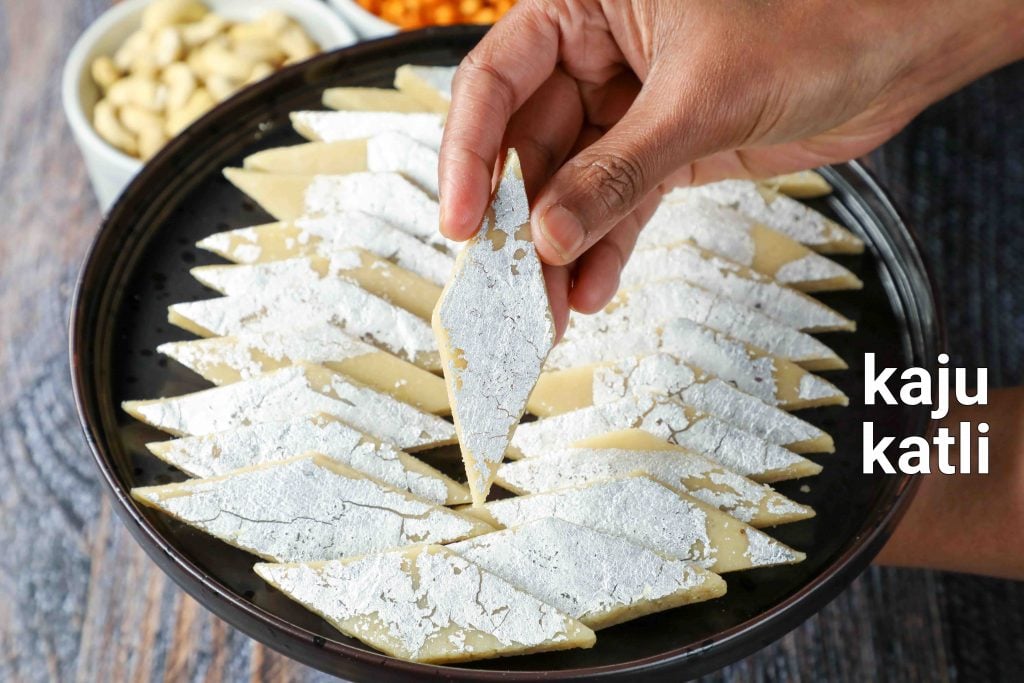 furthermore, before jumping into the recipe, i like to add some more additional tips, suggestions and variations to kaju katli recipe. firstly, i would recommend keeping the cashew's under the sun so that it becomes crisp and moisture-free. particularly, if you are planning to use old cashews, the sun drying can be an ideal option. secondly, the key step for the texture and consistency is the sugar syrup. my preference is to keep it to 1 string consistency but attempt to 2 for harder textured burfi. lastly, applying silver wark is completely optional and is added to make it more attractive. it does not add any taste, flavour to the barfi and you can ignore it if you do not have it.
finally, i request you to check my other detailed indian sweet recipes collection with this post of kaju katli recipe. it mainly includes my other detailed recipes like milk barfi, banana malpua, boondi sweet, pineapple kesari bath, karanji, modak, rosh bora, kayi holige, kaju pista roll, gulab jamun. further to these i would also like to mention my other recipe categories like,
kaju katli video recipe:
recipe card for kaju katli recipe:
how to make kaju barfi with step by step photo:
firstly, in a mixi take 2 cup cashew and blend to a fine powder. make sure to pulse and blend else, the cashew will release oil and turns into a paste.

sieve the cashew powder making sure there are no lumps. keep aside.

in a large kadai take 1 cup sugar and ½ cup water.

stir well and dissolve sugar. boil for 5 minutes or until 1 string consistency is attained.


add in powdered cashew and mix well.

stir continuously until the mixture is well combined and smooth paste is formed.

now add 1 tsp ghee and ¼ tsp cardamom powder. mix well.


continue to cook until the mixture turns smooth paste and starts to separate pan slightly. do not overcook, as the burfi will turn hard.

transfer the mixture on to the butter paper. make sure to grease the butter paper with ghee.

now fold using a spatula until the mixture thickens forming a dough.

once the dough is formed, knead slightly, to form a soft dough.

place the cashew dough between butter paper and roll using a rolling pin.

roll slightly thick making sure it's uniform.

now grease with ghee and apply silver leaf or silver vark. applying vark is optional.

now cut into diamond shape or shape of your choice.

finally, enjoy kaju katli for a month when stored in an airtight container.

notes:
firstly,y make sure to pulse and powder the cashew to a fine powder.
also, sugar syrup consistency is a critical stage in this burfi preparation.
additionally, you can add kesar in place of cardamom powder for variation.
finally, kaju katli recipe tastes great when prepared with good quality cashews.