banana malpua recipe | kele ka malpua | malpua banana | kele ke malpua with detailed photo and video recipe. a classical and traditional indian dessert recipe made with wheat flour and banana smoothie. basically an extension to the traditional plain malpua with an addon of banana flavour. it hails from the bengali or oriya cuisine and is generally made during the festival seasons of diwali or navaratri.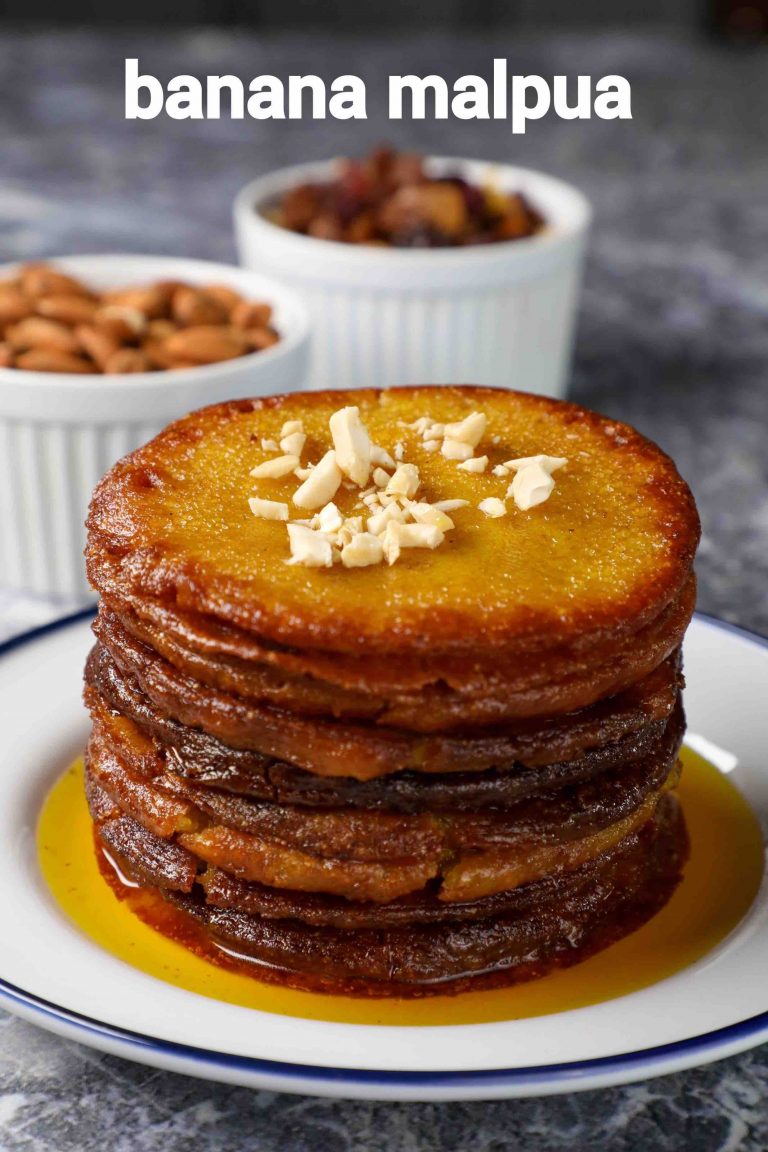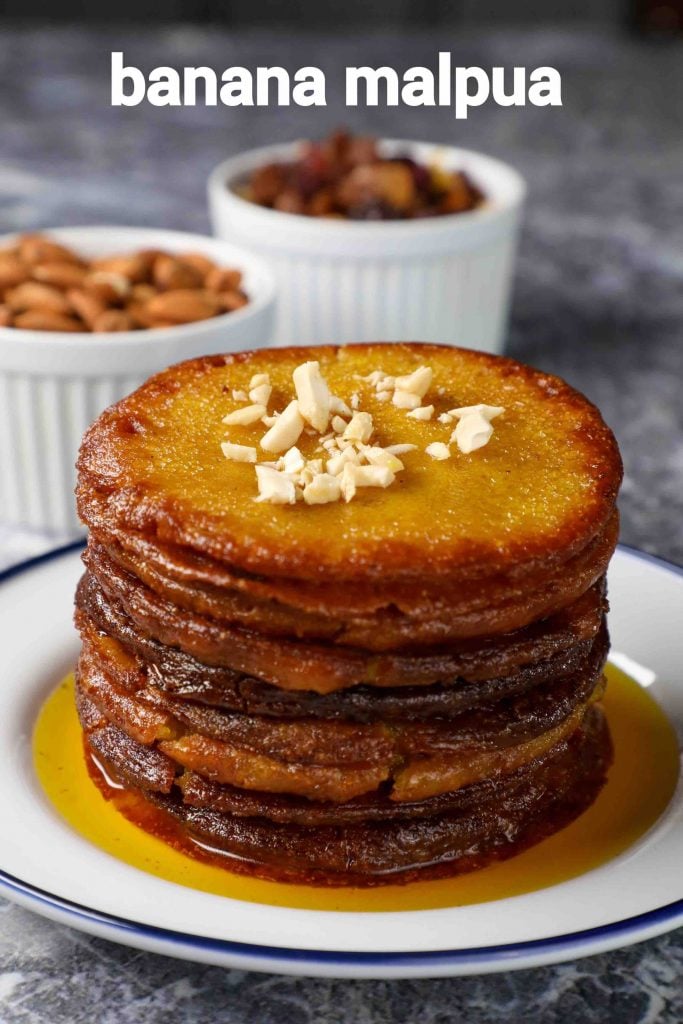 banana malpua recipe | kele ka malpua | malpua banana | kele ke malpua with step by step photo and video recipe. traditional sweets and dessert recipes are popular choices during the festival season in india. it is generally made as offering to the beloved god and eventually served to friends and family. one such simple and the easy traditional sweet recipe is malpua, but this recipe is made with a banana flavour.
i am not a huge fan of deep-fried sweet recipes and i generally avoid. especially sweets like jalebi or jhangeer which are so good taste, but are very bad to you health. this is for the fact the it is made with maida flour, deep-fried and dipped in sugar syrup. the malpua also has a similar process, but just that it is made with wheat flour. hence it can be termed as slightly better compare to these sweets. however, there are some variants of malpua which is made with maida. i totally agree that sweets made from plain tastes fabulous but can very harmful to your health. hence i recommend to consume it with caution.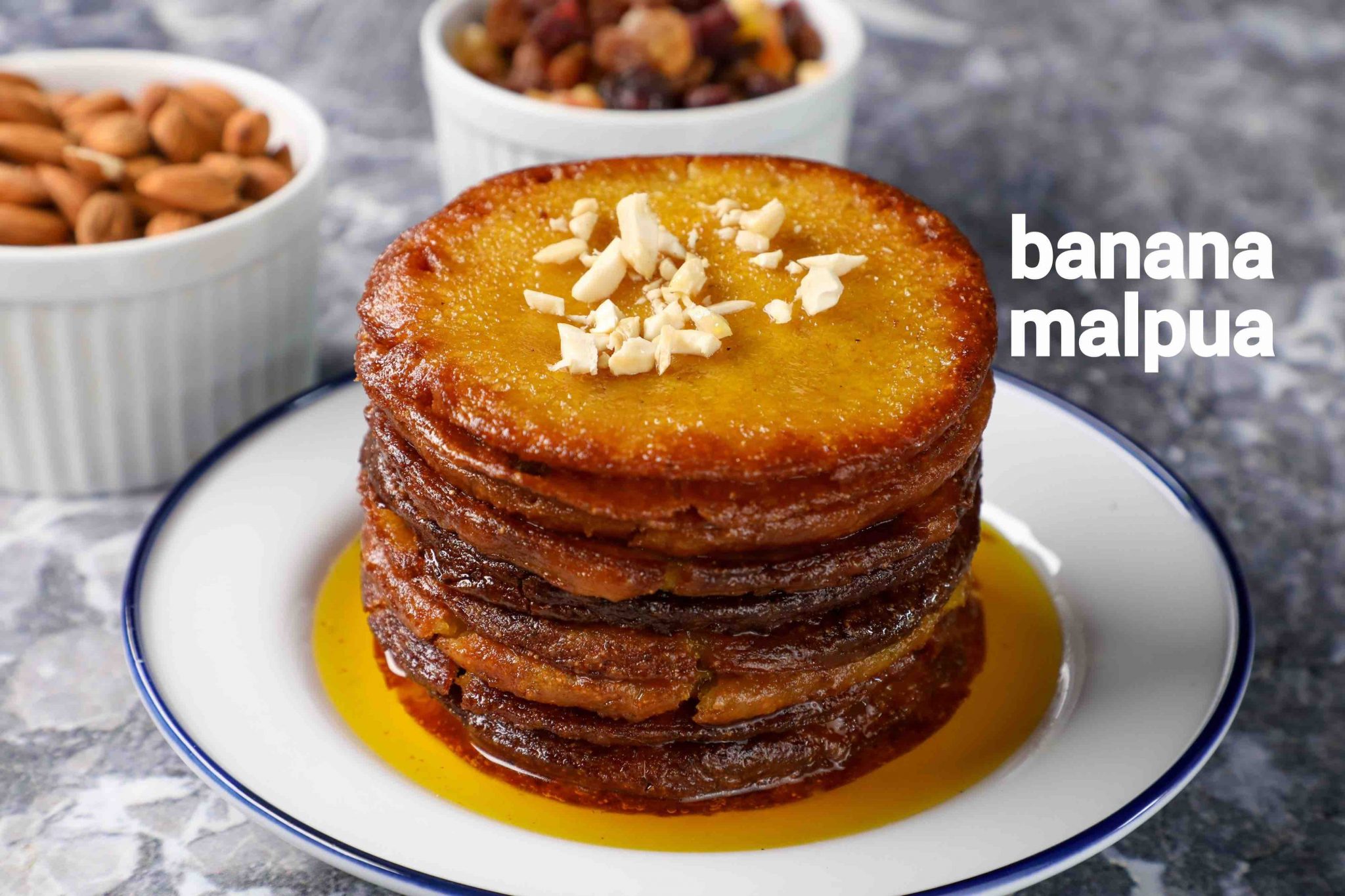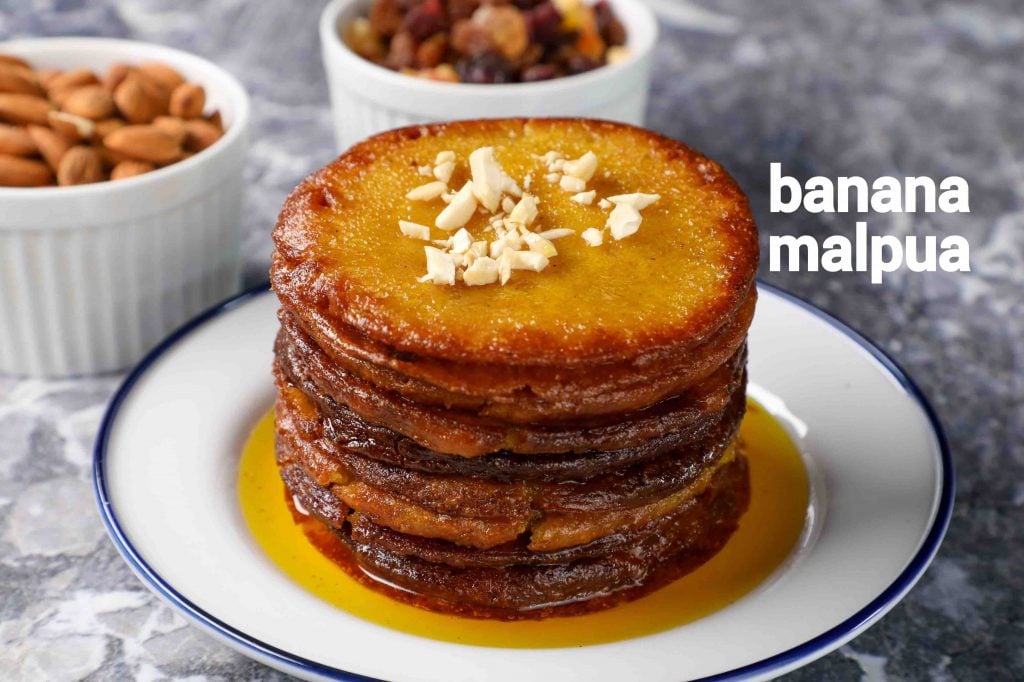 furthermore, some more additional tips, suggestions and variations to banana malpua recipe. firstly, i would heavily recommend using ripe and sweet banana for this recipe. ripe banana easily gets mashed and gels together with wheat flour. also, the sweet banana adds the sweet taste and flavour to the malpua. secondly, the batter has to be of medium consistency. if it is thin, it may not form the shape and if it thick it may not spread uniformly. you may adjust the consistency by adding either wheat flour or milk for a thick or thin consistency. lastly, i have dipped the malpua in sugar syrup for just 2 minutes. you may soak it for more time depending upon sweet preference.
finally, i request you to check my other traditional indian sweet recipes collection with this post of banana malpua recipe. this includes my other related recipe variations like unniyappam, banana appam, rabri, instant malpua, malpua, moong dal halwa, karanji, modak, kayi holige, kaju pista roll. further to these i would also like to mention my other recipe categories like,
banana malpua video recipe:
recipe card for kele ka malpua recipe:
how to make banana malpua with step by step photo:
firstly, in a blender take 1 banana and ½ cup milk.

blend to smooth puree. transfer the banana puree to a large bowl.

add 1 cup wheat flour, 2 tbsp rava, 1 tsp fennel, ¼ tsp cardamom powder and 2 tbsp cream.

mix well making sure everything is well combined.


now add milk as required and mix using a whisk.

whisk for 5 minutes or until the batter is lump-free. rest the batter for 30 minutes.

meanwhile, prepare the sugar syrup. take 1½ cup sugar, 1½ cup water and 3 pods cardamom.


stir well until the sugar melts completely.

boil for 5 minutes or until the sugar syrup turns sticky consistency.

now add pinch saffron food colour and mix well. keep aside.


now prepare the malpua by pouring 2-3 tbsp of batter in a ladle over hot oil.

shallow fry in medium hot oil.

flip over and fry both sides till the malpua gets cooked completely.

drain off the oil and press gently.

dip in sugar syrup and soak the banana malpua on both sides for 2 minutes or till it absorbs sugar syrup.

finally, garnish

banana malpua recipe

with few chopped nuts.
notes:
firstly, make sure to blend the banana really smooth else the batter will not be smooth.
also, you can add more cream to the batter to make rich and creamy.
additionally, you can serve with rabdi or with sugar syrup.
finally, banana malpua recipe tastes great for a week when refrigerated.