katori chaat recipe | chaat katori recipe | how to make tokri chaat with detailed photo and video recipe. an unique chaat recipe or a street food served in crisp snack deep fried bowl's. the bowl or canopies is filled with potatoes, sprouts finely chopped onions and tomatoes with chaat chutney's and served as individual snack. it can be an ideal party starter snack and certainly can raise lot of curiosity with your party guests.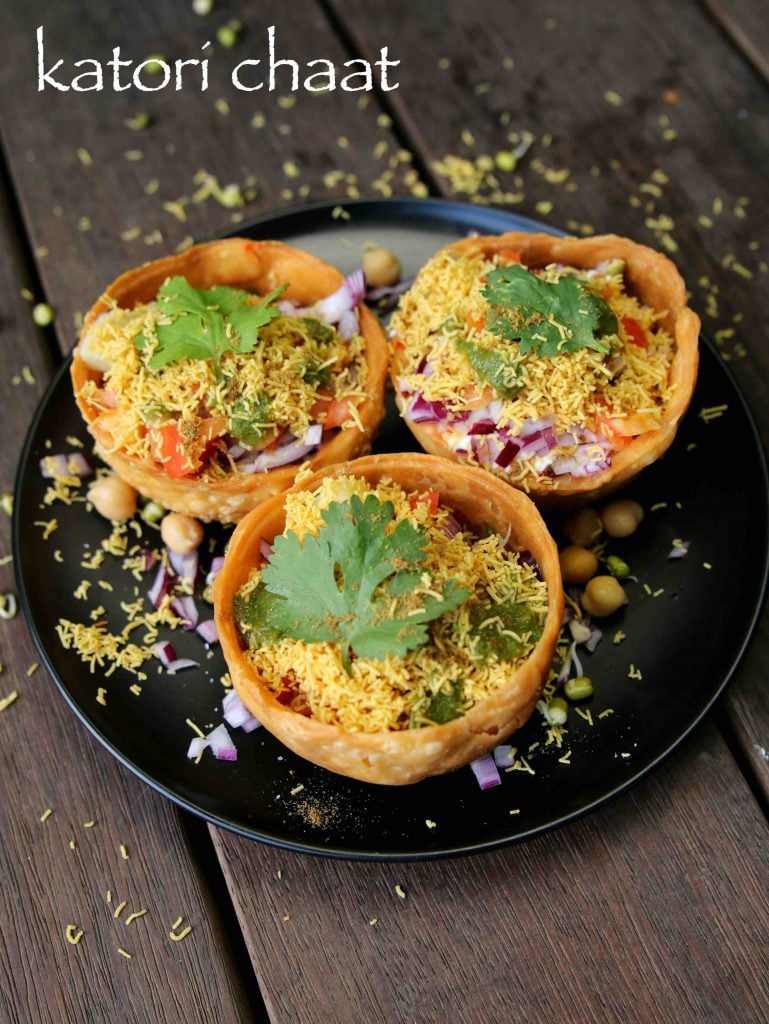 katori chaat recipe | chaat katori recipe | how to make tokri chaat with step by step photo and video recipe. apart from being an ideal starter or appetizer recipe, it can be a favorite snack recipe for your kids. if you are planning for your kids, the katori's can also be baked as an alternative to make it even more healthy.
chaat recipes are the most appreciated recipes with my family and it is a must recipe for our weekend snacks. out of these, katori chaat recipe is my new personal favorite recipe. the main reason is because if you can prepare the katori's well ahead in advance and use those whenever you require it. i personally bake these katori's in a bulk and store them in a air tight container and use them whenever required. the dressing for tokri chaat requires very minimal effort and can be prepared within minutes. i feel it is very thrifty and time saving chaat recipe and yet you can serve it fresh to your surprise guests.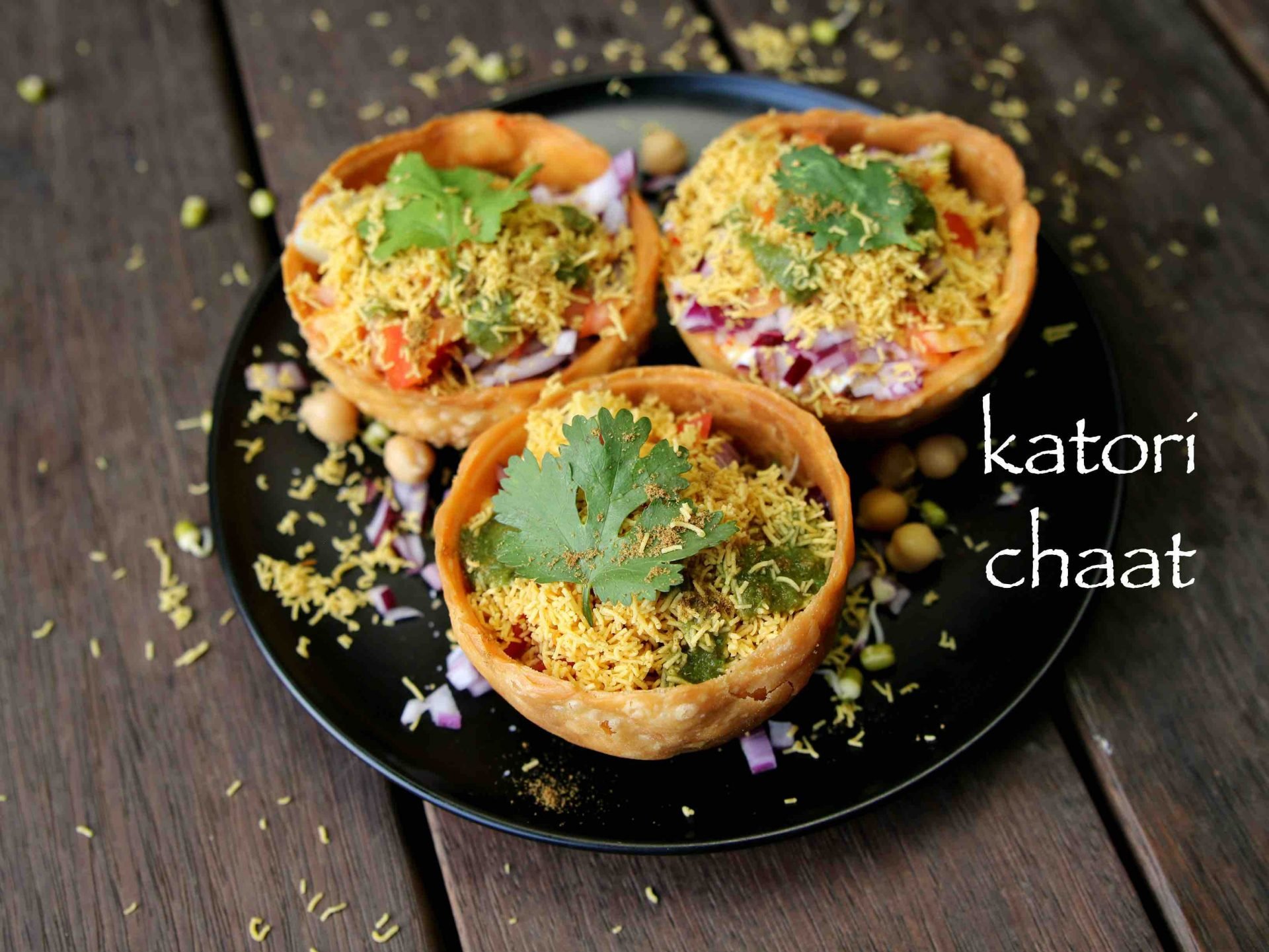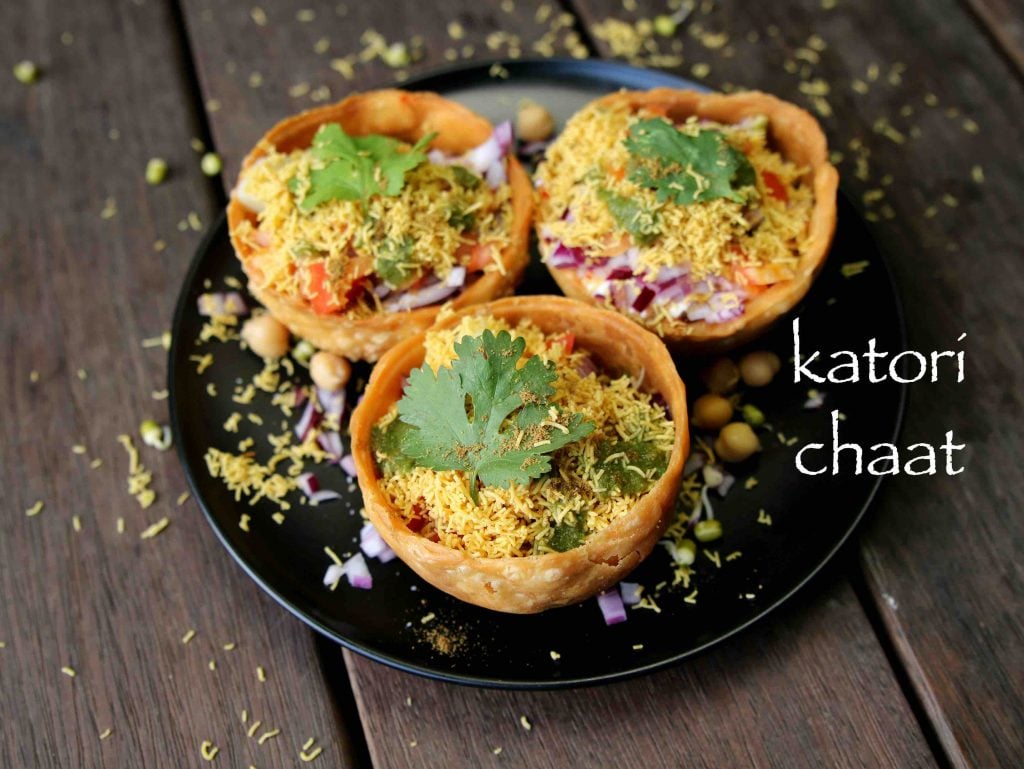 the recipe is extremely simple and does not involve any complicated steps, yet some variations and tips for perfect katori chaat recipe. firstly as mentioned previously, the recipe can also be prepared via baking and i find it more easy rather than deep frying. basically you can use muffins tray or even small cups to hold the shape. preheat and bake at 180 degree celsius for 30 minutes or till it turns golden and crisp. secondly, the same recipe can also be prepared with bread as bread katori chaat. bread slices are rolled thin and deep fried with small cup to so that it holds the shape. the dressing of katori chaat follows the same steps as tokri chaat. lastly, the dressing is completely open ended and you can decorate as per your preference. perhaps, boiled chickpeas, any sprouts, boiled peas and potato should be a good options.
finally i would recommend you to visit my other chaat recipes collection with this post of katori chaat recipe. it mainly includes recipes like, sev puri, pani puri, bhel puri, aloo chaat, chole chaat, dahi puri, dahi bhalla and masala puri recipe. in addition do not forget to visit my other recipes collection from my blog like,
katori chaat video recipe:
recipe card for tokri chaat recipe:
how to make katori chaat recipe with step by step photo:
firstly, in a large mixing bowl take 2 cup maida and ½ tsp salt. mix well.

pour in 2 tbsp hot oil, over flour and crumble.

add in water as required and prepare dough.

prepare smooth and soft dough adding water as required.


now pinch a ball sized dough, and flatten it.

dust flour as required and roll slightly thick.

prick the flattened dough with fork to avoid from puffing up while frying.


place a small katori or cup and wrap the dough.

trim off excess making sure the dough has covered well.

deep fry in hot oil or bake in preheated oven at 180 degree celsius for 30 minutes.

splash oil till the katori separates from the dough.

now fry the katori dough, till it turns golden and crisp.

drain off over kitchen paper and keep aside.

prepare chaat by assembling katori in a plate.

add in 1 tsp boiled chana, 1 tsp boiled and cubed potato, 2 tbsp moong sprouts, ½ tsp green chutney, 1 tsp tamarind chutney and 1 tbsp curd.

also sprinkle chilli powder, cumin powder and salt.

add in a tbsp of onion and tomato.

garish with 2 tbsp sev, green chutney and few coriander leaves.

finally, serve katori chaat immediately, sprinkling chaat masala over it.

notes:
firstly, prepare katori before in hand and store in airtight container. prepare chaat just before serving.
also, adding sprouts makes chaat more healthy and nutritious.
additionally, fry the katori on low to medium flame to turn crisp and golden.
finally, use the shape of katori of your choice to make small or large katori chaat recipe.