baingan bharta recipe | baingan ka bharta | smoky eggplant stir fry mash with detailed photo and video recipe. an easy flavoured and smoky indian curry made with fire-roasted eggplant and spices. it is known for the combination of spice heat with a smoky or charcoaly taste in each bite. the recipe is an ideal side dish for indian flatbreads like roti and chapati, but can also be served as a simple dish with dal rice combination.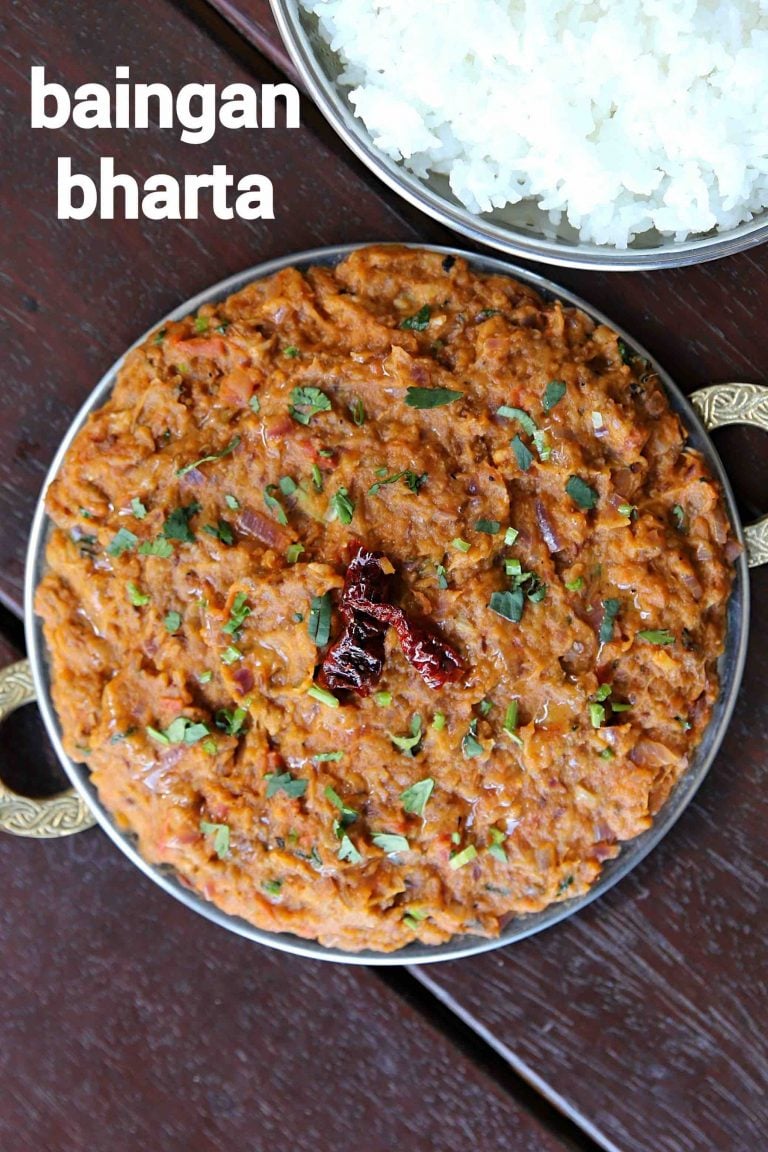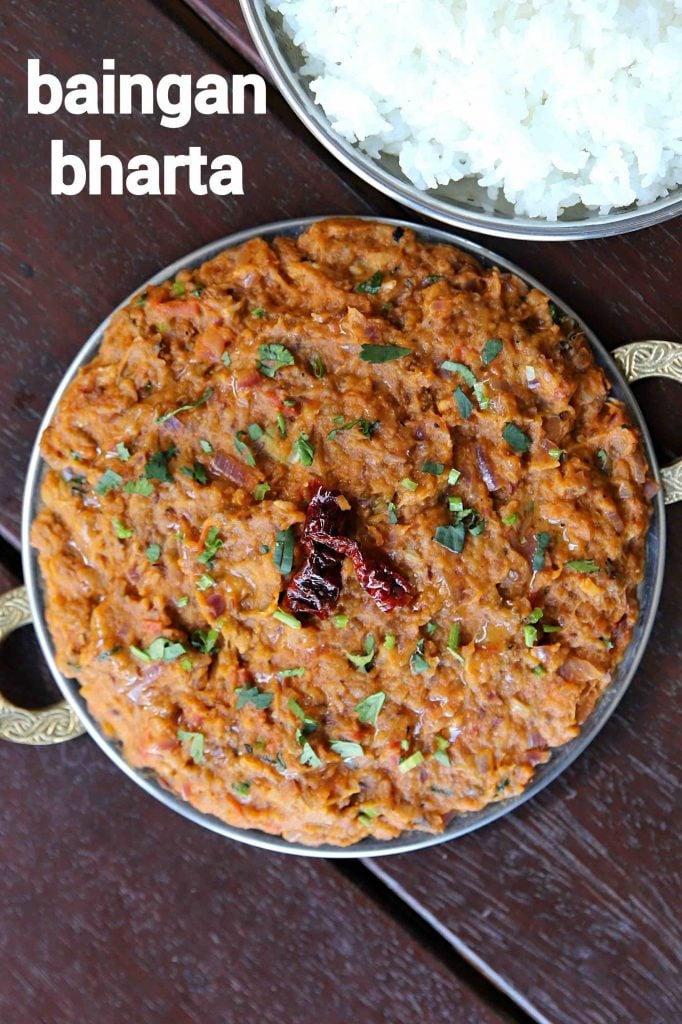 baingan bharta recipe | baingan ka bharta | smoky eggplant stir fry mash with step by step photo and video recipe. indian cuisine has a myriad curry recipe made with different types of vegetables and ingredients. to add to the permutation, the same vegetables can be used to make different curries by adopting different cooking techniques. one such simple and easy smoky flavoured mash recipe is baingan bharta recipe.
i am always a huge fan of curry recipes which has a lot of sweet and spicy gravy recipe. having said that i have a lot of respect to this eggplant based baingan bharta recipe. even though it is not a gravy based recipe, i like the charcoaly or earthy flavour from this recipe. having said that i prefer the small white and purple coloured brinjal to make the peanut-based brijal curry. again it is due to the gravy base and also creamy texture from dry coconut and peanut. i did even try the bharta with these small eggplants but was not successful with it. you do need a large chunk of eggplant which does not dissolve while frying it with direct flame.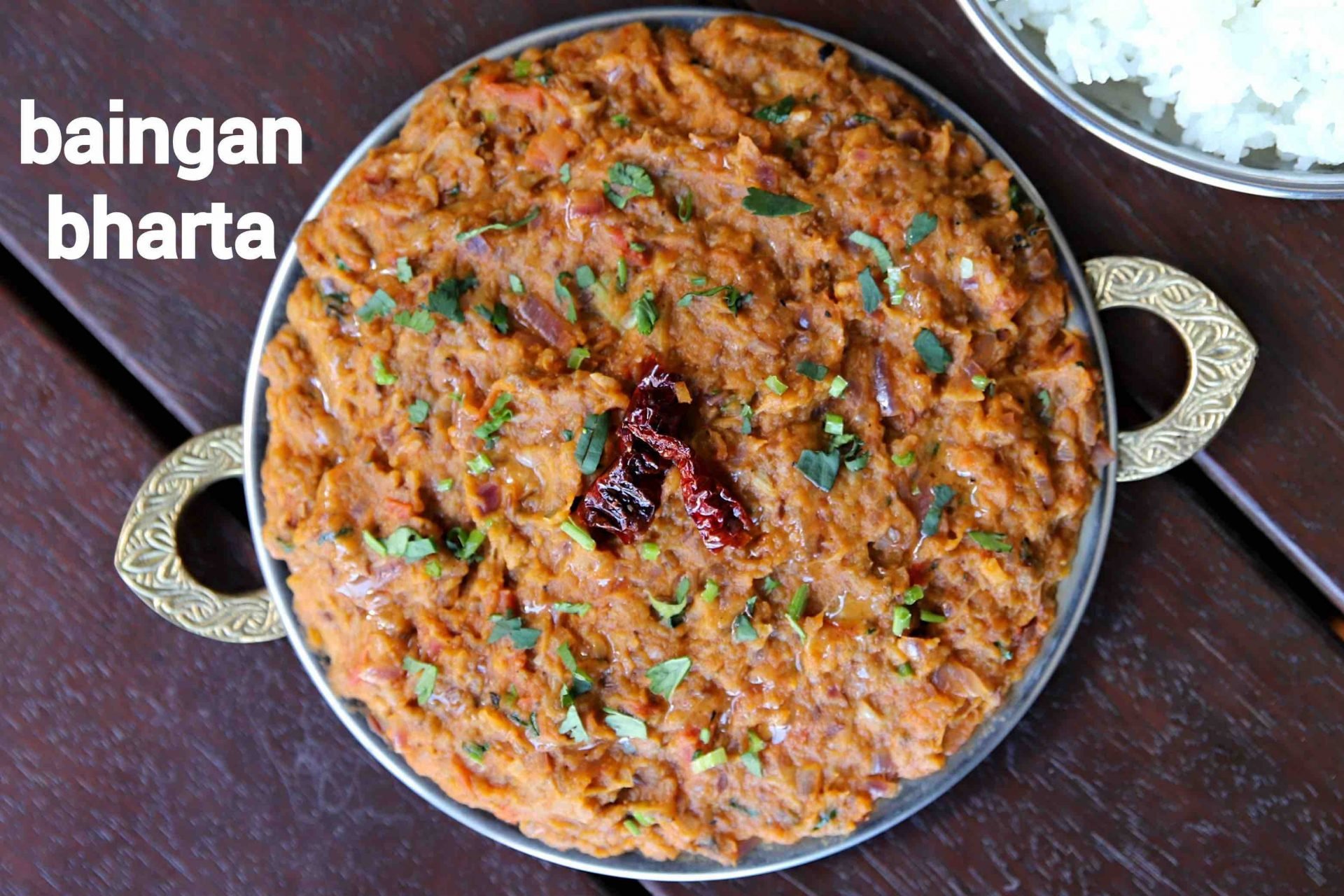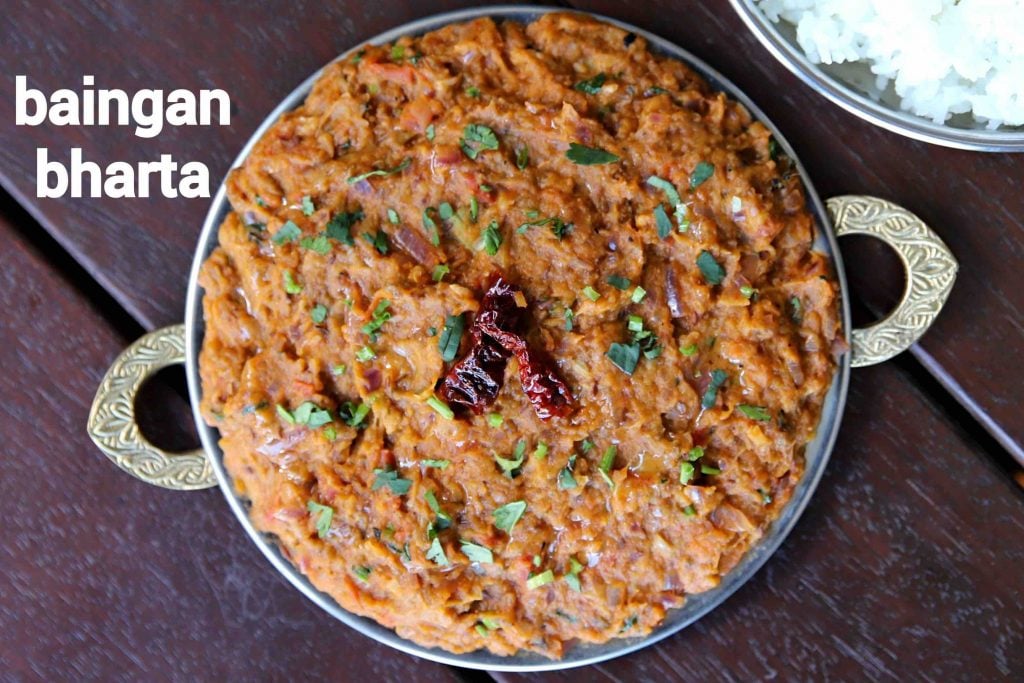 anyway, some easy and important tips, suggestions and variations for a perfect smoky baingan bharta recipe. firstly, i always recommended using the big and fat eggplant rather small and long eggplant for this recipe. while frying with direct flame, former one should hold its shape and do not dissolve. secondly, before roasting the eggplant, make some cuts and also stuff it with garlic and chillies so that it absorbs all the necessary flavour. lastly, you can follow the same process with potatoes, and mix it with eggplant to make onion, potato, baingan bharta recipe.
finally i request you to check my other detailed indian curry recipes collection with this post of baingan bharta recipe. it mainly includes recipes like baingan bharta, baigan ki sabji, aloo baingan, dahi baingan, baingan masala, gutti vankaya curry, tomato gojju, gobhi ke kofte, kadala curry, kaddu ki sabji. further to these i would also like to mention my other recipes collection like,
baingan bharta video recipe:
recipe card for baingan ka bharta recipe:
how to make baingan bharta with step by step photo:
firstly, take large-sized brinjal and make 4 slits.

stuff in 3 garlic and 1 chilli in each slit.

grease the baingan with oil as it helps to peel off the skin easily once roasting.

start roasting on gas stove flipping occasionally.


roast until brinjal turns dark and cooked completely from inside.

cool the baingan completely and start to peel the skin off.

take off the head of brinjal and check if the brinjal is cooked completely from inside.


mash the eggplant with the help of a fork. keep aside.

in a large kadai heat 2 tbsp oil and saute 1 tsp cumin, 1 dried red chilli, 1 inch ginger and 2 clove garlic.

saute 1 onion until it shrinks slightly.

further add ½ tsp chilli powder, 1 tsp coriander powder and saute till spices turn aromatic.

add in 1 tomato and saute until tomatoes turn soft and mushy.

now add in roasted and mashed brinjal along with 1 tsp salt.

mix and mash for 5 minutes or until flavours are well combined.

add ½ tsp garam masala and 2 tbsp coriander. mix well.

finally, enjoy baingan ka bartha with hot phulka or rice.

notes:
firstly, roasting brinjal on low to medium flame helps in uniform cooking and adds flavour.
also, you can roast tomato along with brinjal.
additionally, mashing uniformly helps to blend the flavours.
finally, baingan ka bartha recipe can just be prepared with green chilli or red chilli powder.