bread medu vada recipe | instant medu vada with leftover bread slices in a detailed photo and video. an easy and simple south indian medu vada snack made with sandwich bread slices. basically there is no soaking and grounding of urad dal and hence can be done end to end within minutes. it is an ideal evening snack, which can also be served for morning breakfast with a choice of idli and spicy chutneys.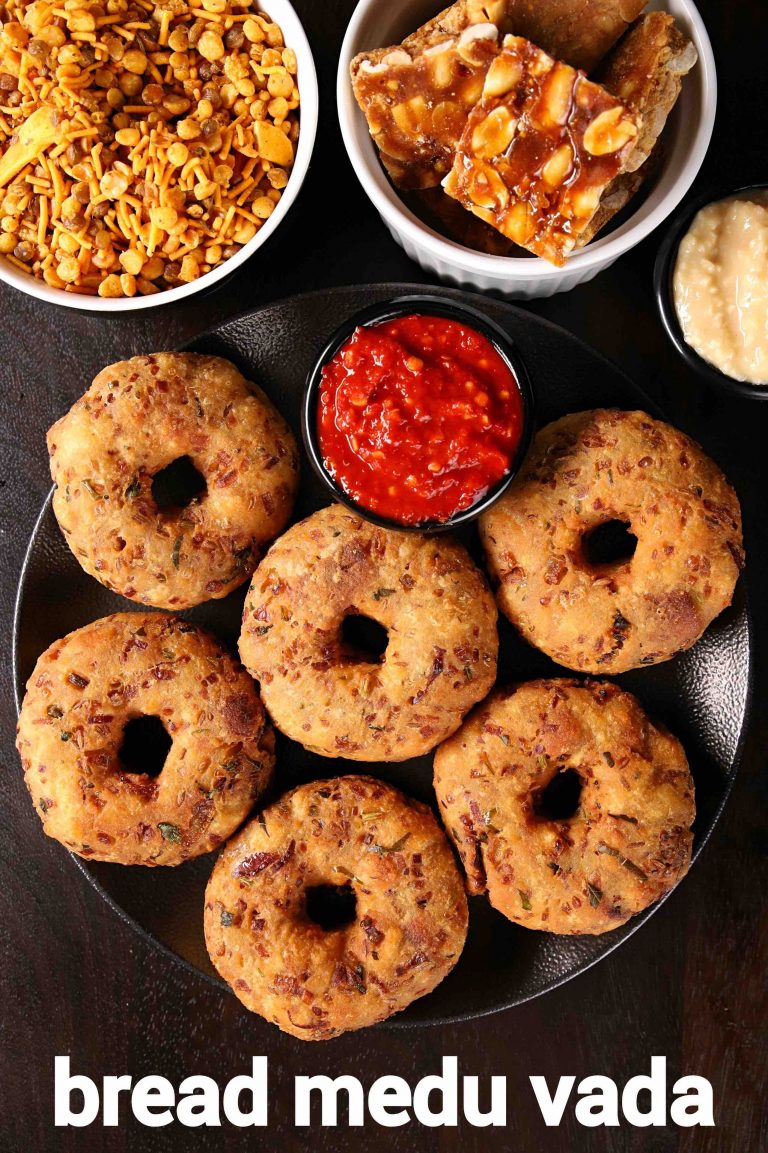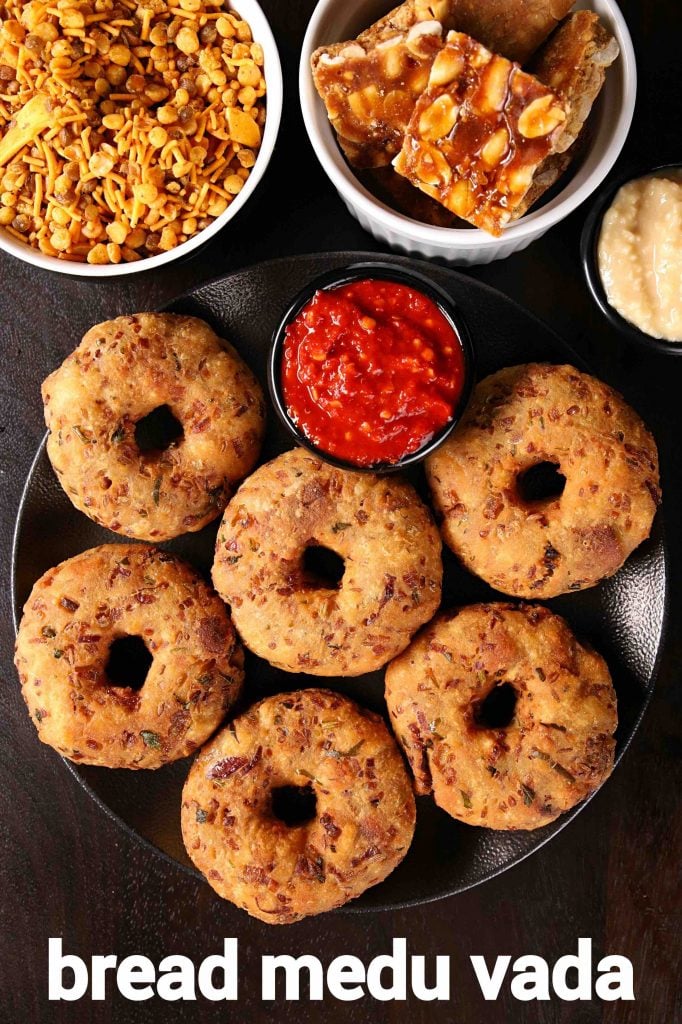 bread medu vada recipe | instant medu vada with leftover bread slices with step by step photo and video recipe. vada recipes are super popular amongst many south indians and are made for myriad reasons and occasions. it is generally made with different types of lentils mixed with herbs and spices. yet there are other types vada's like bread medu vada, which doesn't follow traditional ingredients and is made with bread slices.
as i was explaining earlier, the traditional medu vada recipe is made with urad dal. but more importantly, it needs soaking and also grounding of soaked urad dal which is very critical for perfect medu vada. the batter has to be of the right consistency, otherwise, you may not shape it. also, while deep frying it may explode causing a hot oil spill. having said that, there some easy recipes to avoid these hassle. one such easy hack recipe is bread medu vada which is made with white sandwich slices. i personally like it as it can be made within minutes without any prior preparation. for instance, if you have some surprised guests and wish to make something fancy, then instant bread vada is the answer.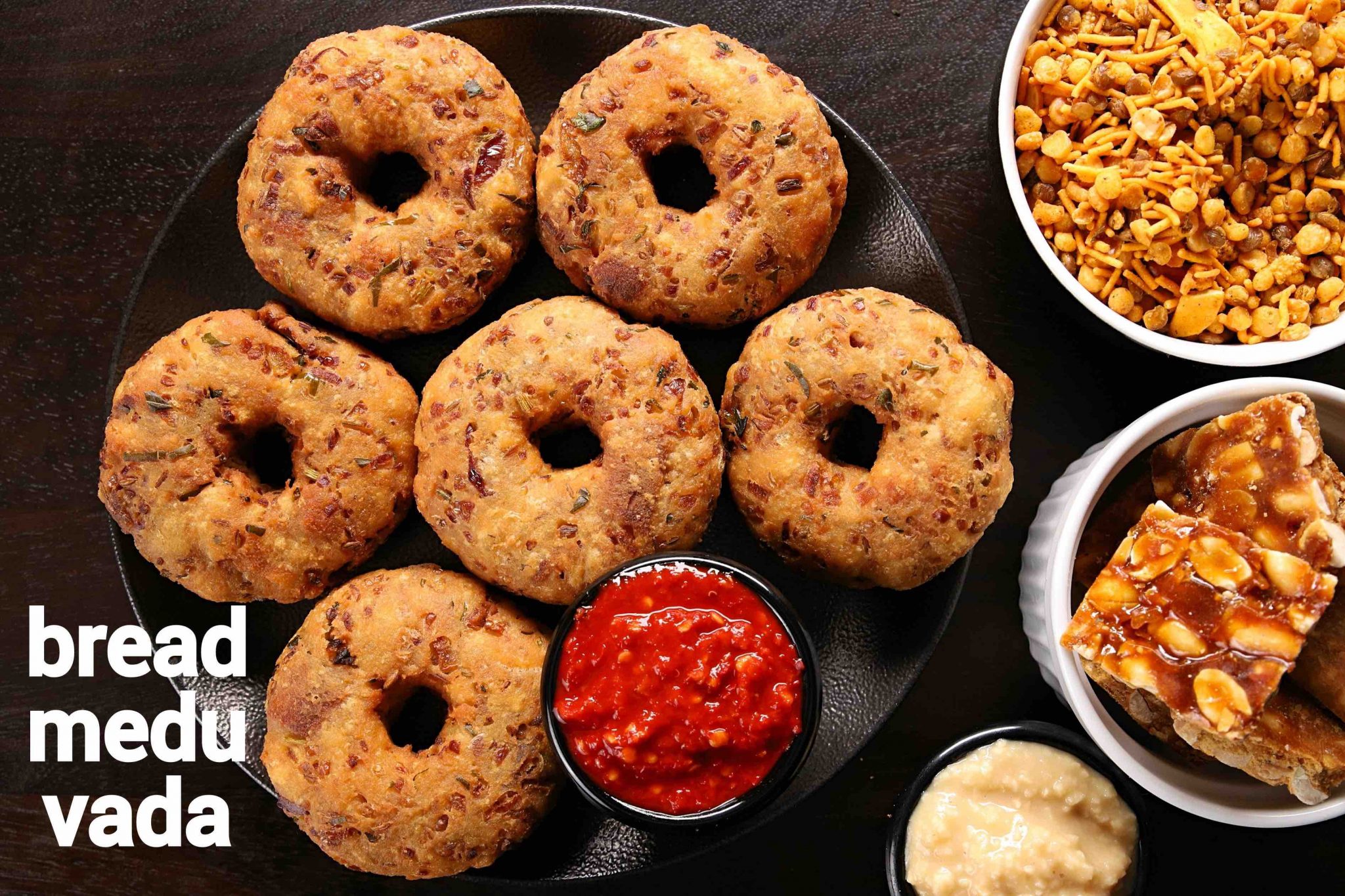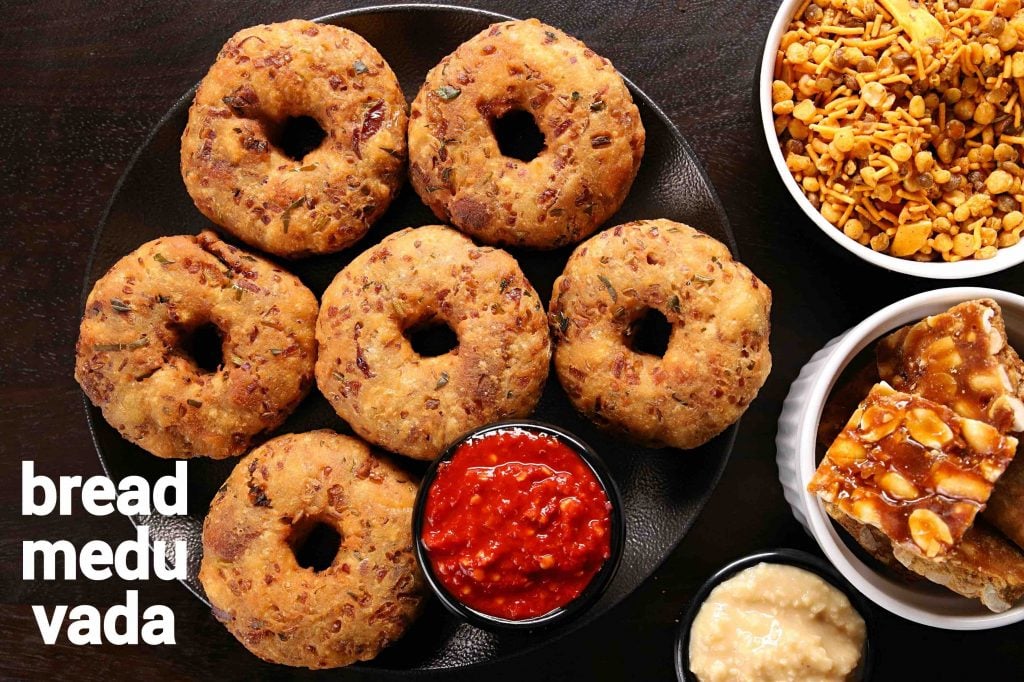 anyway, some more tips suggestions and variations for a perfect crispy, instant medu vada recipe. firstly, i would heavily recommend using sandwich white bread slices made out of plain flour. do not use wheat flour-based one or multi-grain as you may not be able to shape or may dissolve while deep frying. secondly, if you find difficult while shaping it and especially to have a hole in the middle, you may skip it and shape it like a round disc. there isn't any benefit in shaping like a doughnut. lastly, while deep frying, do not overcrowd the frying pan and try to have a sufficient gap between each vada. also, the oil has to be in medium flame so that vada's get cooked evenly.
finally, i request you to check my other instant recipes collection with this post of bread medu vada. it mainly includes my other popular recipes like pizza bread, bread malai roll, bread cake, bread dhokla, bread idli, instant bread medu vada, bread vada, bread uttapam, bread rasmalai, bread vada. furthermore, i would also like to highlight my other related recipe categories like,
bread medu vada video recipe:
recipe card for instant medu vada recipe:
how to make bread medu vada with step by step photo:
firstly, in a large bowl break 6 slices of potato into small pieces.

add ¼ cup rava, ½ cup rice flour, ¾ cup curd.

also add 1 onion, 1 tsp ginger paste, 1 chilli, few curry leaves, 2 tbsp coriander, 1 tsp cumin and ½ tsp salt.

squeeze and mix well.


mix until a soft dough is formed. if the mixture is dry, you can add a tsp of more curd. and if it is sticky, break another bread slice.

now grease hand with oil and pinch a ball sized mixture.

flatten slightly, and make a hole in the centre.


deep fry in hot oil keeping the flame on medium.

stir occasionally, until the vada turns golden brown and crisp.

finally, drain off and enjoy bread medu vada with tomato sauce or chutney.

notes:
firstly, make sure the oil is really hot before frying. else the vada will absorb oil.
also, you can add grated carrot or vegetables of your choice to make it nutritious.
additionally, make sure to break the bread pieces really small else it will be difficult to shape vada.
finally, bread medu vada tastes great when served hot.