donut recipe | chocolate donut recipe | eggless chocolate doughnut recipe with detailed photo and video recipe. basically a deep fried sweet snack or confectionery dessert food which is generally served in different flavours and toppings with common donut base. it is mainly prepared by deep frying but can also be prepared by baking it in oven.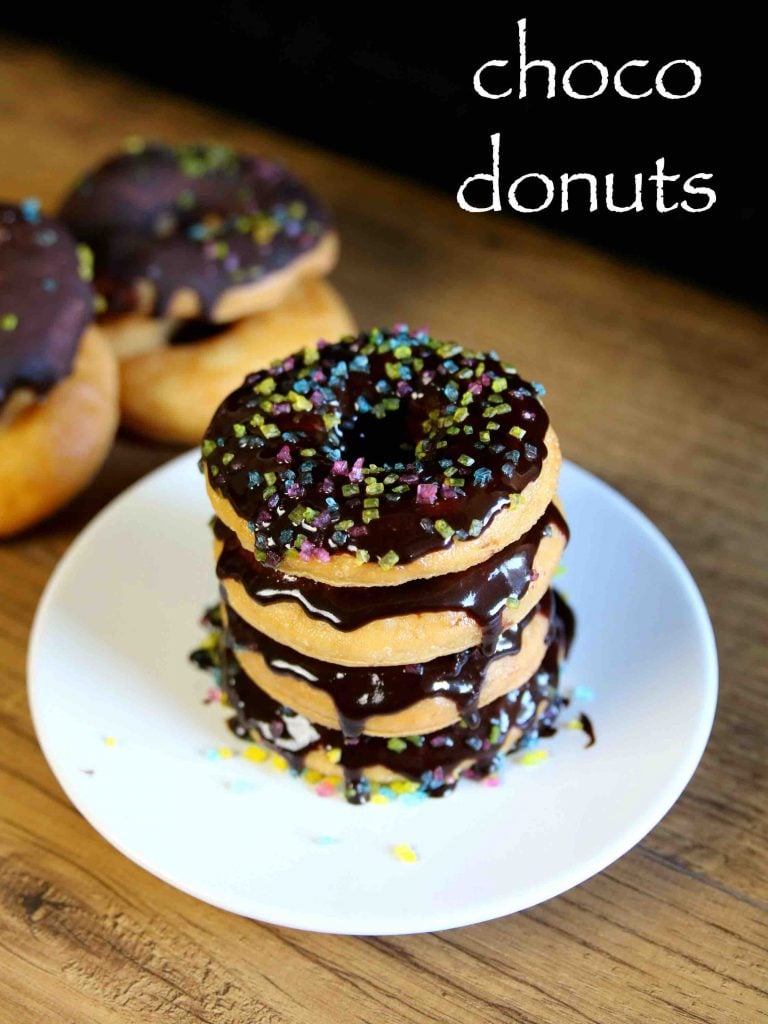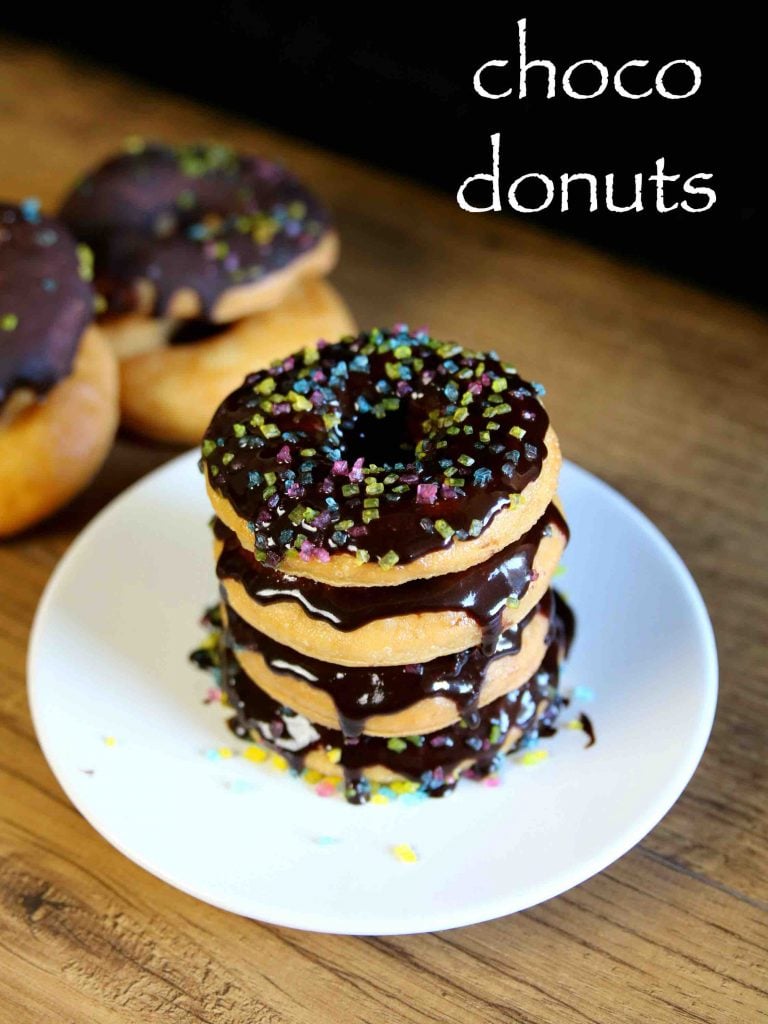 donut recipe | chocolate donut recipe | chocolate doughnut recipe with step by step photo and video recipe. it is typically prepared with all purpose flour or maida dough which is fermented using yeast or baking powder. the fermented dough is later shaped to ring shape with a hole in a centre and later deep fried till golden brown. further it is glazed with cream, jam, chocolate syrup, sugar icing or even with fruit syrup.
i have been planning to post this donut recipe since long time and perhaps one of the most requested recipe from my viewers. i was thinking to share this recipe since long time and i was getting distracted with some other recipes and priorities. also i wanted to share a simple donut recipe with different glazed donuts, however in this post i have used only chocolate glaze. i personally like the chocolate sauce dipped donuts, but i do like the cinnamon and sugar icing coated donuts too.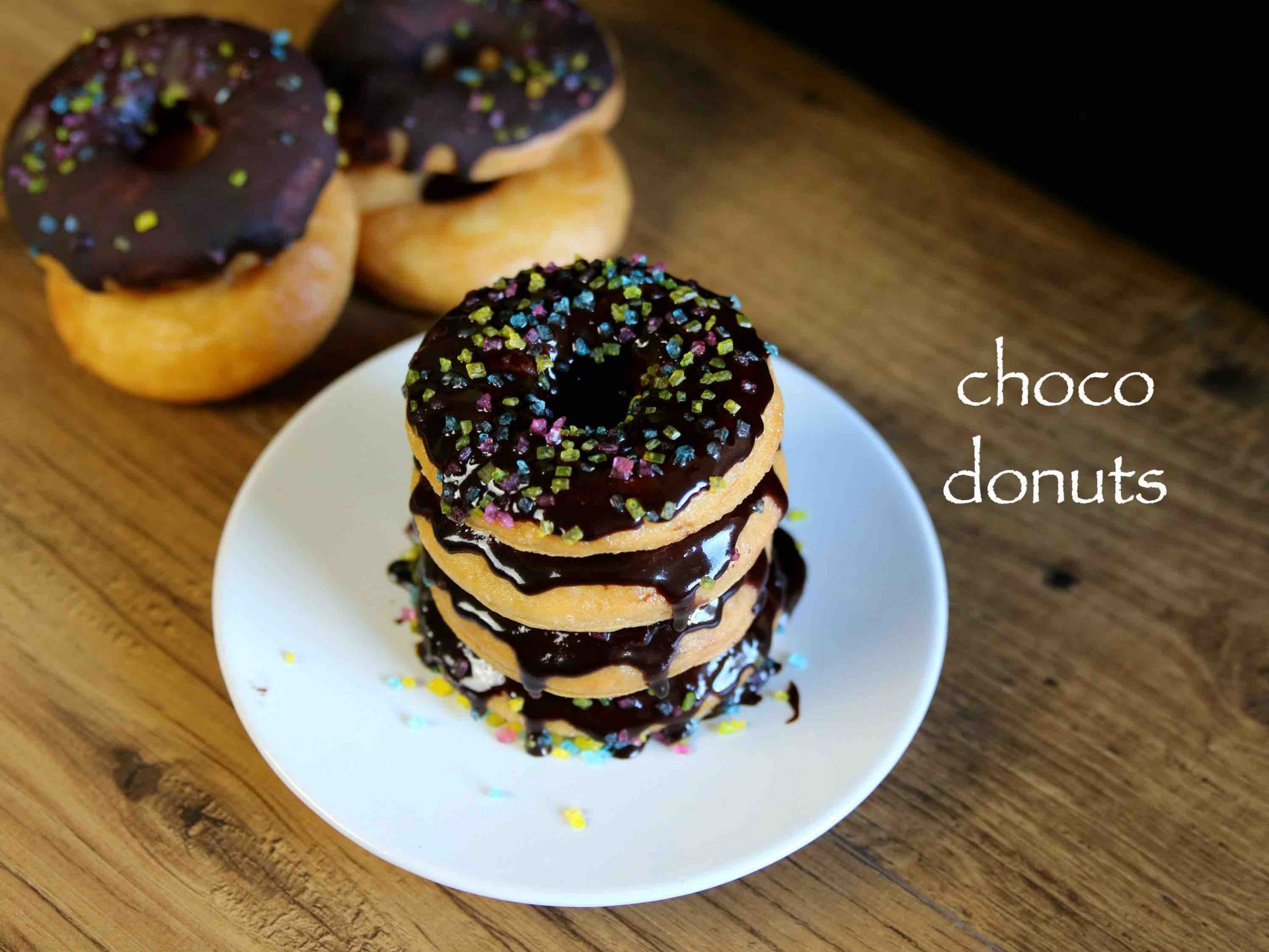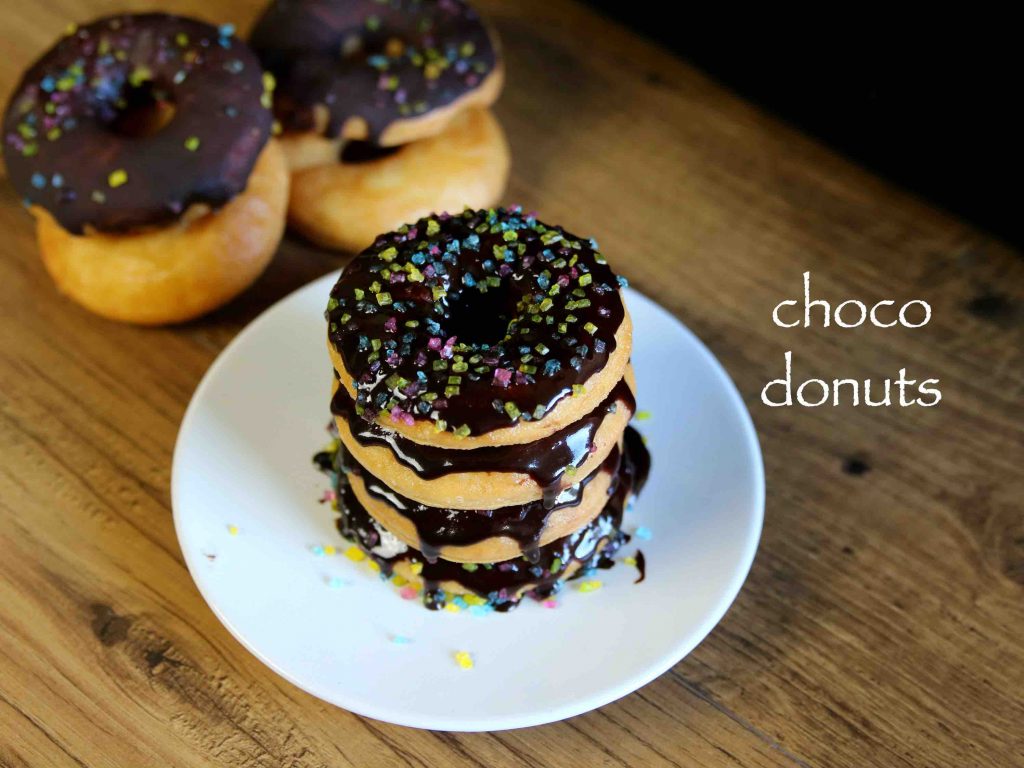 furthermore, some important tips and suggestions for a perfect and moist donut recipe. firstly, i have added baking powder with yeast while kneading the dough. baking powder helps the donuts to raise while deep frying, however it is optional if you are baking it in oven. secondly, the dough has to be rested properly in a warm place to ferment it properly and to bulge or swell. lastly, i highly recommend to fry these eggless chocolate doughnuts in a low to medium flame. it has to turn golden brown in colour and should be removed before it turns crisp.
finally i would like to highlight my other international recipes collection with this post of chocolate donut recipe. it mainly includes, black forest cake, chocolate cake, choco lava cake, sponge cake, vanilla cake, ice cream cake, banana bread, veg pizza, veg macaroni and french fries recipe. in addition do visit my other recipes collection like,
chocolate donut or eggless chocolate doughnut video recipe:
recipe card for eggless chocolate doughnut:
how to make chocolate donut with step by step photo:
firstly, in a large mixing bowl take ½ cup warm milk or water.

to that add 1 tsp of sugar. sugar helps to activate yeast.

also add 1 tsp of dry yeast and give a quick mix.

allow it to rest for 5 minutes, or till the yeast activates and turns frothy.


now add 2 cups of maida, ¼ tsp baking powder, 2 tbsp butter and pinch of salt.

combine and crumble well.

add half cup warm water or as required and knead 5 minutes.


knead till the dough is soft, smooth and elastic. and also bounces back when pressed. if not, knead another 5 minutes.

tuck the dough and grease with oil.

cover the bowl tightly with cling wrap or plastic wrap and allow to rest and rise in a warm place for about 1-2 hours.

dough has raised and doubled in size indicating well fermented.

punch the dough with fist to release down the air and knead slightly.

pinch a large ball sized dough and dust with maida.

roll the dough slightly thick using rolling pin.

now with the help of donut cutter or glass cut round shape.

also to make a hole in centre use bottle cap.

now place the prepared donut shape over a tray lined with baking paper.

brush the donuts with oil to prevent from drying out.

now allow to rest in warm place for 2 hours or till it doubles in size.

deep fry in medium hot oil or bake in preheated oven at 180 degree celsius for 15 minutes.

stir occasionally keeping the flame on medium.

fry till the donuts turn golden brown. drain off over kitchen towel to absorb excess oil.

chocolate glaze recipe:
firstly, mix 1 cup powdered sugar, ¼ cup cocoa powder, 1 tsp vanilla extract and 3 tbsp milk.

stir well till the mixture forms smooth and creamy.

now dip the prepared doughnuts into the chocolate mixture and place glaze-side up.

finally, serve chocolate donuts sprinkled with sugar crystals.

notes:
firstly, top with any flavoured glaze to prepare variety of donuts.
also bake the doughnut at 180 degree celsius for 15 minutes.
additionally, add 2 tsp of more sugar while kneading dough, to prepare sweet doughnuts.
finally, chocolate donuts stays good for 2 days, however taste good when served hot.