coconut peda recipe | coconut malai milk peda | nariyal ka peda with detailed photo and video recipe. an interesting and creamy milk fudge or pede recipe made with coconut, milk powder and sugar. it is a perfectly creamy dessert recipe for this christmas season, and can easily replace all fancy cookies recipes. it is made by combining the desiccated coconut and milk powder with sugar syrup in a pan, but can also be quickly made in the microwave with the same taste and flavour.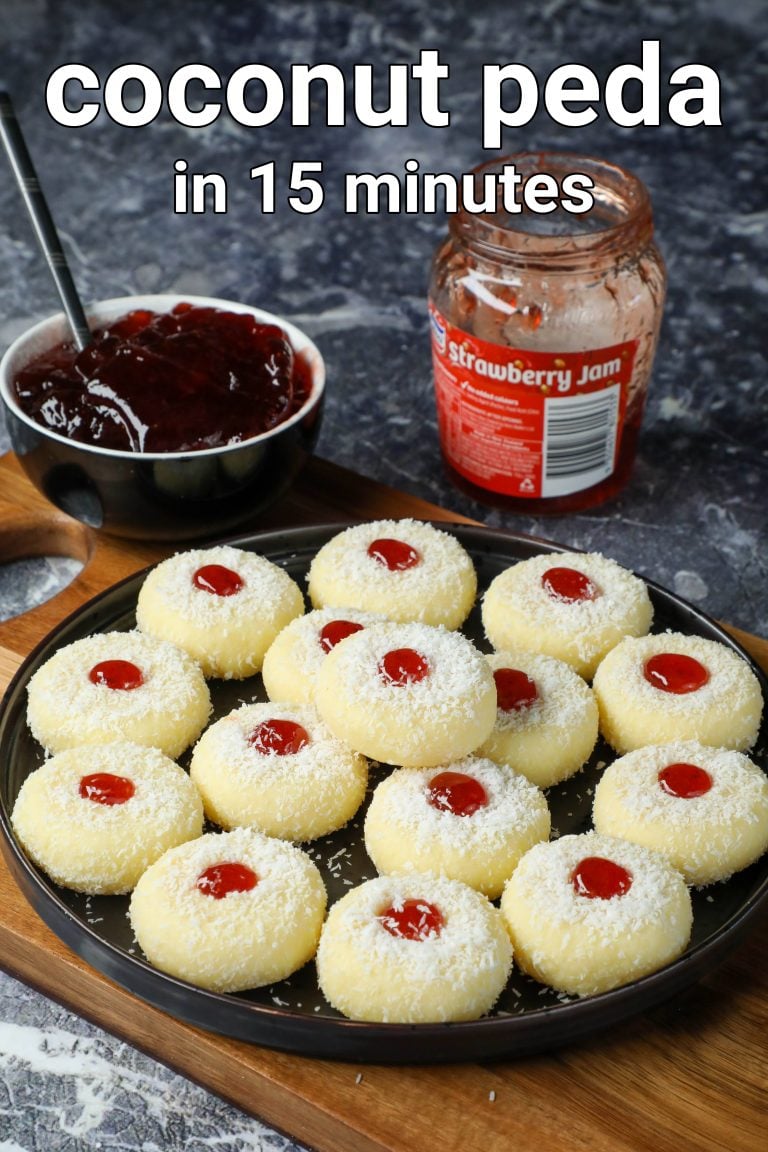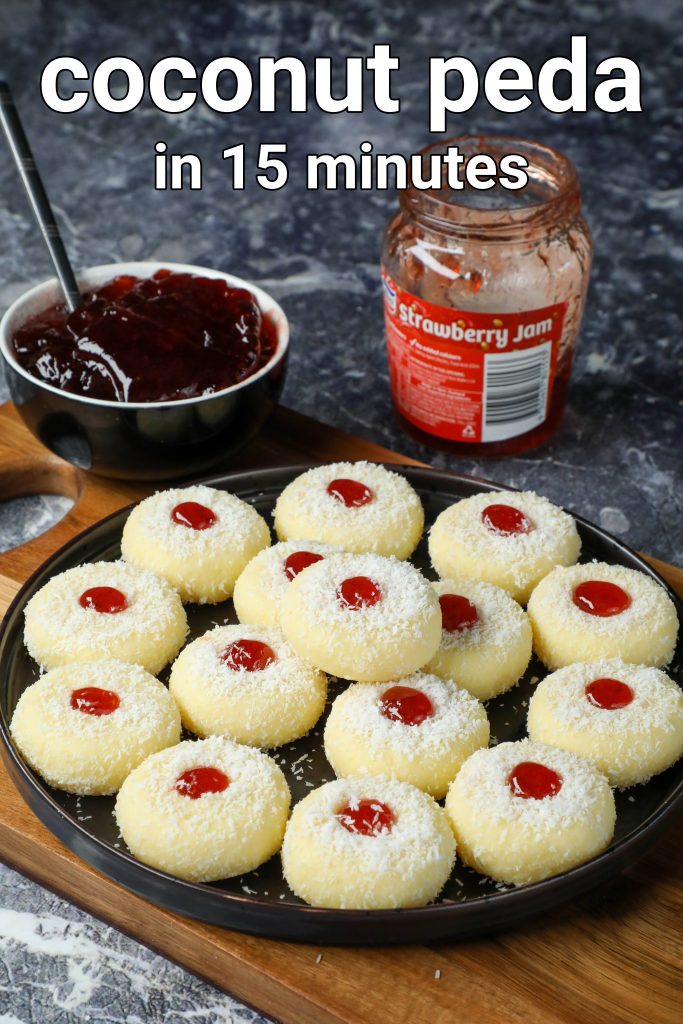 coconut peda recipe | coconut malai milk peda | nariyal ka peda with step by step photo and video recipe. peda or milk-based dessert sweets are hugely popular within asian diaspora. particularly within the indian community, it is either made to a creamy dessert-like rasmalai or transformed into mouth-melting laddu or barfi. one such similar milk-based indian sweet is peda recipe and this post dedicated to one of the popular variant known as coconut malai milk peda recipe.
as i was explaining earlier, this recipe can also be made in the microwave. however, the ingredients change if you wish to make it in the microwave. you would be better of using condensed milk rather than just milk powder and sugar. in addition, it is more quick and easy to make as it does not have continuous stirring and mixing. moreover, the condensed milk solidifies with the heat and hence it makes out a quick and easy dessert. however, there are some benefits of making it with milk powder and hence i chose this way to make it. firstly, the combination of desiccated coconut and condensed milk may lead to a chewy texture. even though it would solidify, may not have the real peda texture. further, the condensed milk option may not be suitable if you wish to control the sweetness level. for some, it may be too sweet and some may feel less sweet. hence it is better to opt for the milk powder and sugar option.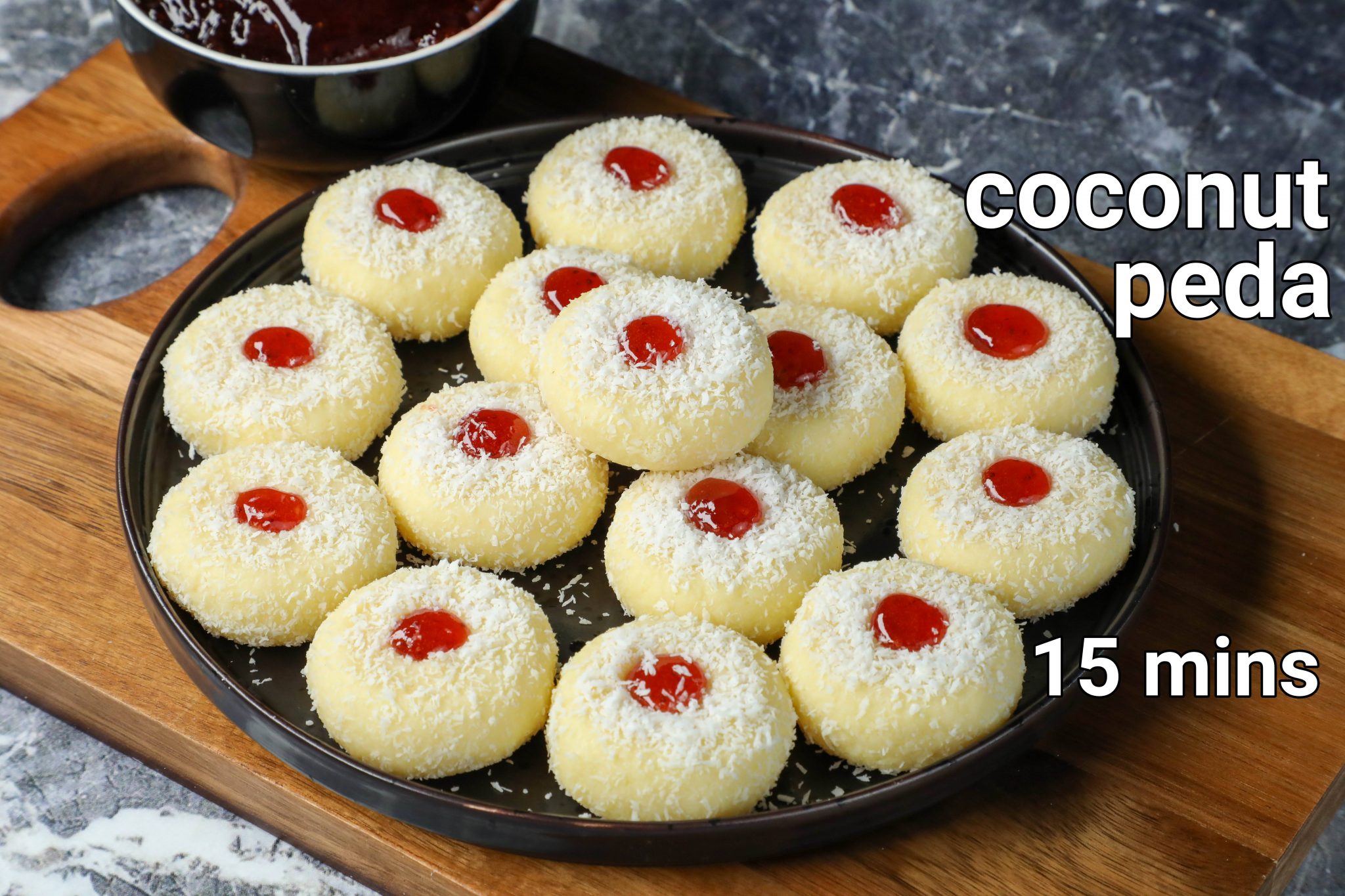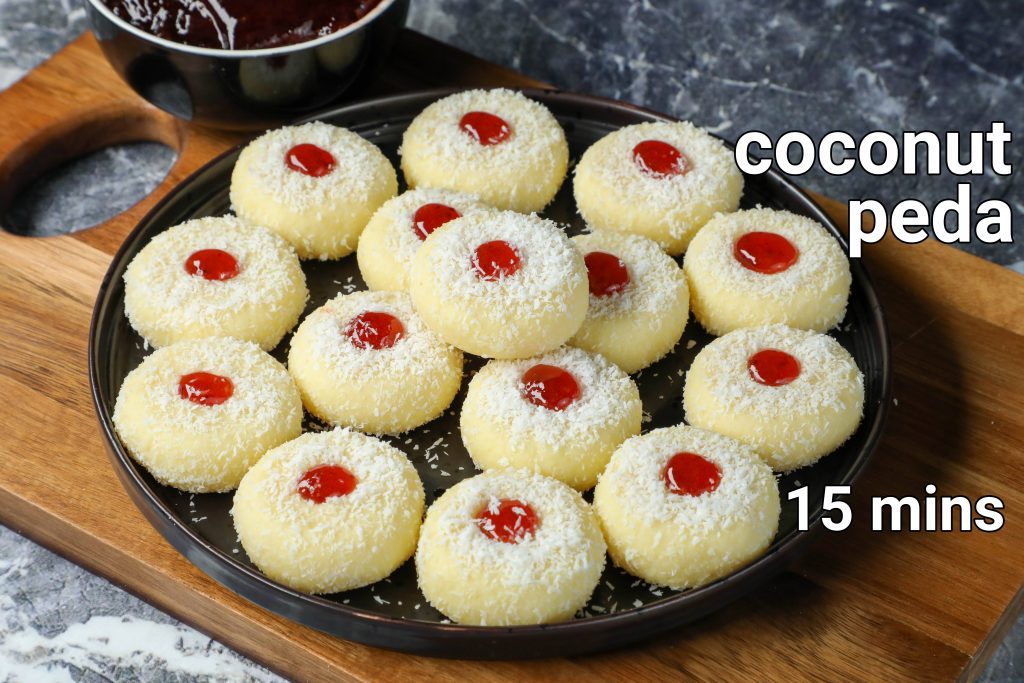 furthermore, some more additional tips, suggestions and variants to the creamy coconut peda recipe. firstly, with the desiccated coconut, you get 2 options with it. avoid using the long striped desiccated coconut as it may not gel together to form the round shape. you may use fresh coconut too but may have to cook more to remove the excess moisture. secondly, choose full cream milk powder and do not compromise on the quality of milk powder. in addition to the milk powder, you may also use cocoa powder to make it more flavoured and chocolaty. lastly, i have decorated each peda with colourful strawberry jam. this step is to make it more attractive and colourful. you may skip it or even have other options like cherry, dry fruits or tutti frutti.
finally, i request you to check my other related indian sweets recipes collection with this post of coconut peda recipe. it mainly includes my other similar recipes like besan milk cake, kaju katli, milk barfi, milk powder burfi, banana malpua, boondi sweet, pineapple kesari bath, karanji, modak, rosh bora. further to these i would also like to mention my other recipe categories like,
coconut peda video recipe:
recipe card for coconut malai milk peda recipe:
how to make coconut peda with step by step photo:
firstly, in a large bowl take 1½ cup coconut and soak in 1 cup milk.

mix well making sure the coconut is well combined and absorbs all the milk. you can alternatively use fresh coconut and mix with just ½ cup milk.

transfer the coconut into large kadai.

add ½ cup cream and cook for a minute.


also, add 1 cup sugar and cook until the sugar melts.

further, add 1½ cup milk powder and continue to cook on medium flame.

add 1 tsp ghee and continue to cook. adding ghee gives a nice flavour to peda and also shine.


cook until the mixture starts to hold shape and separates from the pan.

cool the mixture slightly.

and start to prepare small ball sized peda.

roll the peda in desiccated coconut to get the beautiful coating.

make a small hole using the back of the spatula.

and garnish with a tsp of strawberry jam. you can alternatively use nuts to garnish.

finally, enjoy coconut peda recipe or store in the refrigerator for a week.

notes:
firstly, cook on medium flame else the mixture may burn.
also, in place of sugar, you can use condensed milk for sweetness and make peda richer.
additionally, if you are using fresh coconut, then reduce the milk as fresh coconut has moisture.
finally, coconut peda recipe looks great when prepared bright white in colour.