besan milk cake recipe | besan milk burfi | besan barfi with milk powder with detailed photo and video recipe. a classical indian dessert recipe made with chickpea flour combined with sugar, milk powder and ghee. it is an ideal alternative to the traditional besan barfi recipe as it has the goodness of besan flour and milk powder. it is generally made with a soft texture similar to the cake but tastes equally good when prepared with hard texture as it just melts in your mouth.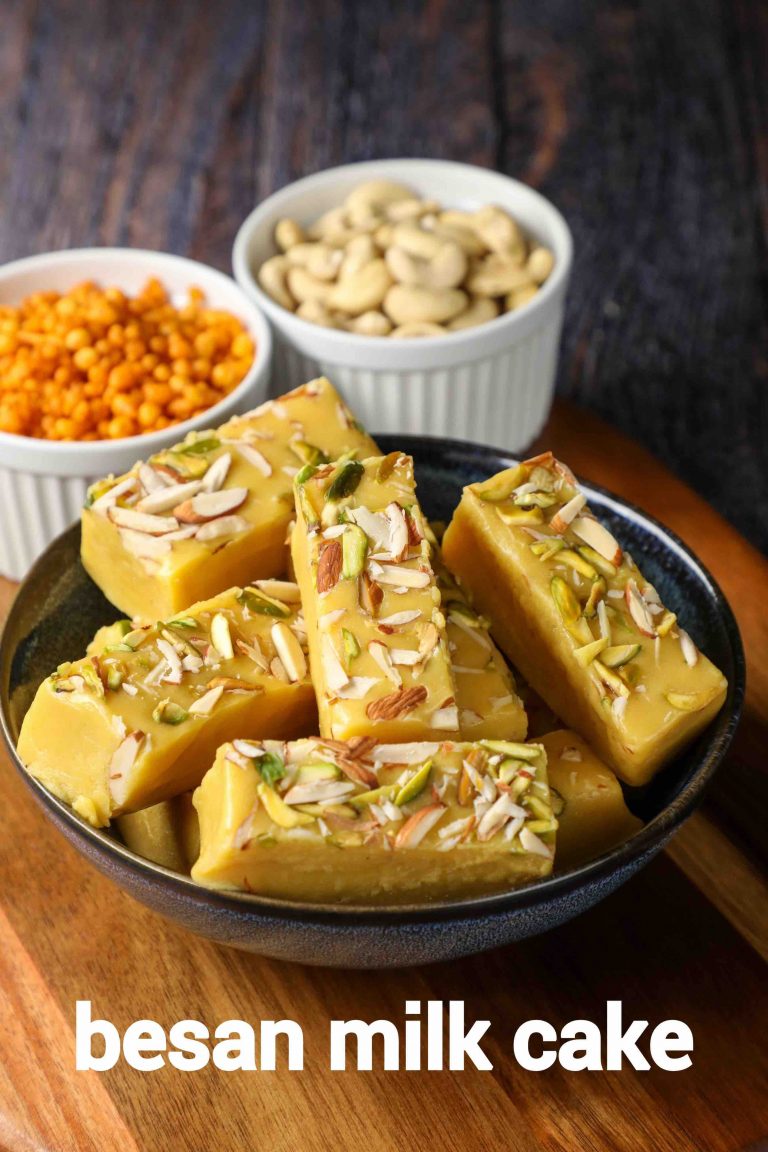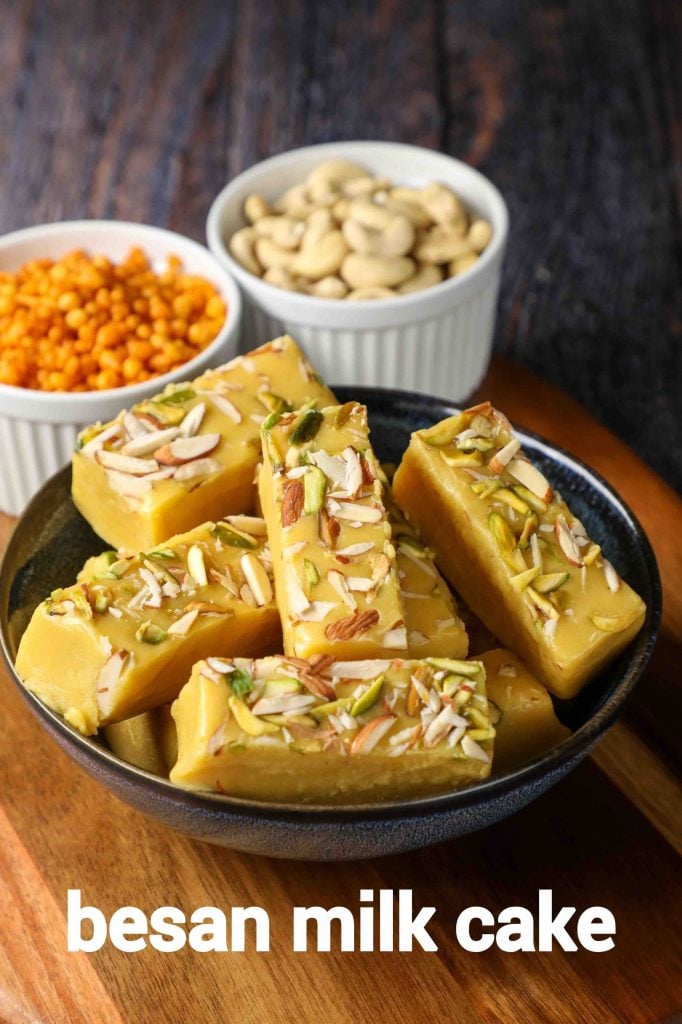 besan milk cake recipe | besan milk burfi | besan barfi with milk powder with step by step photo and video recipe. barfi recipes have always been one of the popular indian sweets which are made with different types of nuts, flour or mixture of both. however, these barfi recipes have been adapted to other forms and cake based variation is the popular ones. one such easy and simple barfi cake variation is besan milk cake recipe known for its soft and creamy texture and layering.
i have posted the 2 popular recipes. i,e besan barfi and milk cake recipe, whereas this recipe is the combination of these 2 recipes. in other words, besan barfi recipe with more creaminess in it. adding milk powder makes it softer and lite compared to just the besan based sweets. however, the consistency of sugar syrup also matters to the softness of this cake barfi. i have used the 1 string consistency which should be more than sufficient for this recipe. you may stretch a little towards 2 string, but you have to be more careful as the burfi will turn hard. it may turn the sweet to solid and you may not be able to shape and cut it. if you see this video, i have also used the butter paper below the container, so that i can remove the sweet once it is set. it would be really easy if you follow the same pattern.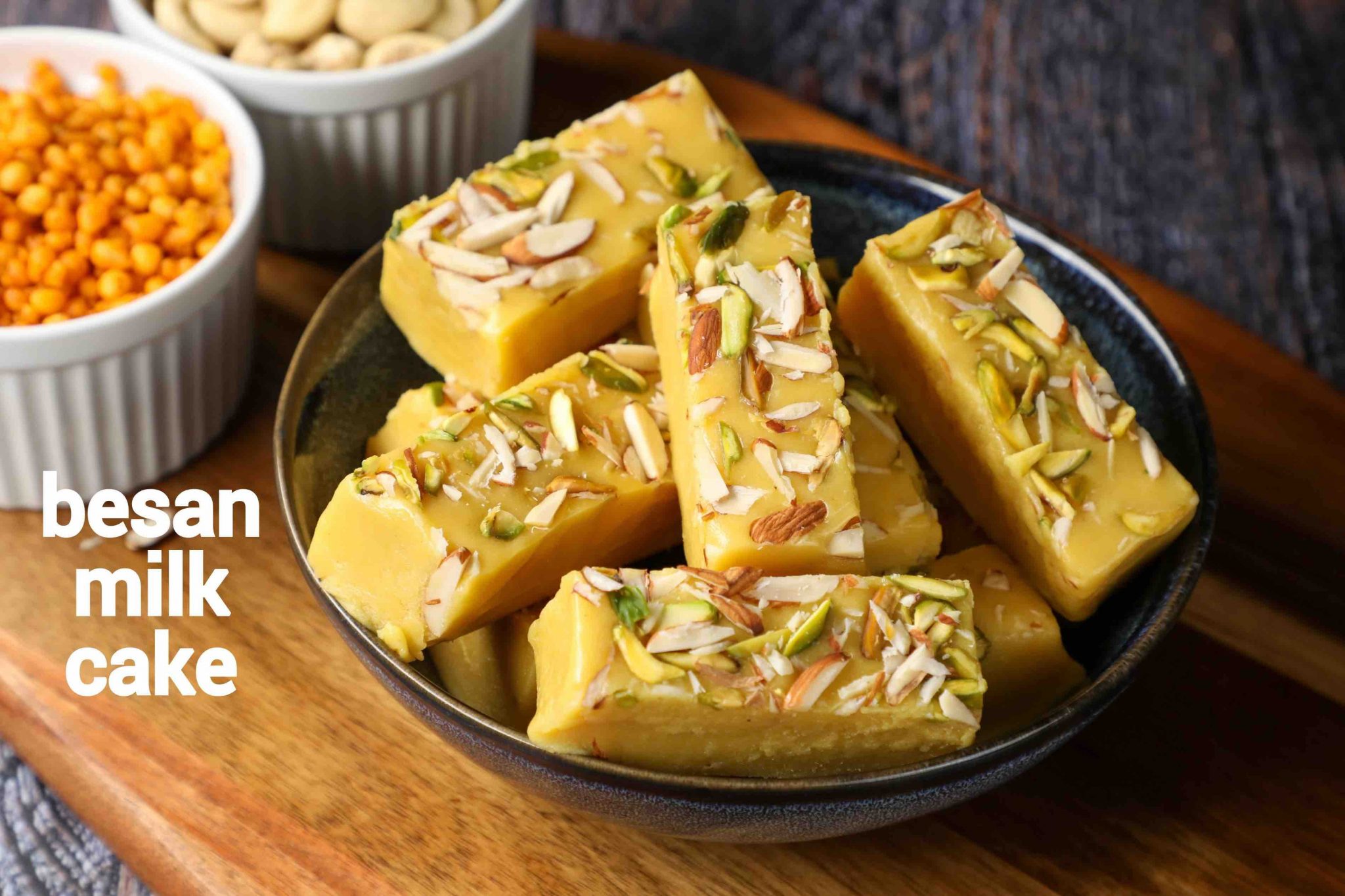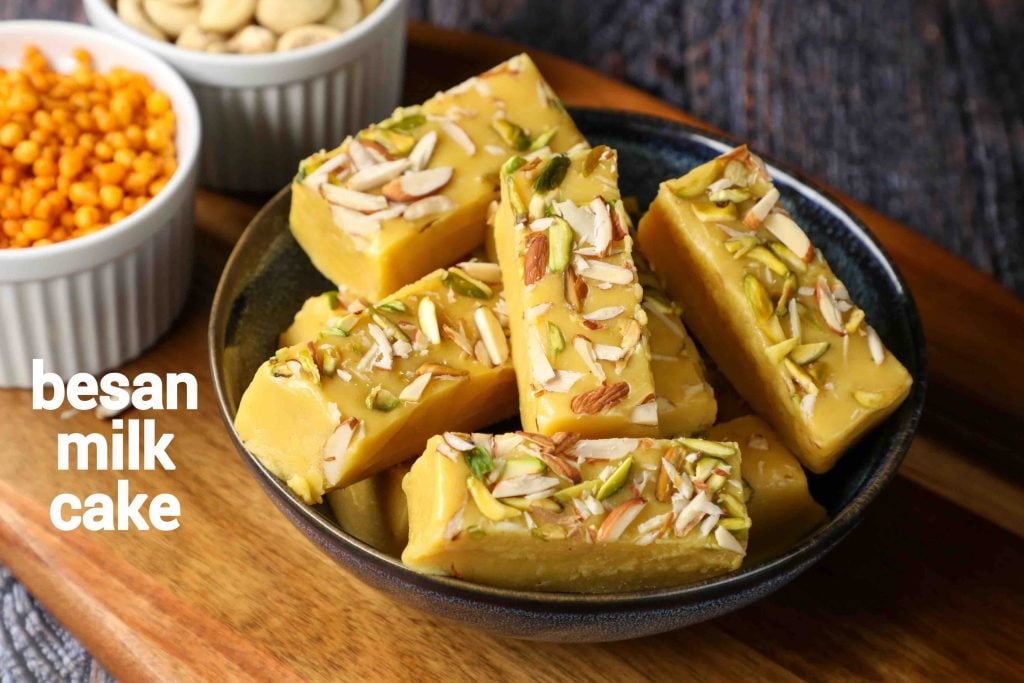 furthermore, some more additional tips, suggestions and variations to the creamy besan milk cake recipe. firstly, i would heavily recommend using fine or besan mixture used for ladoos. it has to be fresh and you would realize it when you start frying it. it should start releasing its aroma when you fry it with ghee. secondly, as an alternative to the sugar and sugar syrup, you can also use the jaggery or the jaggery syrup. however, you may not get the same colour as you would get with sugar syrup. lastly, if the barfi is still soft or chewy you can refrigerator it so that it becomes hard. the only reason, it may turn soft, is due to the sugar syrup consistency. one string is ideal if it is less than that it may turn soft and chewy.
finally, i request you to check my other detailed indian sweets recipes collection with this post of besan milk cake recipe. it includes my other types of barfi and cake variations like kaju katli, milk barfi, banana malpua, boondi sweet, pineapple kesari bath, karanji, modak, rosh bora, kayi holige, kaju pista roll. further to these i would also like to mention my other recipe categories like,
besan milk cake video recipe:
recipe card for besan milk burfi recipe:
how to make besan milk cake with step by step photo:
firstly, in a large kadai heat 1 cup ghee and add 2 cup besan.

roast on low flame until the besan turns aromatic.

after 10 minutes, the besan will start to release ghee.

now add 1 cup milk powder, ¼ tsp cardamom powder and mix well. do not overcook. keep aside.


in a large kadai take 1½ cup sugar and 1 cup water.

stir and dissolve the sugar and boil for 5 minutes.

boil until the sugar syrup turns to 1 string consistency.


add in prepared besan milk powder mixture and stir continuously keeping the flame on low.

cook until the mixture holds together and turns to smooth consistency.

transfer the mixture to a tray lined with butter paper.

tap twice and top with 2 tbsp pistachios, 2 tbsp almond.

rest for 30 minutes or until it sets completely.

now cut with a sharp knife to the size of your choice.

finally, enjoy super tasty besan milk cake or store in an airtight container for a week in the refrigerator.

notes:
firstly, make sure not to brown the besan as it the colour of burfi will change.
also, if you are looking for hard burfi then cook for a slightly more time.
additionally, adding milk powder will make the burfi slightly soft compared to besan burfi texture.
finally, besan milk cake recipe tastes great when prepared slightly soft like milk burfi recipe.