cucumber idli recipe | taushe idli | southe kaayi sihi kadubu with detailed photo and video recipe. a traditional and a healthy sweet idli recipe made with cucumber grate, coconut and jaggery. it hails from the south indian cuisine, particularly from the popular and flavorful south canara or udupi region. it is made especially for the morning breakfast during the festival seasons, but can also be served as a snack or as a dessert for any part of the meal.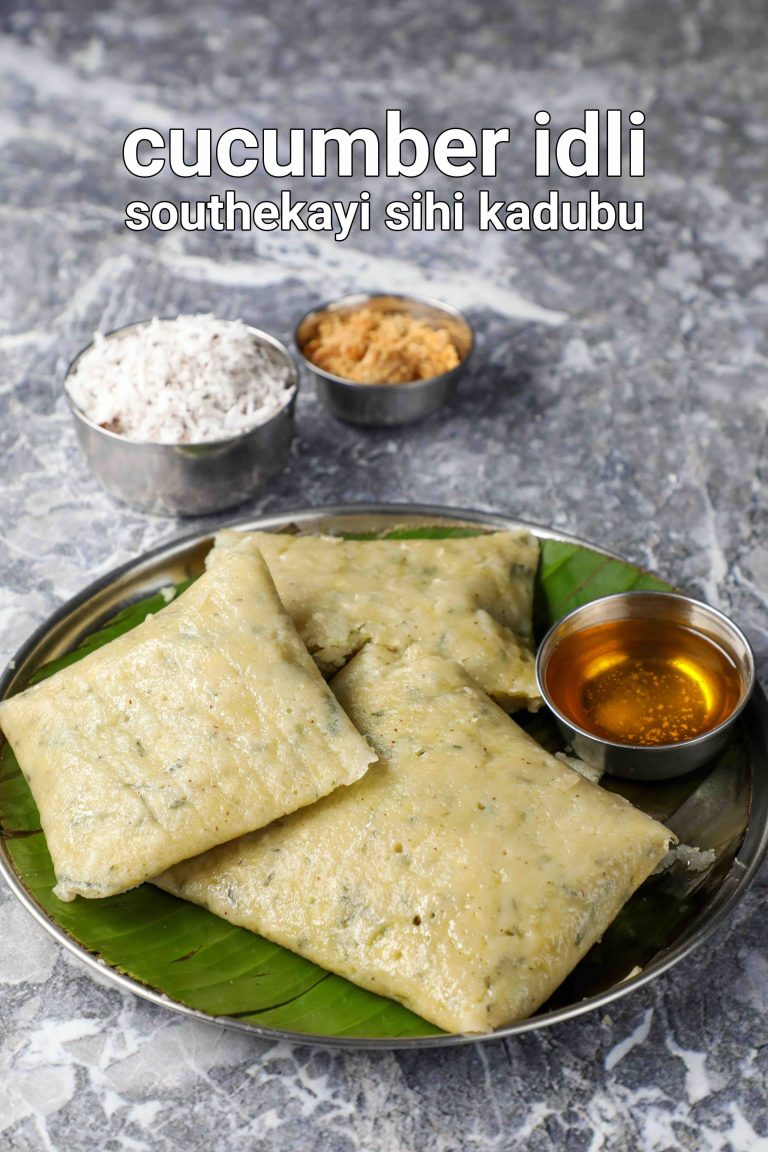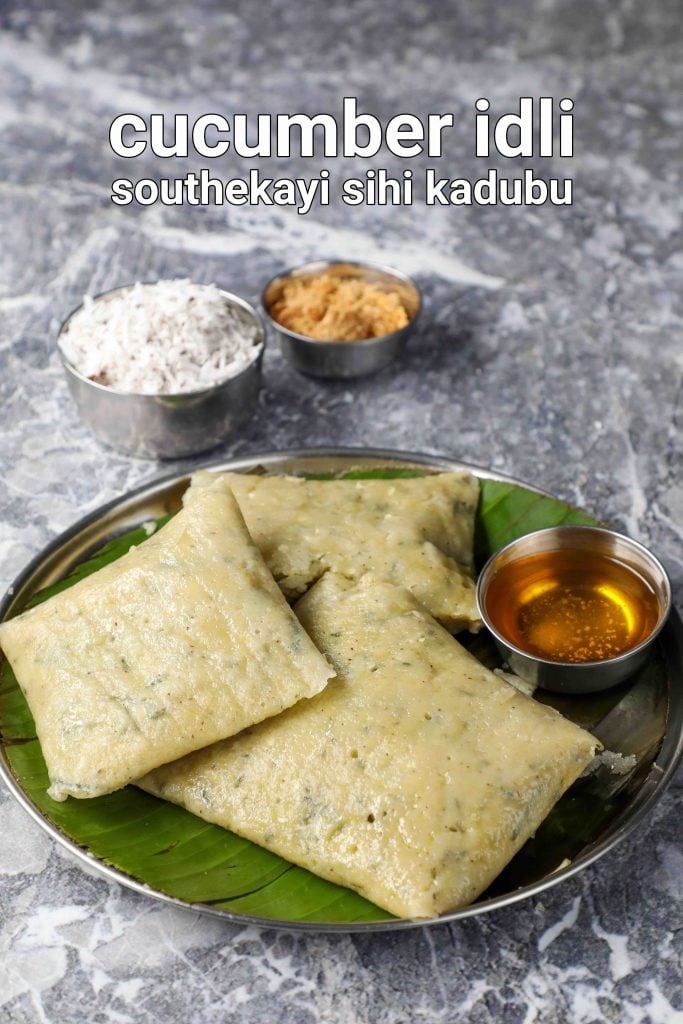 cucumber idli recipe | taushe idli | southe kaayi sihi kadubu with step by step photo and video recipe. idli recipes are a common choice for many indians and particularly to the south indians. it is generally made with a combination of rice and urad and savoured with choice of different spicy and tangy chutney. however, this recipe of cucumber idli recipe is unique as it made with the combination of rice, coconut and jaggery to yield a sweet taste idli recipe.
well, to be honest, i am not a big fan of cucumber idli recipe, and hence it took me so long to post it. the major reason i do not like about this recipe is the sweet taste it has to offer. i personally do not like sweet based breakfast recipes and i use avoid when my mother use to make it for our morning breakfast. having said that, you may also prepare a savoury version of it. i do not make the savoury version frequently, but i do not avoid it either like the sweet counterpart. this is just my preferences about the sweet breakfast options, but there are many like it that way. in other words, your preference should not demotivate you to try this and experience it. you may never know and you may completely like it as many in my family like this sweet idli recipe.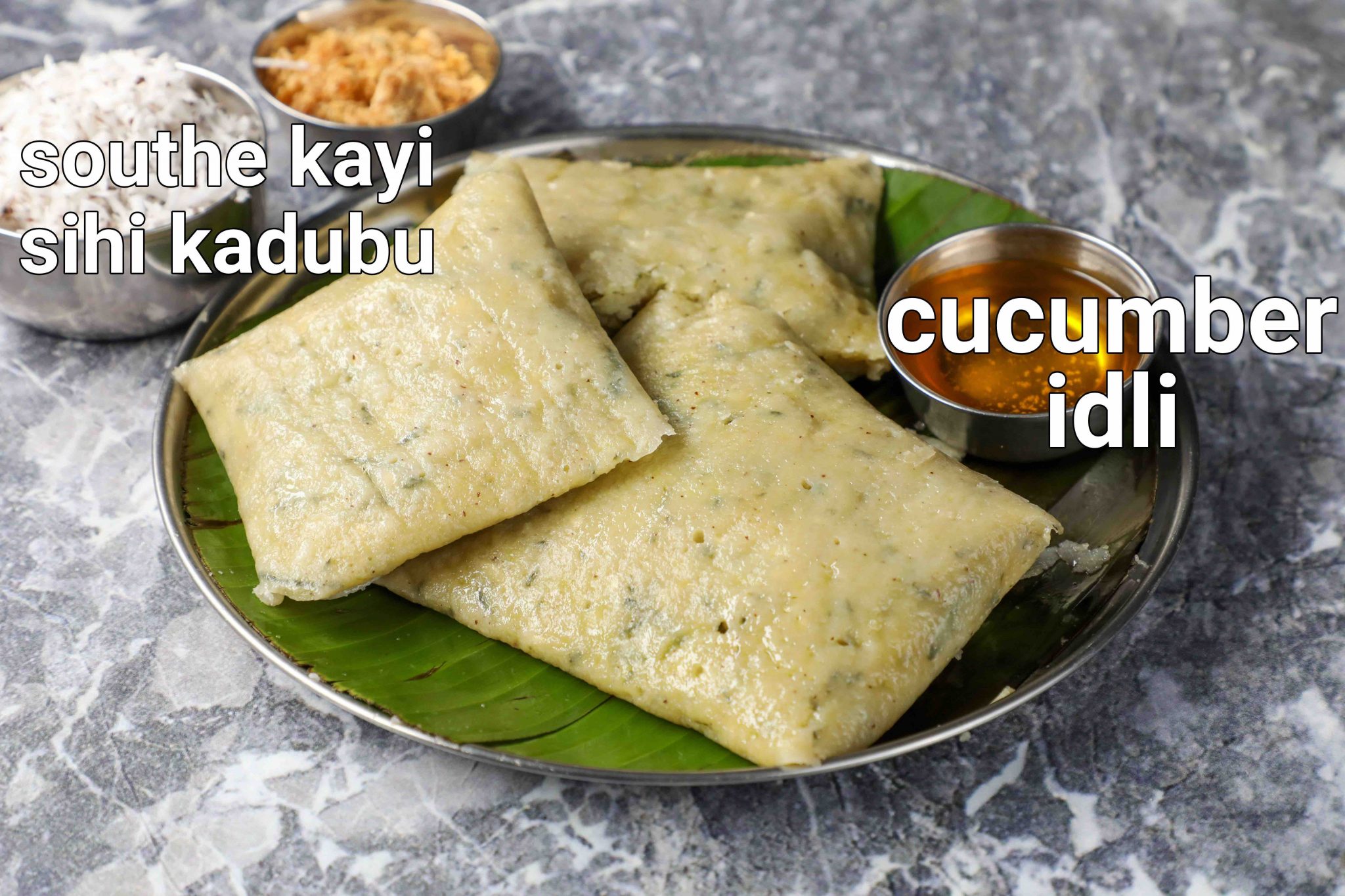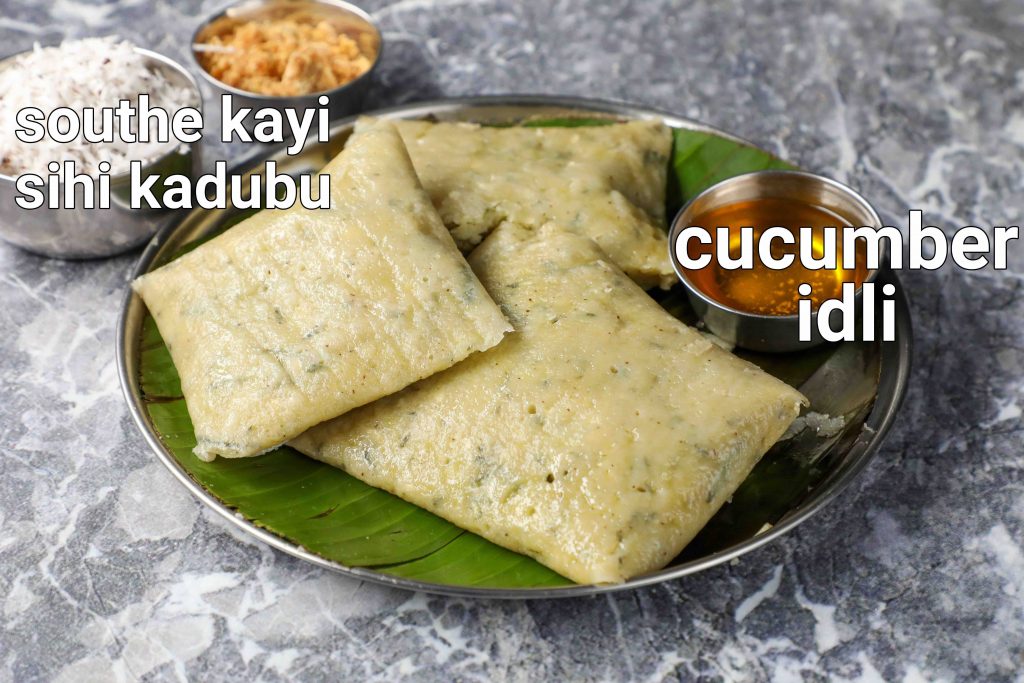 furthermore, some more additional tips, suggestions and variations to the sweet cucumber idli recipe. firstly, the recipe tastes great with the green cucumber and avoid using other variants of it. particularly, avoid using the lebanese cucumber or zuchini which may spoil the taste of this sweet idli. secondly, i have prepared this recipe with banana leaf cover which is optional. if you do not have access to it, you may avoid it and use the idli stand for the same. but banana leaves add a lot of freshness and flavour to the recipe. lastly, you may serve the sweet idli with any choice of chutney recipes. it is not necessary you have to serve the chutney with savoury idlis.
finally, i request you to check my other related idli recipes collection with this post of cucumber idli recipe. it mainly includes my other related recipes like idli dhokla, idli batter, vegetable idli, moong dal idli, kanchipuram idli, idli upma, instant stuffed idli, sabudana idli, bread idli, masala pundi with rava. further to these i would also like to highlight my other recipe categories like,
cucumber idli video recipe:
recipe card for cucumber idli recipe:
how to make taushe idli with step by step photo:
firstly, take a large cucumber and grate full.

squeeze off the juice. keep cucumber and juice aside.

in a large bowl soak 1 cup rice for 3 hours or overnight.

drain off the water and transfer to a mixi.


add ½ cup jaggery and ½ cup coconut.

also, add cucumber juice and blend to a coarse paste.

make sure to add cucumber juice in batches, else the batter may turn watery.


add grated cucumber and ¼ tsp salt to the batter.

mix well making sure everything is well combined.

add cucumber juice as required to adjust the consistency of the batter.

now take a large piece of banana leaf and grease with ghee.

pour 2 ladleful of batter and fold the banana leaf.

make sure the batter is well sealed without overflowing.

now steam the idli for 25 minutes or until it is cooked completely.

finally, enjoy cucumber idli with ghee or with honey.

notes:
firstly, make sure to squeeze the juice of cucumber well and use that juice for grinding.
also, if you like savoury cucumber idli, then you can add green chilli, ginger skipping jaggery.
additionally, if you do not have access to banana leaf, then you can steam in idli stand.
finally, cucumber idli / cucumber sihi kadubu tastes great when prepared in summer as cucumber acts as a body coolant.