honey cake recipe | how to make eggless bakery style honey cake with detailed photo and video recipe. easy and simple cake recipe prepared very similar to sponge or vanilla cake but with a honey and strawberry jam icing. the honey flavoured cake is hugely popular in south india and is generally served as a condiment slice in iyengar bakery's.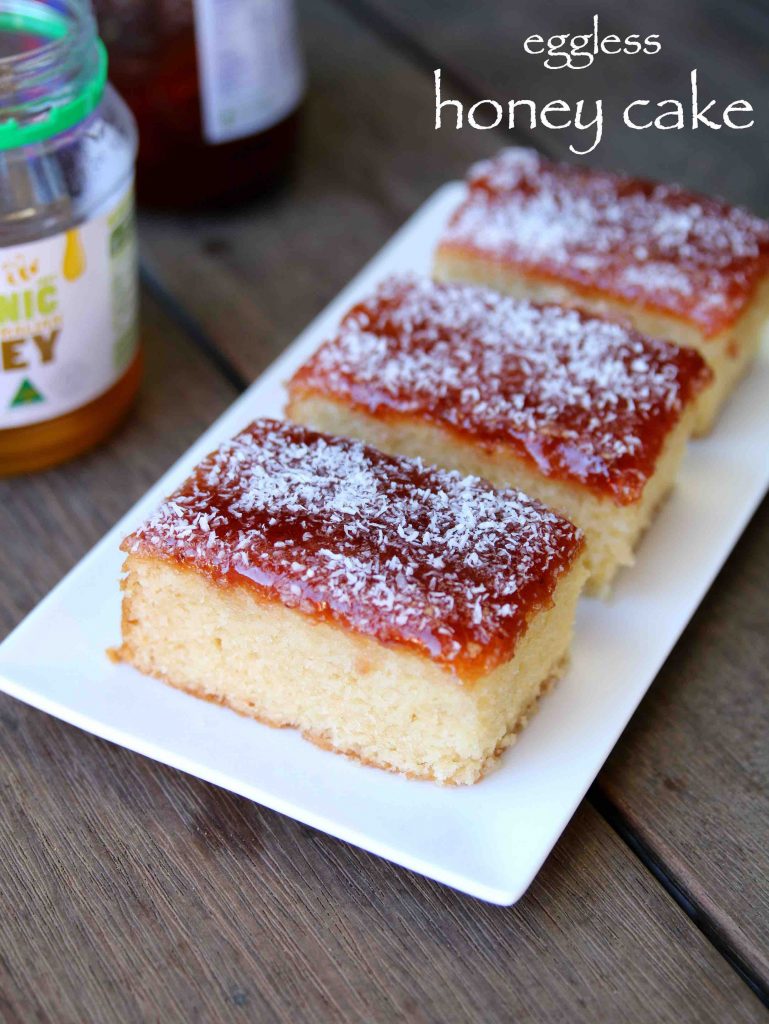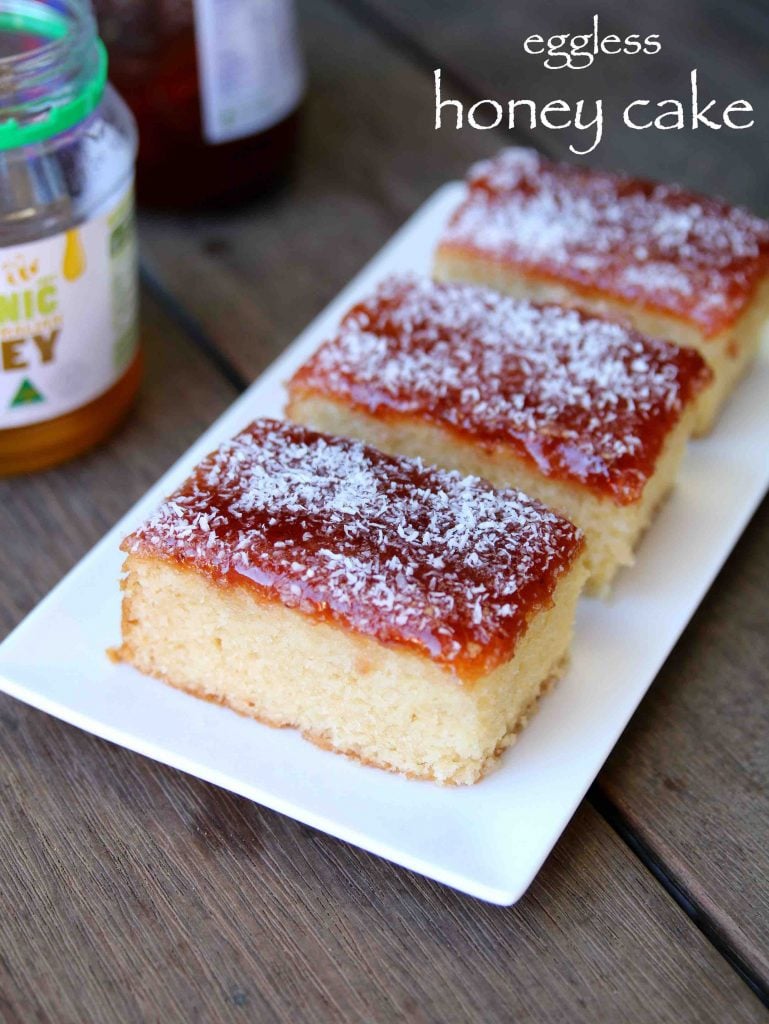 honey cake recipe | how to make eggless bakery style honey cake with step by step photo and video recipe. there are several variations of this popular honey flavoured cake recipe which not only varies from india, but also overseas. in this recipe, i have tried to showcase the south indian variation especially sold on local bakery shops as slices. i have followed my previous tutti frutti cake base with honey, strawberry jam and desiccated topping.
as i mentioned previously i have used my previous tutti frutti cake base for this recipe. basically, i have used the combination of yoghurt, oil and vanilla extract as wet ingredients for this honey cake recipe. this followed by the dry ingredients like maida/plain flour and baking agents. i personally like this combination and also it results in a moist and spongy eggless cake base suitable for any flavoured cake recipe. having said that, you can also check my chocolate cake recipe where i have used the combination of butter and condensed milk as part of wet ingredients. the only disadvantage i feel with this combination is the cake turns hard after a while due to solidification of butter. each time when you serve you may have to reheat it, otherwise it should be equally great.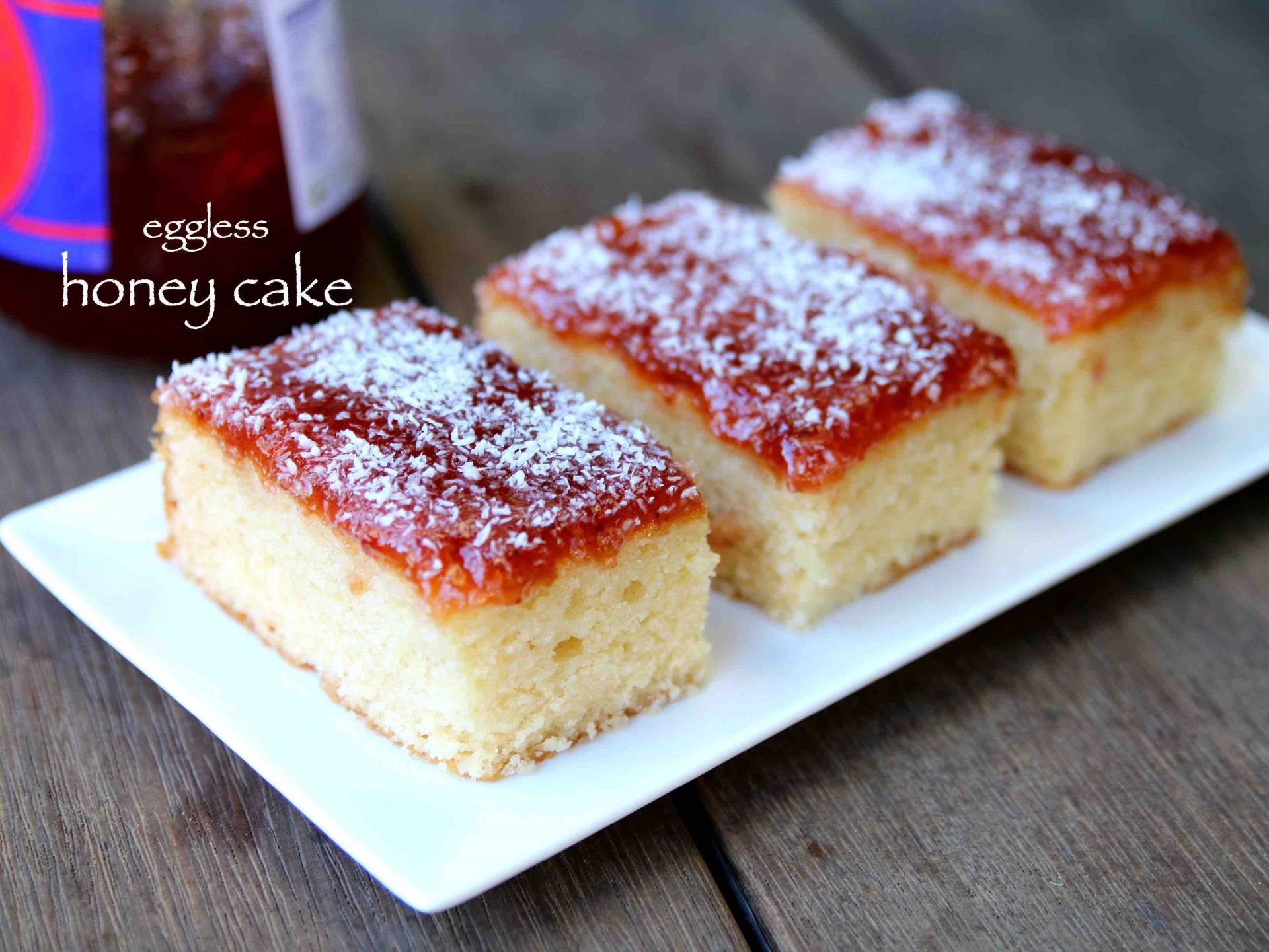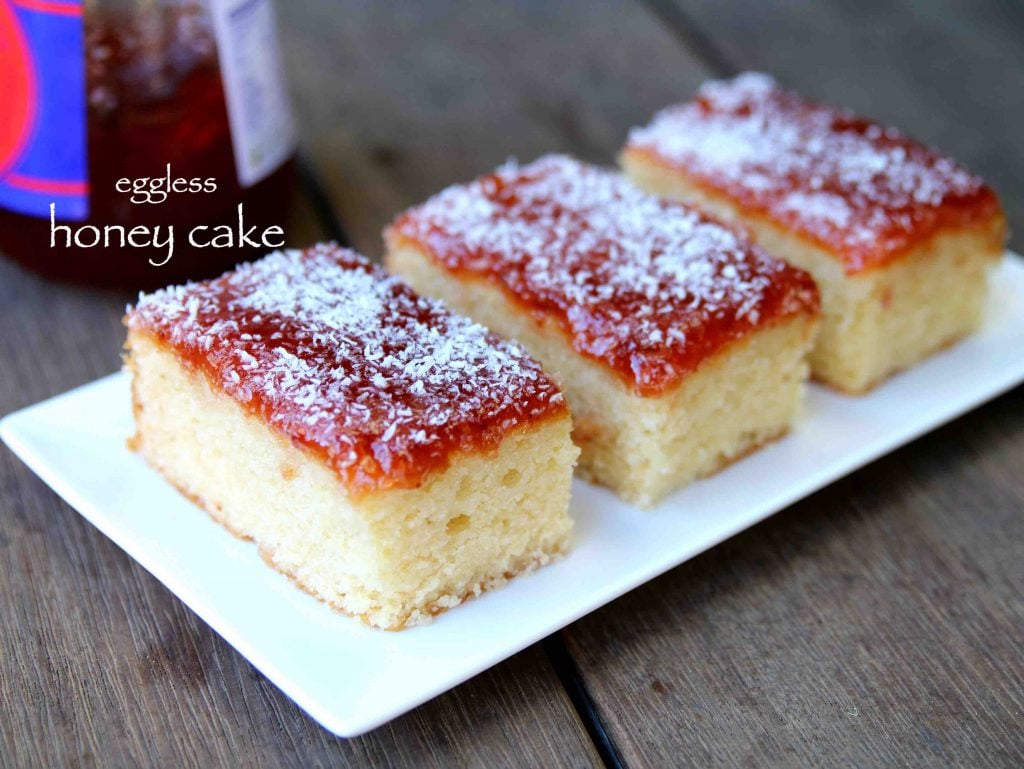 furthermore some important tips, suggestions and serving ideas for a perfect honey cake recipe. firstly, i have used homemade strawberry jam for this, but you can use store-bought jams too. make sure the jam is fresh and has bright red colour to make it more attractive. moreover, you can also use other flavoured jams like apricot, raspberry or even mixed fruit jams. secondly, you can also add dry fruits to the cake batter to make it more nutty and flavourful. perhaps, walnuts, almonds, pistachios and tutti frutti should be a good option. lastly, you can easily store these cake slices for 4-5 days in airtight container. it should be fresh if you refrigerate it and heat it for 2-30 secs before serving. these slices of honey cake can be ideal for any occasions and can be an instant hit with kids.
finally, you can visit my other eggless cakes recipes collection, very similar to this honey cake recipe. it includes recipes like, carrot cake, biscuit cake, chocolate cake, banana cake, red velvet cake, ice cream cake, rava cake, black forest cake and plum cake recipe. in addition, do visit my other recipes collection like,
honey cake video recipe:
recipe card for eggless honey cake:
how to make honey cake with step by step photo:
eggless cake recipe:
firstly, in large mixing bowl take ¾ cup curd, 1 cup sugar, ¾ cup oil and 1 tsp vanilla extract.

mix well with the help of whisk for 5 minutes.

further sieve 2 cup maida, ¼ tsp baking soda and 1 tsp baking powder.

mix well using cut and fold method.


do not over mix as the cake turns rubbery and chewy.

further, add ¼ to ½ cup milk if required and mix well forming thick flowing consistency batter.

further, transfer the cake batter into the square cake mould (width: 7 inch, height: 2 inch, length: 9 inch). make sure to grease the mould with butter to avoid sticking and line butter paper at bottom of the tray.


level up the batter and pat the tray twice to remove the air incorporated into the batter.

place the cake tray into the preheated oven. bake the cake at 180 degree celsius or 356 degrees fahrenheit for 40 minutes.

or bake till the toothpick inserted comes out clean. cool the cake completely.

poke the cake with a toothpick or fork making holes. keep aside.

honey cake recipe:
now prepare the honey syrup by dissolving 2 tbsp sugar in ¼ cup water.

boil the sugar syrup for 2 minutes or till sugar syrup turns sticky.

now allow the sugar syrup to cool slightly.

when the sugar syrup is warm, add ¼ cup honey and mix well.

pour the prepared honey syrup over the cake and allow to seep into the cake. keep aside.

further prepare jam mixture my taking ½ cup strawberry jam and 1 tbsp honey in a pan. use jam of your choice.

mix well keeping the flame on low.

once the jam melts, switch off the stove. do not boil the mixture as we have added honey.

now spread a generous amount of jam mixture over cake and level out forming a frosting.

also, sprinkle 2 tbsp of desiccated coconut over cake.

cut the cake into rectangle or shape of your choice.

finally, serve honey cake immediately, or store in a refrigerator for a week.

notes:
firstly, replace maida with wheat flour / atta to make the cake more healthy.
also, adding orange juice to the cake batter helps to add flavour to the cake.
additionally, use butter in place of oil if you are serving kids.
furthermore, to bake in microwave convection mode preheat and bake at 180 degrees for 40 minutes. and to bake in cooker check out how to bake in cooker.
finally, honey cake stays good for a week when refrigerated.