banana cake recipe | how to make easy eggless banana cake recipe with detailed photo and video recipe. a flavoured cake recipe prepared with banana as its main ingredients with other classic cake recipe ingredients. also this recipe is prepared with atta or wheat flour compared to the traditional all-purpose flour and thus giving a healthy alternative. there are several ways to prepare including cupcake, muffins and even steam cake but this recipe follows a traditional way of baking the cake.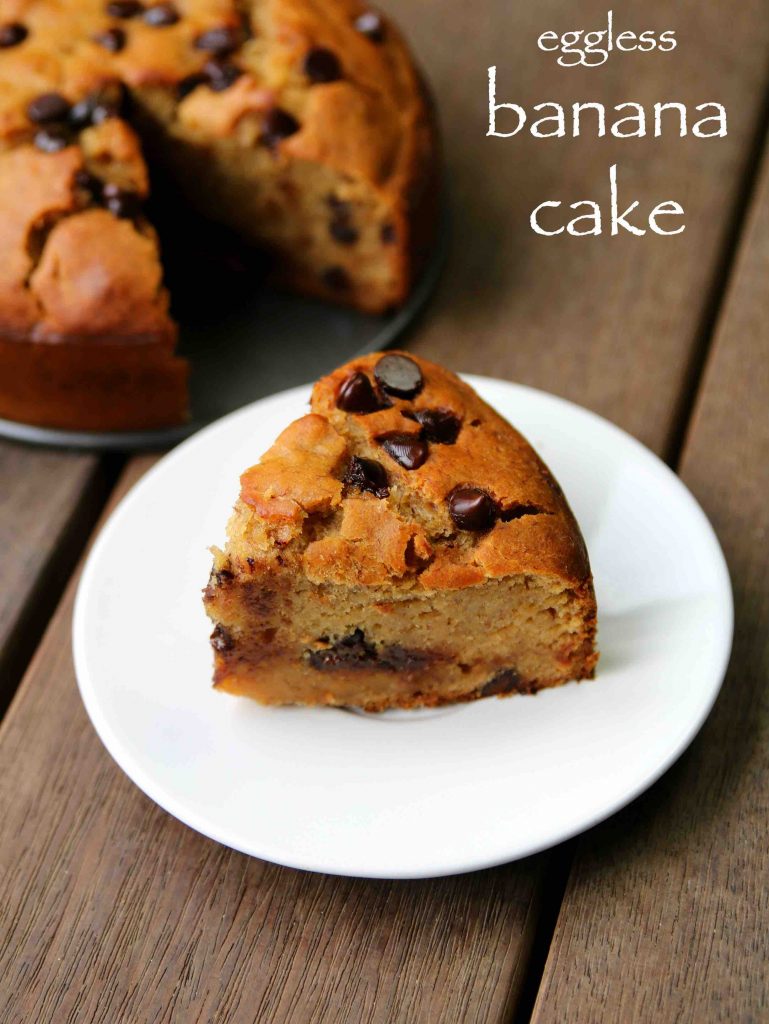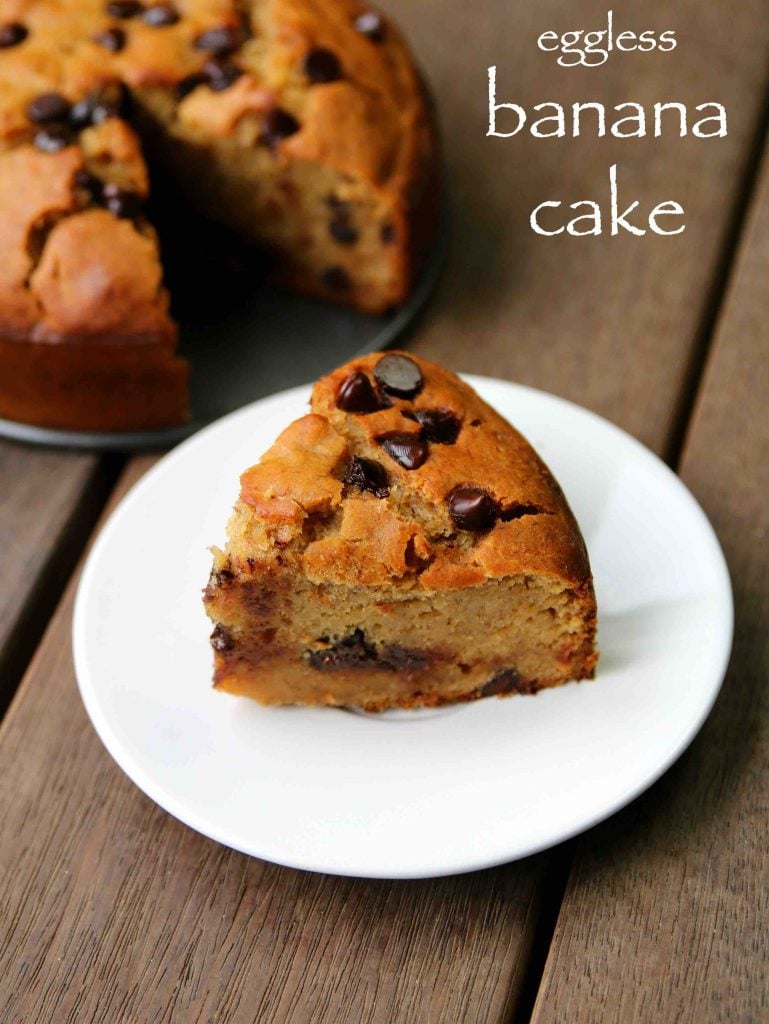 banana cake recipe | how to make easy eggless banana cake recipe with step by step photo and video recipe. generally, banana cake is prepared with maida/plain flour with egg as its main ingredient for shape and texture. but cakes can also be prepared without the egg and also with wheat flour to make it more healthy. therefore these cakes can also be served for breakfast and not just be limiting as a dessert recipe.
i have already shared the other popular banana baked recipe i.e banana bread recipe using plain flour and nuts. and hence i did not want to share the eggless banana cake recipe with almost same ingredients. hence i thought of introducing some twist to this recipe by adding choco chips and wheat flour. to be honest i wasn't successful with the first attempt and i had to try it twice. in fact, i have been carrying a reputation of not succeeding for any cake recipes in my first attempt. for example my previous chocolate cake recipe, it took me 4 attempts to get the proper recipe. but i am happy with this cake as i was able to get the desired result in less than 3 attempts.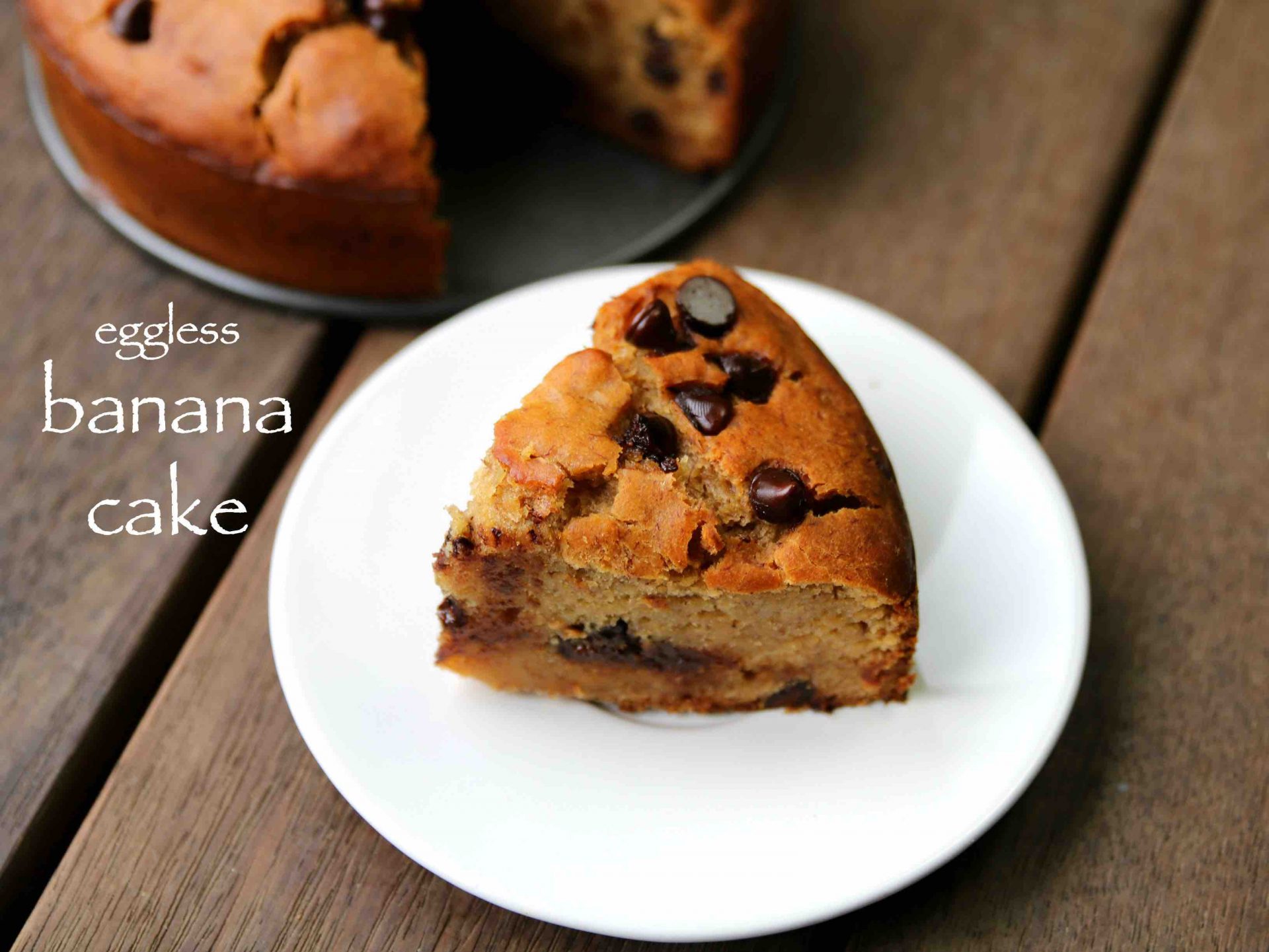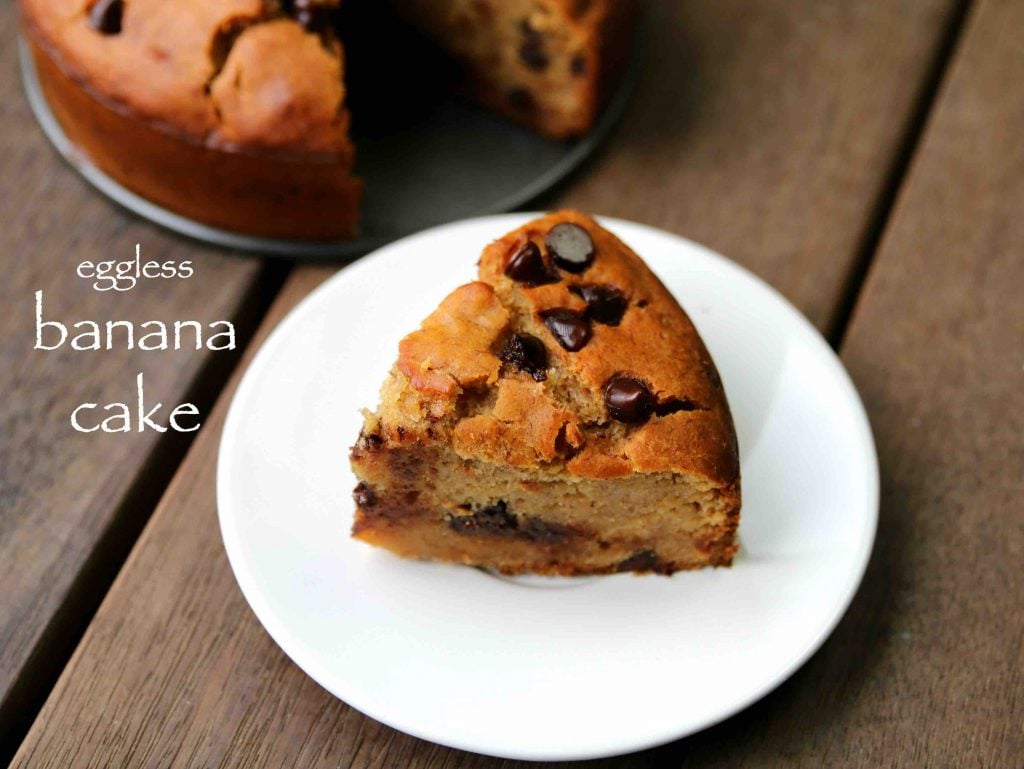 furthermore, i would like to add some tips and recommendations to this eggless banana cake recipe. firstly, if you wish to prepare authentic recipe than i would recommend you to use maida or plain flour in the place of wheat flour. you should be good to use the same quantity as wheat flour. secondly, i always recommend ripe banana's for this recipe and do not use raw as it would not have more flavour in it. lastly, icing is not necessary to this cake can be served as it is by just warming it. but if you are planning to have this recipe for any occasion, then you can check out my black forest or even chocolate cake recipe.
finally do visit my other eggless cake recipes collection with this post of banana cake recipe. it includes recipes like carrot cake, vanilla cake, ice cream cake, plum cake, tutti frutti cake, biscuit cake, cooker cake and red velvet cake recipe. further, i request you to visit my other recipes collection like,
eggless banana cake video recipe:
recipe card for eggless banana cake recipe:
how to make banana cake recipe with step by step photo:
firstly, take 3 ripped bananas and cut them into pieces. well ripped bananas give great results.

also, add ¾ cup sugar to the same bowl. add more sugar if the banana is not sweet or depending on your preferences.

mash the banana with the hand blender or with the help of a fork. sugar helps to mash the bananas more easily.

furthermore, add ¼ cup curd, ½ cup olive oil and 1 tsp vanilla extract. alternatively, use any neutral flavoured oil like sunflower, vegetable oil or butter.


further, add 2 cup wheat flour, 1 tsp baking powder, ¼ tsp baking soda, ¼ tsp cinnamon powder and pinch of salt.

sieve all together making sure there are no lumps.

mix well with cut and fold method until all the dry ingredients combine well with the banana mixture.

do not over mix as the cake turns to be chewy and hard.

furthermore, add ½ cup chocolate chip and fold gently.

transfer the batter to the cake tray or bread mould. make sure to grease the mould and place a butter paper at the bottom to avoid sticking. (dia: 7 inch, height: 4 inch)

pat the tray twice to remove the air incorporated into the batter.

top with few more chocolate chip to look more attractive.

place the cake tray into the preheated oven. bake the cake at 180 degree celsius or 356 degrees fahrenheit for 60 minutes.

or bake till the toothpick inserted comes out clean.

further, allow the cake to cool completely and later cut into slices and serve.

finally, serve the eggless banana cake or store in airtight container.

notes:
firstly, if you are vegan, then replace curd with a tsp of vinegar.
furthermore, use well-ripped bananas to get great results.
also, add nuts of your choice along with chocolate chips.
additionally, replace wheat flour with maida if you are looking for more tasty cake.
moreover, keep an eye while baking cake as each oven works differently.
finally, eggless banana cake tastes great when prepared with lots of chocolate chip.