pizza sandwich recipe | grilled veg pizza sandwich | pizza sandwiches with detailed photo and video recipe. a unique fusion recipe with the combination of pizza recipe to the popular sandwich recipe. the recipe may also be known as pizza sub sandwich and is mainly consumed as a quick snack or perhaps as a breakfast. the recipe can be served as tiffin box snack for both kids and adults.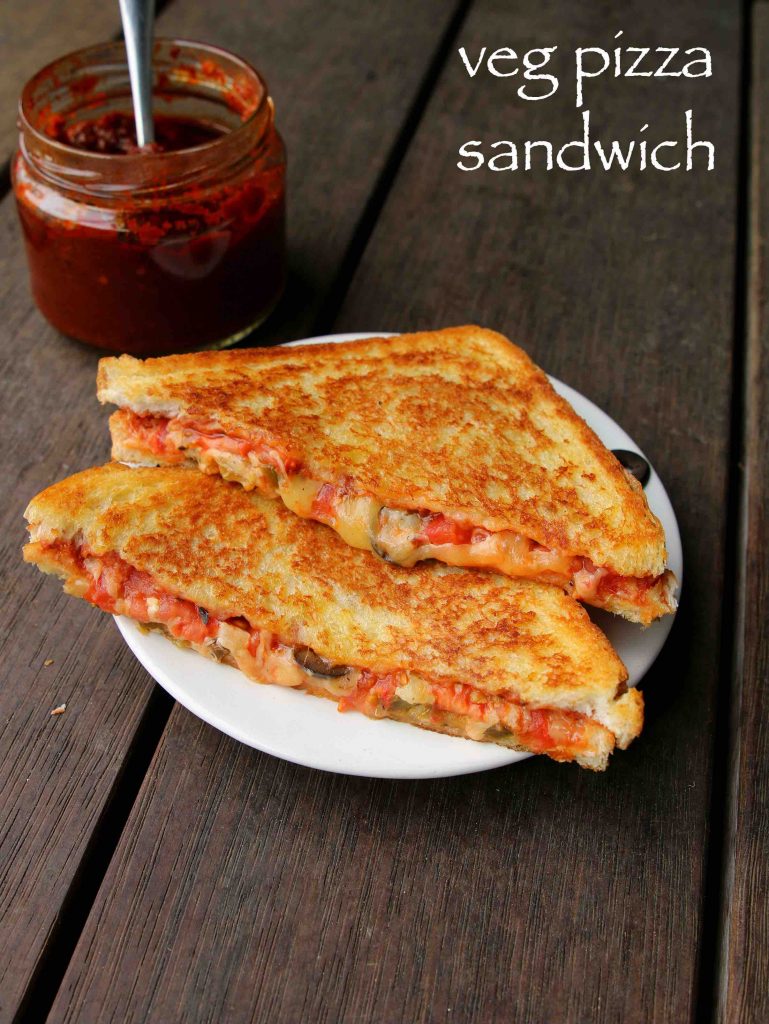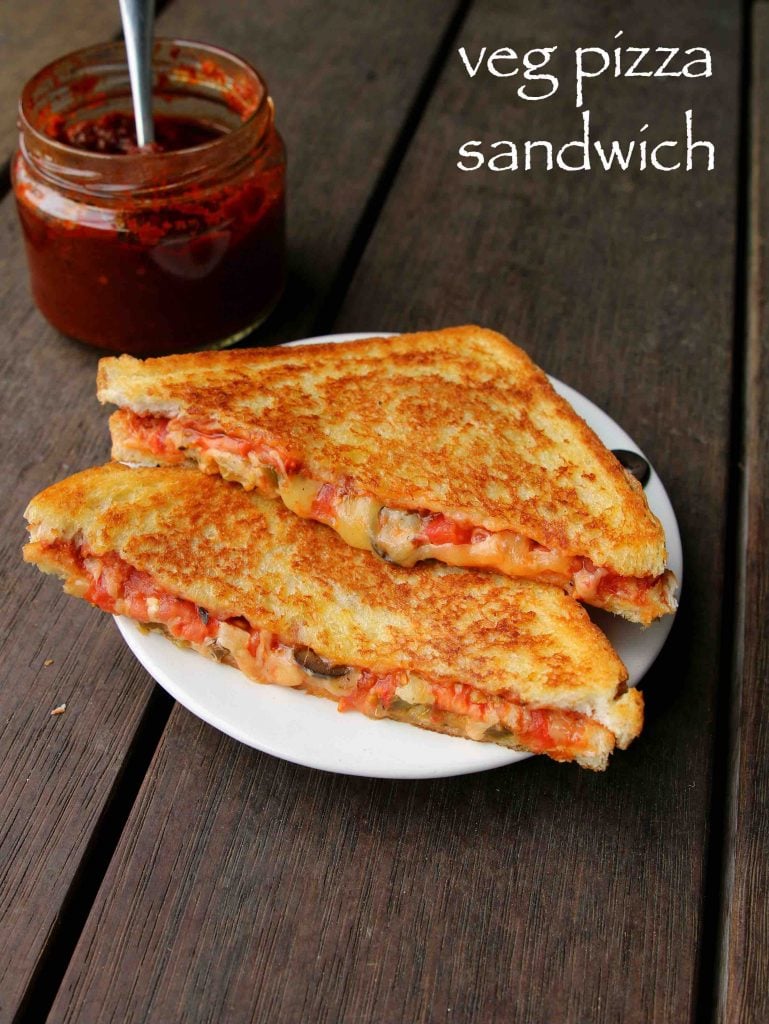 pizza sandwich recipe | grilled veg pizza sandwich | pizza sandwiches with step by step photo and video recipe. veg pizza sub sandwich is extremely simple and it hardly takes minutes to prepare it. unlike the traditional pizza which is prepared in oven, pizza sandwich is prepared or grilled in normal pan / grill which makes it less cumbersome and affordable. moreover the recipe is completely open ended and can be prepared with choice of veggies.
i always look for easy and tasty recipe when it comes to our daily breakfast. especially during the busy weekdays, i have to prepare both breakfast and pack the lunch boxes in a short window. hence i often fall back to sandwich recipes as morning breakfast and i try to vary it and not to be monotonous. one such common and frequent recipe is pizza sandwich recipe with loads of cheese stuffed inside it. it is not just only filling, but also healthy and tasty yet hardly takes minutes to prepare. moreover the best i like most about this recipe is the variation you can introduce. the recipe can easily mix and matched with choice of veggies and you would not get bored easily.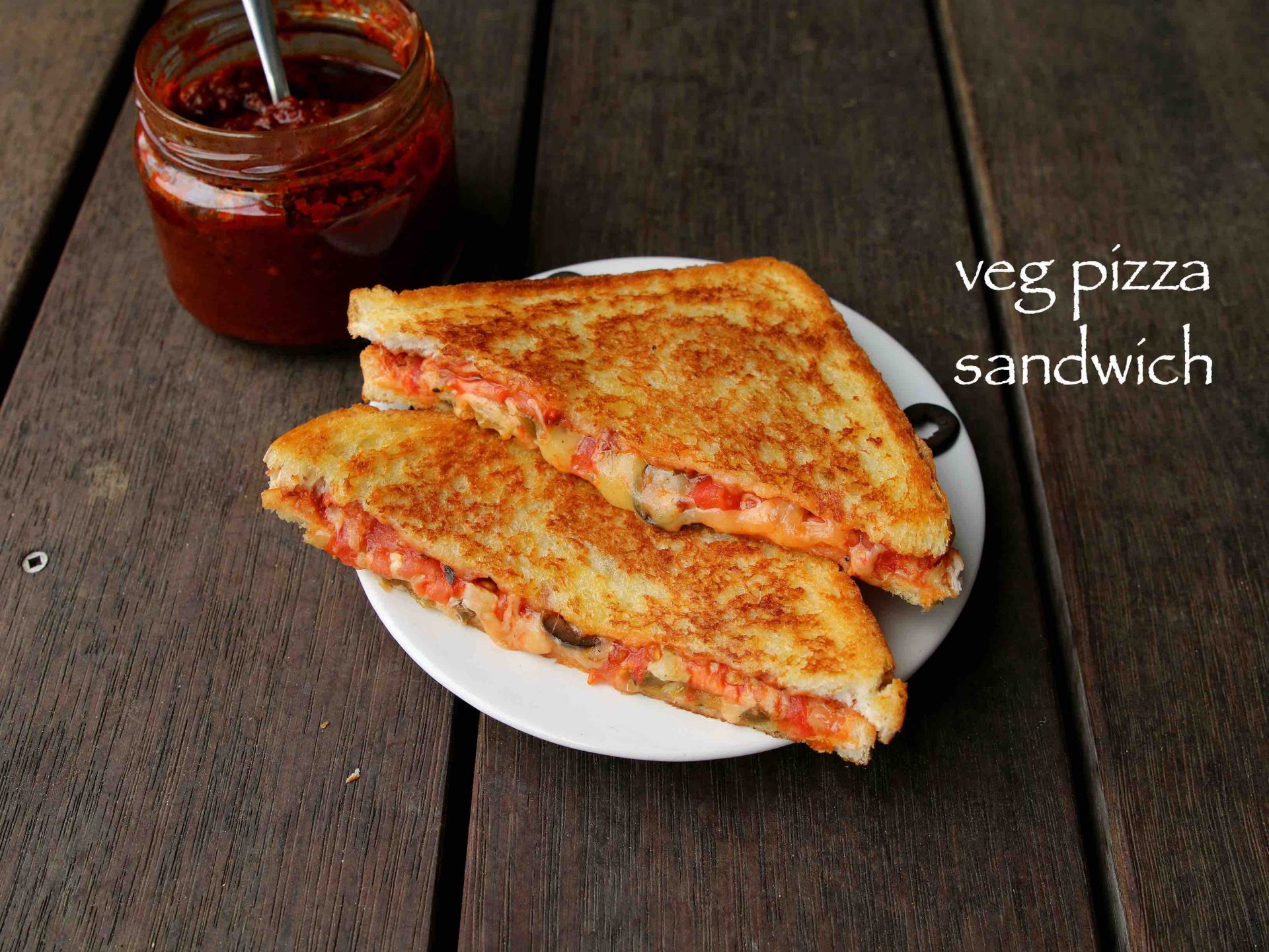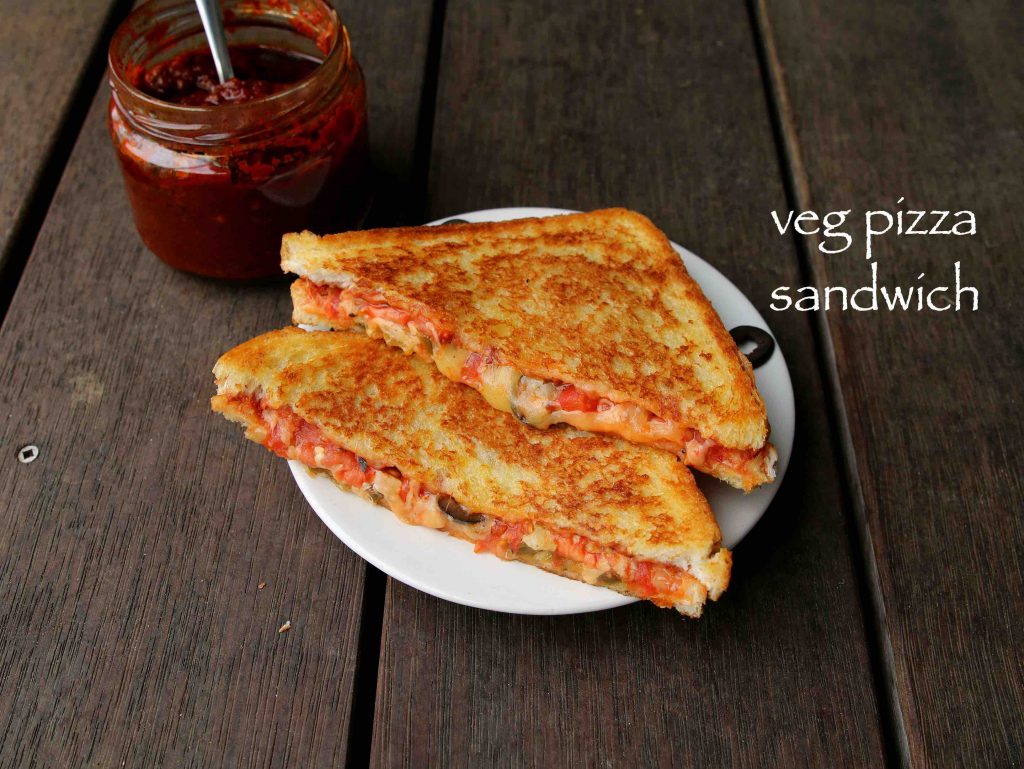 some tips, recommendation and serving suggestion for this simple and tasty grilled veg pizza sandwich recipe. firstly, i have used normal cooking pan to grill these sandwiches which i personally feel is much easy to handle and prepare. alternatively, you can use grill or even sandwich toaster to prepare these yummy sandwiches. secondly, i have used home-made pizza sauce for this recipe. but you can also use plain tomato ketchup or even barbecue tomato sauce. lastly, pizza sandwiches tastes amazing when served immediately directly from pan. if you are planning it for your tiffin box, than microwave it for 15-20 seconds before consuming.
finally i would like to highlight my other sandwich recipes collection with this recipe post of pizza sandwich recipe. it includes recipes like, bombay sandwich, mayo sandwich, garlic cheese toast, besan toast, dahi sandwich, masala toast and chilli cheese sandwich recipe. also do not forget to visit my other similar recipes collection like,
pizza sandwich video recipe:
recipe card for veg pizza sandwich recipe:
how to make pizza sandwich with step by step photo:
firstly, spread 2 tsp pizza sauce over a bread slice.

top with 4 slices tomatoes, 4 pieces jalapeno, 6 pieces olives, few slices onion, ¼ tsp chilli flakes and ¼ tsp mixed herbs.

also top handful mozzarella cheese.

now take another bread slice and spread 2 tsp pizza sauce.


place the bread slice facing pizza sauce on bottom and press gently.

roast the sandwich with butter on both sides.

finally, cut the bread into half and serve veg pizza sandwich.

notes:
firstly, use white bread or brown bread of your choice.
also, top with vegetables of your choice like mushrooms, capsicum or paneer.
additionally, roast the bread on tawa or use sandwich maker to roast golden and crisp.
finally, veg pizza sandwich recipe taste great when served hot.