mayonnaise sandwich recipe | mayo sandwich | veg mayonnaise sandwich with step by step photo and video recipe. quick and simple veg sandwich recipe topped and filled with eggless mayonnaise and any choice of veggies. it can be ideal morning breakfast recipe or for a quick bite before or after lunch for munching. unlike other sandwich recipes, mayo sandwich can be prepared within minutes with choice of veggies for dressing.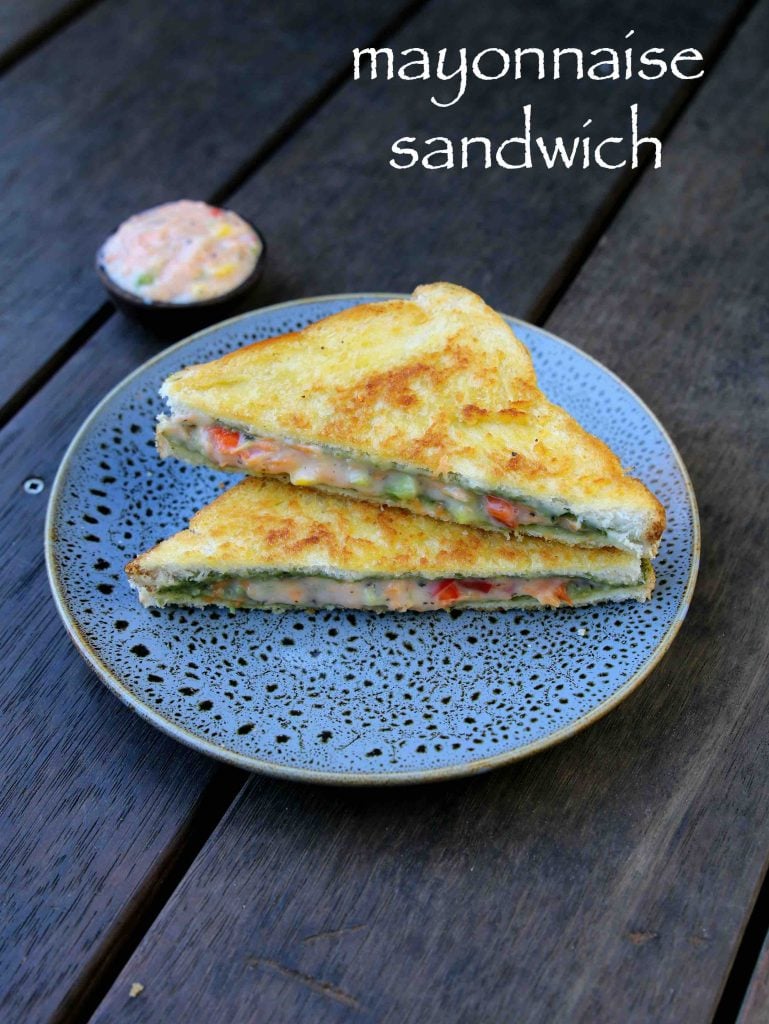 mayonnaise sandwich recipe | mayo sandwich | veg mayonnaise sandwich with step by step photo and video recipe. sandwich recipes are always helpful when you are short of time yet crave for something healthy and tasty. mayo sandwich recipe is one such recipe which can be prepared within minutes. this recipe of veg mayonnaise sandwich is very similar to dahi sandwich recipe.
the recipe for mayo sandwich is extremely simple and can be prepared with any choice of breads. but it is typically prepared with white bread and by trimming the edges of sandwich breads. while it is not mandatory to trim it, but it makes it visually better dish and more appealing. further i have used a basic eggless mayonnaise in this recipe but any flavoured mayo should also taste great for this recipe. ideally garlic mayo, chilli mayo and even cashew mayo can also be used for this recipe. in addition i have used veggies like sweet corn, different coloured capsicum and grated carrot. but it can be easily extended with other veggies like spinach, mushroom and even jalapeno for dressing.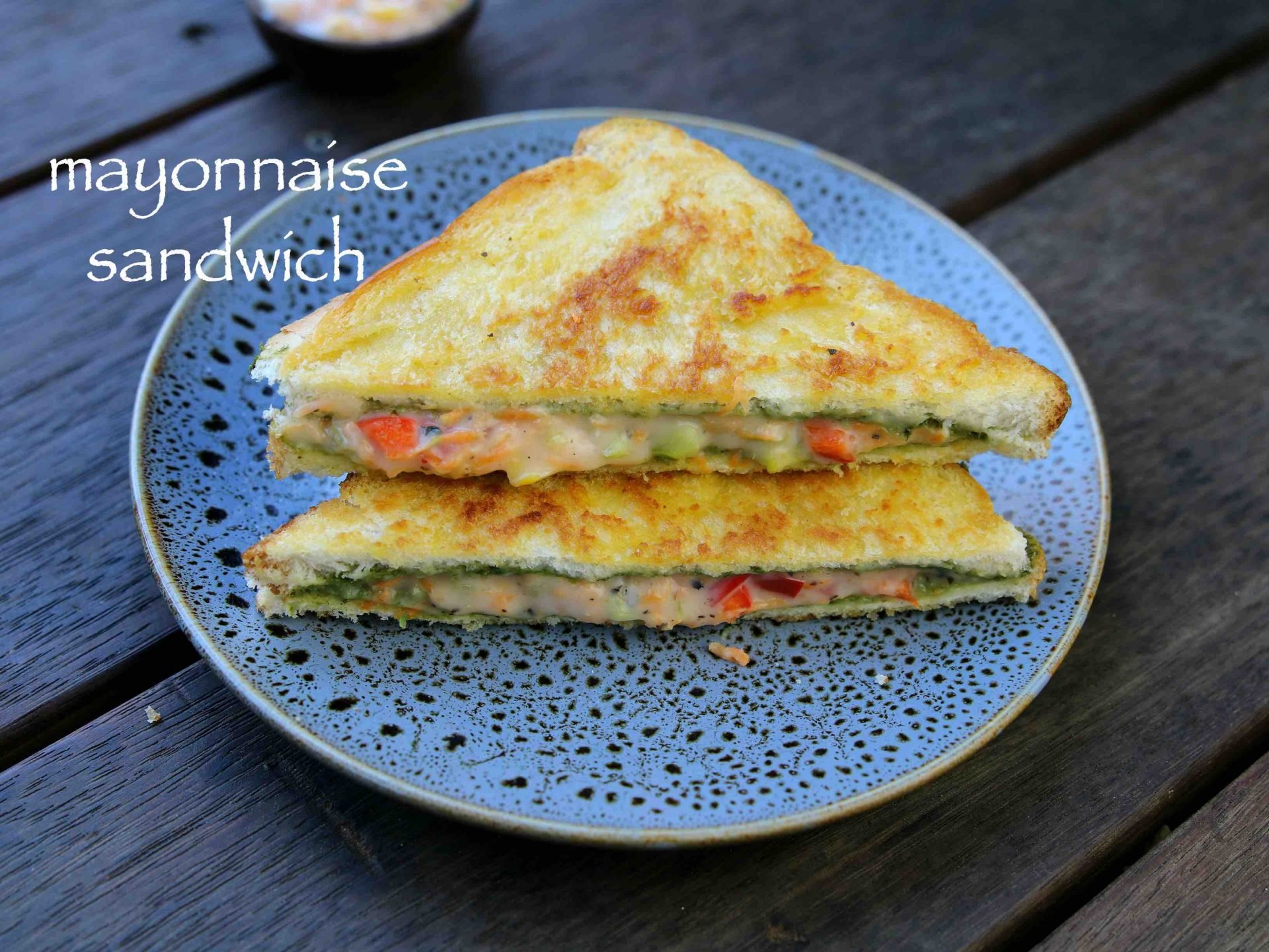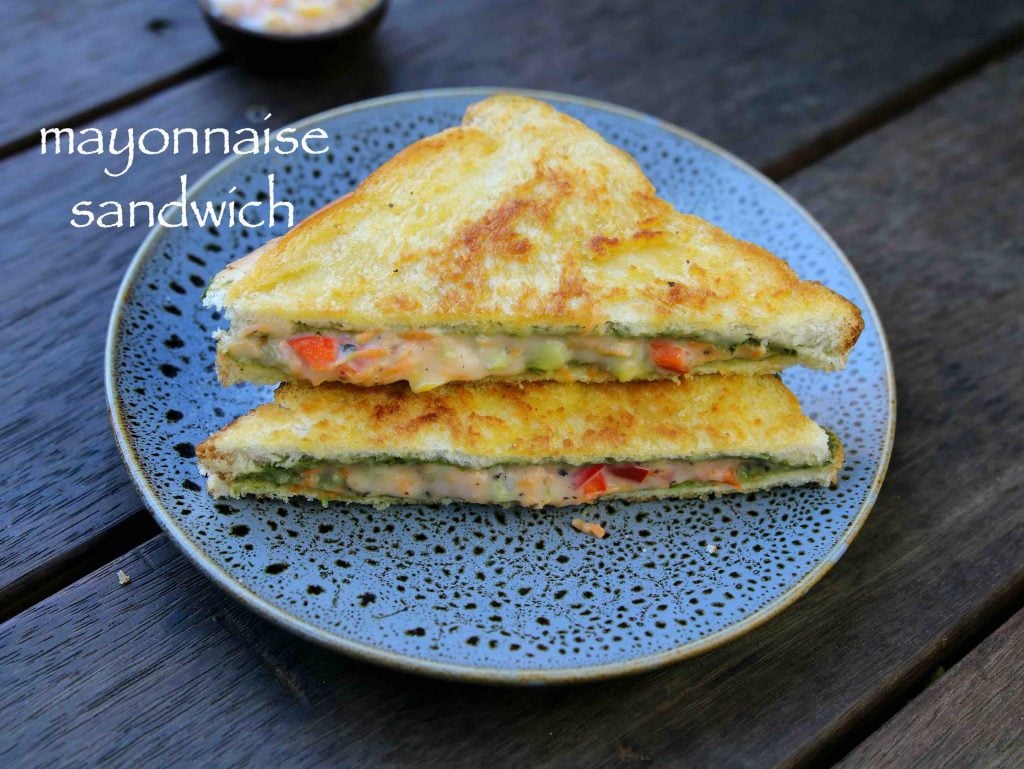 furthermore, some important tips, recommendations and serving suggestion for mayonnaise sandwich recipe. firstly, as i mentioned previously any type of bread slices can be used for this recipe. white bread, wheat bread, wholemeal bread and even sandwich breads can be used. secondly, i have used only mayo in this recipe for filling but it can be easily extended to have grated or even melted cheese for filling. ideally grated cheddar cheese should taste good when mixed with stuffing. lastly, i have pan fried the sandwich before serving. alternatively you can grill it or even use a toasted bread slices before stuffing.
finally i would like to include my other sandwich recipe collection with this recipe post of mayonnaise sandwich recipe. it includes recipes like curd sandwich, aloo sandwich, tomato sandwich, masala toast sandwich, chilli cheese sandwich, cream sandwich recipe, veg sandwich, and bombay veg sandwich recipe. further, do check my other similar recipes collection like,
veg mayonnaise sandwich video recipe:
recipe card for veg mayonnaise sandwich:
how to make mayonnaise sandwich with step by step photo:
firstly, in a large mixing bowl take ½ cup eggless mayonnaise.

add in 2 tbsp green capsicum, 2 tbsp red capsicum, ¼ carrot, 2 tbsp corn, ¼ tsp pepper and ¼ tsp salt.

mix well making sure everything is combined well.

now spread a tsp of green chutney over a slice of bread.


also spread 2 tbsp of prepared mayonnaise spread.
further spread of tsp of more green chutney over another bread slice and place over stuffing.

toast the sandwich with butter on both sides.


finally, cut the bread into half and serve eggless mayonnaise sandwich.

notes:
firstly, use white bread or brown bread of your choice.
also, toasting sandwich is optional, however it taste great when toasted.
additionally, toast the bread on tawa or use sandwich maker to roast golden and crisp.
finally, eggless mayonnaise sandwich recipe taste great when served hot.