kala jamun recipe | black jamun recipe with instant khoya or mawa with detailed photo and video recipe. an exotic indian sweet recipe prepared with milk solid known as khoya or mawa. typically the gulab jamun or kala jamun is prepared with khova which is prepared by evaporated milk, but in this recipe instant mawa or khoya is prepared by milk powder.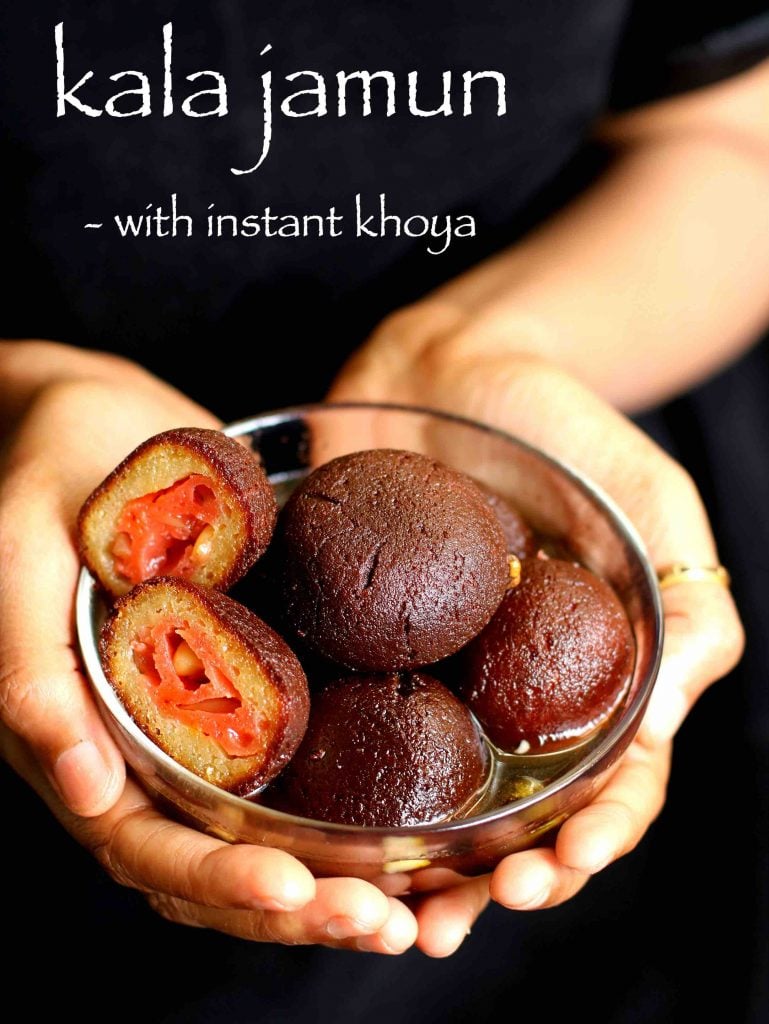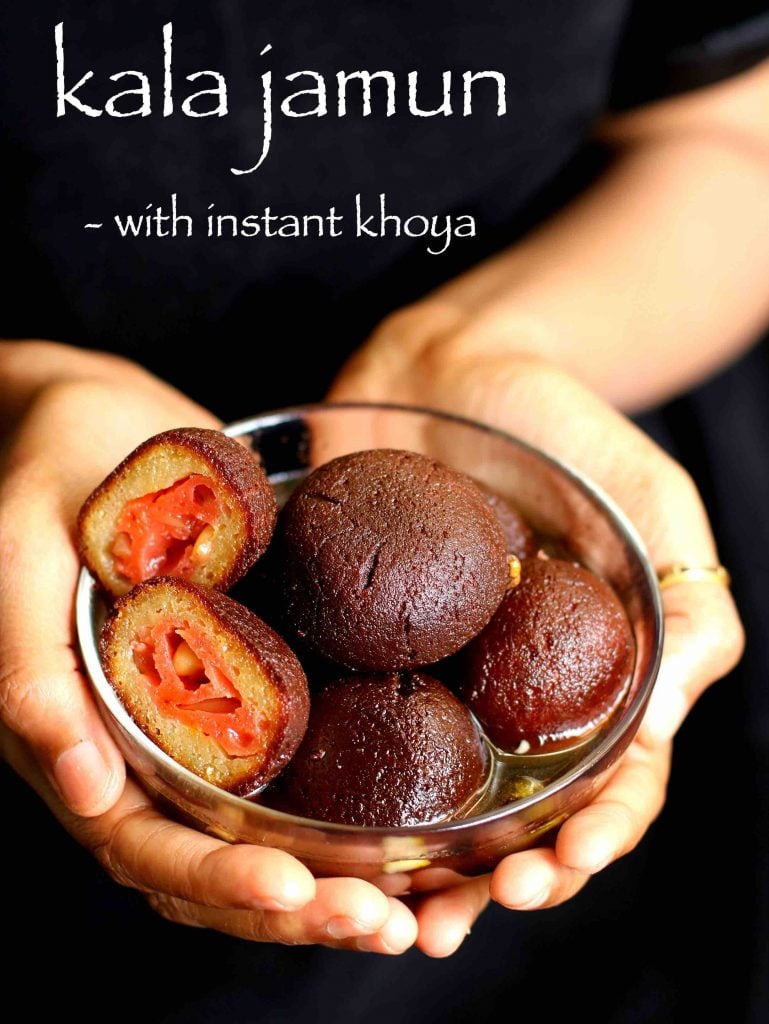 kala jamun recipe | black jamun recipe with instant khoya or mawa with step by step photo and video recipe. traditionally kala jamun recipe was considered shahi or royal and was prepared especially during festival, regional occasions or any special events. but these days it has it entered into domestic kitchens and has become a favourite meal ending dessert. this can be easily prepared in milk powder or mawa or khova, but in this recipe it is prepared with instant khoya.
basically the recipe follows exactly the same procedure of any normal gulab jamun recipe. however the jamun's are roasted till dark or black in colour or technically it is caramelized. previously i had shared the easy gulab jamun recipe with milk powder and even bread gulab jamun recipe. simultaneously i was getting several request for kala gulab jamun recipe and also for mava or khoya recipe. hence in this recipe i have clubbed together and prepared the black gulab jamun recipe. you can enjoy these dark gulab jamun with either vanilla scoop or butterscotch ice cream.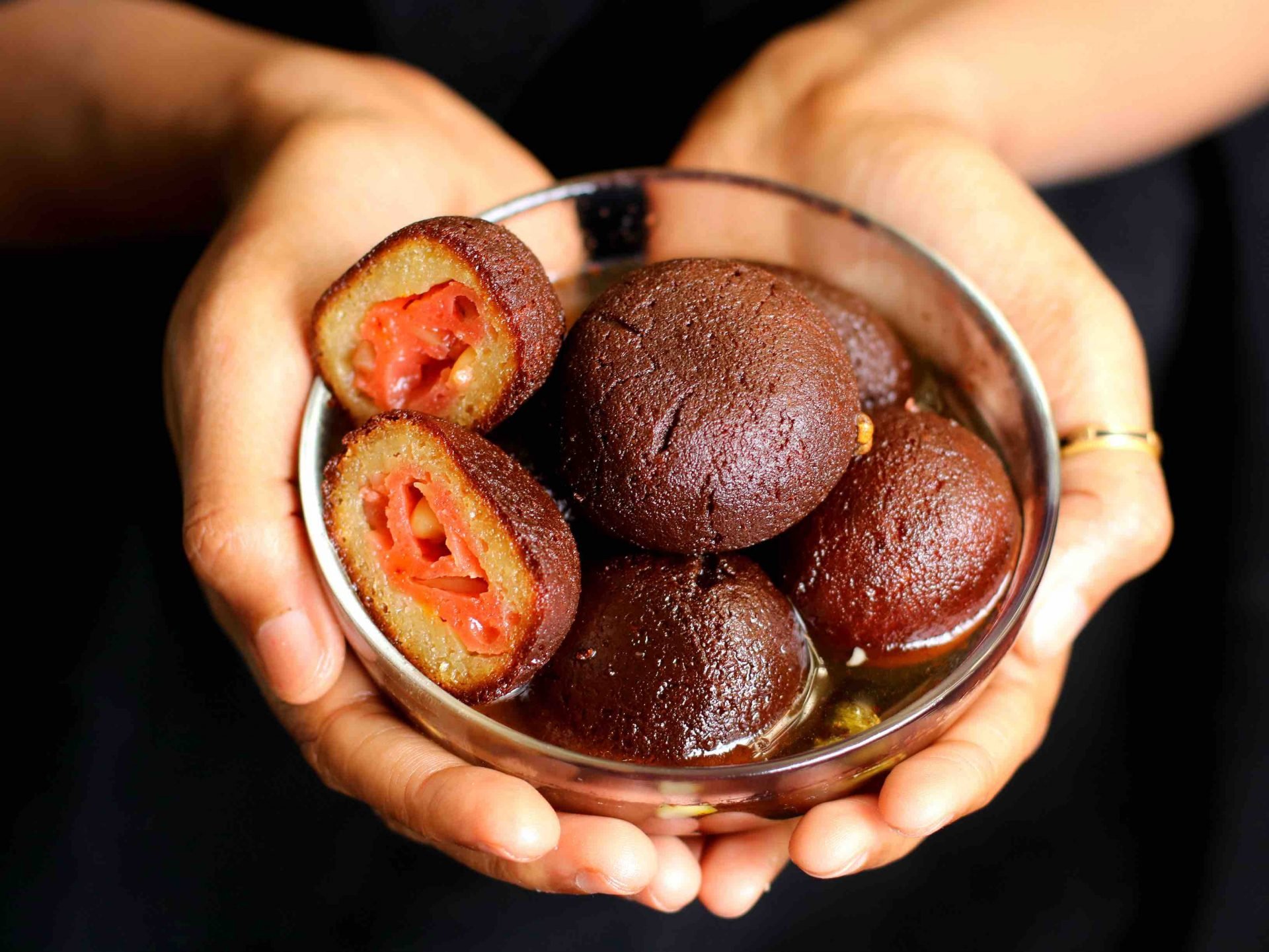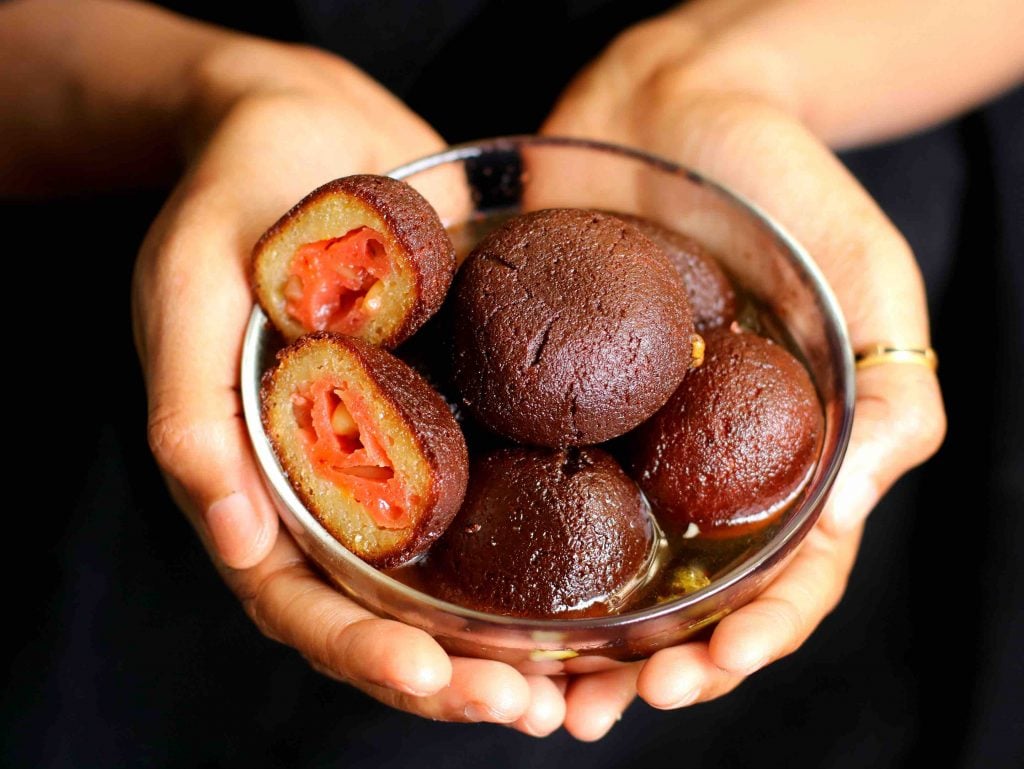 preparing these gulab jamu recipe is extremely simple with khoya or mawa, but some considerations before jumping into the recipe. firstly, jamun's should always fried in low flame preferably in ghee. also, while frying avoid touching the jamuns directly and continuously stir the ghee so they change the positions. secondly, for a soft jamuns, dip them immediately in hot sugar syrup after frying. also make sure that sugar syrup is warm and not boiling hot. lastly, add some lemon juice to sugar syrup after the preparation so that it stops hardening of sugar.
finally i request you to check my other indian sweet recipes collection from my blog. particularly, bread gulab jamun, rasmalai, rasgulla, mysore pak, badam burfi, kaju katli, kaju pista roll, motichoor ladoo, coconut barfi and rava ladoo recipe. in addition do visit my other recipes collection board like,
kala jamun video recipe with instant khoya or mawa:
recipe card for kala jamun recipe with instant khoya or mawa:
how to make kala jamun recipe with step by step photo:
khoya / kova / mawa recipe:
firstly, in a large non stick vessel heat ghee.

also add milk.

further add cream and mix well.

now add milk powder.


mix continuously keeping the flame on low to medium.

the mixture starts to thicken.

and also starts to separate from pan.


mix till the mixture forms a lump.

finally, khoya is ready. keep aside.
sugar syrup recipe:
firstly, in a wide pan take 1 cup of sugar.

further, to that add 1 cup of water and get to a boil.

then simmer for 4 minutes till the sugar syrup turns slightly sticky.

now add cardamom powder.

also add lemon juice to stop crystallizations process.

cover and keep aside.

kala jamun recipe:
firstly, in a large mixing bowl take crumbled paneer.

mash the paneer till it forms a smooth dough. do not over knead as it releases oil and makes jamun hard.

mash till the paneer forms a smooth dough without any paneer particles.

now add prepared khoya and mash well.

also form a smooth dough combining with paneer.

furthermore, add maida and combine with paneer khoya mixture.

make a soft dough without kneading hard.

add a pinch of baking soda and water or milk if required to get moisture.

mix gently to form a smooth dough. keep aside.

kala jamun stuffing recipe:
firstly, take 2 tbsp of prepared kala jamun mixture.

add chopped almonds and cashews.

also add saffron water and colour.

mix well and prepare balls. keep aside.

how to stuff kala jamun recipe:
firstly, take a small ball sized dough and make ball.

flatten between your palms.

and place the prepared dry fruit ball in centre. stuffing is optionals, but they give nice crunchy bites.

cover and seal the ball.

furthermore, make balls greasing ghee to hands. make sure there are no cracks on balls. else there are chances for  jamun to break while frying.

heat the ghee on low flame and when the ghee is moderately hot, fry the jamuns.

fry the balls on low flame stirring in between.

fry till the balls turns black. drain and keep aside.

immediately, drop the hot kala jamuns into hot sugar syrup. else jamuns wont absorb syrup, results to hard jamuns.

cover the lid and rest for 1-2 hours. flame should be turned off.

finally, the kala jamuns have doubled in size. serve warm with ice cream or cold.

notes:
firstly, maida is binding agent so if the jamuns break while frying, add a tsp more maida and knead well.
furthermore, make sure to knead smooth adding milk little by little.
also, drop the hot jamuns into hot sugar syrup. else jamuns wont absorb syrup, results to hard jamuns.
finally, grease your hands with ghee to make crack free kala jamuns.