mysore pak recipe | easy homemade mysore pak recipe with detailed photo and video recipe. basically a sweet dish prepared from chickpea flour and melted ghee. a very simple recipe by ingredients yet complicated recipe with the procedure and executions. this is very similar to soft mysore pak recipe, which contains only ghee but in this recipe it is mixture of ghee and oil.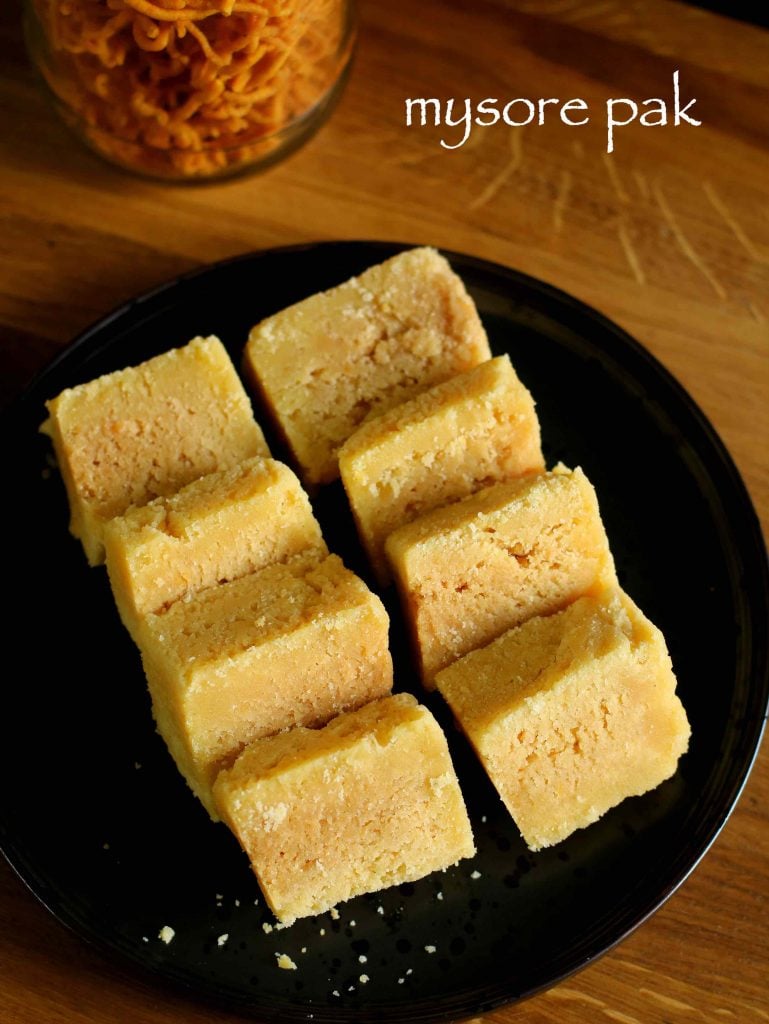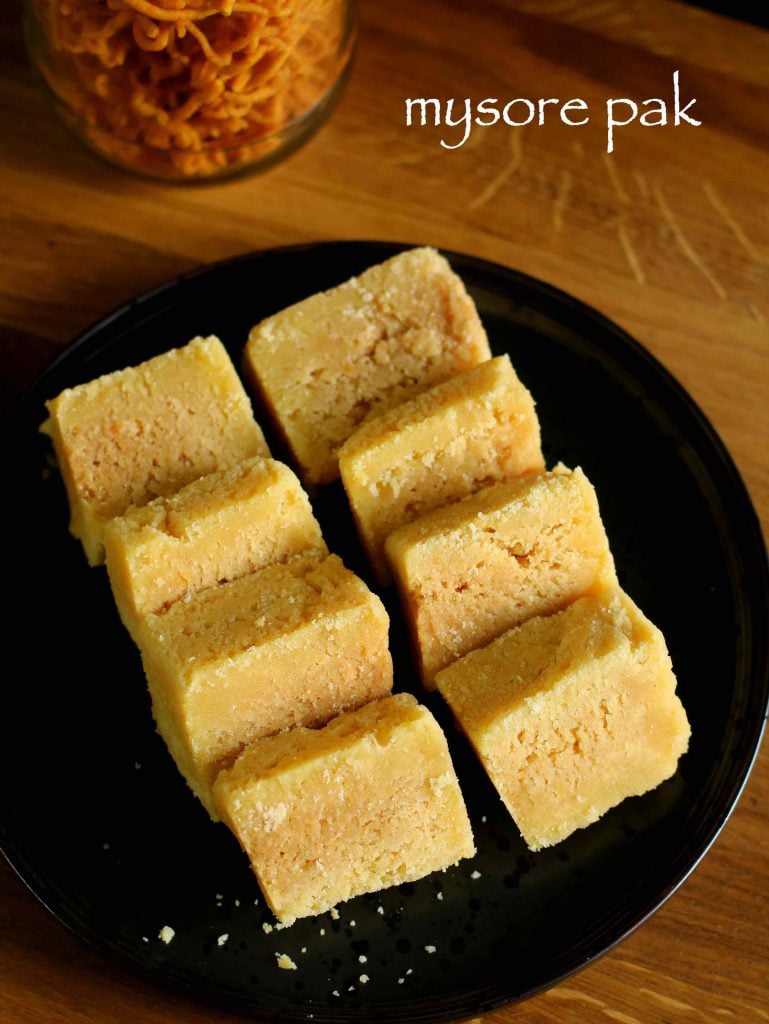 mysore pak recipe | easy homemade mysore pak recipe with step by step photo and video recipe. an authentic recipe and perhaps a jewel in the crown of mysore is usually prepared during any festive occasion. this sweet dessert originated from mysore and hence the name. it is made from generous amount of ghee and sugar syrup which makes this recipe unique.
the history of mysore pak recipe is very interesting and it started in the royal kitchen of mysore palace. initially, the recipe was introduced by royal kitchen chef kakasura madappa when he was asked by the king to prepare a unique and different dessert. basically he prepared by fabrication of gram flour, sugar syrup and ghee and oil mixture. when presented to the this recipe to king, he liked it so much and he named it as mysore pak. pak or literally meaning 'paka' in kannada meaning to sweet syrup. even today mysore pak is prepared with the same technique and procedure in the royal kitchen of mysore.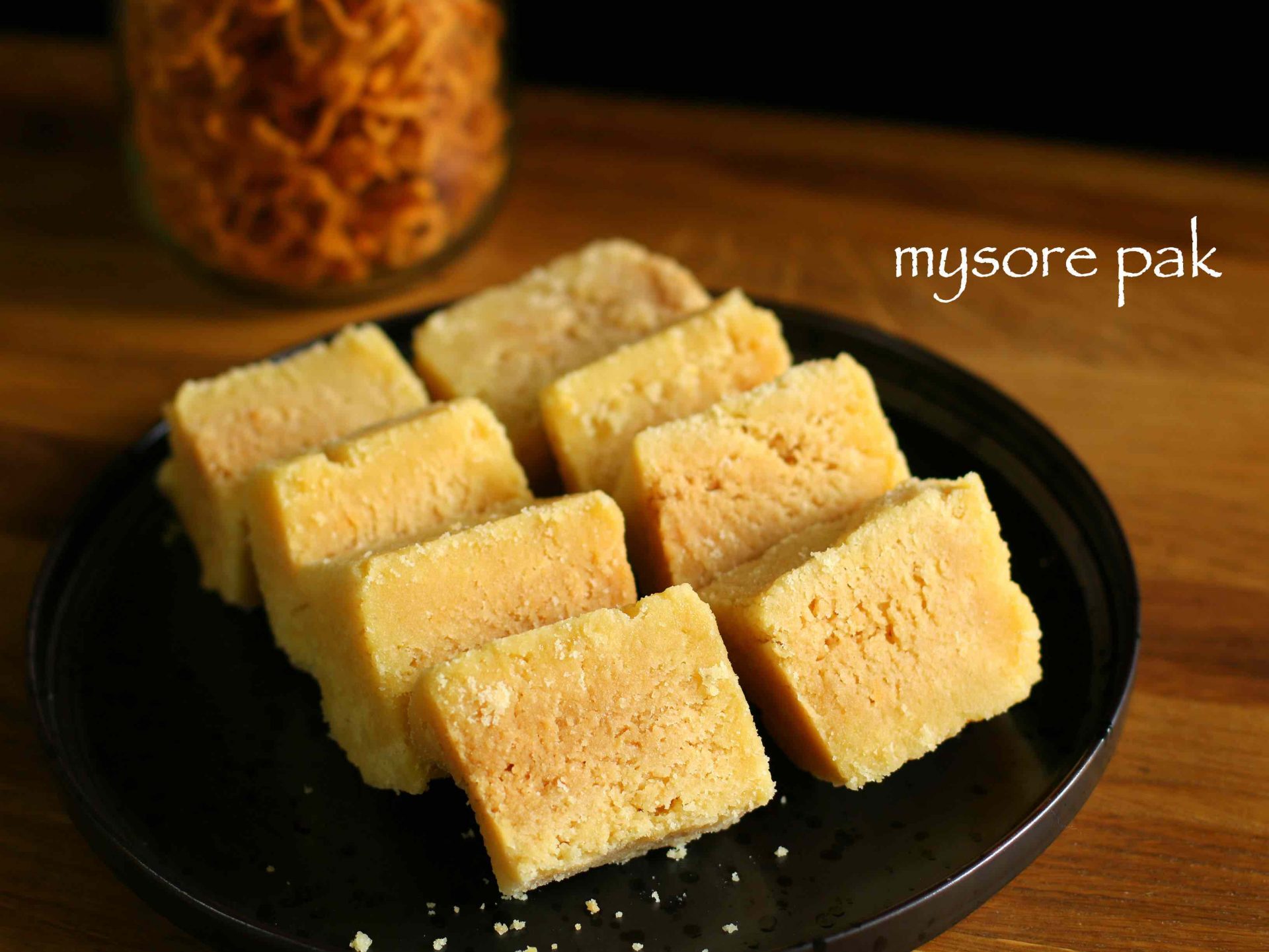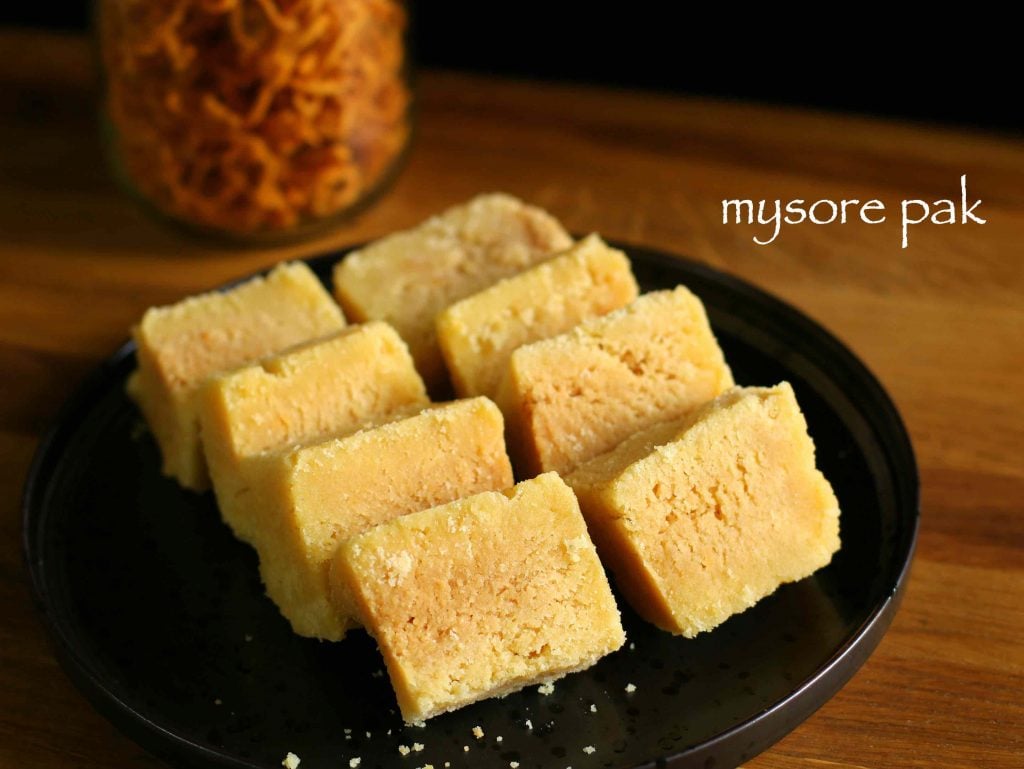 even though the mysore pak recipe is prepared with just 4 ingredients, it has to be prepared with extreme care. firstly, sugar syrup consistency or one string consistency is very important for this recipe. otherwise, mysore pak would turn to mysore burfi recipe. secondly, do not hesitate to add hot ghee + oil mixture to the surface of besan mixture. you should see frothy layers when adding hot ghee and oil mixture. thirdly, use a tray full of mysore pak so that you get enough depth for red colour in the middle of mysore pak. lastly, it is that 30 seconds where besan mixture starts releasing the oil and does not absorb more oil. also the mixture turns completely frothy and pours. without any delay, transfer it to a deep tray and let it cook in it.
trust me i learnt all these steps hard way as i got it almost prefect in 4th attempt. however, i know its still not perfect as it needs more experience. finally, i request you to look into my other indian sweet recipes and indian dessert recipes. particularly, kaju katli recipe, kaju pista roll recipe, motichoor ladoo recipe, dry fruits ladoo recipe and rava ladoo recipe. also, do visit my other collection of recipes like
easy homemade mysore pak video recipe:
recipe card for mysore pak recipe:
how to make mysore pak with step by step photo recipe:
heat ghee and oil recipe:
firstly, in a large kadai add 1 cup of ghee. ghee helps to give great taste.

also and 1 cup of oil. oil helps to get great porous texture.

further get to a boil and simmer till you prepare mysore pak.

mysore pak recipe:
firstly, in a large heavy bottomed / non stick kadai take 2 cups of sugar.


further add half cup of water and get to boil.

keep boiling and stirring till the sugar attains one string consistency.

furthermore, keep the flame on very low and add sieved gram flour little by little.


give a good stir making sure no lumps are formed.

further add more besan and continue stirring. add approximately in 3-4 batches.

adding in batches and continuously stirring avoids from forming lumps.

keep the flame on medium and take a ladleful of hot ghee-oil and pour over the besan mixture.

further,continuously stir.

stir till oil is absorbed completely.

furthermore, add another ladleful of hot oil-ghee. sizzles and starts to froth at the top.

keep continuously stirring till all the oil is absorbed.

further, keep repeating 4-5 times till the mixture starts to separate from pan.

and also the oil will start releasing from sides. no more the besan mixture will absorb oil. do not miss this fraction of second as you may end up with powdered mysore pak and will never hold shape else.

immediately, transfer the mixture to greased tray of enough depth. this helps to continue cooking and get golden brown colour in between.

also gently set with slightly pressing from back of spoon.

further, after 5 minutes cut into pieces as desired.

after 30 minutes separate the pieces. do not disturb meanwhile. else you wont get the multicolour in mysore pak.

finally, enjoy the diwali with perfect taste and textured mysore pak.

notes:
firstly, do not compromise in adding hot ghee and oil mixture. also sugar, ghee and besan proportion plays a crucial role.
furthermore, do not get demotivated if you are not able to prepare in first attempt. mysore pak is all about time management and experience. you will definitely learn from mistakes.
additionally, using deep tray helps to get golden color in between.
finally, do not add more ghee or mix once the ghee starts to release from the mixture. thats very important phase of preparation in mysore pak.