mango popsicles recipe | mango candy recipe | mango ice pops with detailed photo and video recipe. easy and simple ice pops made with mango pulp and coconut milk. it is an ideal kids friendly recipe which is made with just 3 basic ingredients available in every kitchen. it is juicy and has nice mango flavour with a twist of coconut milk and thus making a vegan milk ice popsicles recipe.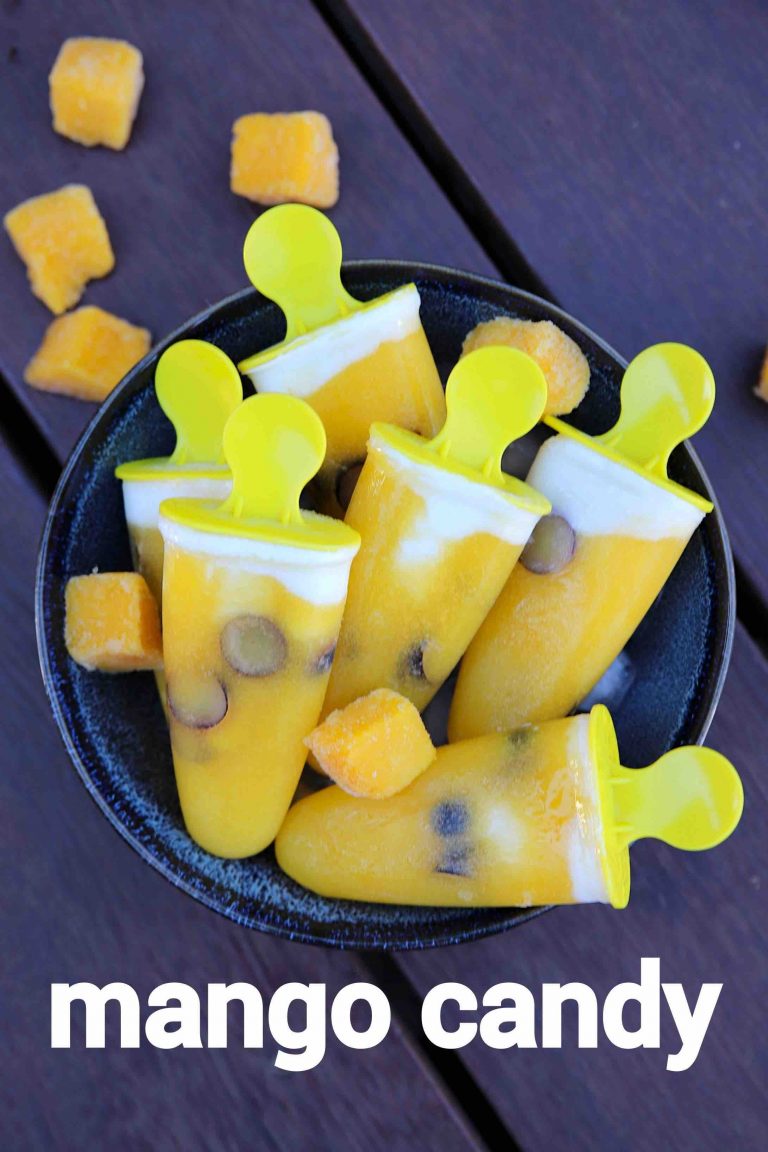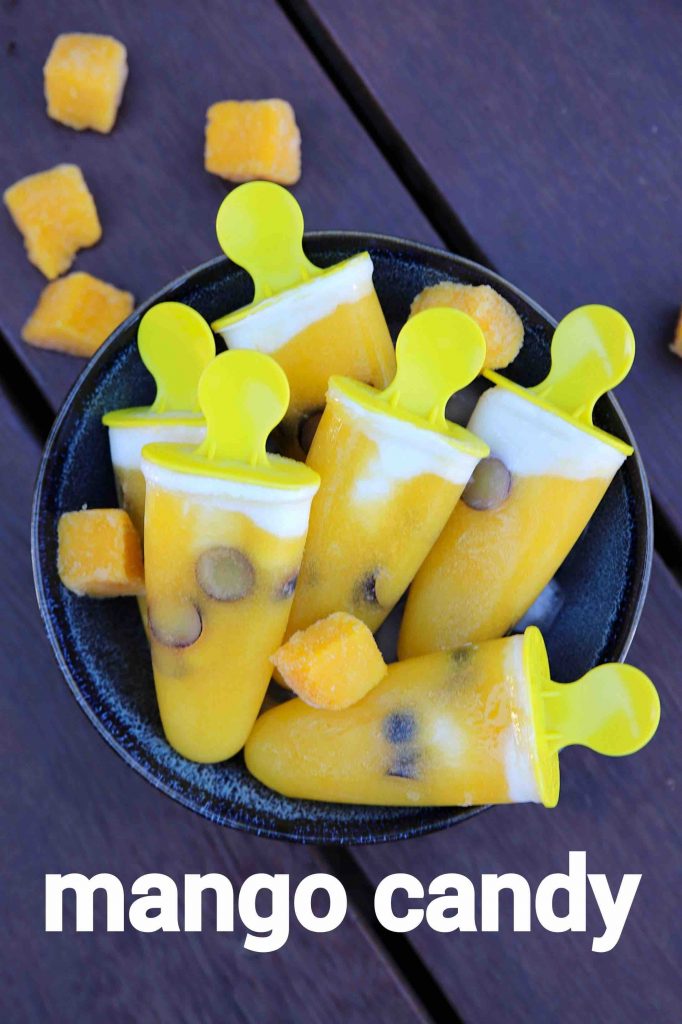 mango popsicles recipe | mango ice pops | mango pops | creamy mango popsicles with step by step photo and video recipe. popsicles recipes are common during the summer season. it can be made with different fruit flavours or combination of fruit flavours. one such summer special ice pops recipes is mango popsicles. it can be made with any mango fruit pulp and mixed with other fruit extract or used as it is.
basically, i have inherited the recipe for mango popsicles from my previous watermelon popsicles recipe. especially the addition of creamy coconut layer as its base is completely adapted from it. generally, the popsicles are made just with fruit extract, but i personally like it to make it more colourful. colourful dessert or ice creams get the required attention from not only from kids but also from adults. moreover, it can also be experimented by topping it with dark-coloured fruits like pomegranate, tutti frutti or black grapes. having said that, plain mango extract based ice pops are equally attractive and tasty.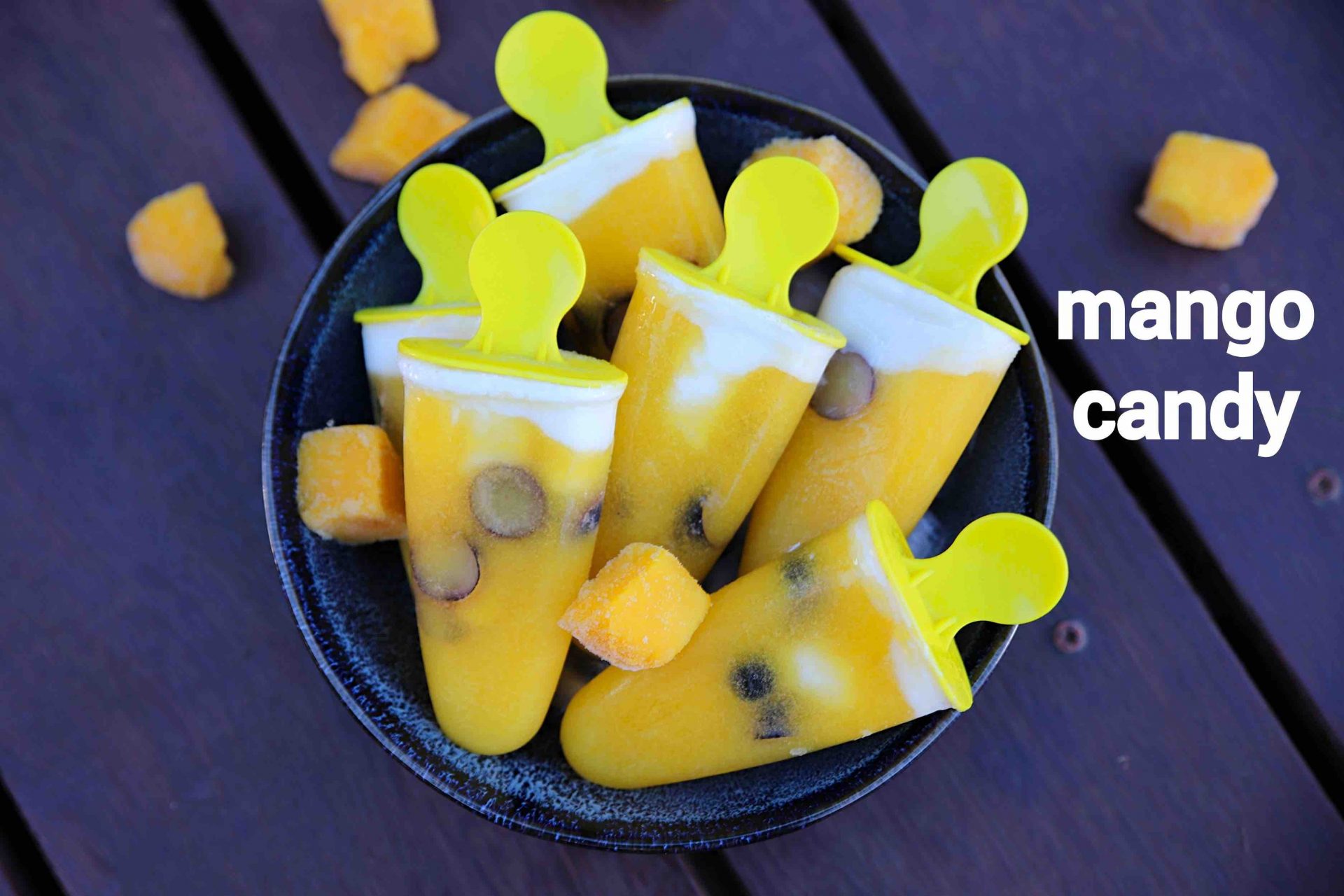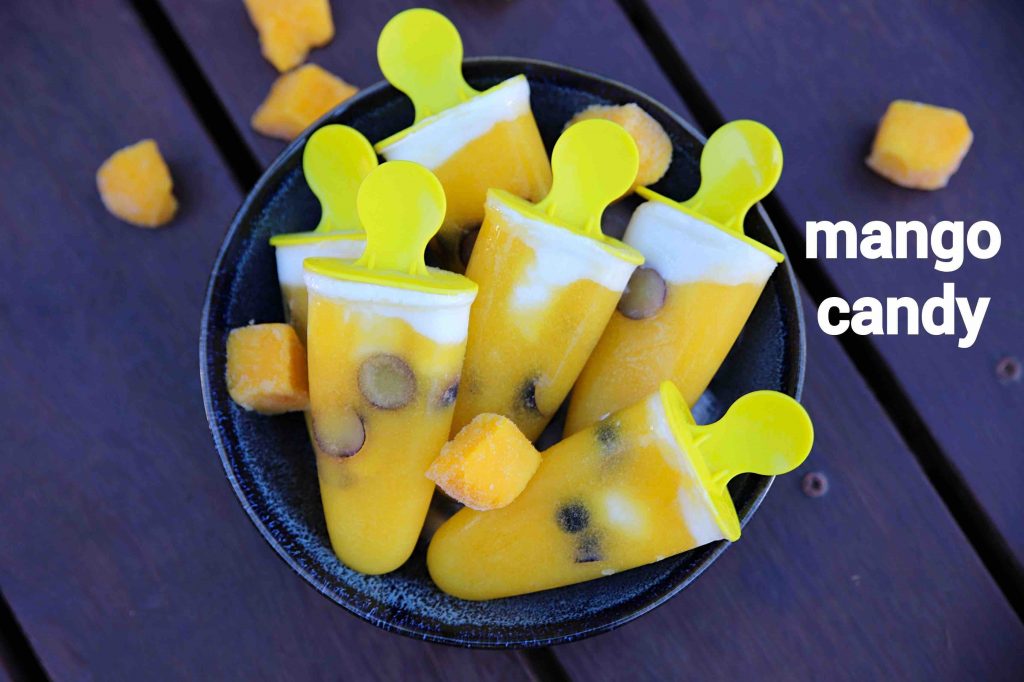 furthermore, some easy and important tips, suggestions and variations for a perfect and creamy mango popsicles recipe. firstly, i would heavily recommend using sweet and juicy ripe mango for this recipe. particularly, alponso, neelam, badami or thohapuri and the most preferred ones according to me. secondly, do not panic if you are running short of ripe mangoes. you can even make these with easily available mango juice of mango pulp via stores. but you may have to sugar level before using it. lastly, adding coconut milk is completely optional and can be skipped if not required. alternatively, you can also use yoghurt to make frozen mango yoghurt popsicles.
finally, i request you to check my other popular dessert recipes collection with this post of mango popsicles recipes. it includes recipes like watermelon popsicles, custard popsicles, chocolate ice cream, vanilla ice cream, paan kulfi ice cream, matka kulfi, kesar pista kulfi and custard ice cream. in addition to these, i would like to highlight my other detailed recipes collection like,
mango popsicles video recipe:
recipe card for mango popsicles recipe:
how to make mango candy with step by step photo:
firstly, in a blender take 1 cup mango and 1 tbsp sugar.

add ½ cup water and blend to flowing consistency juice.

pour the mango juice to popsicle mould filling ¾ of the mould.

cover and freeze for 30 minutes or until it thickens slightly.


now add a tsp of grapes slices in each mould.

cover and freeze for 30 more minutes or until the mango layer set slightly.

prepare coconut milk layer by taking ¾ cup coconut milk in a bowl.


add 1 tbsp sugar, stir and dissolve sugar.

once the mango layer sets slightly, pour in coconut milk.

cover and freeze for 8 hours.

now to unmould, dip in warm water for 3 seconds and pull the popsicle.

finally, enjoy mango popsicles or mango candy for 2-3 months.

notes:
firstly, freezing at each stage helps to get perfect layers.
also, add fruits of your choice to make popsicles look attractive.
additionally, adding sugar is optional. and it depends on the sweetness of mango.
finally, mango popsicles recipe or mango candy recipe tastes great when served in summer.