methi chutney recipe | menthya chutney | fenugreek chutney with detailed photo and video recipe. an easy and simple flavoured condiment recipe made with fenugreek seeds and fresh coconut. it is an ideal side dish for most of the south indian breakfast recipes like idli and dosa, but can also be tasty side for rice. unlike other spicy chutney recipes, fenugreek based chutney introduces a combination of bitterness and spiciness.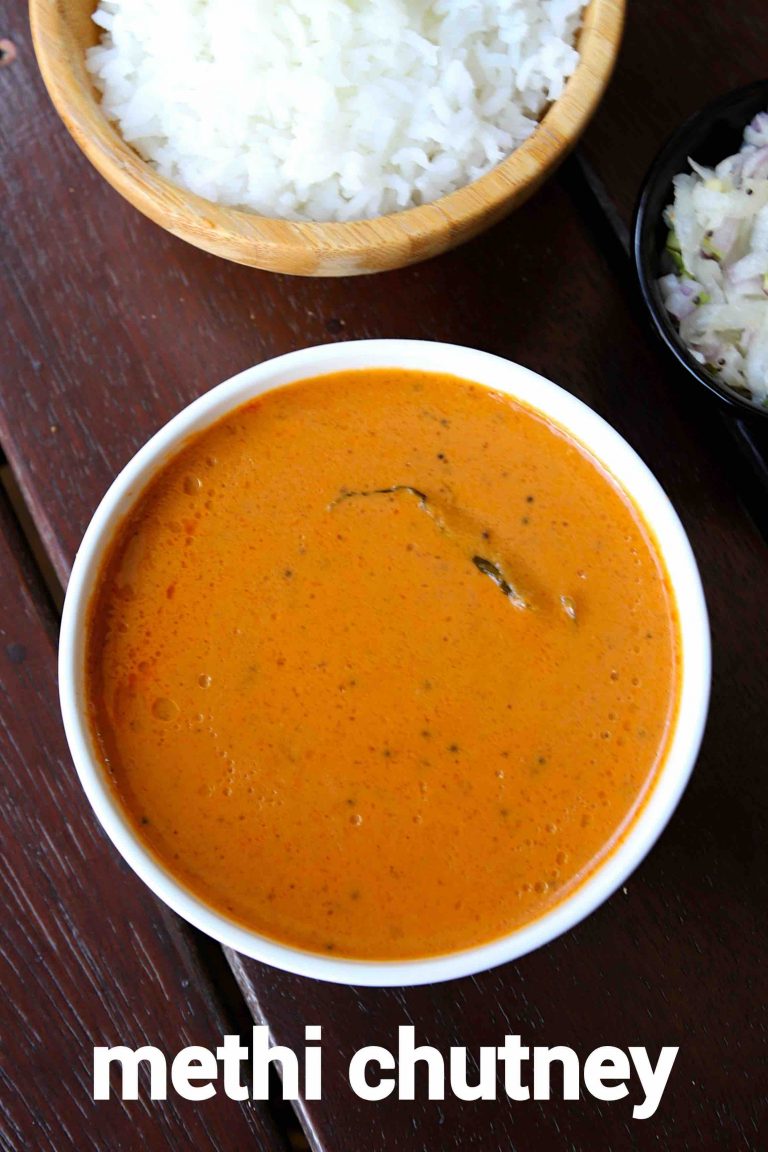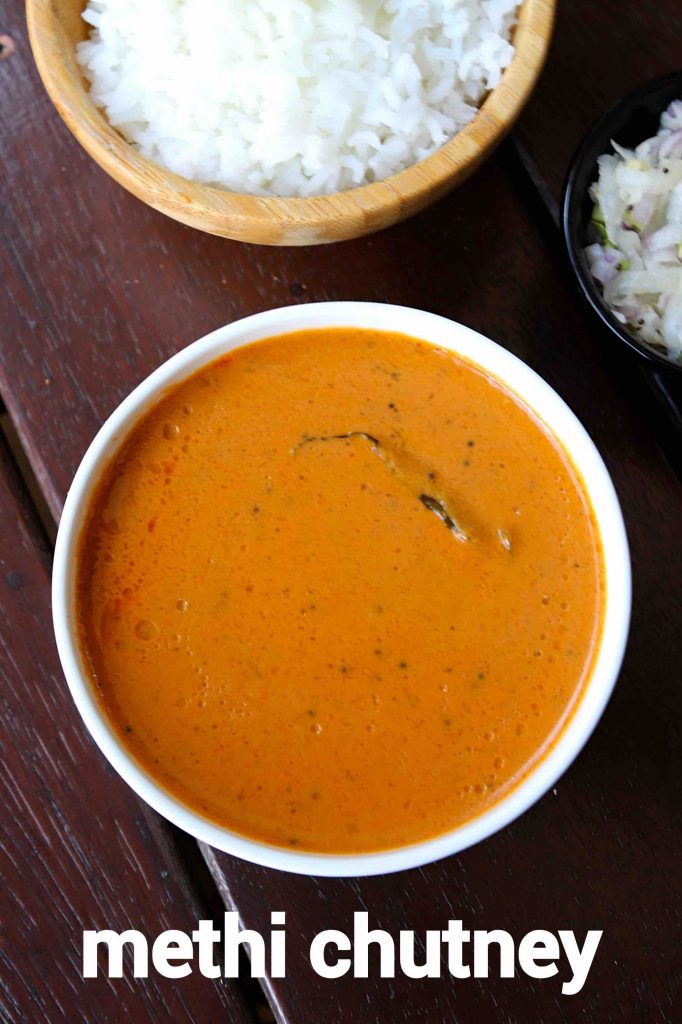 methi chutney recipe | menthya chutney | fenugreek chutney with step by step photo and video recipe. chutney recipes are an essential recipe for many indian households. particularly in south india, it is made for almost any reason and part of most of the meal. obviously it introduces a lot of variation to the simple coconut-based chutney. one such simple and flavoured chutney is methi chutney recipe known for its bitterness.
i have always been a huge fan of chutney or any simple side recipes which can be easily used for breakfast and also for lunch. for instance, i make spicy coconut chutney for my morning breakfast and use it raita or tambli for my rice-based lunch. basically i temper it with garlic, fenugreek and add yoghurt to make watery. similarly i make the methi chutney recipe for my idli and dosa. subsequently i use it as raita for my rice-based afternoon or dinner meal. i personally like the fenugreek based recipes for the bitterness taste. basically when it is mixed with salt, spice and sourness it yields a perfect taste combo and would be liked by everyone.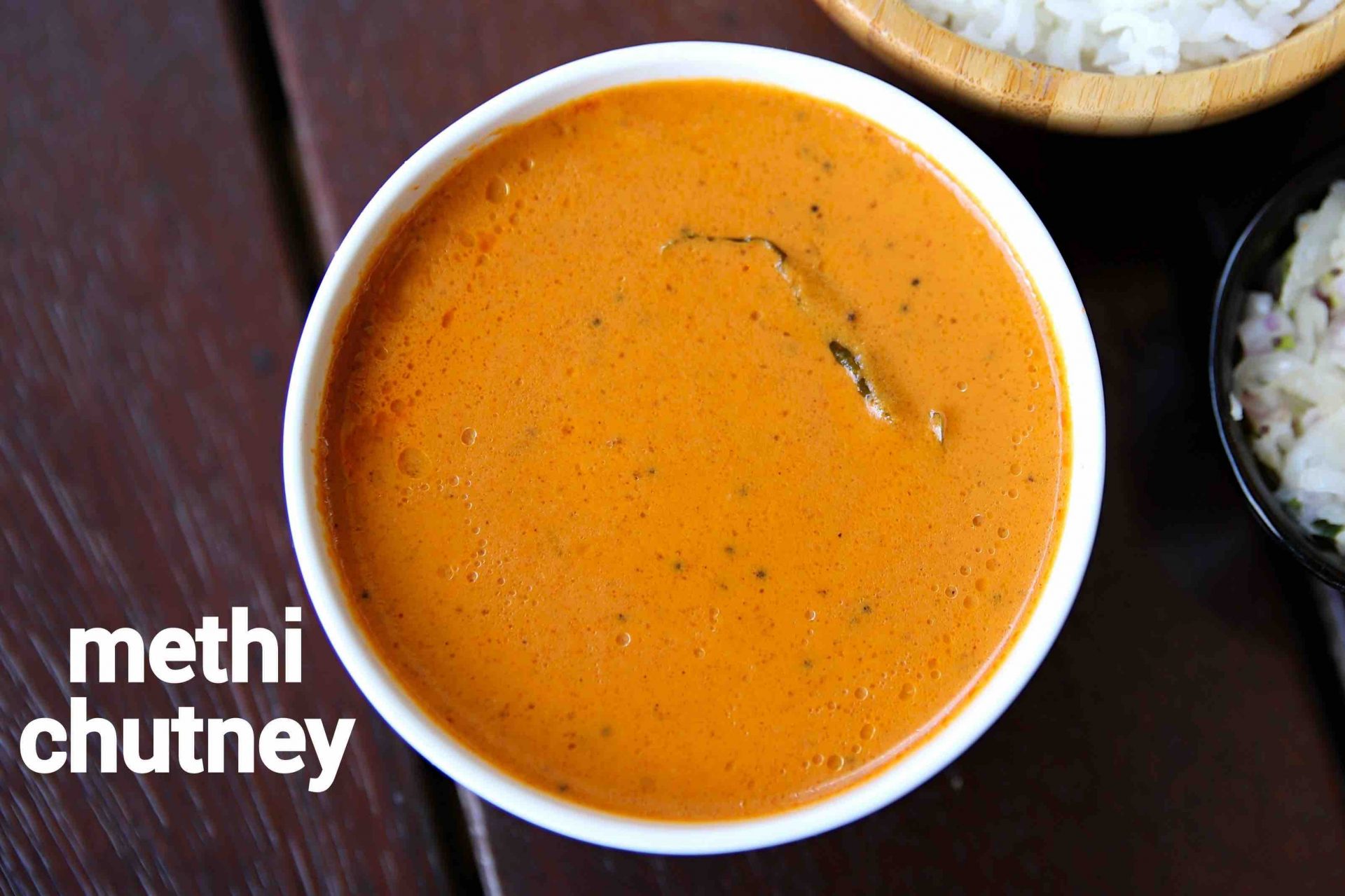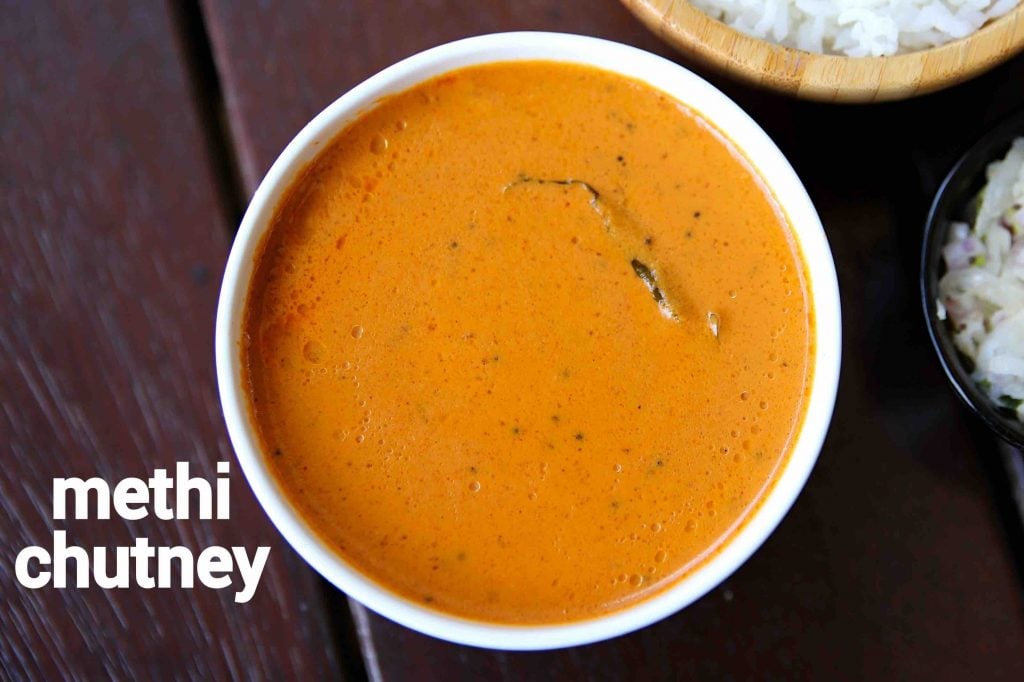 anyway, i would like to conclude by adding some tips, suggestions and variation to methi chutney recipe. firstly, the recipe is more practical and easy to make with fenugreek seeds and should be an ideal choice. having said that you can also make it with dry fenugreek leaves too. secondly, the kashmiri red chillies add a nice flavour and right amount of spiciness to the chutney. if you are trying with other red chillies, you may have to check the spice level and vary the number accordingly. lastly, menthya chutney is generally made with a watery consistency and hence can be served for both breakfast and rice. yet you are free to experiment with its consistency.
finally, i request you to check my other detailed chutney recipes collection with this post of methi chutney recipe. it mainly includes recipes like red coconut chutney, lahsun ki chatni, curry leaves chutney, hotel style coconut chutney for dosa and idli, pudina chutney, cabbage chutney, kadle-uddina bele chutney, sandwich chutney, red chutney for chaat, palak chutney. further, to these, i would like to highlight my other recipes collection like,
methi chutney video recipe:
recipe card for menthya chutney recipe:
how to make methi chutney with step by step photo:
firstly, in a pan heat 2 tsp oil and add ½ tsp methi.

also add 4 dried red chilli, 1 clove garlic and few curry leaves.

roast on low flame until spices turn aromatic.

cool completely and transfer to the blender.


add ½ cup coconut, small piece tamarind, 1 tsp jaggery and ½ tsp salt.

blend to smooth paste adding ½ cup water.

in a pan heat 2 tbsp oil and splutter ½ tsp mustard, pinch hing and few curry leaves.


pour the prepared chutney into tempering.

add ¼ cup water and adjust consistency.

get to a boil making sure all the flavours are absorbed.

finally, enjoy methi chutney with pundi, rice or idli.

notes:
firstly, make sure to roast methi on low flame to prevent from burning.
also, adding jaggery will balance the bitterness from methi.
additionally, adding garlic is completely optional.
finally, methi chutney recipe tastes great when prepared spicy.