mor kuzhambu recipe | more kulambu recipe | mor kulambu recipe with detailed photo and video recipe. a healthy, spicy and tasty buttermilk or yogurt based curry from the tamil / south indian cuisine. a delicacy from tamil and andhra cusine is typically served with boiled rice, steamed rice, dosa's and also with idli as a side dish.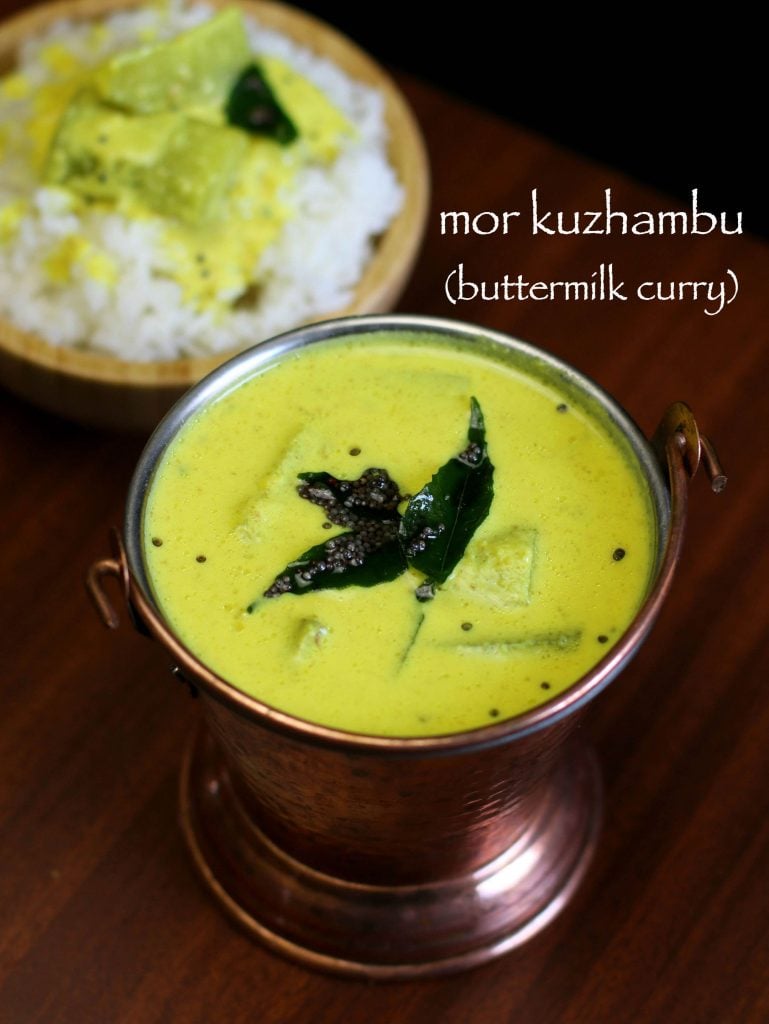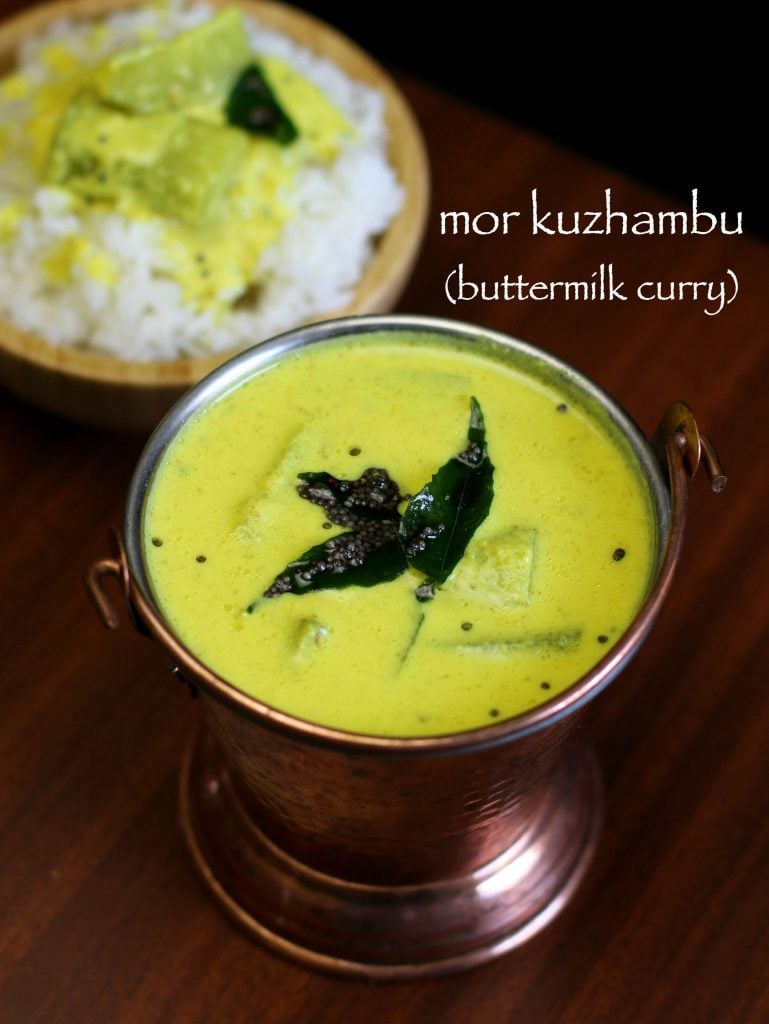 mor kuzhambu recipe | more kulambu recipe | mor kulambu recipe with step by step photo and video recipe. there are several kulambu recipes and are typically prepared from vegetables like eggplant, okra, pumpkin, cucumber, winter melon or ash gourd and also with drumsticks. mor kuzhambu is one such variety and it is popularly prepared with vendakkai or okra which is also known as vendakkai mor kuzhambu.
kulambu recipes are very common in most of the households in southern india. however more kulambu recipe is a special and is usually prepared during occasions or even during religious festivals. unlike other kulambu recipes, mor kulambu recipe has a sour and spicy taste combination due to buttermilk plus chillies and other spices. moreover mor kuzhambu recipe is very popular with bhindi or okra but i used winter melon and cucumber as i was running short of okra. if you are using the okra, make sure to fry them in coconut oil before adding them to buttermilk based curry.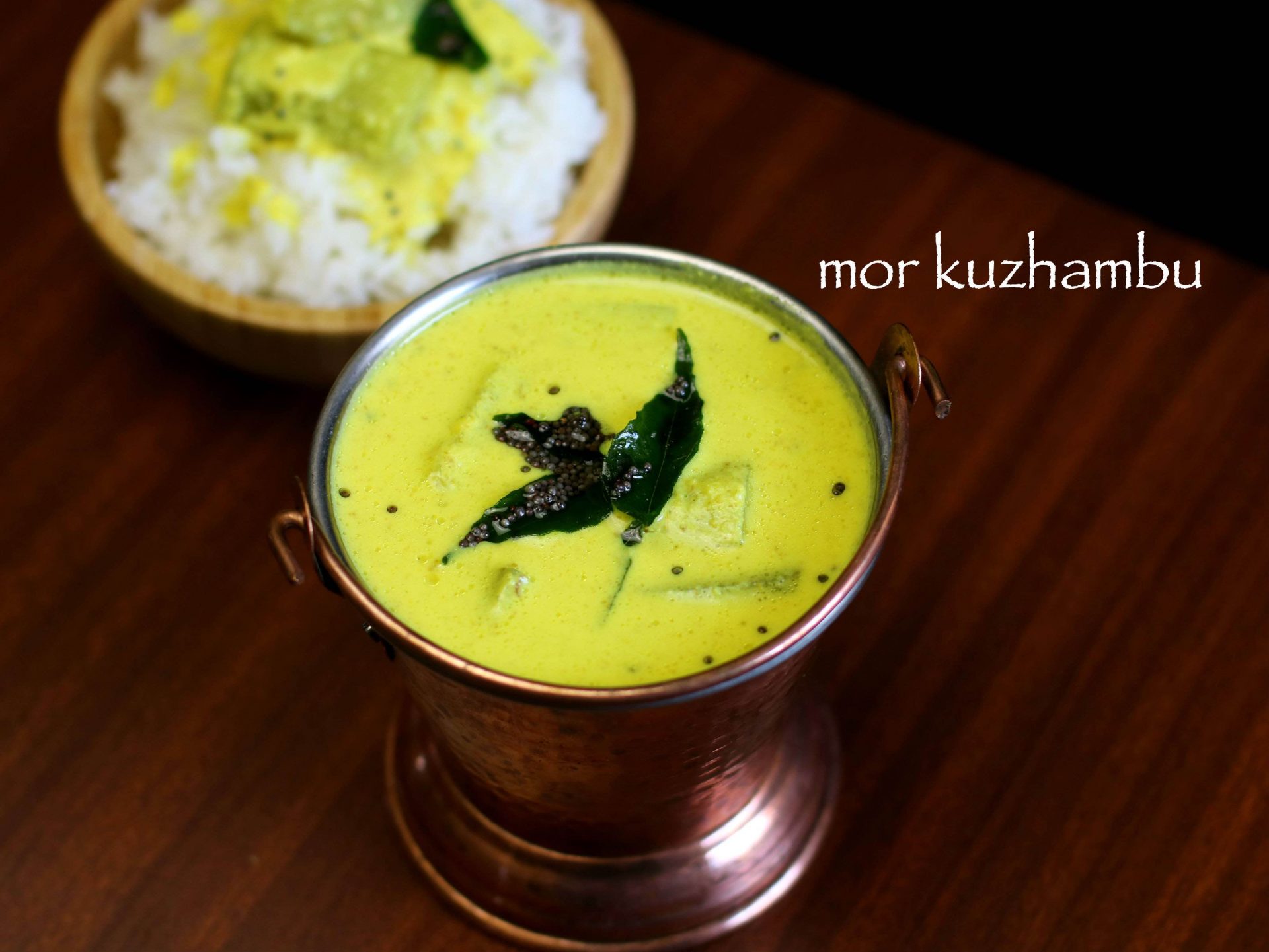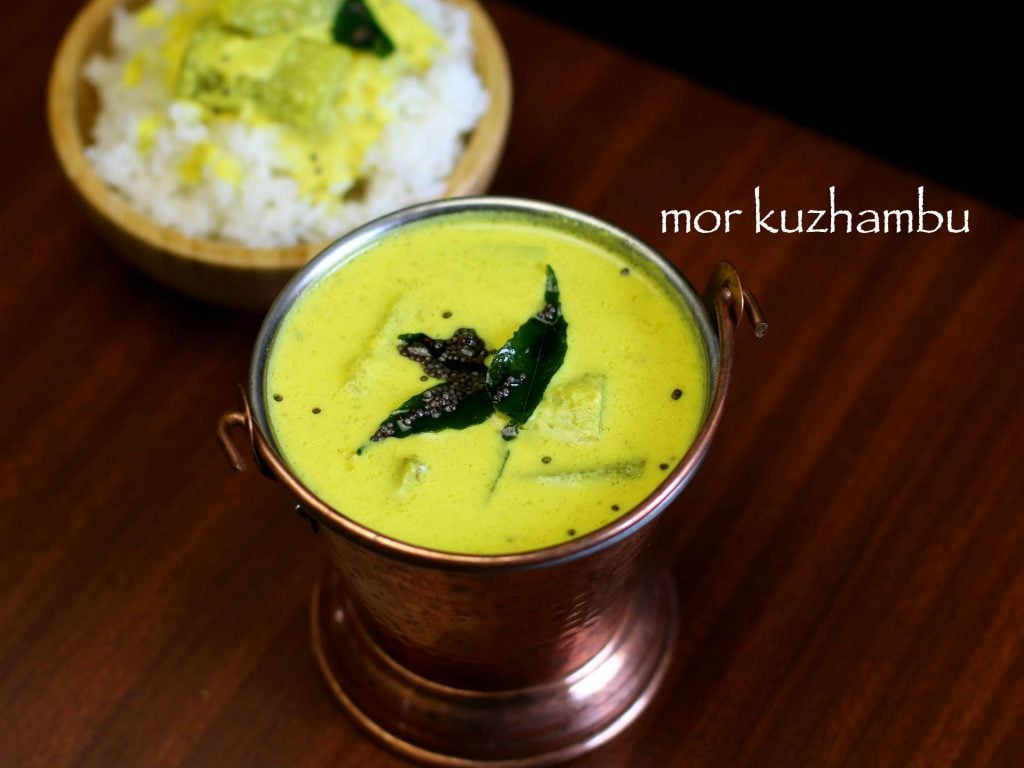 while the recipe of mor kuzhambu recipe is extremely simple, but some tips and variations. firstly, to prepare this curry i would heavily recommend to use slightly sour buttermilk for tangy and spicy buttermilk kuzhambu recipe. if you do not have a sour curd you can also add 1-2 tsp of lemon juice. secondly, always cook the curry or the buttermilk in a low flame. lastly, i have used pumpkin and cucumber as the vegetables for this recipe. you can also use the combination of other vegetables like eggplant, drumsticks and okra. again make sure to fry the okars separately before adding it to the curry.
finally i would like to highlight my other sambar recipes collection from my blog. this mainly includes, aviayal, drumstick sambar, okra samabar, mix veggie sambar, potato and onion sambar, sambar in cooker, cauliflower sambar, idli sambar and majjige huli recipe. in addition do visit my other recipes collection from my blog like,
mor kuzhambu or more kulambu video recipe:
recipe card for mor kuzhambu or more kulambu:
how to make mor kulambu with step by step photo:
firstly, in a small bowl take 1 tsp toor dal, 1 tsp cumin seeds, ½ tsp raw rice and 2 tsp coriander seeds.

further add ½ cup water and soak for 30 minutes.

transfer the soaked dal and spices into blender.

also add ½ cup coconut, 3 green chilli.


blend to smooth paste adding water as required. keep aside.

now in a large kadai take 1½ cup chopped pumpkin / ash gourd. i have used cucumber as was not able to find ash gourd.

also add in water, salt and turmeric powder.


cover and cook for 10 minutes or till pumpkin cooks completely.

furthermore, add in prepared coconut masala paste.

keeping the flame on low, add 1 cup thick whisked curd.

stir continuously till the curd combines well.

boil the mor kuzhambu on low flame till it turns just frothy. do not over boil as curd might curdle.

now prepare the tempering by heating coconut oil.

once the oil turns hot, add in 1 tsp mustard seeds, pinch of hing and few curry leaves.

allow to splutter and pour the tempering over prepared mor kuzhambu.

finally, serve mor kuzhambu with hot steamed rice.

notes:
firstly, use white pumpkin, i have used cucumber as was not able to find ash gourd.
alternatively use eggplant, colocasia (seppan kizhangu), chow-chow or okra.
whisk the curd well to prevent from curdling.
finally, do not boil mor kuzhambu, turn off the flame when it is about to boil or turns frothy.