mysore rasam recipe | south indian rasam recipe with grated coconut in detailed photo and video recipe. an flavourful rasam recipe spiced with a unique blend of spices which predominantly consist of pepper and grated coconut. it is served with hot steamed rice but not restricted to serve it as a soup as appetizer.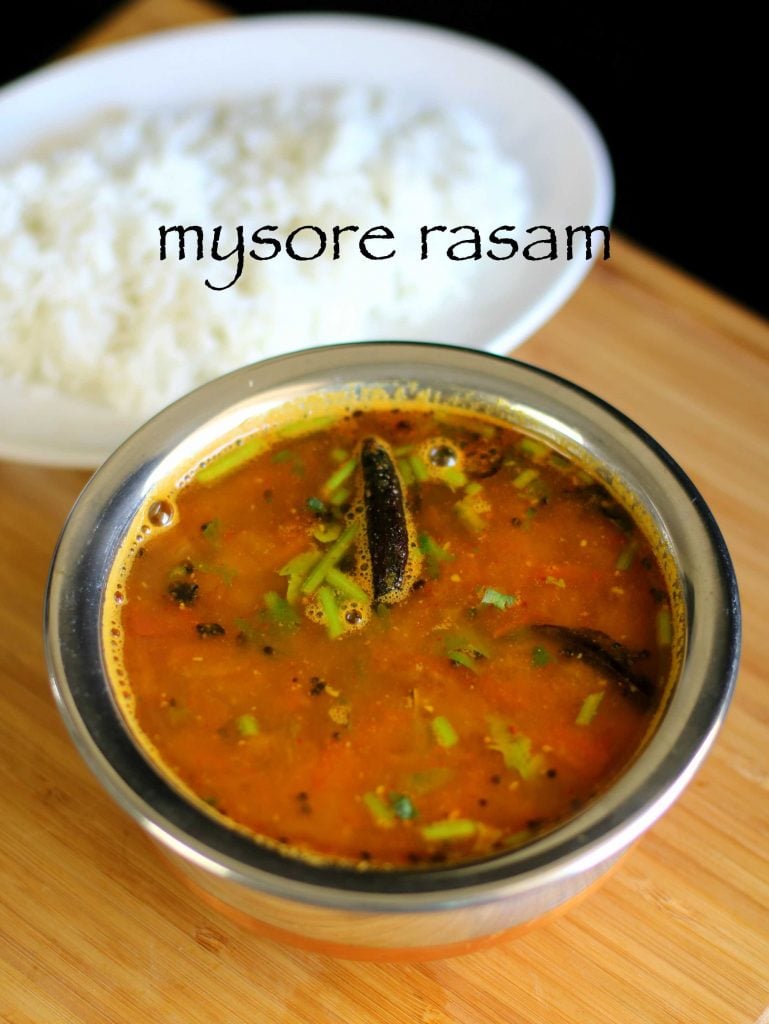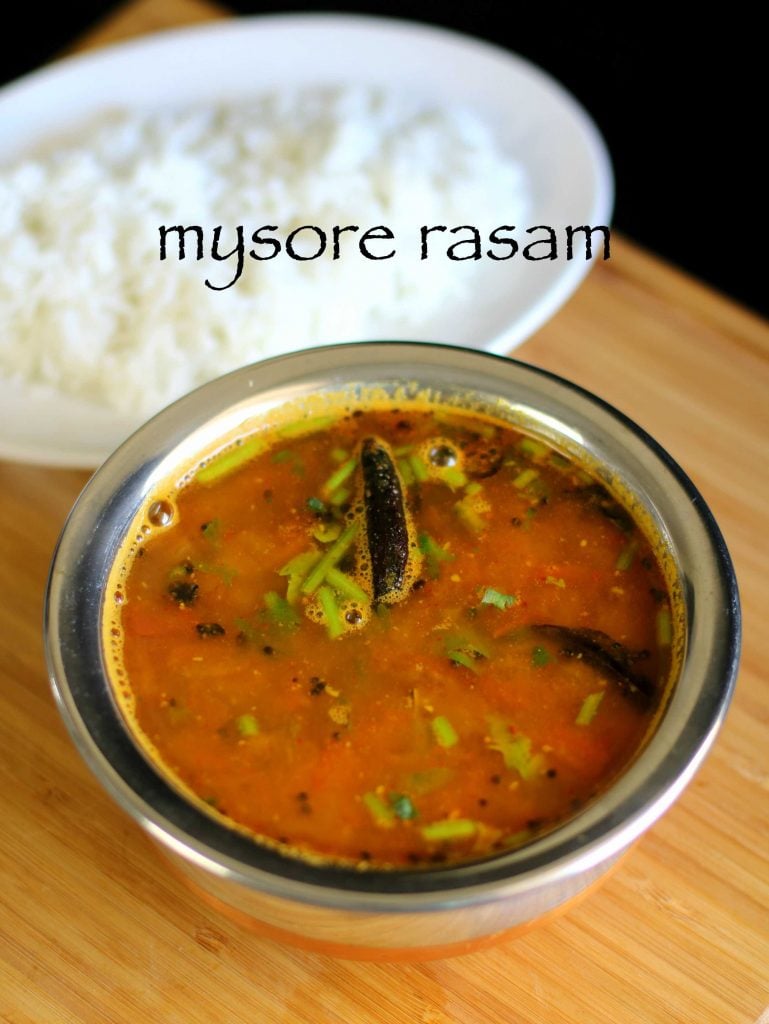 mysore rasam recipe | south indian rasam recipe with step by step photo and video recipe. basically a lentil based soup, typically served with hot steamed rice for lunch or dinner. this rasam recipe is also served as soup for common cold problems as it is spiced with pepper. typically, rasam recipes are prepared with tamarind water, lentil and rasam powder, however this rasam recipe contains grated coconut too.
while i personally do not prefer any rasam recipes, as i find it too watery to be served with rice. however, to contrary my husband just loves it. especially south indian rasam recipes with coconut is his all time favourite. in point of fact, i learnt all the rasam recipes from my mom in law just to please him. gradually even i started to kind of liking the rasam recipe especially mysore rasam recipe because it is considerably thick compared to other rasam recipes. in addition, mysore rasam can also be served with dosa and idli too which makes my life very easy.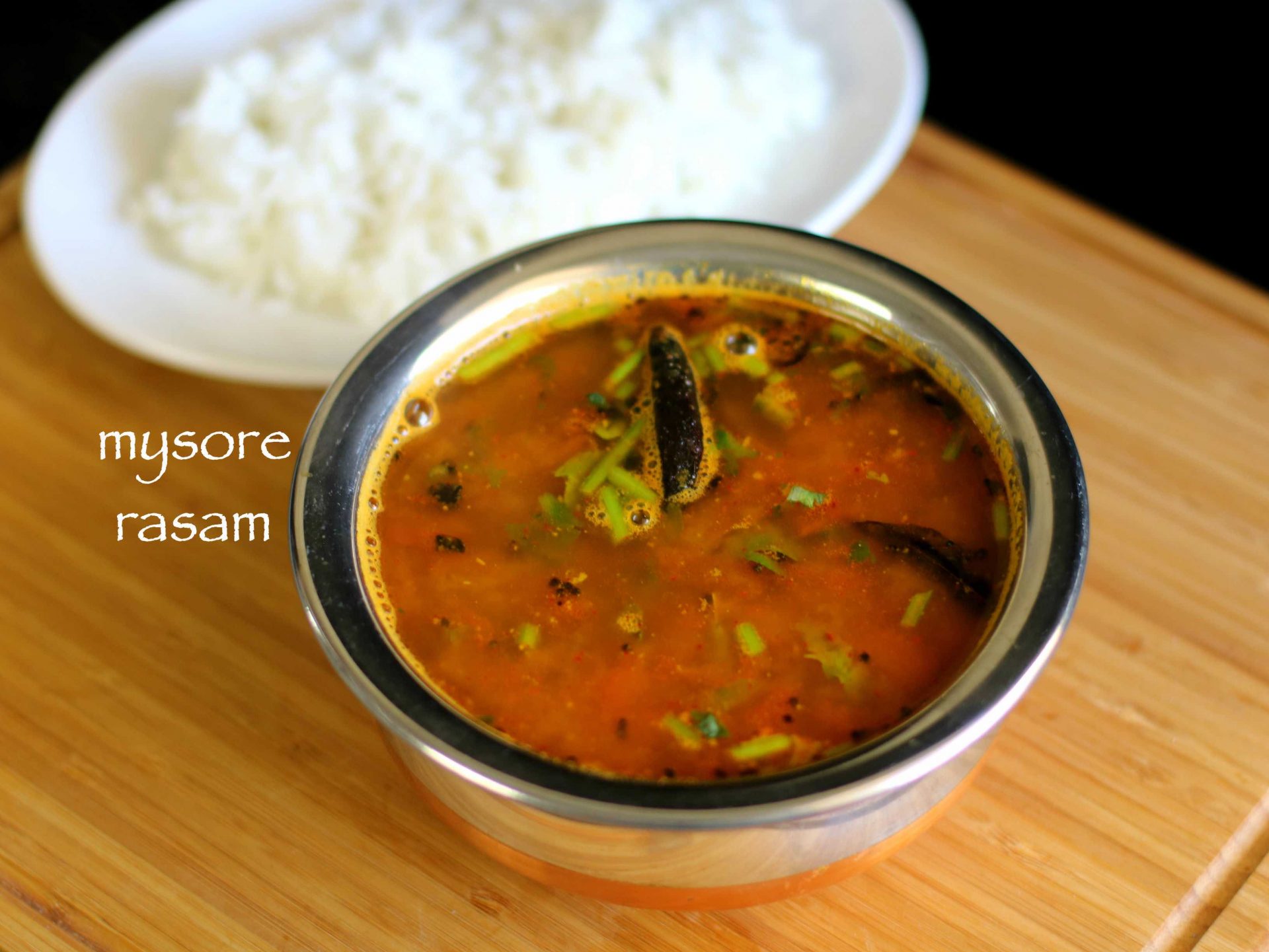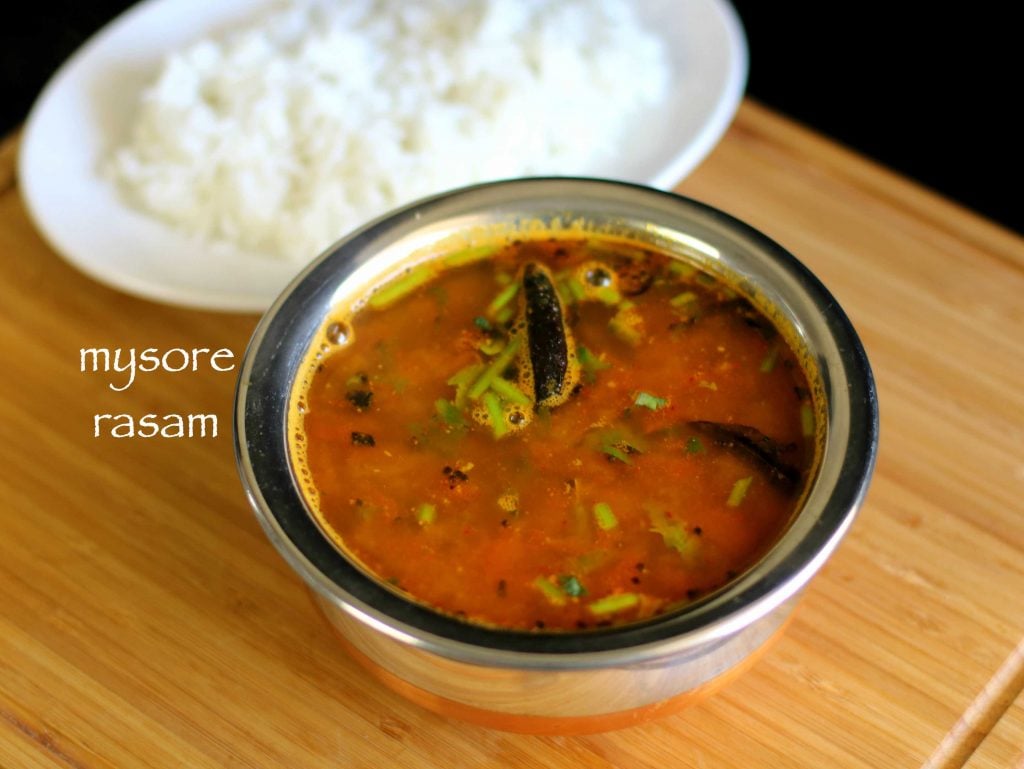 furthermore, i would like to highlight few tips to make ideal rasam recipe. freshly grounded coconut is highly recommend for this rasam recipe. but, i have used desiccated coconut as i do not have coconut grater, also fresh coconut is infrequent in my place.  secondly, after adding the freshly prepared mysore rasam powder, do not forget to boil the rasam for 1-2 minutes. lastly, adding jaggery is optional, however it certainly enhances the taste with the combination of sweetness and spiciness.
finally, do not forget to check my other rasam recipes collection and sambar recipes collection. particularly, udupi rasam, coconut milk rasam, pudina rasam, horse  gram rasam, kokum rasam and sol kadhi. in addition, i would like to highlight my other recipes collections like,
mysore rasam video recipe:
recipe card for mysore rasam recipe:
how to prepare south indian mysore rasam with step by step photo recipe:
mysore rasam powder recipe:
firstly, in a heavy bottom kadai take 2 tsp of coriander seeds,  ½ tsp of cumin seeds,  2 tsp of chana dal, ½ tsp of black pepper and 2 dried kashmiri red chilli.

furthermore, dry roast the masala on low flame till they turn aromatic.

also add coconut. use dry / desiccated coconut if you are storing masala for long time.

roast the coconut for just a minute and do not burn them.


further, transfer to a blending jar and blend to fine powder without adding any water.

add water and blend to smooth masala paste if you are using fresh coconut and going to consume immediately.
finally, rasam powder is ready. store it in a airtight container or use immediately.
mysore rasam recipe:
firstly, in a large kadai take chopped tomatoes.

further add tamarind juice to it.

also add curry leaves, turmeric powder, salt and jaggery (optional).

cover and boil tamarind water for atleast 15 minutes.

further add cooked toor dal. make sure to mash the dal completely before adding.

also add 2 cups of water or adjust according to desired consistency.

boil for a minute till the dal turns frothy.

now add 2-3 tsp of prepared mysore rasam powder and mix well.

continue to boil for 2 minutes. do not over boil as the flavours of rasam will be lost.

meanwhile, in a small kadai heat oil.

further, add mustard seeds, hing, dried red chilli and curry leaves.

allow the tempering to splutter.
then pour the tempering over prepared rasam.

also add chopped coriander leaves and give a good mix.

notes:
firstly, make sure to dry roast the masala on low to medium flame to avoid burning.
furthermore, use dry coconut to prepare masala in large quantity and store.
additionally, make sure to boil the tamarind water along with tomatoes well.
finally, after adding mysore rasam powder never boil south indian rasam for more than 1 or 2 minutes as the flavours will be lost.