soya manchurian recipe | soya chunks manchurian | dry soya manchuri with detailed photo and video recipe. basically an adapted version of chinese cooking and technique meeting the indian taste standards and tastes buds. very similar to gobi manchurian recipe from the popular indo chinese cuisine, even this recipe is prepared in 2 stages, including deep frying and tossing with chinese sauces.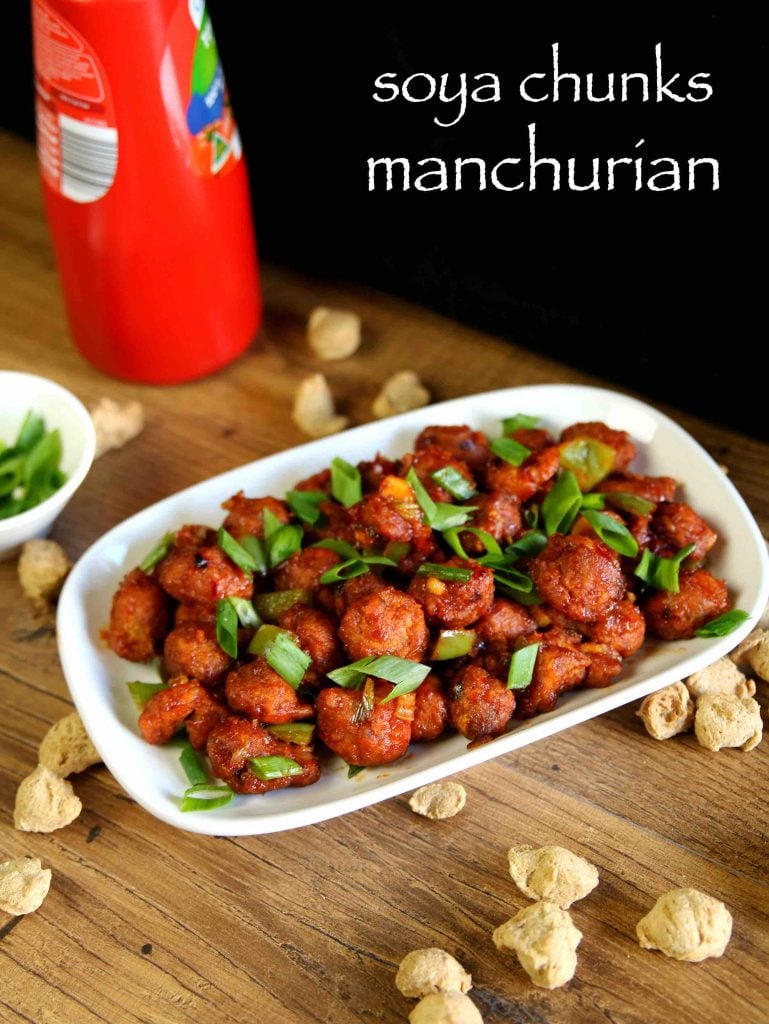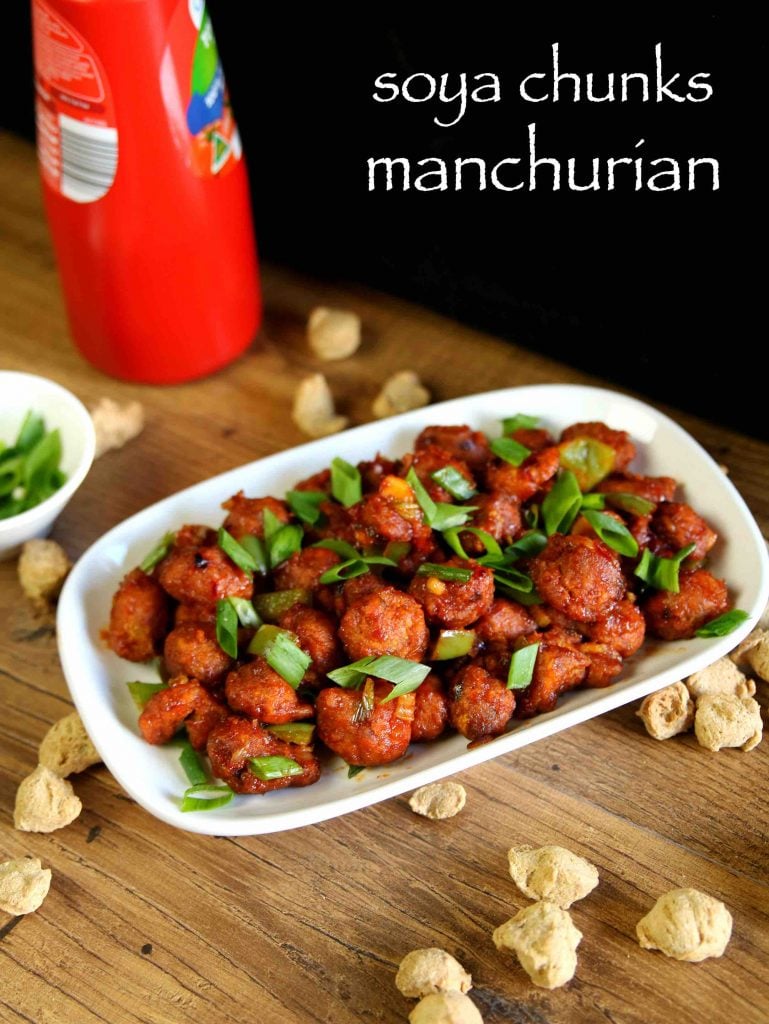 soya manchurian recipe | soya chunks manchurian | dry soya manchuri with step by step photo and video recipe. similar to any other manchurian recipe, even soya has 2 variants – dry and gravy version. this recipe is dry version without gravy and is mainly prepared as party starters or even as appetiser. however this soya manchurian dry recipe is popularly served as side dish to fried rice or noodles recipe.
indo chinese recipes are my favourite, especially the starters or party recipe from the indo chinese palette. i have dedicated a section to it and i have tried to capture most of the popular recipes from it. however i was getting several request for soya chunks manchurian recipe or a snacks recipe from soya chunks. hence i decided to come up with video post for this amazing soya nuggets dry manchurian. personally i feel this snack has slight upper hand compared to other manchurian recipes just because of the protein packed soya nuggets. moreover the soya nuggets turn out to be chewy and crisp which takes the whole experience of the snack to next level.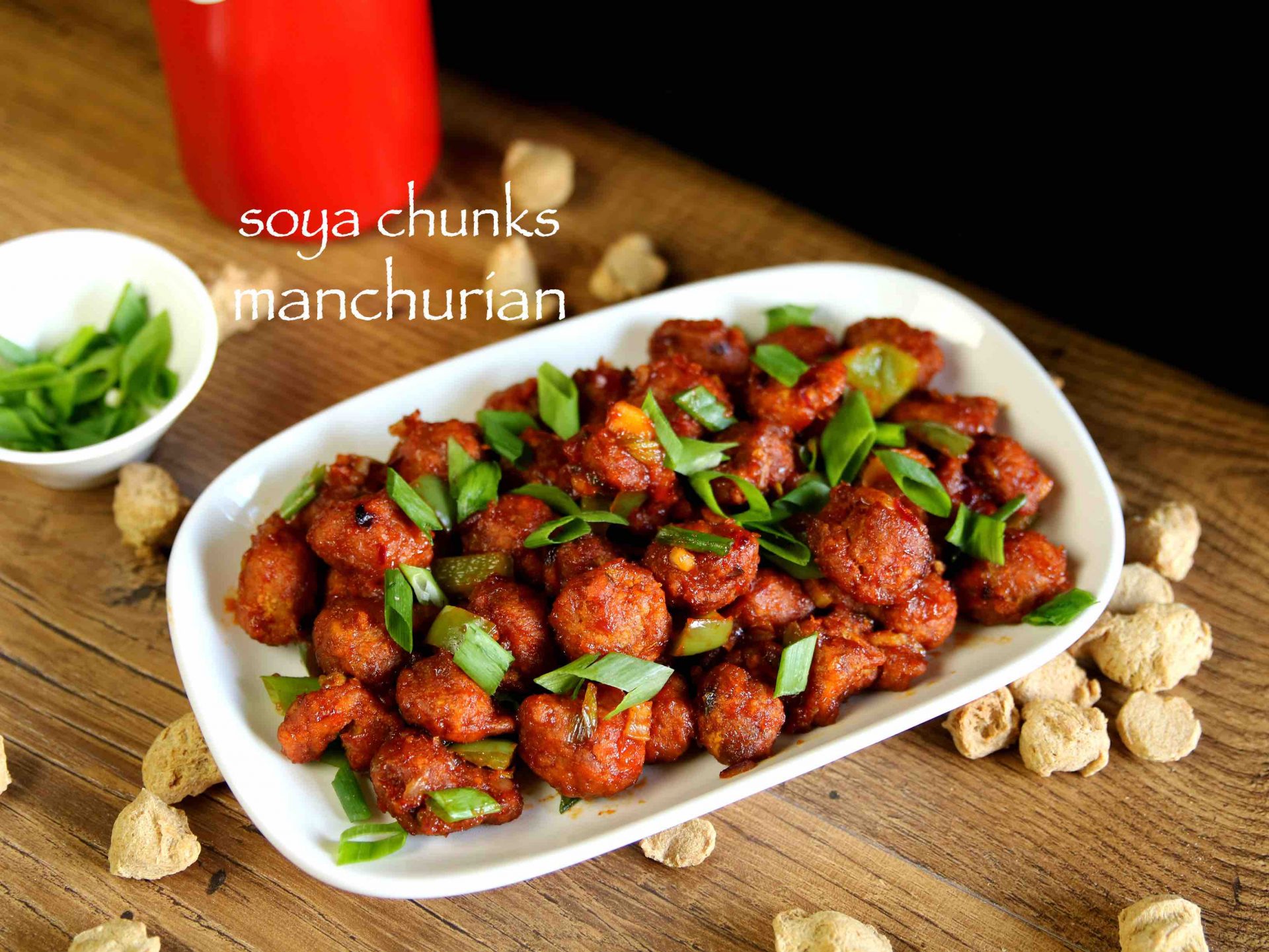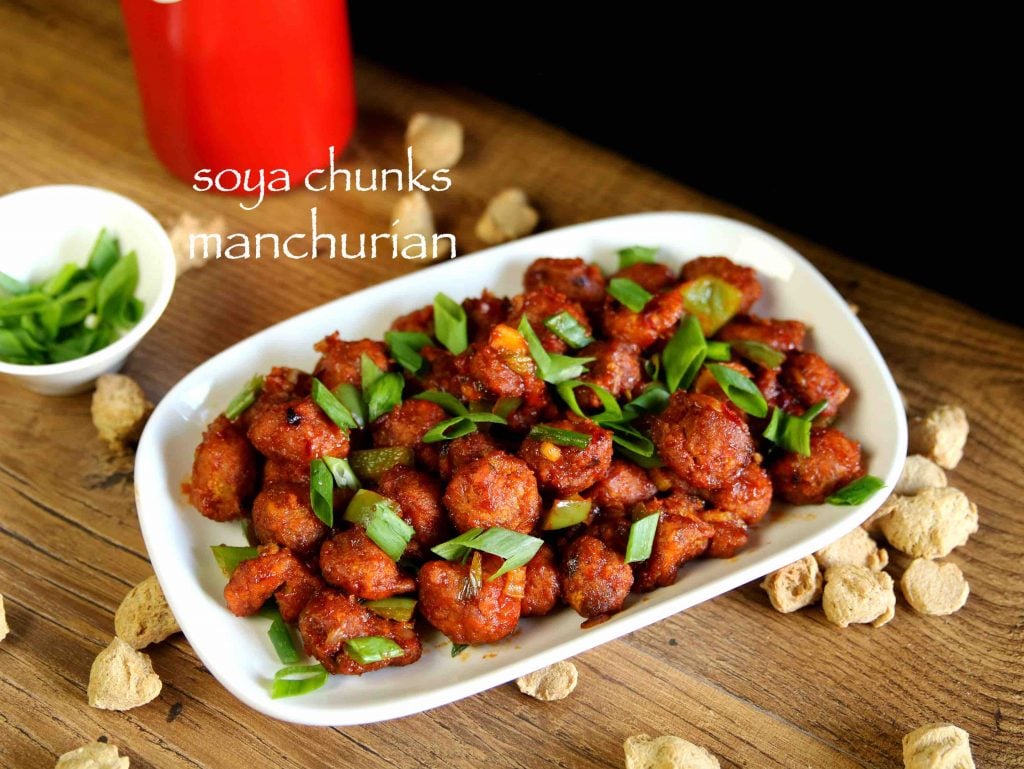 furthermore, some important tips and suggestion for a perfect soya chunks manchurian. firstly, i would heavily recommend to use to soak or even boil the soya nuggets before deep frying. soya nuggets contain high protein and it is always recommended to wash it before using. secondly, i have deep fried the soya nuggets till crisp, but it can also be pan fried or shallow fried too. lastly, this is a dry version of soya manchurian recipe. gobi manchurian gravy recipe but it can also be extended to gravy by adding corn starch in stage 2. refer my for the same.
finally, i would like to highlight my other street food recipes collection with this post of soya manchurian recipe. it includes, veg manchurian, gobi manchurian dry, paneer manchurian, paneer chilli, potato chilli, veg schezwan noodles, veg fried rice and hakka noodles recipe. in addition do visit my other recipes collection from my website like,
soya manchurian or soya chunks manchurian:
recipe card for soya chunks manchurian:
how to make soya manchurian with step by step photo:
firstly, in a large bowl soak 1 cup soya chunks in 3 cups hot water, for 15 minutes or more.

after 15 minutes, squeeze out the water from soya and transfer to bowl.

further add 1 tsp ginger-garlic paste, 3 tbsp corn flour, 2 tbsp maida, 1 tsp chilli powder and salt to taste.

combine all the ingredients well adding a tbsp of water if required.


further, deep dry or shallow fry in hot oil.

stir occasionally, and fry till soya turns crisp.

drain out the fried soya and keep aside.


now in a large kadai, heat 3 tsp oil and saute 2 clove garlic.

further add 3 tbsp onion and 4 tbsp spring onions. saute well.

also add ¼ cup capsicum and saute slightly.

additionally add 1 tbsp chilli sauce, 1 tbsp vinegar, 1 tbsp soy sauce, 2 tbsp tomato sauce and salt to taste.

keeping the flame high, mix all the ingredients well.

add in fried soya chunks and mix well.

finally, garnish soya chunks manchurian with chopped spring onions.

notes:
firstly, make sure to soak soya well in hot water and squeeze well.
make sure to squeeze out the water from soya completely, else they might end up absorbing oil.
additionally, to prepare soya manchurian gravy, add in corn flour paste while preparing sauce.
finally, adjust the spice level to your choice for soya chunks manchurian recipe.