sweet potato chutney recipe | genasina chutney recipe with detailed photo and video recipe. an easy and simple south indian chutney recipe made with sweet potato and coconut. it is an ideal relish or side dish served with hot steamed rice or for morning breakfast with soft and moist idli and dosa. the recipe has a very similar texture to the chana dal chutney or any red coloured coconut-based chutney with the flavour of sweet potato.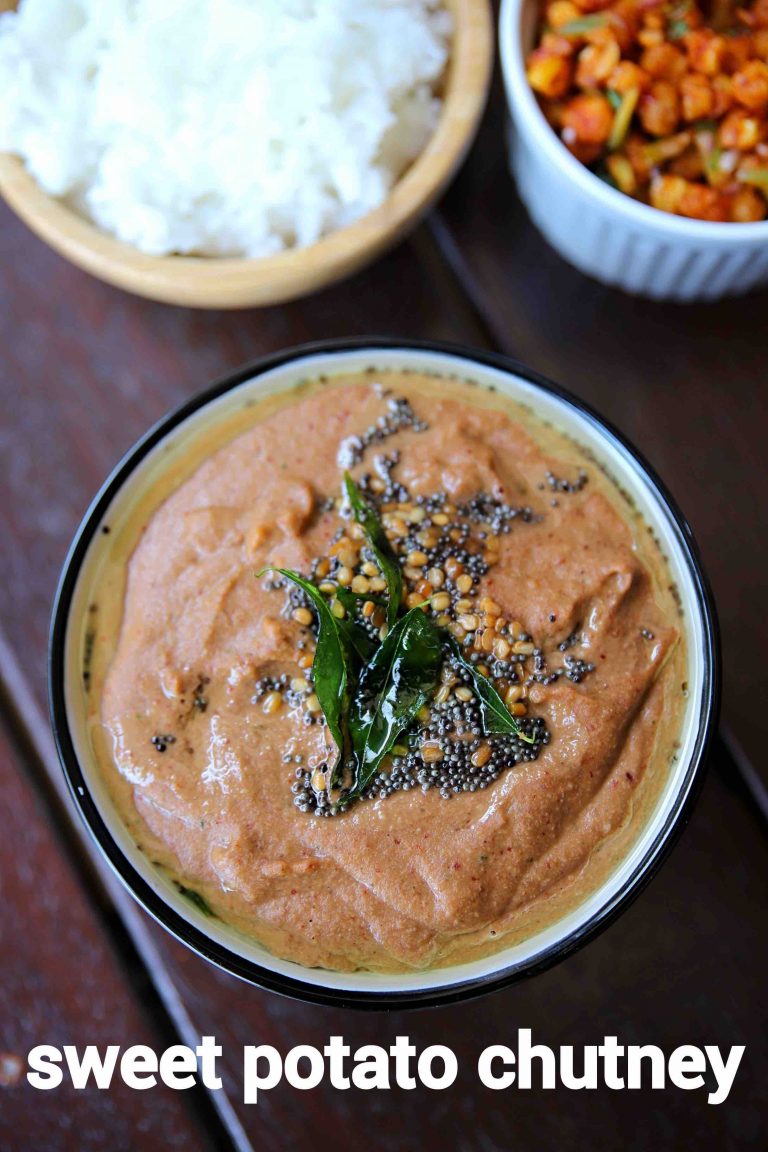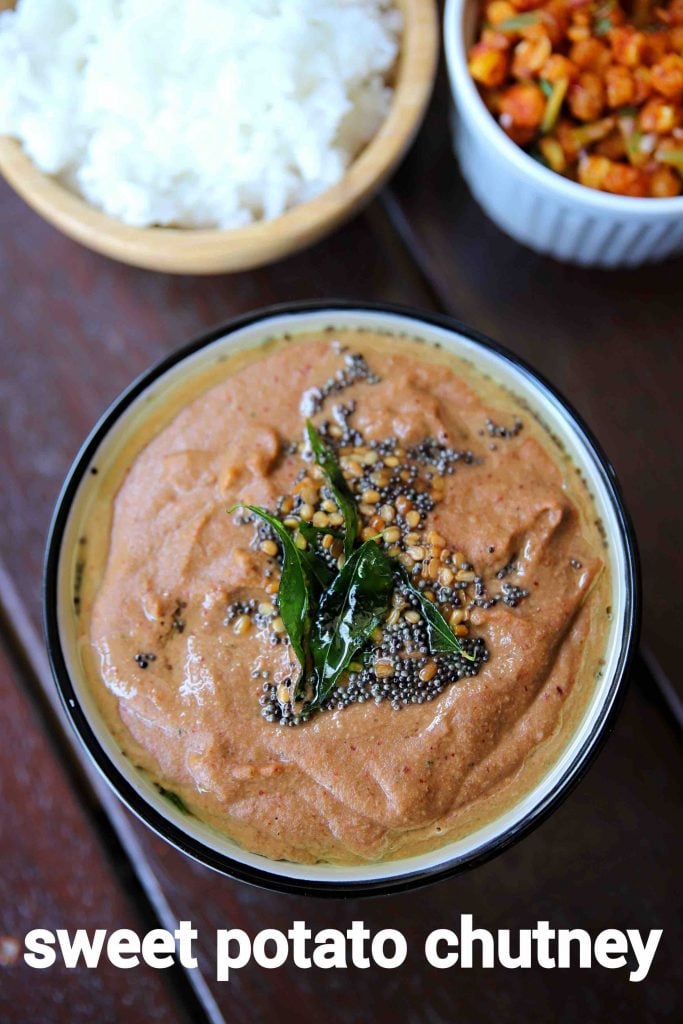 sweet potato chutney recipe | genasina chutney recipe with step by step photo and video recipe. south indian cuisine is incomplete without mentioning or highlighting the use case of chutney or condiment recipes. there are hundreds and thousands of chutney recipes varieties which are made with one hero ingredient. one such easy and simple coconut-based chutney is sweet potato chutney recipe known for its flavour and taste.
unlike other traditional chutney recipes, there is a bit of preparation for this recipe. the main extra step on this sweet potato chutney is the grating and then sautéing till it gets cooked. the grating part helps the sweet potato to get it cooked faster and the sautéing part helps to get rid of the raw taste. previously i use to make this chutney without cooking it and grounding it till fine paste. i never had any complaints as such, but once i started making this way, i never went back. all the raw taste and flavour of sweet potato is gone and does not need any extra seasoning of oil or ghee when mixed with rice. the oil helps to improve the taste and also removes the raw taste but not essential for this recipe.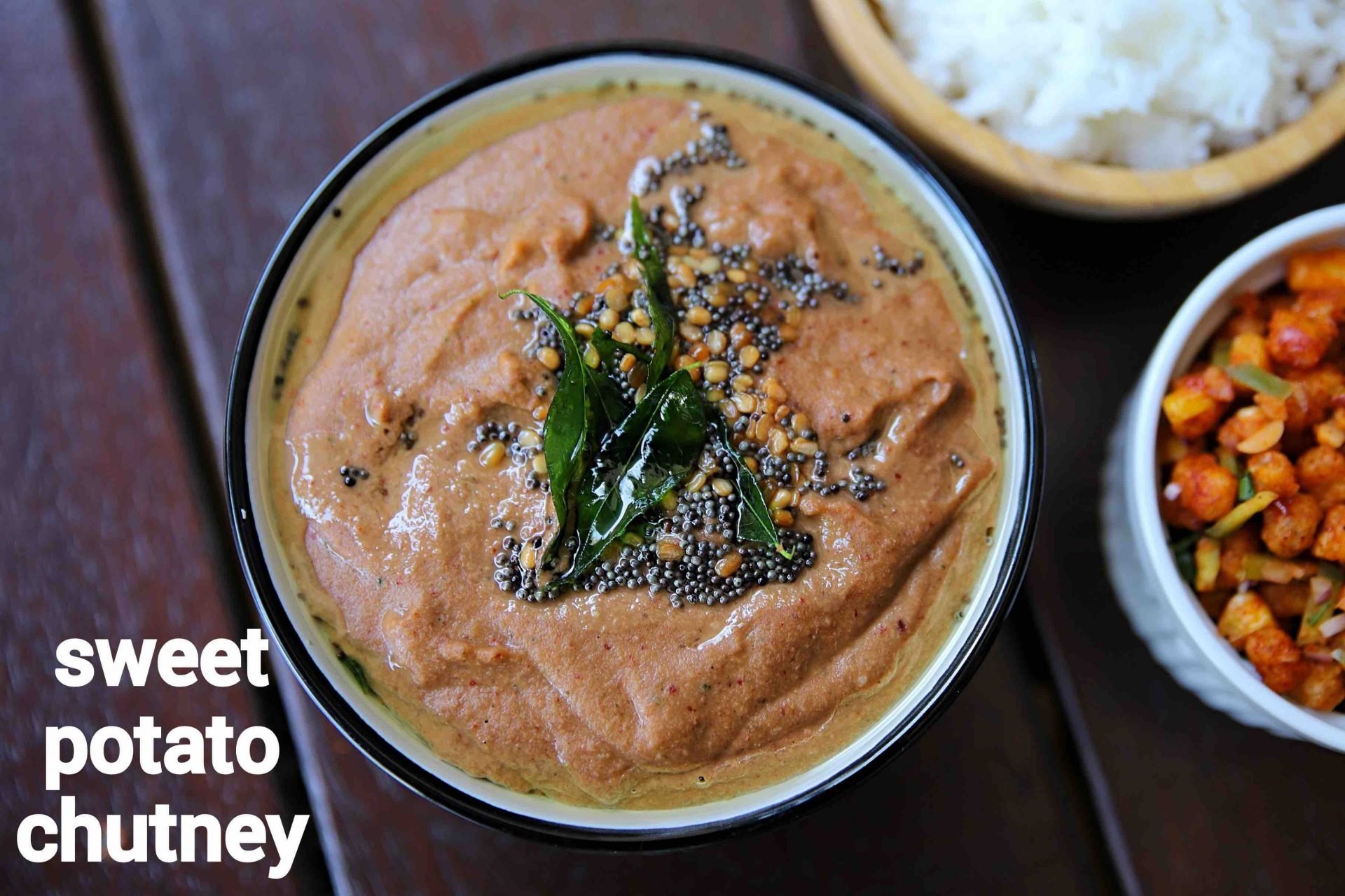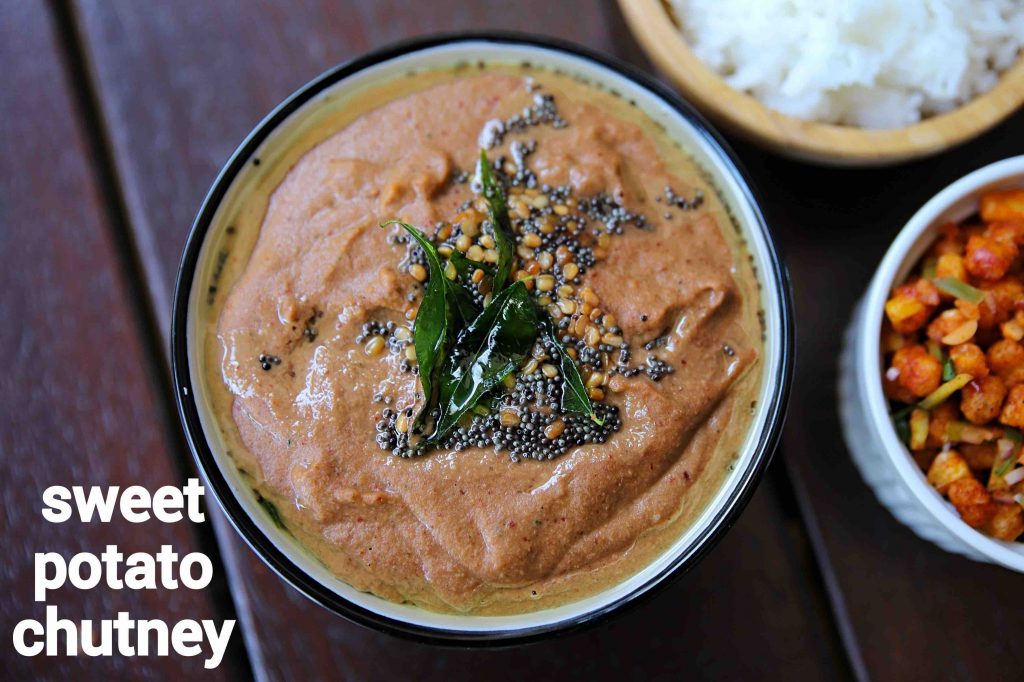 furthermore, some easy and important tips, suggestions and variations for sweet potato chutney recipe. firstly, the proportion of sweet potato and coconut should be equal. do not increase or decrease the quantity of each other so that it does not overpower the flavour of each other. secondly, one the chutney is prepared do not forget to temper it with oil, mustard, urad lentil and red chillies. the tempering helps to add more flavour and taste to the chutney. lastly, the shelf life of the chutney recipe is very less due to the addition of coconut and sweet potato. hence either refrigerate it or prepare it in small batches so that it does not spoil.
finally, i request you to check my other detailed chutney recipes collection with this post of sweet potato chutney recipe. it mainly includes my other simple variations like dry garlic chutney, chana dal chutney, methi chutney, tomato gojju, red coconut chutney, lahsun ki chatni, curry leaves chutney, hotel-style coconut chutney for dosa and idli, pudina chutney, cabbage chutney. in addition to these, i would like to highlight my other detailed recipes collection like,
sweet potato chutney video recipe:
recipe card for sweet potato chutney recipe:
how to make genasina chutney with step by step photo:
firstly, peel the skin of the sweet potato. you can use white or brown sweet potato.

grate the sweet potato uniformly. keep aside.

in a pan heat 3 tsp oil and saute 1 tbsp urad dal, 1 tbsp chana dal, 3 dried red chilli and few curry leaves.

add in grated sweet potato and saute for 5 minutes.


saute until the sweet potato is cooked well.

cool completely and transfer to the blender.

add in ½ cup coconut, small ball sized tamarind, ½ tsp salt and ½ cup water.


blend to smooth paste adding water as required.

now prepare the tempering by heating 3 tsp oil and splutter ½ tsp mustard, ½ tsp urad dal and few curry leaves.

pour the tempering over the chutney and mix well.

finally, enjoy sweet potato chutney with hot steamed rice or dosa.

notes:
firstly, cook the sweet potato on medium flame or you can use boiled sweet potato.
additionally, adjust the spice depending on the sweetness of the sweet potato.
also, adding coconut is optional. however, it gives good texture and flavour.
finally, sweet potato chutney recipe tastes great for 2-3 days when refrigerated.