paneer burger recipe | masala burger | tawa masala paneer burger with detailed photo and video recipe. a unique and tasty street style burger recipe made with paneer cubes with pav bhaji masala. its a combination of western cuisine to our own street style vada pav recipe, filled with spice and flavour. it can be ideally served for lunch and dinner with a side of favourite chips or any deep-fried snacks.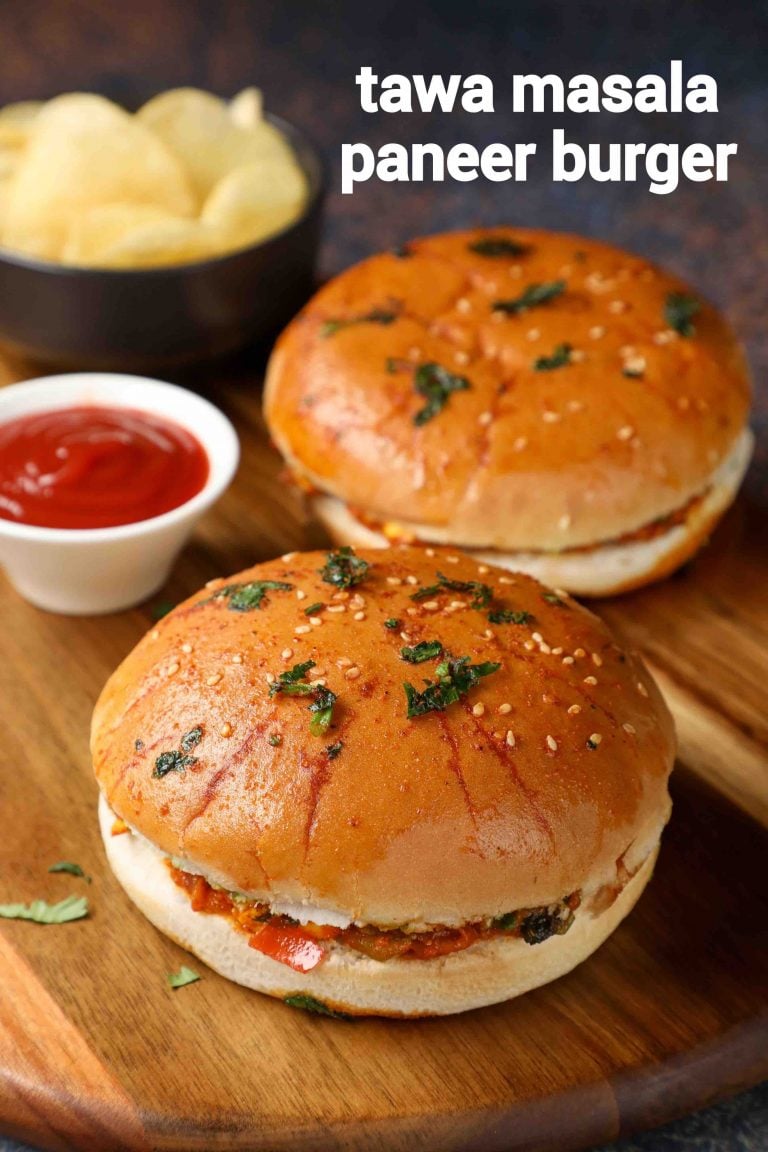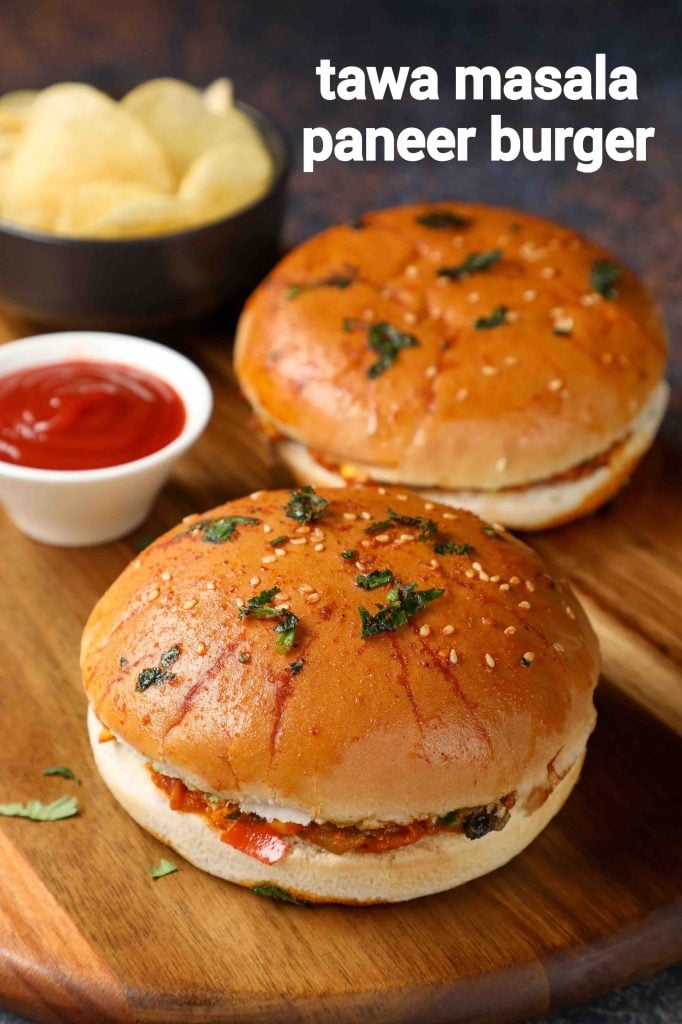 paneer burger recipe | masala burger | tawa masala paneer burger with step by step photo and video recipe. burger recipes are not native to indian cuisine, but since its inception to indian food, it has taken by storm. at the same time, it has gradually adapted and changed to indian taste buds by adopting native ingredients. one such hugely popular urban snack burger recipe is tawa masala paneer burger recipe.
well, most of the burger recipes are made with 2 main ingredients. one being the soft burger bun and the other being the choice of patties. while the combination of burger bun and patties makes it a complete burger but can be time-consuming to make it at home. hence the street vendors have come up with a much easier way to prepare the stuffing on tawa. the stuffing can be varied with a different set of ingredients, but the theme remains the same. in this recipe, i have used the combination of small paneer cubes with a pav bhaji sauce. so if you are having a craving for street food or for a burger or for a pav bhaji, then tawa masala paneer burger is your solution.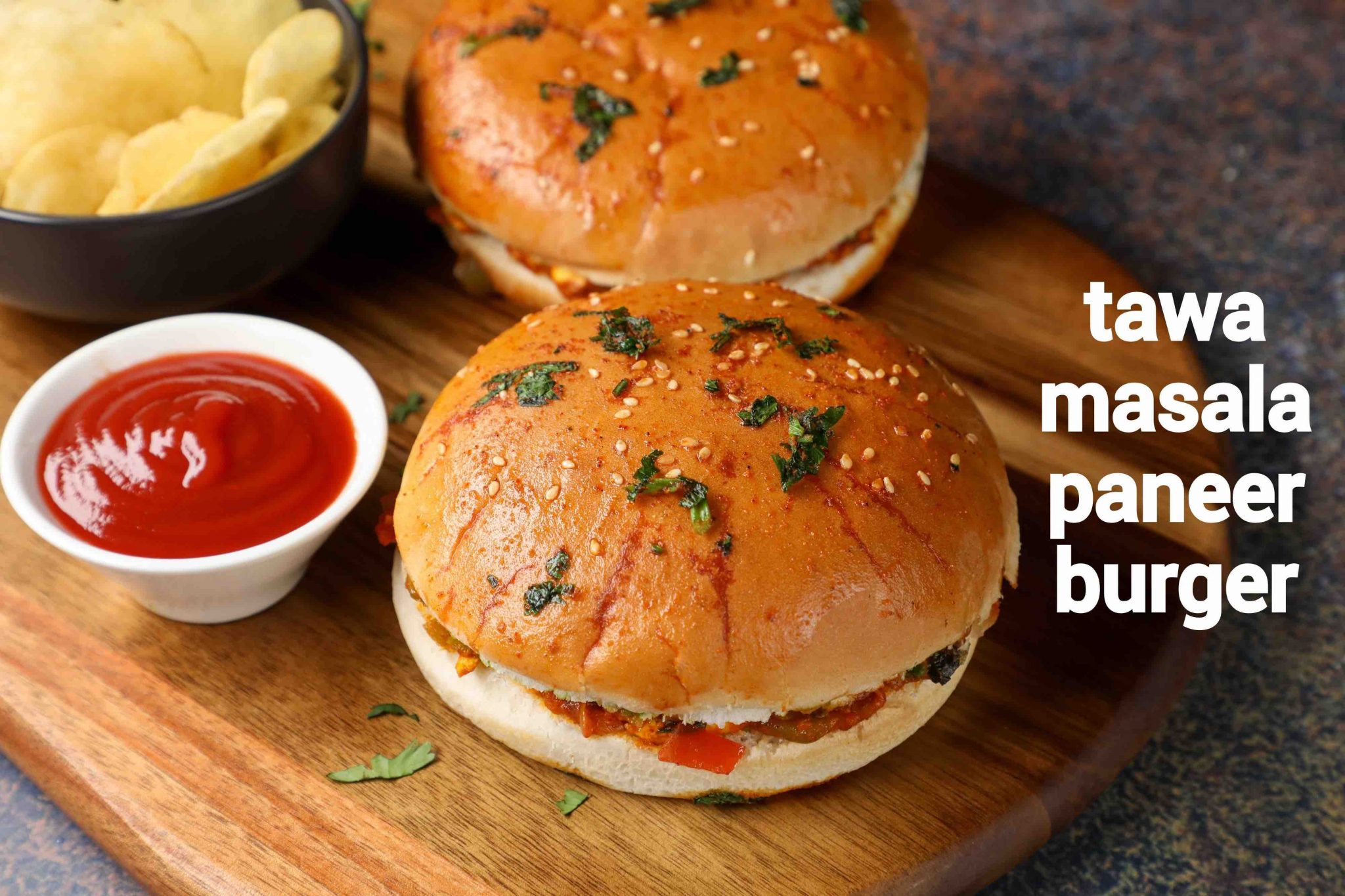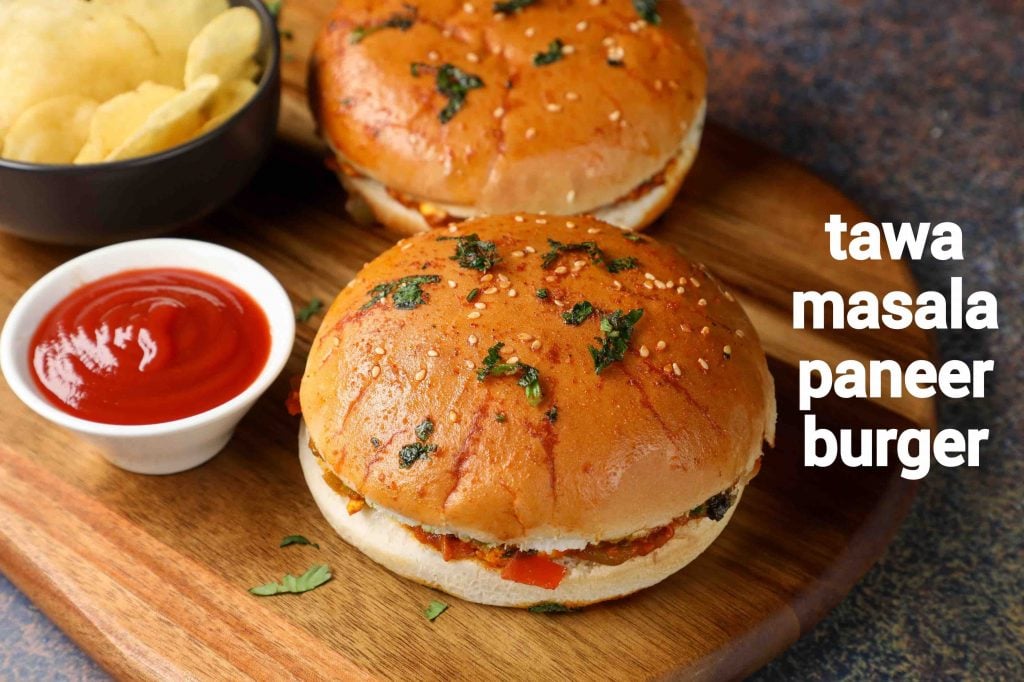 furthermore, i would also like to mention some more variants, suggestions and tips for tawa masala paneer burger. firstly, i would recommend using a soft plain flour-based burger bun for this recipe. avoid burger with a thick crust as it can be rolled in tawa. secondly, the stuffing can experiment with different types of veggies and ingredients. you may also add veggies like carrot, potatoes and even beans to have the authentic pav bhaji taste. lastly, these burgers are better served immediately, once the stuffing is placed. alternatively, you can roast the pav separately and stuff it with masala whenever you are ready to serve.
finally, i request you to check my other popular street food recipes collection with this post of paneer burger recipe. it mainly includes my other related recipes like aloo frankie, aloo paneer tikki, chilli paneer, paneer pav bhaji, paneer fried rice, paneer frankie, paneer momos, paneer malai tikka, paneer tikka, paneer 65. further to these i would also like to mention my other related recipe categories like,
paneer burger video recipe:
recipe card for paneer burger recipe:
how to make masala burger with step by step photo:
firstly, in a pan heat 2 tbsp oil and add 1 tsp butter.

saute 2 clove garlic on medium flame.

now add 1 onion and saute well. do not brown the onions.

further, add ½ capsicum and saute slightly.


add 2 tomato and saute until tomatoes turn soft and mushy.

keeping the flame on low, add ½ tsp turmeric, 1 tsp chilli powder, 1 tsp pav bhaji masala and ½ tsp salt.

mix well making sure all the spices are well combined.


now add 2 tbsp tomato sauce and mix well. make sure the mixture is of smooth consistency.

further, add 1 cup paneer and mix without breaking them.

add 2 tbsp coriander and mix well, paneer stuffing is ready.

to prepare the burger, slice the burger bun.

spread 2 tbsp of prepared paneer mixture on one side of the bun.

on the other half of burger bun spread 1 tsp green chutney.

close the bun and press gently.

now heat 1 tsp butter, ¼ tsp pav bhaji masala and 1 tsp coriander. mix on low flame.

now toast the burger bun both the sides.

finally, enjoy paneer burger with tomato sauce.

notes:
firstly, you can prepare the stuffing before in hand and prepare the burger just before serving
also, you can add corn, carrot or vegetables of your choice to make it nutritious.
additionally, place a slice of cheese to prepare a cheesy burger.
finally, paneer burger recipe tastes great when served hot.