dosa recipe | dosa batter in mixie recipe | crispy dosa batter recipe with detailed photo and video recipe.  this is a easy home made dosa batter recipe used for plain dosa, ghee dosa, butter dosa, tomato dosa or uttappam. perfect dosa or a crispy dosa recipe heavily depends upon the proper dosa batter.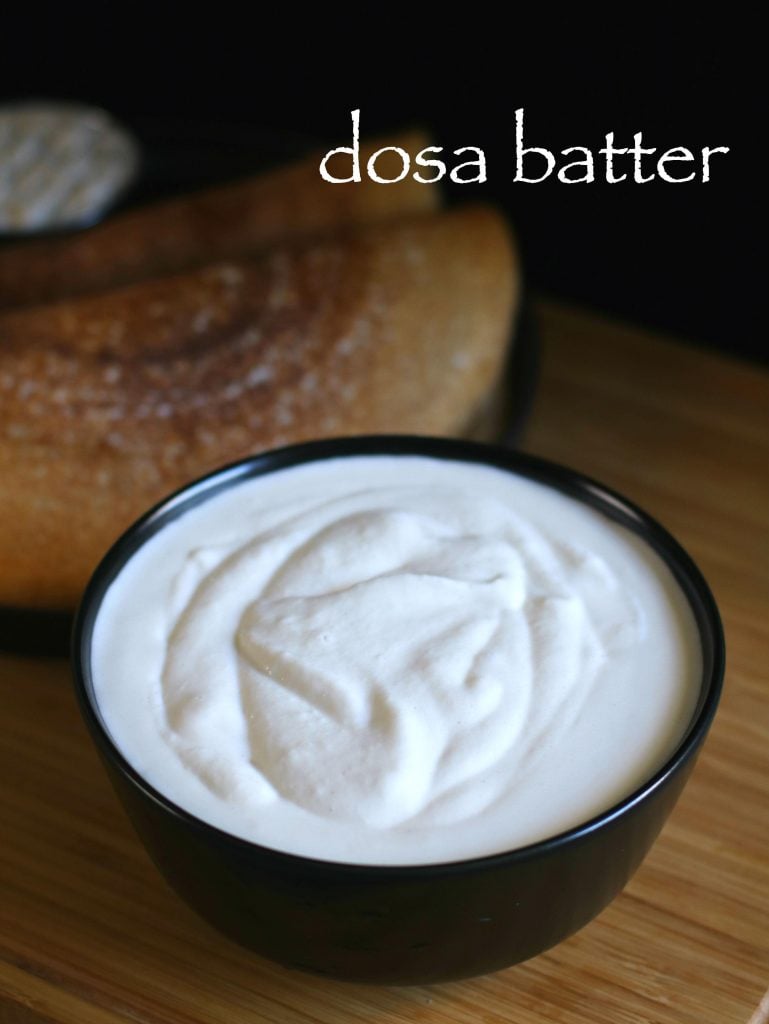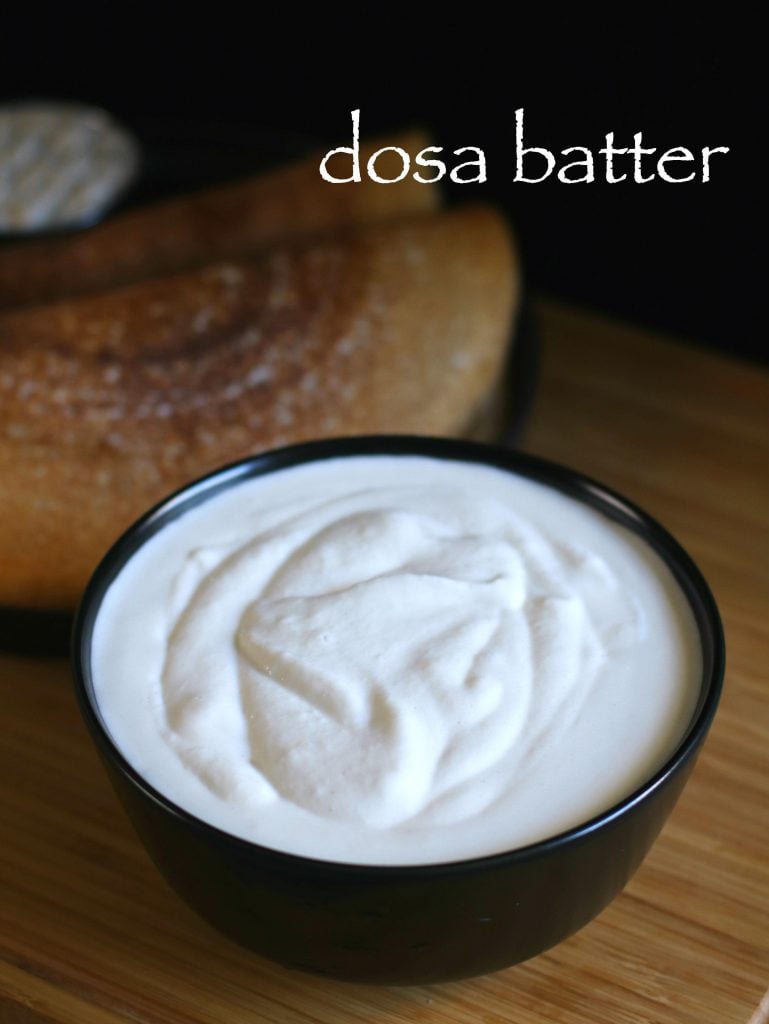 dosa recipe | dosa batter in mixie recipe | crispy dosa batter recipe with step by step photo and video recipe. a perfect south indian dosa recipe can easily achieved by a homemade dosa batter. more importantly this authentic dosa batter recipe is prepared from mixer grinder or mixie. traditionally, dosa batter recipe is prepared from wet grinder. however this recipe is for those who do not have access for wet grinder and can prepare in mixie jar or mixer.
i am a huge fan of dosa recipe and you can clearly see that in my blog. well being a south indian, dosa recipes are must for breakfast and for brunch. i prepare the dosa recipes almost every week. but never thought of posting it with a video. in this post and video i have tried to detail each and every step including soaking, grinding and fermentation. also, i have not added any fermenting agent like yeast or baking soda. after grinding i had kept the dosa batter in a warm place to ferment it naturally. if you are living in a cold place then you can follow my idea. i keep the dosa in preheated oven to ferment. this helps to fasten the fermentation process.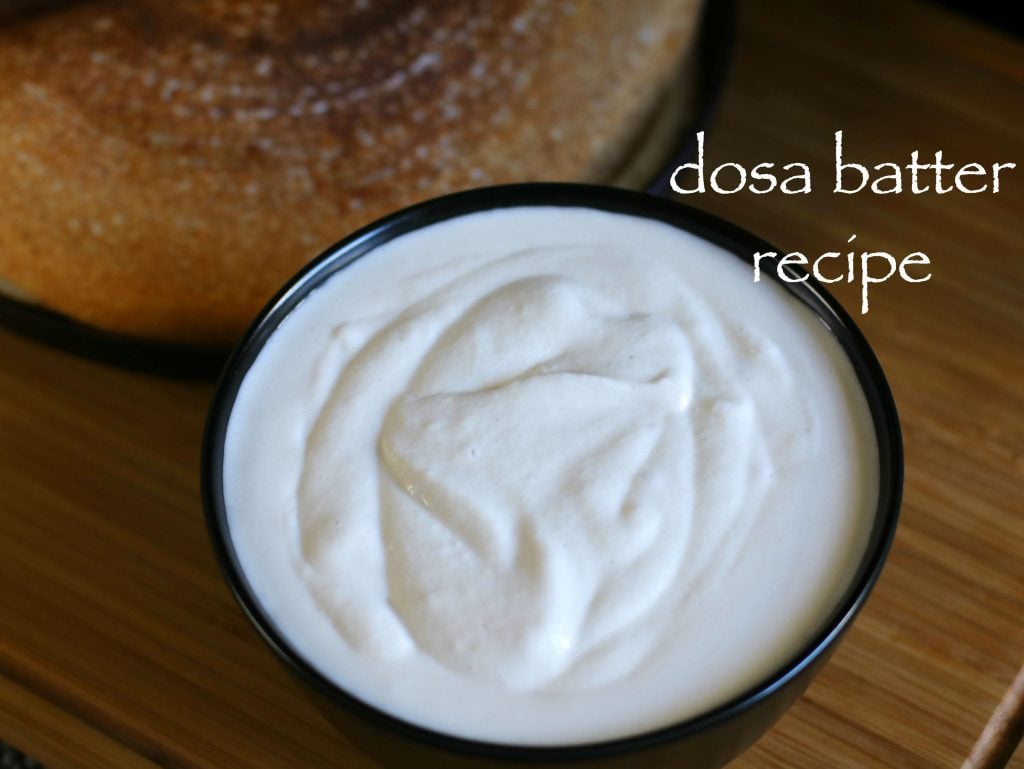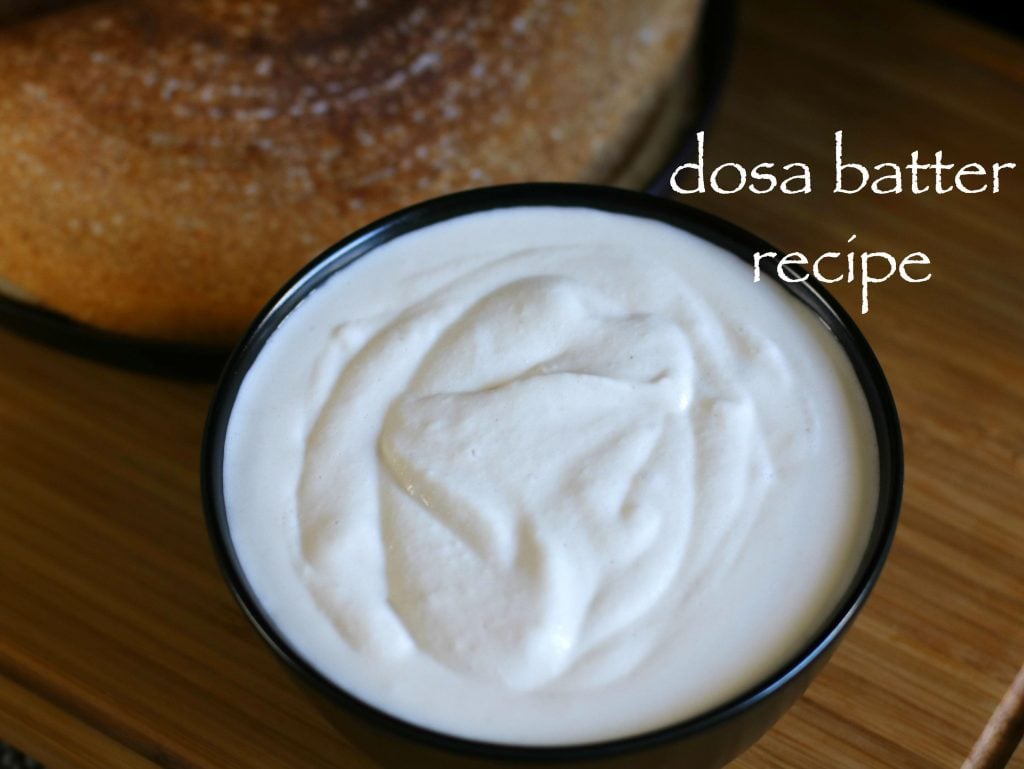 furthermore, i would like to share few trips and tricks to prepare crispy and crunchy dosa. firstly, keep always flame on medium. if the flame is high, you would not be able to spread it easily. secondly, apply oil to dosa pan before pouring dosa batter. spread it evenly with a tissue paper as shown in the video. once the oil is applied to tawa, sprinkle some water on tawa. this helps to maintain the temperature of tawa and also also makes the tawa smooth. you can skip this step of adding oil if you are using nonstick pan. lastly, do add salt immediately after grinding. salt will stop fermenting process and add only after fermentation.
finally, do check my other dosa recipes collection and idli recipes collection. particularly, rava dosa, set dosa, mysore masala dosa, dosa with cooked rice, bread masala dosa recipe. also, do visit my other indian breakfast recipes collection. especially, bisi bele bath recipe, upma recipe, poha recipe, akki rotti recipe, bombay sandwich and pinwheel sandwich recipe.
dosa recipe | dosa batter video recipe:
recipe card for dosa recipe | crispy dosa batter recipe:
how to make dosa batter in mixie step by step photo recipe:
firstly, in a large bowl, soak 3 cups of rice and methi seeds for atleast 5 hours.

furthermore, soak urad dal for 3 hours. do not over soak urad dal as they start to smell.

drain the water from urad dal and keep aside. you can use it if required while blending. urad dal soaked water helps to fasten the fermentation process.
transfer the soaked urad dal into blender and blend to smooth and fluffy batter. add water if required.

collect it into a large bowl and keep aside.

further, blend the soaked rice along with poha adding water if required. adding poha makes dosa slightly soft.

blend to slightly coarse paste. this helps to give nice texture to dosa.


transfer to the bowl of urad dal batter.

mix well making sure the batter has combined completely.

also clean the sides with your hand.


cover and ferment in a warm place for 8- 12 hours. the next day you can see the batter has raised well indicating its well fermented.

additionally, mix the batter slightly without spoiling the air incorporated in batter.

further scoop the required batter in a different bowl.

and add salt and water (if required) to the batter and mix well.

heat the griddle. smear some oil over the tawa and wipe off with a tissue paper. (do not add oil if using non-stick pan)

furthermore, sprinkle some water and wipe off with wet cloth.

and pour a ladleful of the batter on it and spread it in a circular motion thin circle.

also smear a little oil over it.

then cover the dosa for a minute and cook till the bottom of dosa turns golden brown.

also fold over to make a semi-circle or a roll.

finally serve immediately with coconut chutney and sambar.

notes:
firstly, fermentation process takes around 8 hours. do not disturb during fermentation.
furthermore, if you live in cold climate then preheat the oven and place the batter in it. this helps to keep warm and ferment the batter well. (just pre-heat and switch off the oven)
additionally, add in salt to required batter only. the remaining batter you can store in a airtight container and refrigerate.
finally, adjust the consistency of the dosa batter while making dosa.