paneer malai tikka recipe | malai paneer tikka | paneer tikka malai with a detailed photo and video recipe. a popular medium-spiced tikka recipe made with marinated paneer cubes and veggies. unlike the traditional tikka recipes which are known for its spicy flavours, malai tikka is mild and creamy in taste. it is an excellent party starter or an appetiser recipe which can also be served as a side to roti and chapati meal.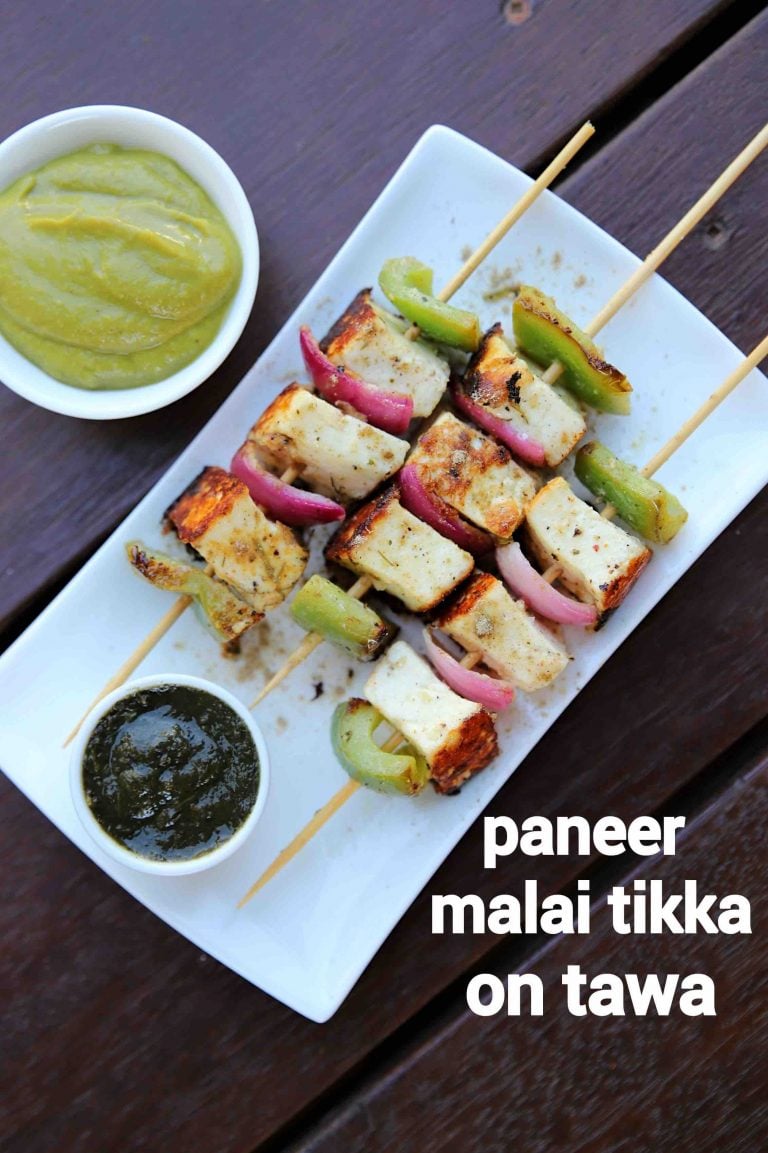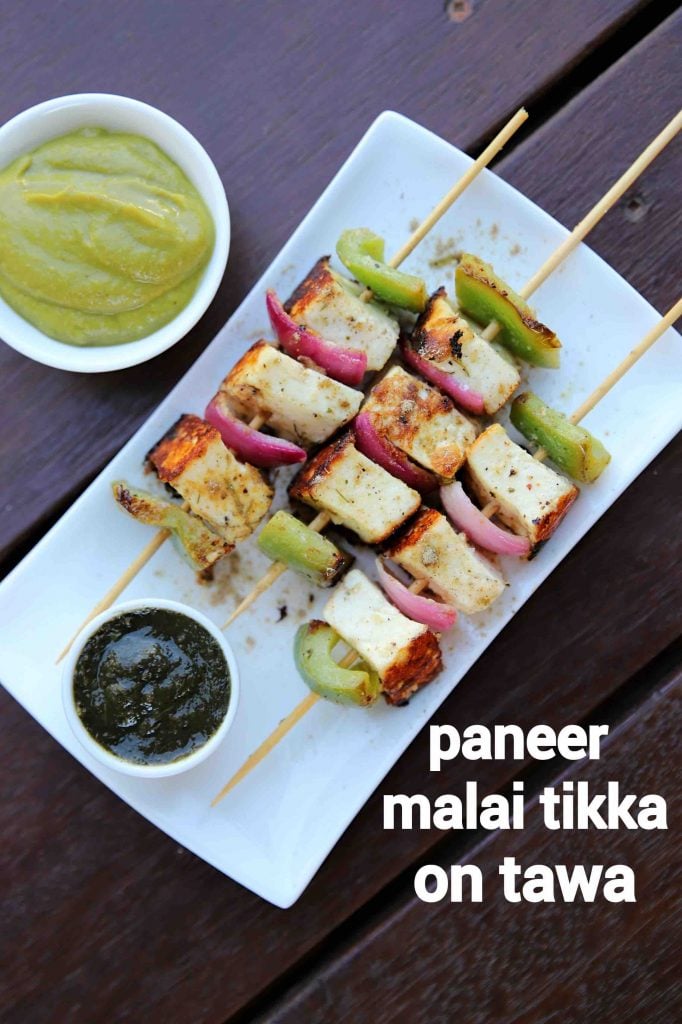 paneer malai tikka recipe | malai paneer tikka | paneer tikka malai with step by step photo and video recipe. tikka recipes are very common and are made with myriad hero ingredients. generally, the tikka recipes are derived from the chicken or meat variation. but today there are several veg options. one such vegetarian option is paneer and this recipe post dedicates to the paneer malai tikka variation of it.
tikka recipes have become a national dish and it is one of the must-have starter recipes for any celebrations or gatherings. well, generally meat-based tikka is more popular compared to veggies option. but the paneer based tikka is very well appreciated by both meat and veggie lovers. in addition, tikka and spice go hand in hand and the assumption is all tikka recipes are spicy. but there is another category of tikka where malai or cream is used with tikka spices to lower the spice temperature and also to add the creamy flavour. in this recipe, i have used paneer cubes, but the same malai tikka sauce can be used for any other choice of vegetables or even meat.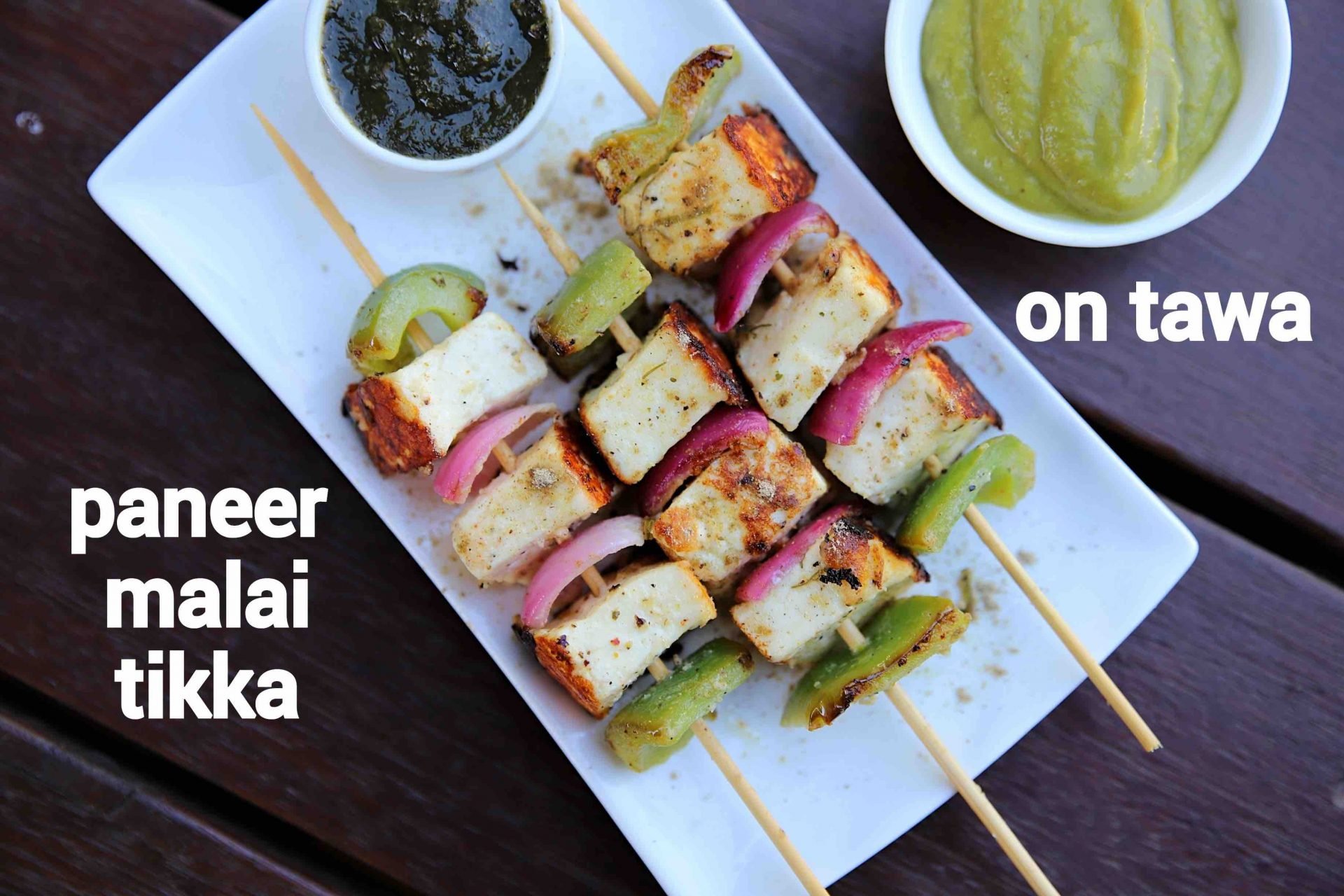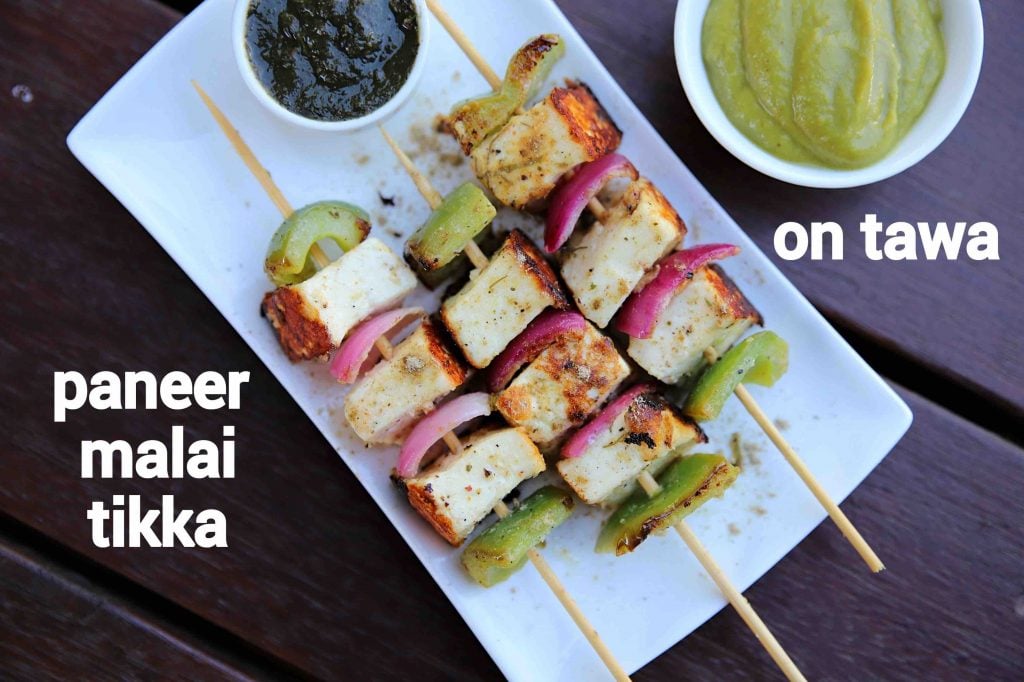 the recipe for malai paneer tikka is extremely simple to make, yet some tips and suggestions to it. firstly, the paneer cubes have to be moist and juicy for any tikka recipe. i have used the home-made paneer which was fresh and moist. hence i would recommend to use home-made or perhaps use fresh store-bought paneer. secondly, i have used tawa to roast the paneer, but it tastes great when roasted on a barbecue or directly on the charcoal. you can also use a traditional oven to oven fry it. lastly, serve these immediately once it is fried with green chutney or tomato sauce. in addition, you can use the leftover paneer malai tikka cubes and add it to the onion and tomato-based gravy to make paneer malai tikka masala recipe.
finally, i request you to check my other detailed street food recipes collection with this post of paneer malai tikka. it includes recipes like paneer tikka, paneer tikka masala, mushroom tikka, potato wedges, farsi puri, chekkalu, gobi manchurian, dahi puri and veg crispy recipe. in addition, i request you to check my other detailed recipes collection like,
paneer malai tikka video recipe:
recipe card for paneer malai tikka:
how to make malai paneer tikka with step by step photo:
firstly, in a large mixing bowl take ¼ cup cream, ¼ cup curd and 1 tbsp lemon juice.

add ½ tsp ginger garlic paste, 2 chilli, ½ tsp pepper, ¼ tsp garam masala, ½ tsp cumin and 1 tsp kasuri methi.

further add 1 tsp cornflour, 1 tsp oil and ½ tsp salt. you can replace corn flour with roasted besan.

mix well making sure the spices are well combined.


now add ½ onion, ½ capsicum and 12 cubes paneer.

mix gently making sure the mixture is coated well.

cover and refrigerate for 30 minutes. you can marinate for overnight for more flavours.


after 30 minutes, mix gently.

now take a skewer and pierce in capsicum, paneer, onion, paneer, onion, paneer and capsicum.

roast on tawa adding oil as required.

turn around and roast until it turns golden brown. you can also bake in oven or tandoor.

finally, sprinkle chaat masala and enjoy paneer malai tikka recipe with green chutney.

notes:
firstly, use tandoor or cook over charcoal to get a smoky flavour.
also, marinating paneer helps to absorb flavours, so make sure to marinate at least for 30 minutes.
additionally, if roasting on tawa, make sure to flip over and roast uniformly.
finally, paneer malai tikka recipe tastes great when served hot topped with extra malai.