veg frankie recipe | veg kathi roll recipe | veg frankie roll recipe with detailed photo and video recipe. a popular street food of india, originated from the streets of kokatta. it is also known by different names like, kati roll, frankie food, frankie recipe or even vegetable frankie recipe. basically spiced vegetables are wrapped in chapathi or wrap bread to which tomato sauce and green chutney are added to enhance the flavour.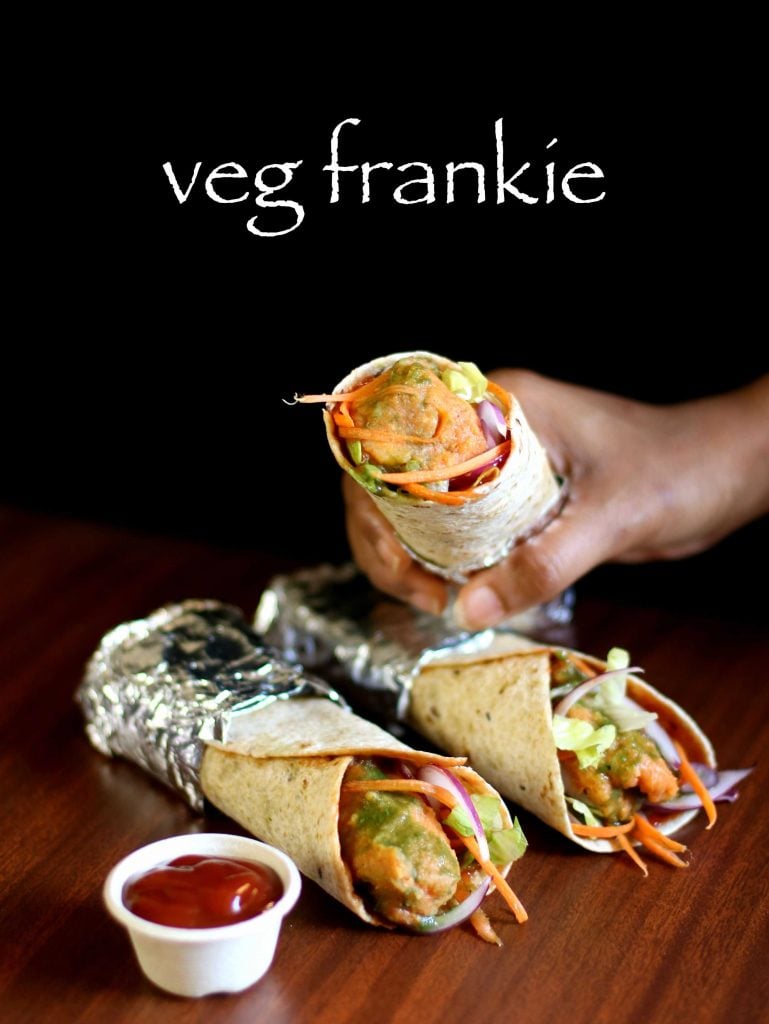 veg frankie recipe | veg kathi roll recipe | veg frankie roll recipe with step by step photo and video recipe. traditionally frankie recipes were known as kathi kebab which was typically prepared in layered paratha's. however, these days many variations of frankie recipes has evolved, especially after introduced as street food.
i have already shared the paneer frankie recipe in which i have added grated paneer with other veggies. also i had used the left over chapathi for paneer kathi roll. however in this recipe i use the multi grain wrap which makes it healthier as compared to all purpose flour roll. also i have added grated paneer in this recipe, but mashed potatoes and capsicum are in majority. moreover, other vegetables like green peas, carrots and even mushroom can also be added. but i have kept it simple with only potatoes and capsicum.
besides some important tips and suggestions for a perfect kathi roll recipe. firstly, if the boiled and mashed potatoes contain more moisture, then add breadcrumbs to absorb it. add breadcrumbs only if you are not able to form sautéed vegetables to cylindrical shape. secondly, i have used multigrain wraps in this recipe. but leftover chapathi, roti, and even paratha's can also be used. lastly, if you prefer a spicy veg frankie than spread schezwan sauce with tomato sauce on top of  roti/ wraps / paratha's.
finally, i do request you to check my other appetizer recipes collection from my blog. particularly, chilli potato recipe, paneer manchurian, bread roll recipe, stuffed mirchi bajji, sev puri and onion samosa recipe. in addition check my other recipes collection board like,
veg frankie or veg kathi roll video recipe:
recipe card for veg frankie or veg kathi roll recipe:
how to make veg frankie or veg kathi roll with step by step photo recipe:
aloo stuffing recipe:
firstly, in a large kadai saute capsicum for 2-3 minutes with some oil.

further, add boiled and mashed potato.

also add crumbled paneer. adding paneer is optional, however, adds on flavour.

add chili powder, garam masala powder, chaat masala and salt.


mix well making sure the spices are blended well with potato.

also mash the big chunks of potato if present.

now allow it to cool for 5 minutes.

later prepare cylindrical shaped sticks applying oil to hands. applying oil, prevents stuffing from sticking to hand. keep aside.

how to fold frankie or kathi roll :
firstly, add butter onto the tawa.

and roast leftover chapathi or wraps until they warm up.

apply butter on both sides and roast the chapathi or wraps.

now place the roasted chapathi or wrap on a flat surface.

spread generous amount of tomato sauce.

also place lettuce, carrot and onion in the centre of chapathi.

further, place the prepared cylindrical stuffing of aloo in center.

and apply green chutney.

now fold the bottom up.

also slowly, fold both the sides one after another.

furthermore, fold tight and hold to prevent the wrap from opening.

place the prepared frankie on a aluminium foil or butter paper coving only the bottom half.

fold the bottom of foil.

and roll the side sheet tight covering the frankie.

finally, veg frankie or kathi roll is ready to serve with tomato sauce.

notes:
firstly, do not over stuff the frankie with stuffing, as it will be difficult to roll and eat.
furthermore, add vegetables of your choice to make frankie or kathi roll more healthy.
additionally, leftover chapathi works great to prepare kathi roll.
finally, grate some cheese to prepare cheesy veg frankie or cheesy kathi roll.