onion samosa recipe | irani samosa recipe | patti samosa recipe | mini samosa recipe | triangle samosa recipe | samsa recipe with detailed photo and video recipe. basically a deep fried snack prepared with homemade pastry sheets and onion stuffing. an ideal triangle samosa recipe perfect for kitty party and even for evening snack.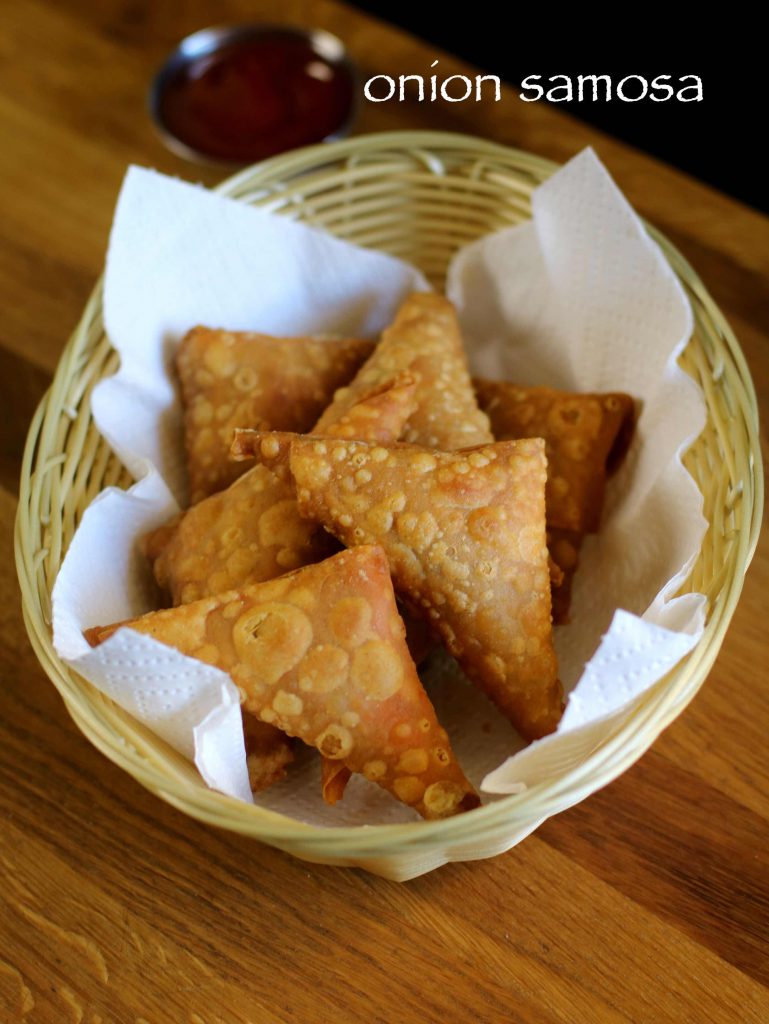 onion samosa recipe | irani samosa recipe | patti samosa recipe with step by step photo and video recipe. perhaps one of the most common crispy samosa recipes easily available in college canteens, railway stations and even in parks. moreover, it is also popularly known as irani samosa recipe / mini samosa recipe / triangle samosa recipe / samsa recipe. it is because it is sold in irani tea shops and irani cafe's.
initially, i though of preparing with the store bought spring roll sheets. however, later i decided to prepare with the homemade pastry sheets. also, the store bought sheets are prepared with corn flour and all purpose flour. whereas, i have prepared the sheets with wheat and all purpose flour, which makes it more healthy compared to pastry sheets. alternatively, the sheets can also be prepared with just all purpose flour.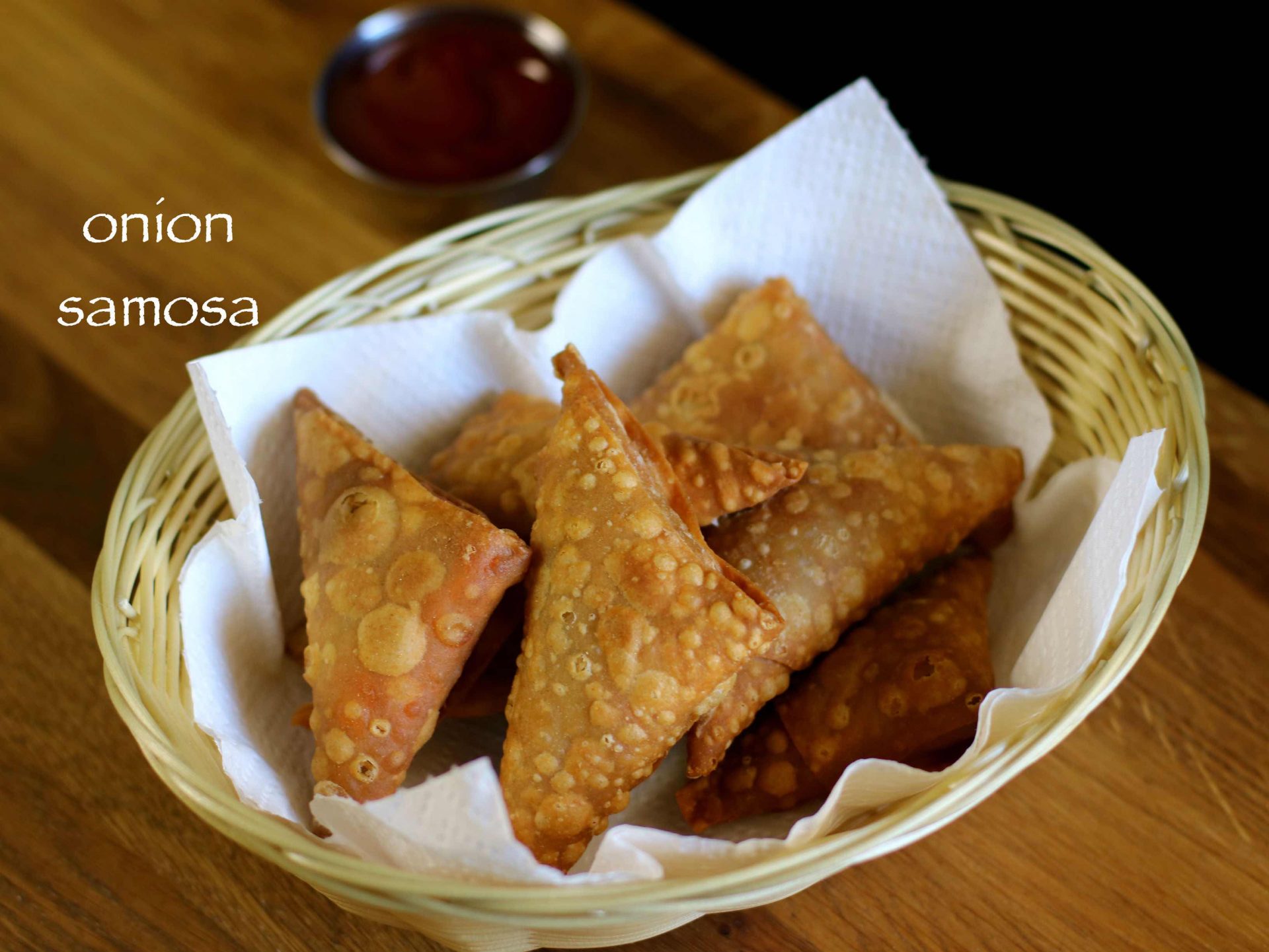 furthermore, some tips and suggestions for a crispy triangle samosa recipe. firstly, do not forget to add hot oil or ghee to wheat and all purpose flour before kneading. adding hot oil makes the samosa crispy and crunchy. secondly, for samosa stuffing, add thinly sliced onion and thin poha instead of diced onion. lastly, try to make a long pastry sheet strip while rolling. this would help to shape the samosa cone in shape and can easily wrap and seal it with maida paste.
finally, i request you to check my other indian snack recipes collection from my website. particularly, samosa recipe, onion pakoda, palak pakoda, medu vada, vegetable bonda and mangalore bajji recipe. also, do visit my other recipes collection board like,
onion samosa video recipe:
recipe card for onion samosa recipe:
how to make onion samosa with step by step photo recipe:
onion samosa stuffing recipe:
firstly, in a large mixing bowl take sliced onions.

furthermore, add poha / thin flattened rice / paper avalakki / beaten rice. its equal proportion of sliced onions. poha helps to absorb moisture and turn samosa crispy.

also add  chilli powder, garam masala, aamchur powder and salt.

additionally, add finely chopped ginger and coriander leaves.


further squeeze and mix well.

finally the stuffing is ready. keep aside.

samosa patti | pastry sheets recipe:
firstly in a large mixing bowl add equal proportion of maida and wheat flour.


further add pinch of sugar. sugar helps to get golden brown colour while frying.

also add salt to taste.

mix with a help of spoon.

further add 2 tbsp of hot oil over the flour. this helps samosa to be crunchy and crispy.

crumble the dough with the help of hand. make sure the oil to mix well with flour.

furthermore add water as required, and start to knead.

knead to smooth and soft dough like chapathi dough.

cover with the moist cloth and rest for atleast 30 minutes.

further, pinch a small ball and dust with wheat flour.

start to roll with a rolling pin as thinly as possible.
roll to a rectangle shape.

furthemore, cut the sides and get to a perfect rectangle shape sheets.
put the sheet on hot tawa and roast for just 10 seconds. roasting more will make sheets crisp and break while folding.

additionally, flip over and roast both sides for not more than 10 seconds.

samosa folding recipe:
firstly, start folding the samosa sheet into triangle.

further fold in total for 3 times.

furthermore, cone is formed.

stuff the prepared stuffing as mush as possible.

furthermore, with the help of maida paste, apply over the ends of samosa sheet.

also fold the sheet to form a triangle.

apply maida paste at the tips of cone to avoid oil seeping inside the stuffing. to prepare maida paste mix 2 tbsp of maida with 4 tbsp of water.

further, deep fry into a medium hot oil.

moreover, fry on both sides till they turn golden brown. make sure to fry on medium hot oil.

also drain over a kitchen towel.

finally, serve onion samosa with tomato sauce.

notes:
firstly, roll to a thin pastry sheet to get crunchy samosas.
furthermore, add chillis to make samosa spicy and tasty.
additionally, stuffings of your choice to make it more easy and tasty.
also use pastry sheets / patti samosa sheets instead of preparing it.
finally, double fry onion samosa to make it more crunchy and golden in colour.