bombay mixture namkeen | bombay spicy nut mix | mumbai mixture chivda with detailed photo and video recipe. an interesting and tasty snack recipe made with a mixture of deep-fried snacks like, sev, cashews and peanuts. it is typically served as munching evening snack with a cup of tea or coffee, but can also be used as topping to upma or poha breakfast recipes. generally, these kinds of mixtures or chivdas are typically bought from stores rather than making at home, but it is extremely simple to make at home.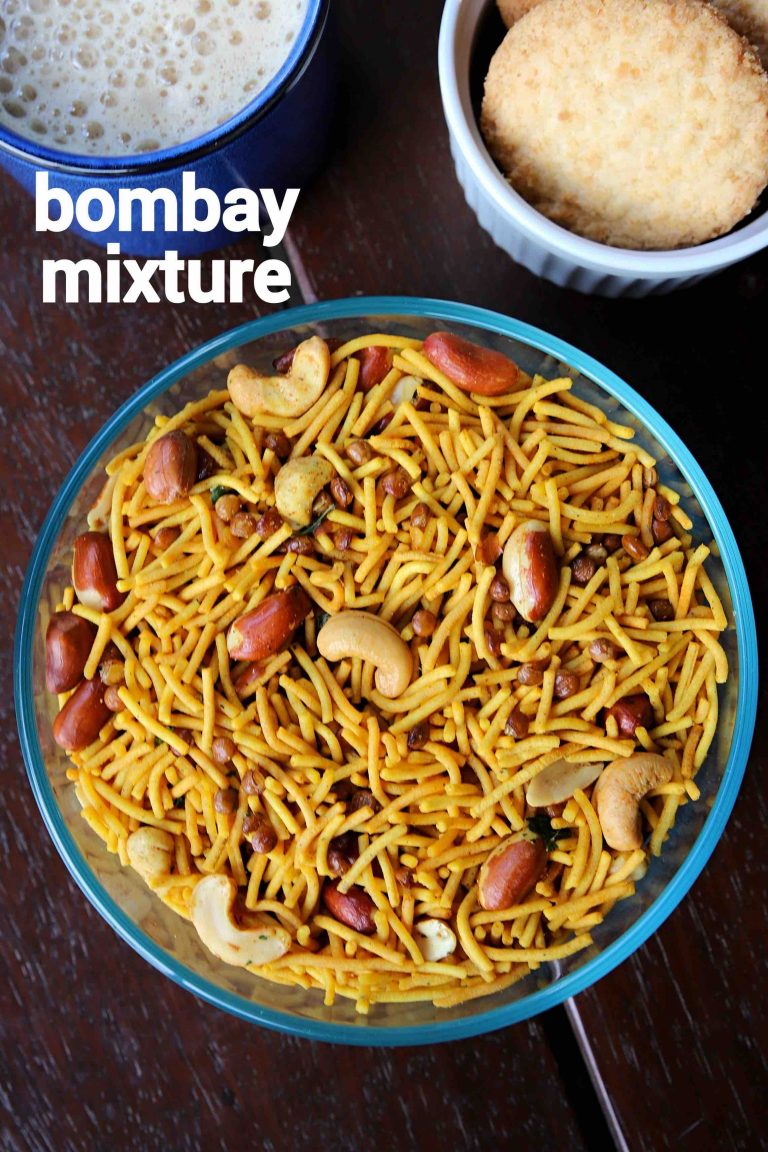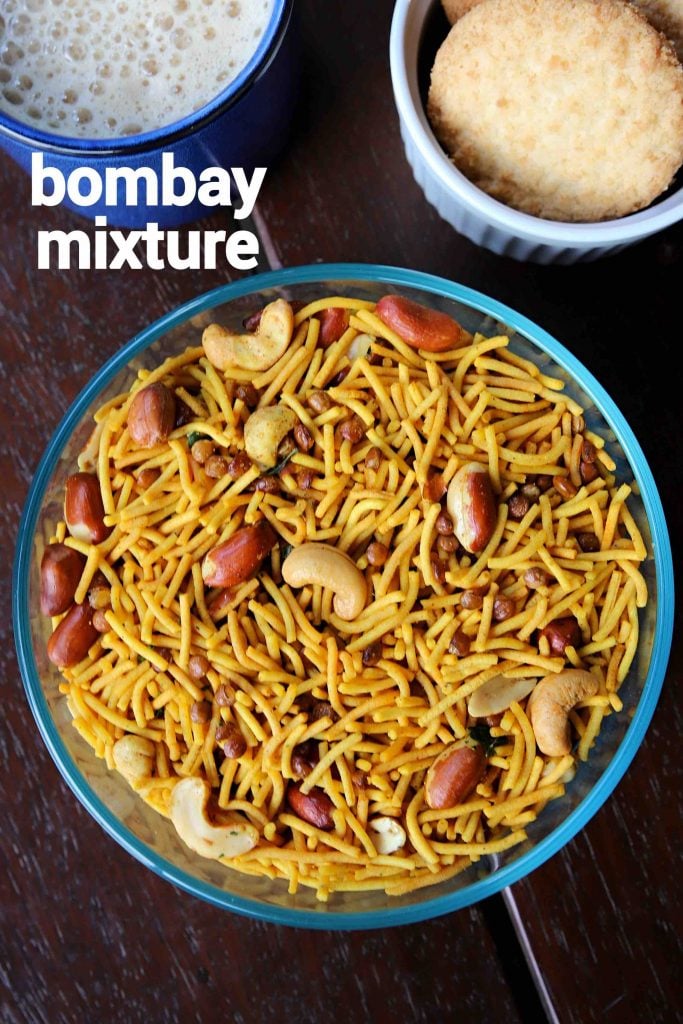 bombay mixture namkeen recipe | bombay spicy nut mix | mumbai mixture chivda with step by step photo and video recipe. chivda or mixture recipes are extremely common across india and are made and served for different reasons. each region and state of india has its own unique and tasty spice mixture or chivda recipe. one such easy and simple chivda namkeen recipe from the western india is the bombay mixture namkeen recipe known for its medium spice level.
as i explained earlier, there is a myth about chivda or namkeen recipes with many aspirant cooks. many think it is one of the complicated recipes and more importantly, it requires complicated and sophisticated devices to make such thin fried noodles (sev). well in this recipe post i have shown how to use easily available kitchen equipment and prepare a store like namkeen. basically the main equipment you would require is the chakli maker machine with fine mould for thin noodles. in this recipe, i have not shown how to make spicy boondi's as it is not required for this version of mumbai mixture. but if you wish to add you can still make it with the skimmer, by pouring spiced besan mixer on top of it.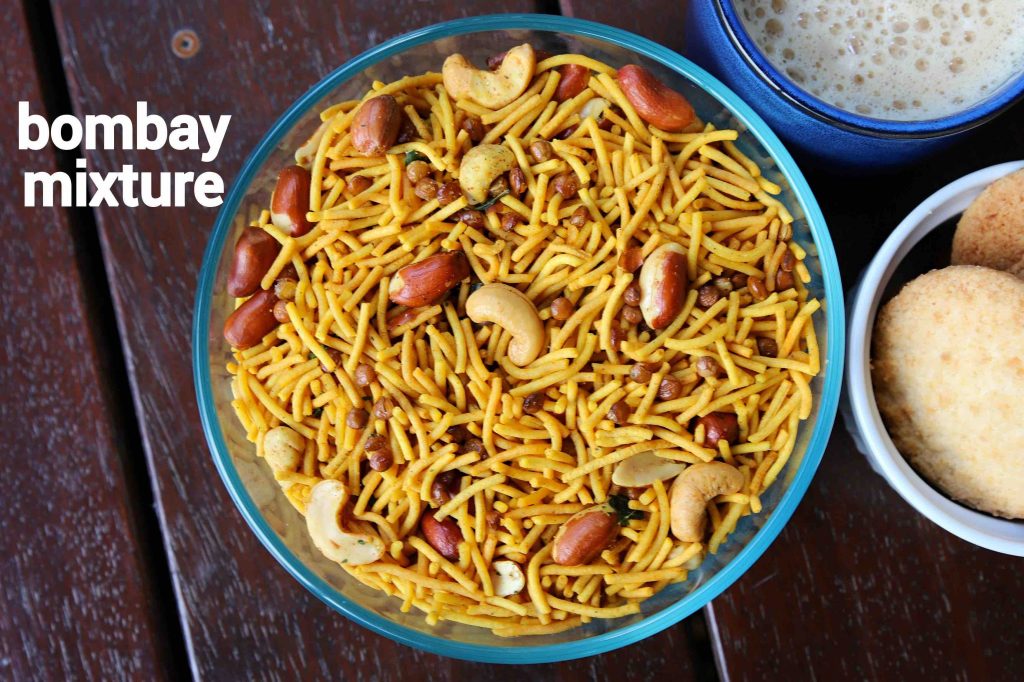 anyway, i would like to add some tips, suggestions and variations to a perfect bombay mixture namkeen recipe. firstly, the mumbai mixture chivda uses fine sev and hence i would recommend to find and use a small holed mould. moreover, while you start dropping these to hot oil, be careful not overlap it too much. otherwise, it may not get cooked evenly. in addition, i would recommend to deep fry these in small batches. secondly, the use of masoor dal is very important for this recipe. you may have not seen this in any other recipe, but adding these makes it unique for this recipe. lastly, store these in an airtight container for long shelf life. you may want to preserve it in a warm and dry place.
finally, i request you to check my other snacks recipes collection with this post of bombay mixture namkeen recipe. it mainly includes recipe variations like aloo ke kabab, beetroot vadai, aloo paneer tikki, dal dhokla, corn vada, gulgula, suji snacks, batata vada, cabbage vada, vegetable nuggets. further to these i would also like to highlight my other recipes categories like,
bombay mixture namkeen video recipe:
recipe card for bombay mixture namkeen recipe:
how to make bombay spicy nut mix with step by step photo:
firstly, soak ½ cup masoor dal in enough water for 2 hours.

drain off the water and keep aside.

in a large bowl take 2 cup besan, ½ cup rice flour, ½ tsp turmeric, ½ tsp chilli powder, pinch hing, ¼ tsp ajwain and 1 tsp salt.

mix well making sure all the spices are well combined.


further, add 2 tbsp hot oil and mix well.

crumble and mix well making sure the flour turns moist.

add water as required and start to knead the dough.


knead to a soft dough adding water in batches.

take the fine holes mould and grease the chakli maker.

stuff in ball sized dough into the press.

further, press and spread the sev in hot oil forming a circle in the oil and make sure you do not overlap.

fry until it turns golden and crisp.

drain over kitchen paper to absorb oil.

take the fried sev into a large bowl and crush gently to small pieces. keep aside.

in the same oil, fry 3 tbsp peanuts on low flame until it turns crunchy.

also, fry ¼ cup cashew and few curry leaves until it turns golden and crunchy.

drain off and transfer to the sev bowl.

now wipe off excess moisture from soaked dal using a kitchen towel.

fry in hot oil on medium flame.

stir and fry until the dal turns crunchy. it takes approximately 10 minutes.

drain off the dal over kitchen paper to remove excess oil.

transfer the fried masoor dal to the same bowl.

add in ½ tsp chilli powder, ¼ tsp turmeric, 1 tsp chaat masala and ½ tsp salt.

mix gently, making sure all the spices are well combined.

finally, enjoy bombay mixture with evening chai.

notes:
firstly, you can also prepare boondi and add to the mixture.
also, make sure to add spices when the mixture is hot. else it will be difficult to absorb the flavours.
additionally, you can add dry fruits of your choice to make it more nutritious.
finally, bombay mixture recipe tastes great when prepared with fine sev.