suji snacks recipe | twister sooji snack | suji ke snacks | tea time sooji snack with detailed photo and video recipe. an easy and interesting savoury snack recipe made with semolina and dry spices. it is an ideal tea-time snack recipe known for its savoury taste and also twisted and rolled appearance. the snack can also be served as a side dish to the choice of rice and curries like sambar, dal and rasam variations.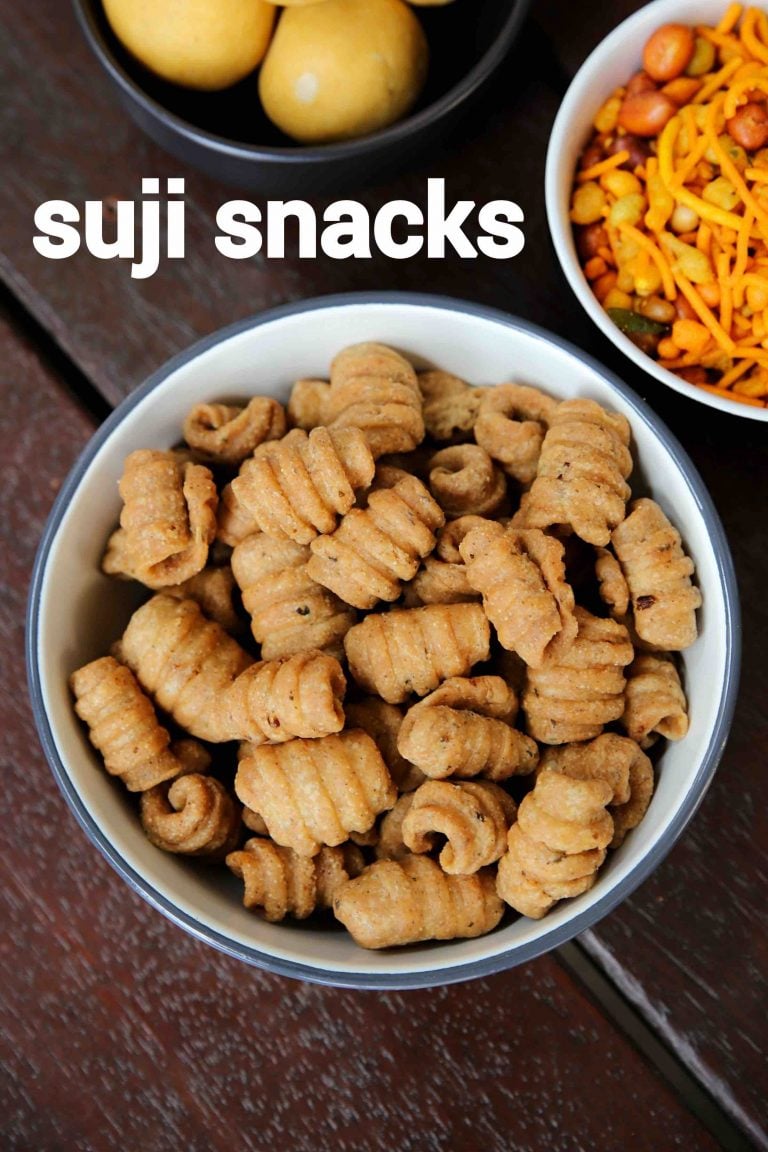 suji snacks recipe | twister sooji snack | suji ke snacks | tea time sooji snack with step by step photo and video recipe. savoury snack recipes are an essential part of many indian households. generally, it is either made and served as a munching snack with a cup of tea or coffee or to be shared with friends and family. one such crisp and tasty snack recipe is twister sooji snack known for its shape and crisp taste.
i am a huge fan of crispy snacks and i often make its large quantity and store it in an airtight container. my husband likes to munch some snacks with a cup of tea after he finishes his office works. moreover, he likes to have mixed variation and hence i typically look for multiple options and wish to stack it. i recently came across this recipe of simple suji snacks in our local indian grocery store. initially, i was surprised with its shape and the crispiness it had to offer but i was more surprised when i checked the ingredients list. i even was under the impression, that i must require some complex tools to make it, but it is done with a simple fork. hence it is something achievable by most of them.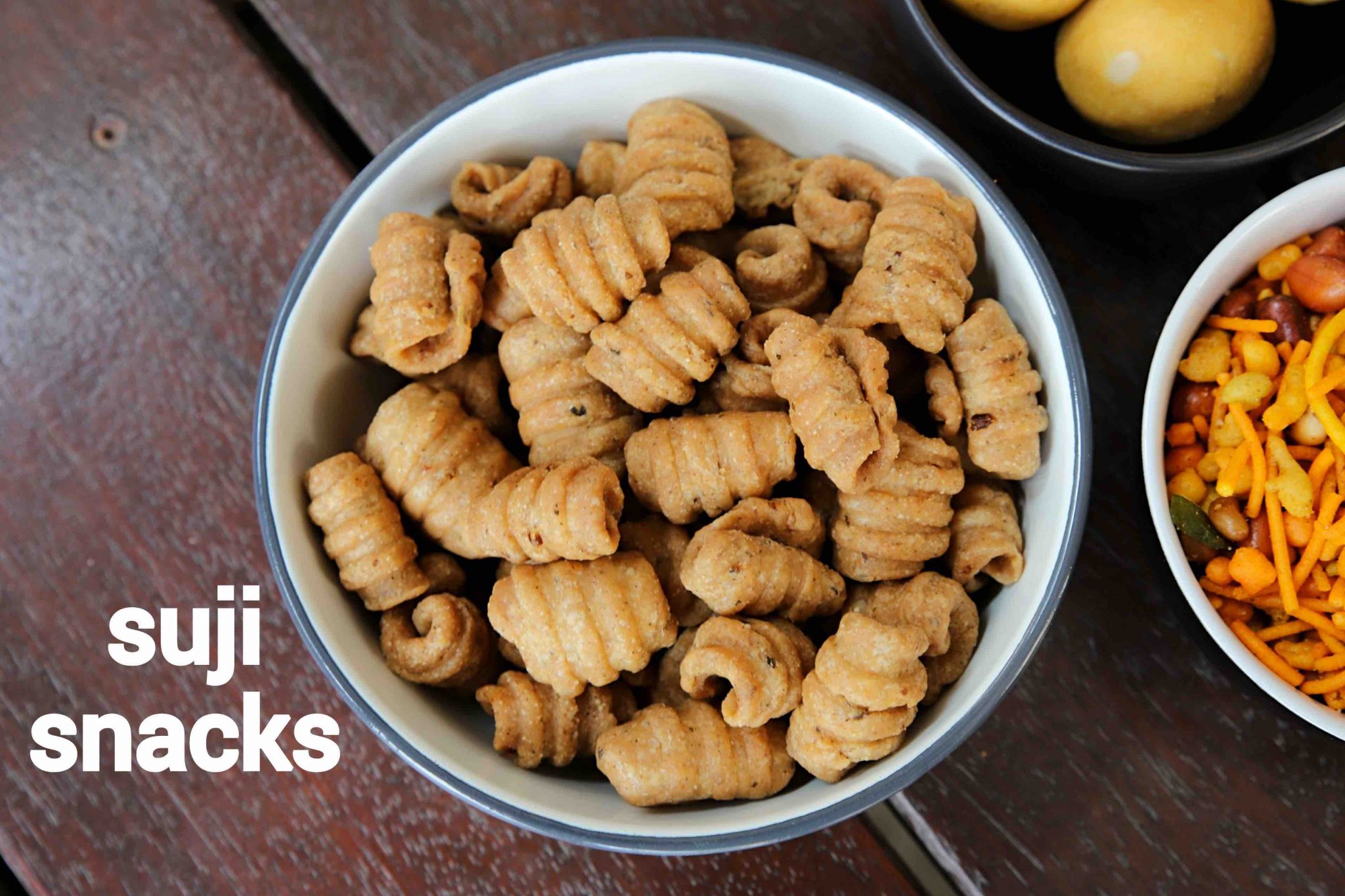 furthermore, before wrapping it up, some tips, suggestions and variations for a perfect suji snacks recipe. firstly, in this recipe, i have used fine or smooth semolina so that it can be easily shaped as per the preference. hence do try to attempt this recipe with other variants of semolina like bombay or bansi rava. secondly, try to keep the size small and do not attempt to roll it with more than 2 layers. if it has more than 3 layers it would not cook inside the roll and may stay raw. lastly, store these in an airtight container for longer shelf life. moreover, while you are deep-frying, keep the flame in low and also deep fry in small batches.
finally, i request you to check my other snacks recipes collection with this post of suji snacks recipe. it mainly includes my other deep-fried snacks like batata vada, cabbage vada, vegetable nuggets, kat vada, paneer pav bhaji, poha vada, chilli parotta, veg pakora, mullu murukku, bread balls. further, to these, i would also like to highlight my other similar recipes collection like
suji snacks video recipe:
recipe card for twister sooji snack recipe:
how to make suji snacks with step by step photo:
firstly, in a large bowl take 1½ cup rava. make sure to take fine rava.

add ½ tsp pepper powder, ½ tsp chilli flakes, ½ tsp chaat masala, 1 tsp kasuri methi, ½ tsp salt and 2 tbsp oil.

mix well making sure the flour is moist.

now add ½ cup water or as required and start to knead the dough.


knead to a smooth and soft dough adding water as required.

now grease the dough with a tsp of oil and rest for 20 minutes.

knead the dough again making sure the suji has absorbed water and dough is soft.


pinch a small ball sized dough and roll to cylindrical.

press it on back of fork and roll gently forming a spiral shape.

deep fry the snack in hot oil keeping the flame on medium.

stir occasionally, frying uniformly on all sides.

fry until the suji snack turns golden and crisp.

finally, enjoy suji snacks with hot tea or store in an airtight container for 2 weeks.

notes:
firstly, if you are using coarse rava make sure to pulse once in mixi. else it will be difficult to knead and form a dough.
also, adding oil in the dough helps to get a crispy snack.
additionally, you can adjust or vary the spices to your choice.
finally, suji snacks recipe tastes great when prepared slightly spicy.