poha fingers recipe | crispy poha & potato fingers | beaten rice fingers with detailed photo and video recipe. an easy and simple deep fried snack recipe made with beaten rice and boiled potatoes. it is an ideal snack recipe, which is not only attractive to look, but also offers a burst of flavours. it can be served as an evening snack with a cup of tea or coffee, but can also be served as party starters and appetiser with sides like tomato ketchup or green chutney.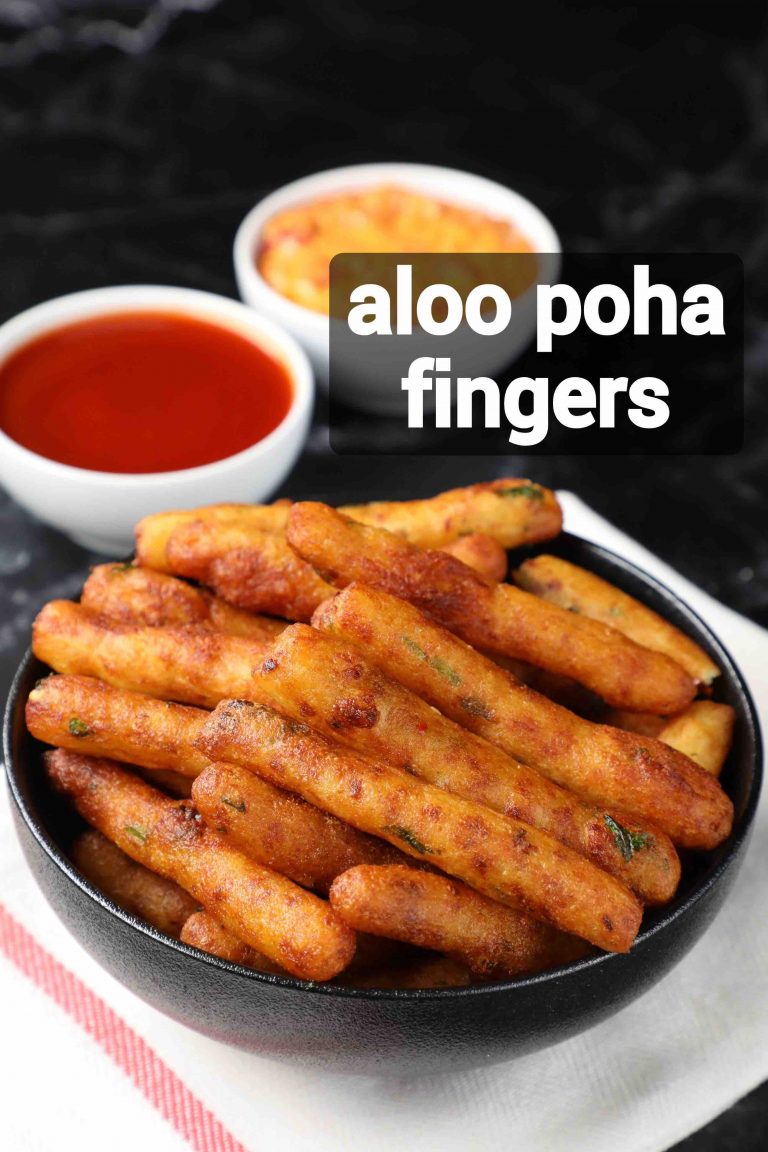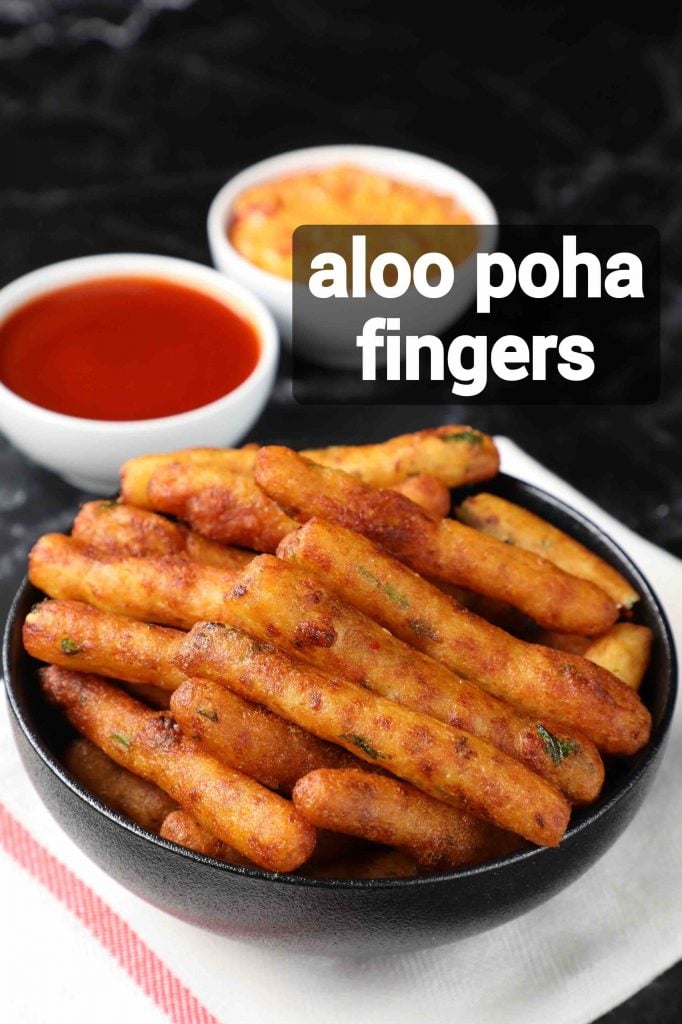 poha fingers recipe | crispy poha & potato fingers | beaten rice fingers with step by step photo and video recipe. finger snacks are one of the favourite snack recipes for kids. it is generally made with a choice of vegetables and served with different types of dips and sides. yet it can also be made with other ingredients and beaten rice or poha is one such ingredient to prepare the crispy poha fingers recipe.
i guess it has been a while, i have not posted kids friendly snack recipes. i have been getting a lot of email requests to post something unique, tasty, yet a simple kid's friendly snack recipe. i wanted something lite and crispy snack. so i thought of posting a poha or beaten rice-based snack recipe. beaten rice when combined with starchy potatoes, yields a crispy snack recipe. in addition, i have added plain flour which holds together and helps not to dissolve during deep frying. you may also add rice flour which should have the same effect but can make more crispy. however avoid corn flour as it makes crisp and porous, thus making more oily.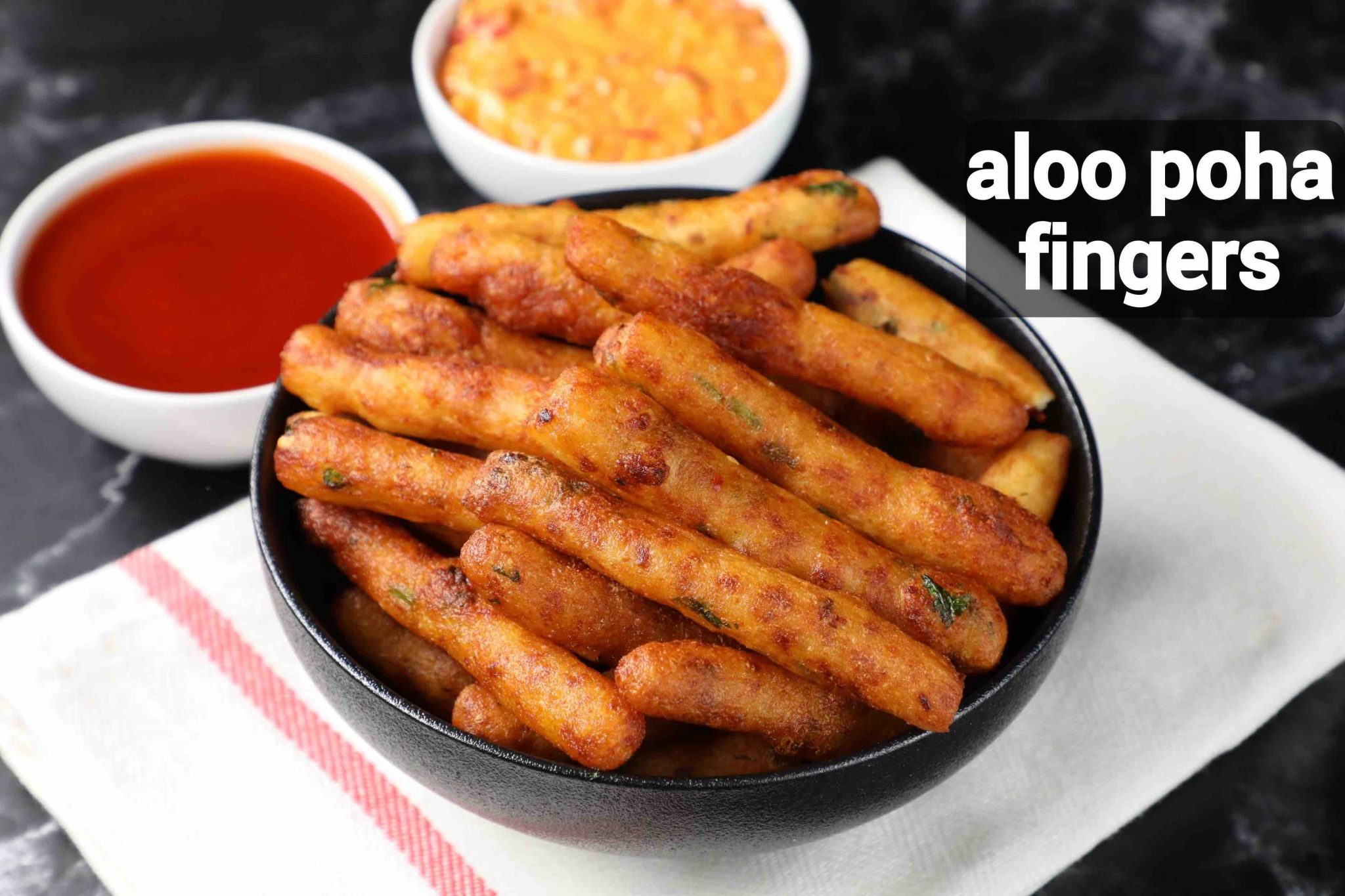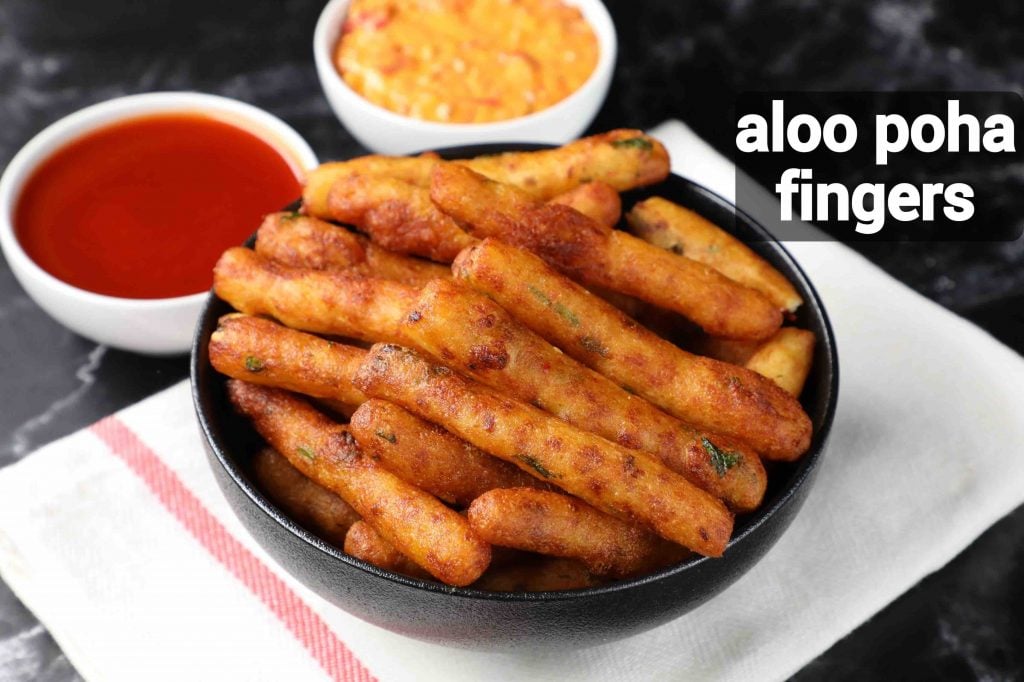 furthermore, before jumping into the recipe, some more tips, suggestions and variations to poha fingers recipe. firstly, i would heavily recommend to use thin or medium-sized poha or beaten rice for this recipe. avoid using thick poha as it may not turn into fine powder after blending. secondly, try to shape it like fingers as the name suggests. however, it does not add any taste of flavour, and you can have any desired shape for it. lastly, you may also apply a rava or semolina coating just before the deep frying. you may use coarse rava for it and it helps to hold the shape and also turn the fingers crunchy and crisp.
finally, i request you to check my other detailed snacks recipes collection with this post of poha fingers recipe. it mainly includes my other detailed recipes like poha vada, poha cutlet, poha pakoda, poha chivda, khara avalakki, potato fingers, kurkuri bhindi, gobi 65, verki puri, bread vada. further to these i would also like to mention my other recipe categories like,
poha fingers video recipe:
recipe card for crispy poha & potato fingers recipe:
how to make poha fingers with step by step photo:
firstly, in a small mixi take 1 cup poha and blend to a fine powder.

add 2 potato, 1 chilli, 2 clove garlic, ½ tsp mixed herbs, ½ tsp chilli flakes and ¼ tsp pepper powder.

also add 2 tbsp coriander, ½ tsp salt and mix well.

combine well forming a soft dough.


now add ¼ cup maida and combine well forming a dough. you can alternatively add rice flour or cornflour.

grease hands with oil, and pinch a ball sized dough.

roll to a rope thickness making sure it's uniform throughout.


cut to a 4 inch length or size of your choice.

deep fry in hot oil keeping the flame on medium.

stir using a stick to prevent from damaging.

fry until the fingers turn golden brown and crisp.

drain off over kitchen towel to remove excess oil.

finally, enjoy poha fingers with tomato sauce.

notes:
firstly, make sure to blend poha really fine, else it will be difficult to combine with aloo.
also, you can add cheese to the mixture to get a cheesy flavour.
additionally, deep fry on medium flame to prevent from burning.
finally, poha fingers recipe tastes great when served hot and crispy.