gobi 65 recipe | cauliflower 65 | how to make crispy gobi fry 65 with detailed photo and video recipe. an interesting crispy tea time snack recipe made with cauliflower florets and spices. it is interesting because of the name it carries and it is assumed that it got its name from a military canteen. it is an ideal party starter or appetizer with a lip-smacking taste and flavour promised in each gobi florets.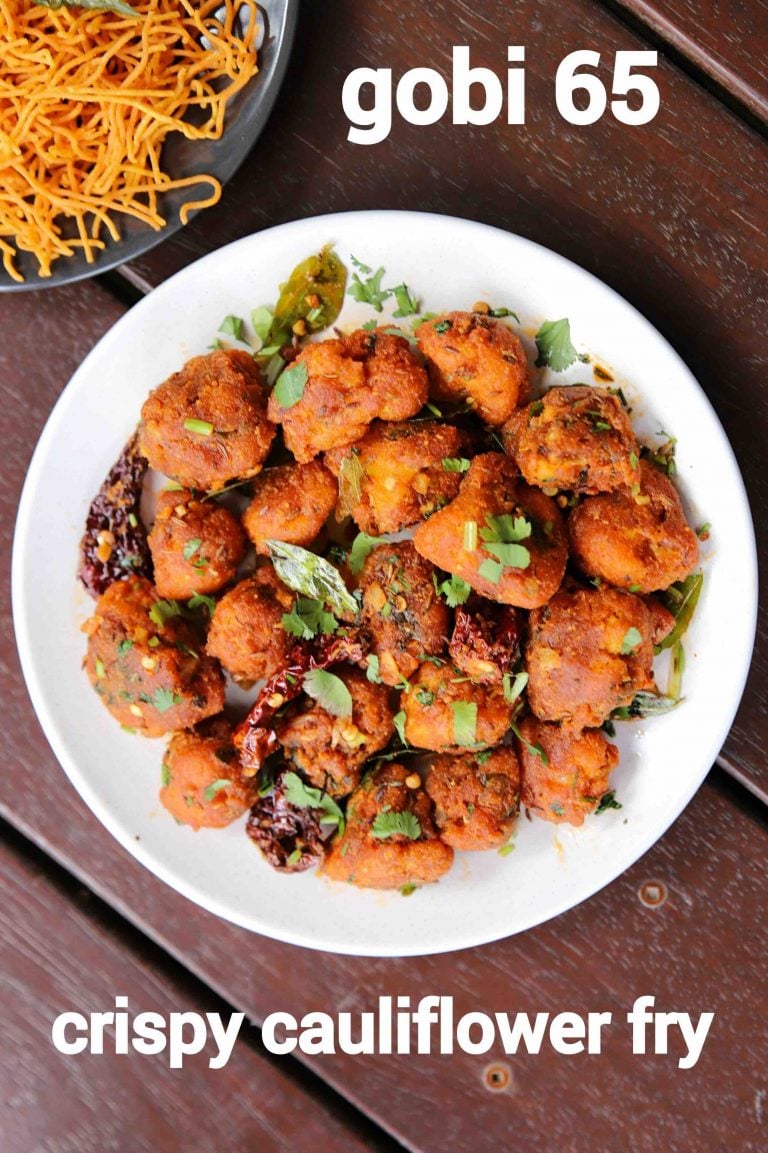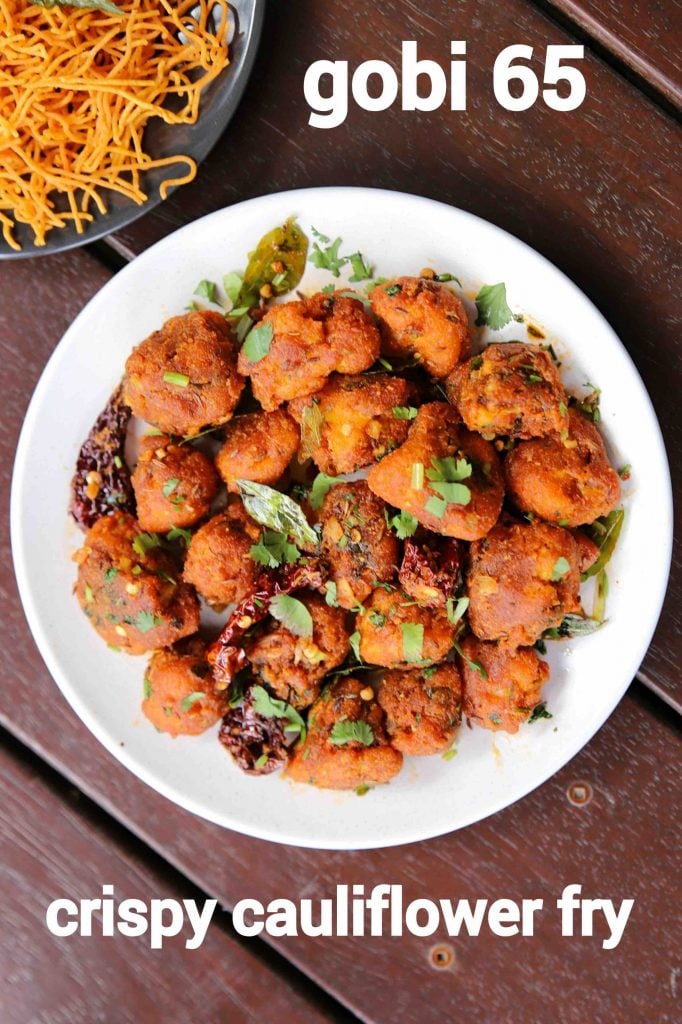 gobi 65 recipe | cauliflower 65 | how to make crispy gobi fry 65 with step by step photo and video recipe. gobi or cauliflower is a versatile vegetable and is used for different types of indian cuisine. the most common recipe derived from gobi is the sabzi or curry made on day to day basis. yet there are certain snack recipes made from it, and gobi 65 is one such unique and interesting snack recipe full of flavour.
as i mentioned previously, there is an interesting history about the name for this recipe. apparently the recipe was first started by a military canteen in tamilnadu. in the menu list, it was the 65th item and hence the name was derived as gobi 65 recipe. well that is one of the popular story floating around, but then there are other stories too. i personally like the way it is made and served. it has the crisp texture due to deep fry. at the same time, it is tossed with a spicy yogurt or curd sauce which would lower the temperature but adds a hint of moist to the snack. while tossing with the sauce is not a mandatory, but it helps add desi taste to it.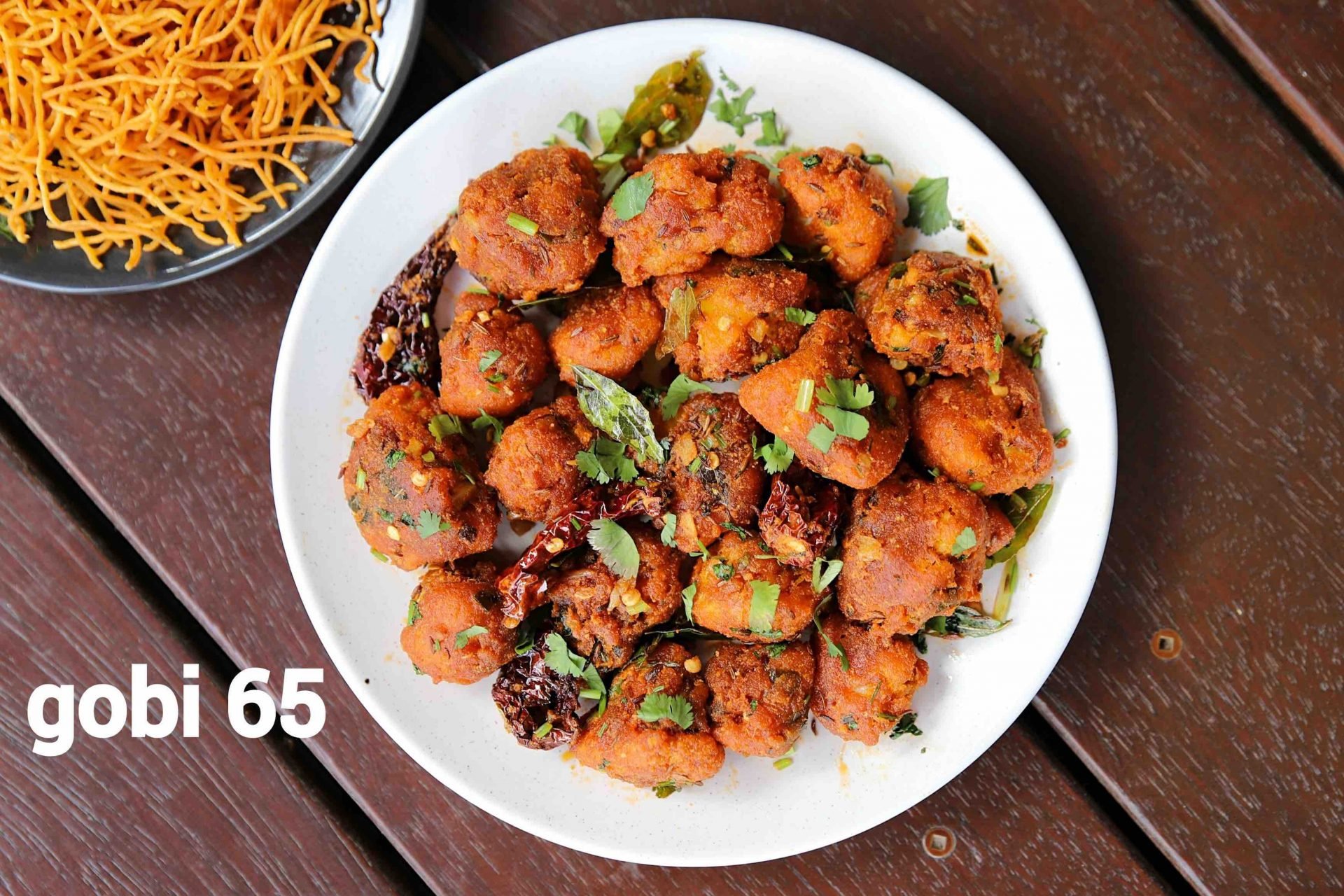 anyway, some of the critical and important tips, suggestions and variations for a perfect crispy gobi 65 recipe. firstly, i would heavily recommend using a fresh and tender cauliflower for this recipe. stale cauliflower may turn the gobi florets soggy and may not hold the crisp shape. secondly, i have used cornflour and rice flour to get the necessary crisp level, but this can be achieved with just rice flour too. but use it only when you do not have corn flour. lastly, due to the nature of the recipe, it has to be served immediately once it is tossed with yoghurt sauce. alternatively you can deep fry and keep it ready and toss it with the sauce when you are about to serve it.
finally, i would like to highlight my other street food recipes collection with this post of gobi 65 recipe. it mainly includes my other lip smacking recipes like cauliflower pakoda, gobi 65, gobi manchurian, gobi manchurian gravy, chilli gobi, mushroom 65, baby corn fry, paneer 65, bread 65, veg noodles. further to these i would also like to highlight my other recipes collection like,
gobi 65 video recipe:
recipe card for cauliflower 65 recipe:
how to make gobi 65 with step by step photo:
firstly, in a large bowl take 15 florets gobi and ½ tsp salt.

pour 4 cup hot water and allow to blanch for 5 minutes.

drain off the water and take blanched gobi in a large bowl.

add 2 tbsp curd, 1 tsp chilli powder, ¼ tsp turmeric, ½ tsp garam masala, ½ tsp coriander powder, 1 tsp ginger garlic paste and 1 tsp lemon juice.


also add few curry leaves, 2 tbsp coriander, 1 tsp oil and ½ tsp salt.

mix well and allow to marinate for 30 minutes.

now add ¼ cup cornflour and ¼ cup rice flour.


mix well coating flour uniformly.

deep fry in hot oil stirring occasionally.

drain off over kitchen paper once gobi turns crispy and golden.

to prepare tempering, heat 3 tsp oil and splutter ½ tsp cumin, 1 inch ginger, 2 clove garlic, 2 dried red chilli and few curry leaves.

keep the flame on low and add 1 tbsp curd, ½ tsp chilli powder and ¼ tsp salt.

saute well until it is well combined well.

add in fried gobi and mix well coating sauce uniformly.

finally, add 2 tbsp coriander and enjoy gobi 65 for an evening snack.

notes:
firstly, marinating paneer will give good flavour and makes it spicy.
additionally, to increase the spice level you can also add chilli.
furthermore, tempering is optional. however it adds a lot of flavours.
finally, gobi 65 recipe tastes great when prepared crispy and spicy.