gajar mooli ka achar recipe | carrot radish pickle | mooli gajar ka mix achar with detailed photo and video recipe. a popular spicy north indian condiment recipe made with thickly sliced carrot and radish vegetables. the spices used in this pickle are similar to any traditional indian pickle recipe but has the extra flavour of radish and carrot in it. it tastes amazing when served with choice of dal and sambar rice recipe, but can also be served with roti or paratha.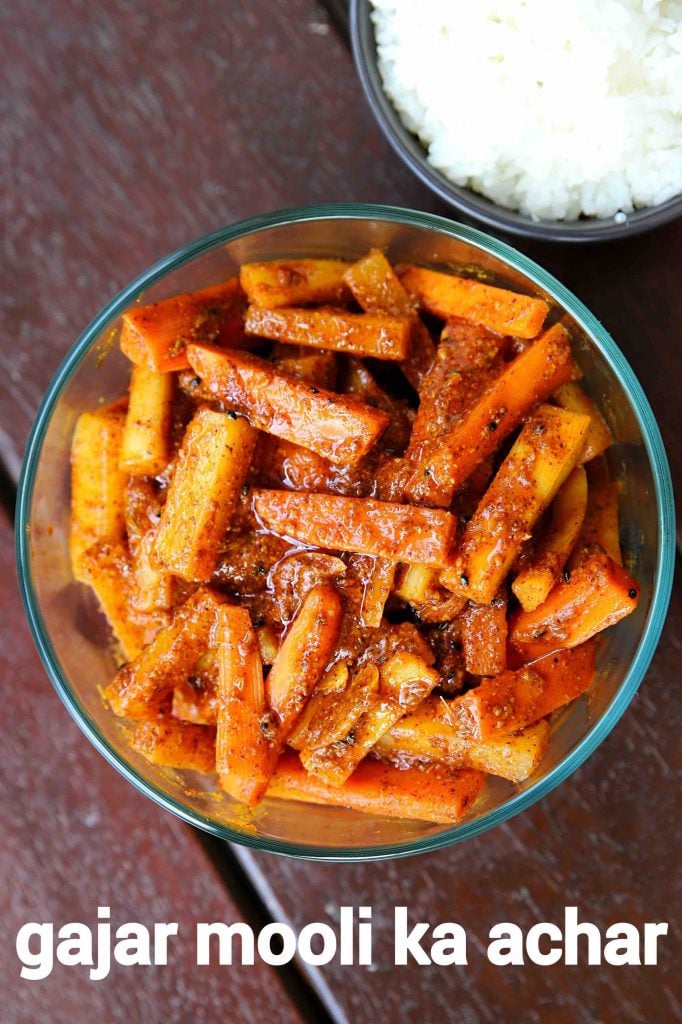 gajar mooli ka achar recipe | carrot radish pickle | mooli gajar ka mix achar with step by step photo and video recipe. pickle or achar recipe is very common across india and is made with different types of vegetables. the most common veggies used are mangoes and limes which has an abundant source of sourness and flavour in it. yet it can be made with other locally available vegetables and carrot radish pickle is one such combination from the north indian cuisine.
as i explained earlier, the most common pickle recipes are raw mango, lime and green chillies. there is a significant advantage of using these veggies for such pickle recipes. basically these veggies are either sour or spicy in behaviour. thus makes it an ideal hero ingredient for pickle recipes. pickle recipes are just concentrated dips or condiments which are used as a taste enhancer for any meal. in addition to these flavours, the pickle masala includes string flavour of black mustard in it. basically, when the mustard powder is mixed with red chilli powder, it gives a unique aroma which is the fundamental flavour of many pickle recipe. there are certain pickle recipes which do not require mustard powder but essential for many.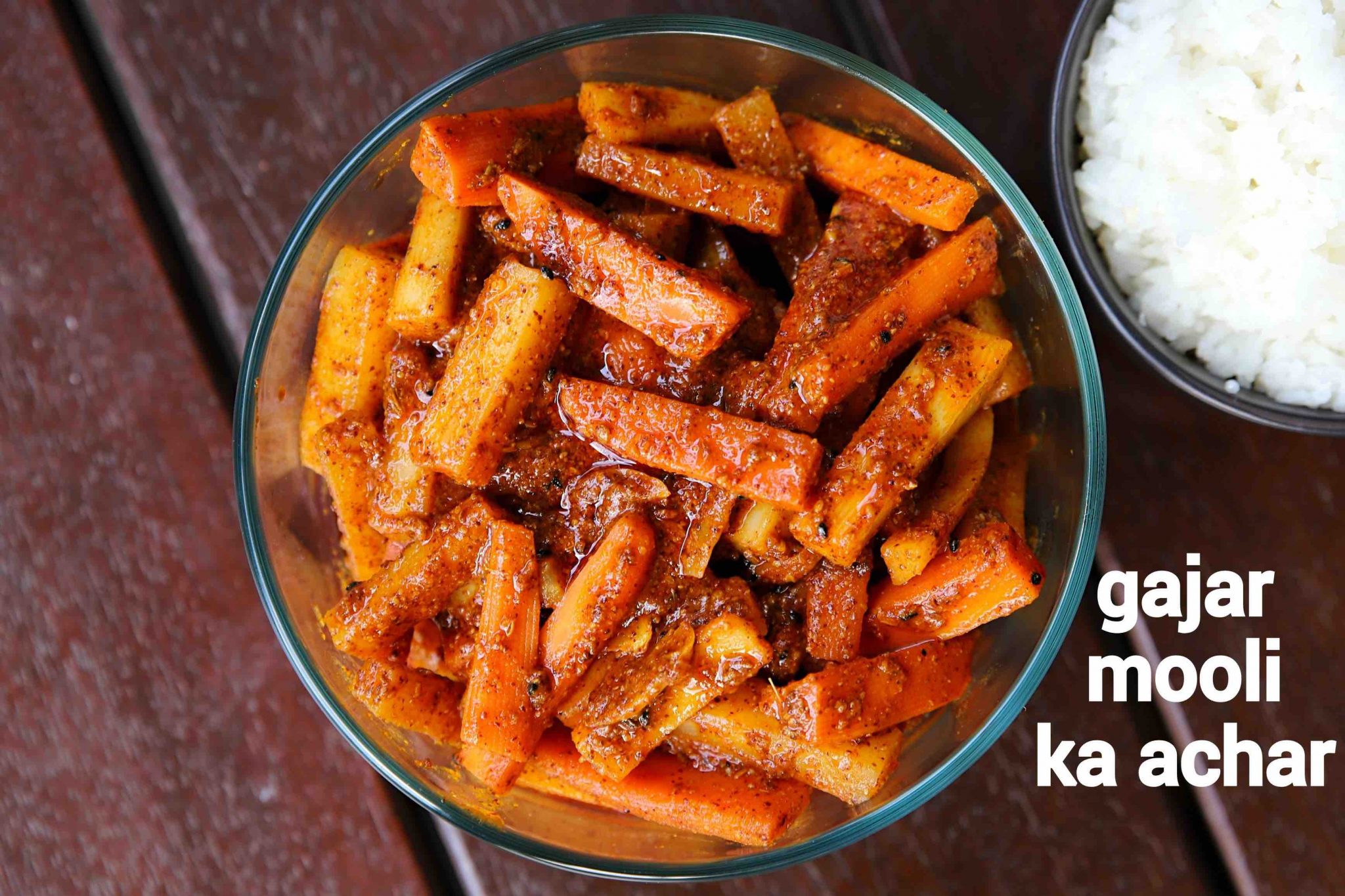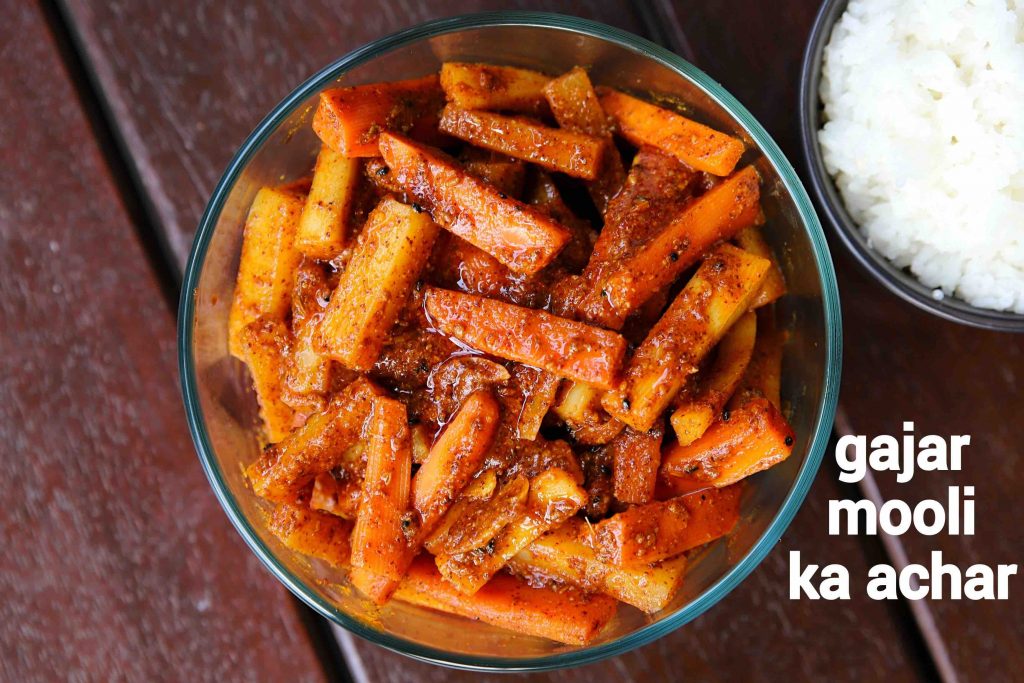 furthermore, i would like to add few tips, suggestions and variations for a perfect mooli gajar ka mix achar. firstly, the slices of radish and carrots have to be thin and preferably lengthwise. this not only looks visibly appetite but also helps to cook the veggies quickly. secondly, this recipe is an instant version of carrot radish pickle, but you can also make it with the traditional approach. you may have to pickle the veggies first with just vinegar and salt. once it is ready mix with pickle masala to make it spicy. lastly, once the pickle is ready, store it in a dry and moisture-less place. moreover, use a dry spoon while scooping out the pickle on day to day basis.
finally, i would like to highlight my other indian pickle recipes collection with this post of gajar mooli ka achar recipe. it mainly includes my other recipes like sirka pyaz, carrot pickle, red chilli pickle, tomato thokku, garlic pickle, mango pickle, chilli pickle, lemon pickle, tomato pickle, amla pickle. it mainly includes my other similar recipes collection like,
gajar mooli ka achar video recipe:
recipe card for gajar mooli ka achar recipe:
how to make carrot radish pickle with step by step photo:
firstly, in a pan take 1 tbsp mustard, 1 tsp cumin, 1 tsp coriander seeds, ½ tsp fennel, ¼ tsp ajwain and ½ tsp methi.

dry roast on low flame until the spices turn aromatic.

cool completely and blend to a coarse powder. pickle masala is ready, keep aside.

in a large kadai heat ¼ cup oil and add pinch hing, ½ tsp kalonji. use mustard oil for authentic flavour.


also add 1 inch ginger, 2 clove garlic and 2 chilli. saute slightly.

further, add 1½ cup radish, 1½ cup carrot and stir fry for a minute.

stir fry until the radish and carrot shrink slightly.


keeping the flame on low add prepared pickle masala, 1 tbsp chilli powder, ½ tsp turmeric, ½ tsp aamchur and 1 tbsp salt.

mix well making sure everything is well combined.

now turn off the flame and add 3 tbsp vinegar. vinegar gives sourness and also acts as a preservative.

mix well making sure everything is well combined.

finally, enjoy gajar mooli ka achar immediately or store in an airtight container and enjoy for a week when refrigerated.

notes:
firstly, make sure to saute radish and carrot slightly, as it should still have the crunchiness.
also, since we are not keeping the pickle in the sun, it needs to be refrigerated for longer shelf life.
additionally, adjust the amount of salt depending on the spiciness.
finally, gajar mooli ka achar recipe tastes great when served after 1 day.