lapsi recipe | fada lapsi recipe | gujarati fada ni lapsi recipe with detailed photo and video recipe. a traditional and a classic dessert recipe made from wheat grain and jaggery. the recipe hails from the popular gujurati cuisine, but also extremely popular in rajasthana and maharashtra. it is typically served as a dessert at the end of the meal, but not limited to and can be served as a snack or welcome sweet to guests.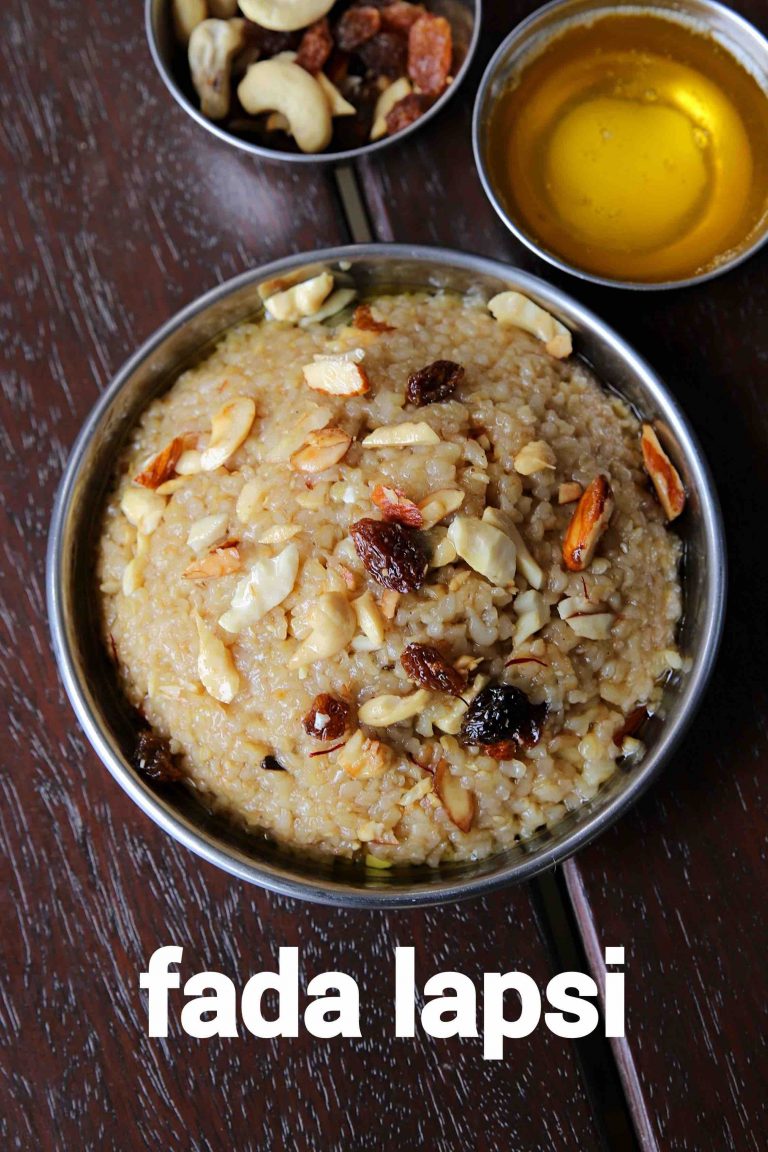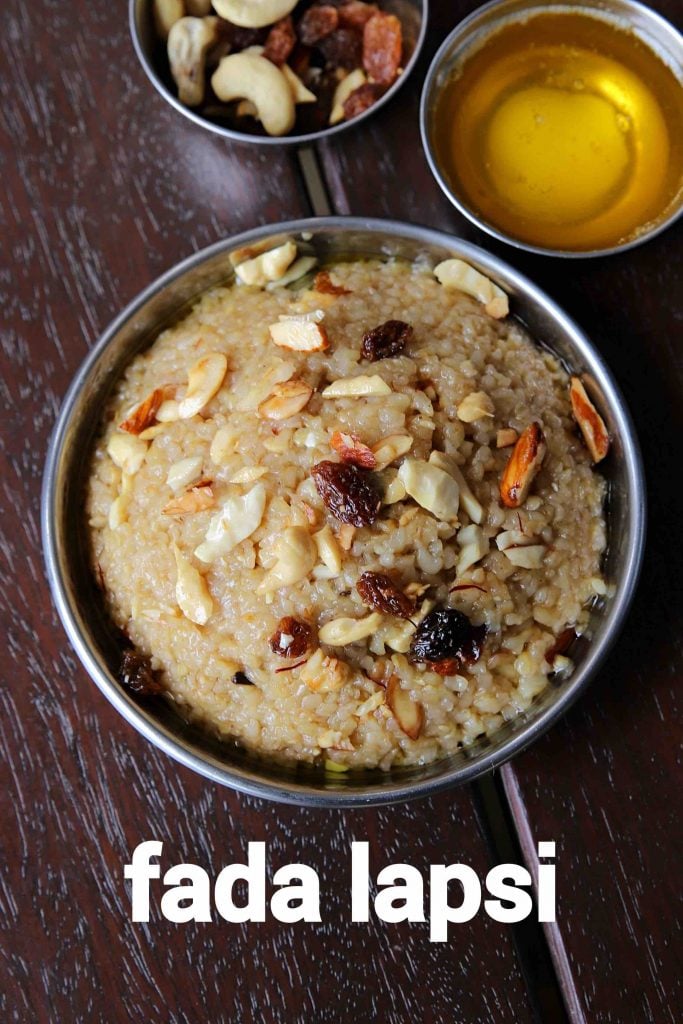 lapsi recipe | fada lapsi recipe | gujurati fada ni lapsi recipe with step by step photo and video recipe. gujurati cuisine are synonymous with sweet and dessert recipes it has to offer. typically these are made with plain flour, besan flour and sugar for the sweetness. but there are other type and form of healthy sweets which make the list complete. one such healthy wheat-based sweet is fada lapsi recipe known for its texture.
as i mentioned earlier, it is one of the healthy sweets compared to many other sugar-based sweets from the same gujurati cuisine. this is due to the use of raw jaggery or unprocessed sugar with wheat grains. it makes a healthy combination with full of glucose and carbohydrates in each bite. having said that, it is still not recommended for diabetic patients and should avoid this sweet. in addition to the health aspects, the recipe is extremely simple to make and only requires 2 main ingredients. hence it is generally made during the festival season and served at the end of the meal.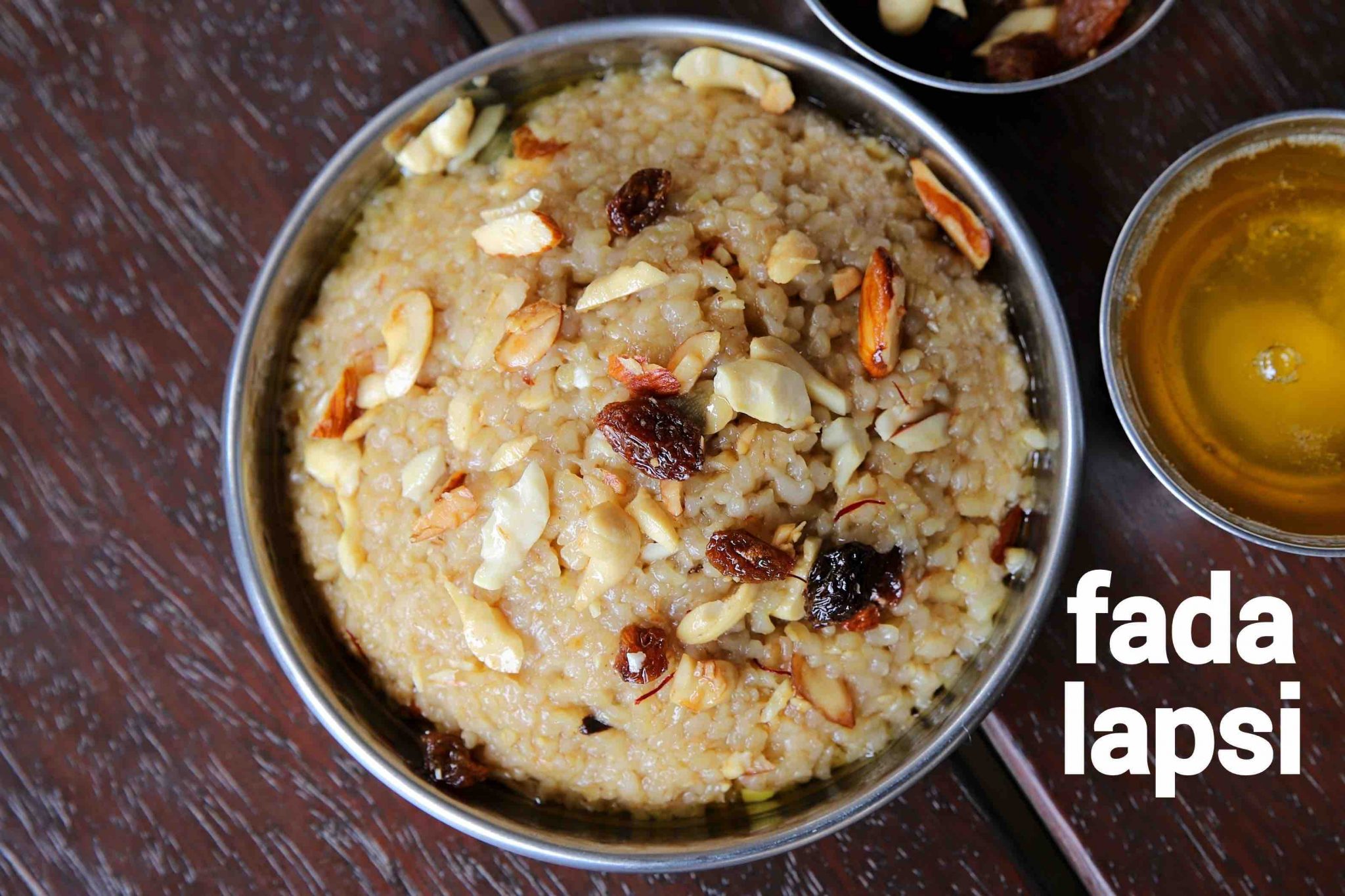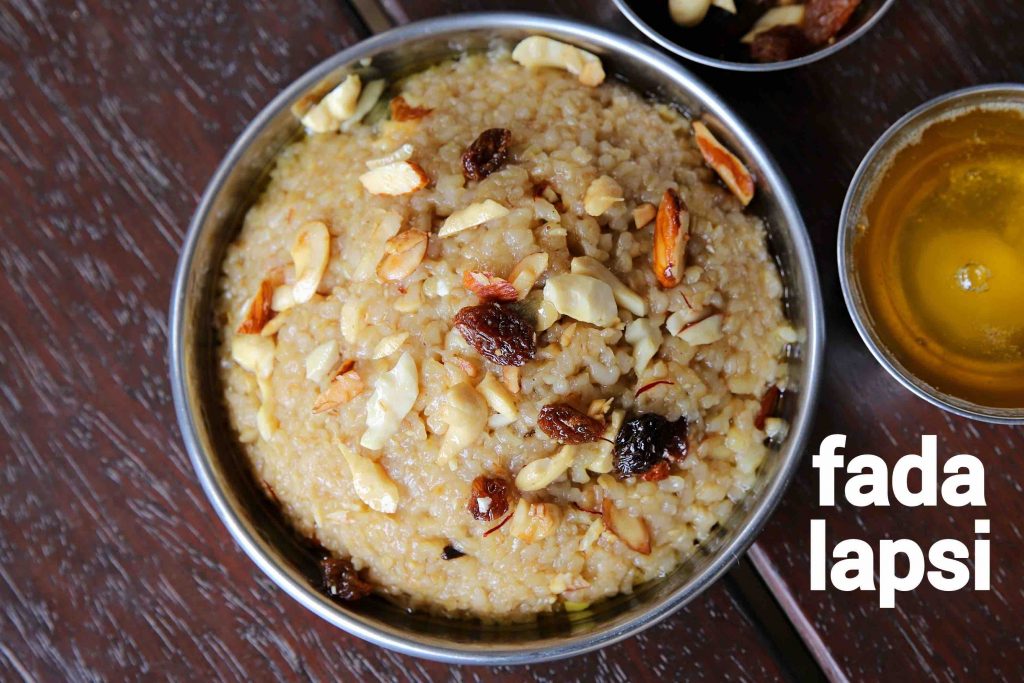 further to these some more important tips, suggestions and variations to the fada lapsi recipe. firstly, i have used a pressure cooker to cook the broken wheat to hasten the cooking process. it also makes it a one-pot meal, but if you do not have a pressure cooker, you can use a deep pan to cook it. secondly, the traditional way to make this dessert is with jaggery. yet you can experiment the recipe with white sugar which should make it tastier but less healthy. lastly with respect to the dry fruits, added as a topping you can experiment with the choice of dry fruits. but do not miss the raisins, cashew and almonds with it.
finally, i request you to check my other detailed dessert recipes collection with this post of fada lapsi recipe. it mainly includes my other recipe variation like, chana dal payasam, ashoka halwa, apple kheer, chocolate custard, bread malai roll, fruit cocktail, mango popsicles, gadbad ice cream, mango custard, beetroot halwa. further to these i would also like to highlight my other recipes collection like,
lapsi video recipe:
recipe card for fada lapsi recipe:
how to make lapsi with step by step photo:
firstly, in a pressure cooker heat 3 tbsp ghee and saute ½ inch cinnamon, 2 pods cardamom and 2 cloves until it turns aromatic.

now add ½ cup daliya and roast on low flame.

roast for 5 minutes or until the daliya turns aromatic.

further, add 2 cup hot water and mix well.


cover and pressure cook for 5 whistles or until daliya are cooked completely.

open the cooker and add ¼ cup jaggery and ½ cup water.

mix well making sure the jaggery melts completely.


cook for 5 minutes or more until the jaggery thickens slightly.

now in a small kadai heat 1 tbsp ghee and add 2 tbsp cashew, 2 tbsp almonds and 2 tbsp raisins.

roast until the nuts turn golden brown.

add in roasted nuts and ¼ tsp cardamom powder. mix well.

finally, enjoy fada lapsi garnished with chopped nuts and kesar.

notes:
firstly, if you are cooking lapsi in open kadai then make sure to soak for at least 30 minutes.
also, add dry fruits at the end to retain the crunchiness.
additionally, you can replace jaggery with sugar if you are not comfortable.
finally, fada lapsi recipe tastes great when cooked with fresh homemade ghee.