mango jelly recipe | mango halwa recipe | mango coconut jelly with detailed photo and video recipe. a popular creamy and tasty jelly or halwa recipe made with mango pulp and cornflour. the recipe is known for its wobbly and bouncy texture which is made without gelatine and agar-agar. the recipe is very similar to the cornflour halwa or bombay karachi halwa where corn flour is used to achieve the halwa shape or the famous wobbly texture.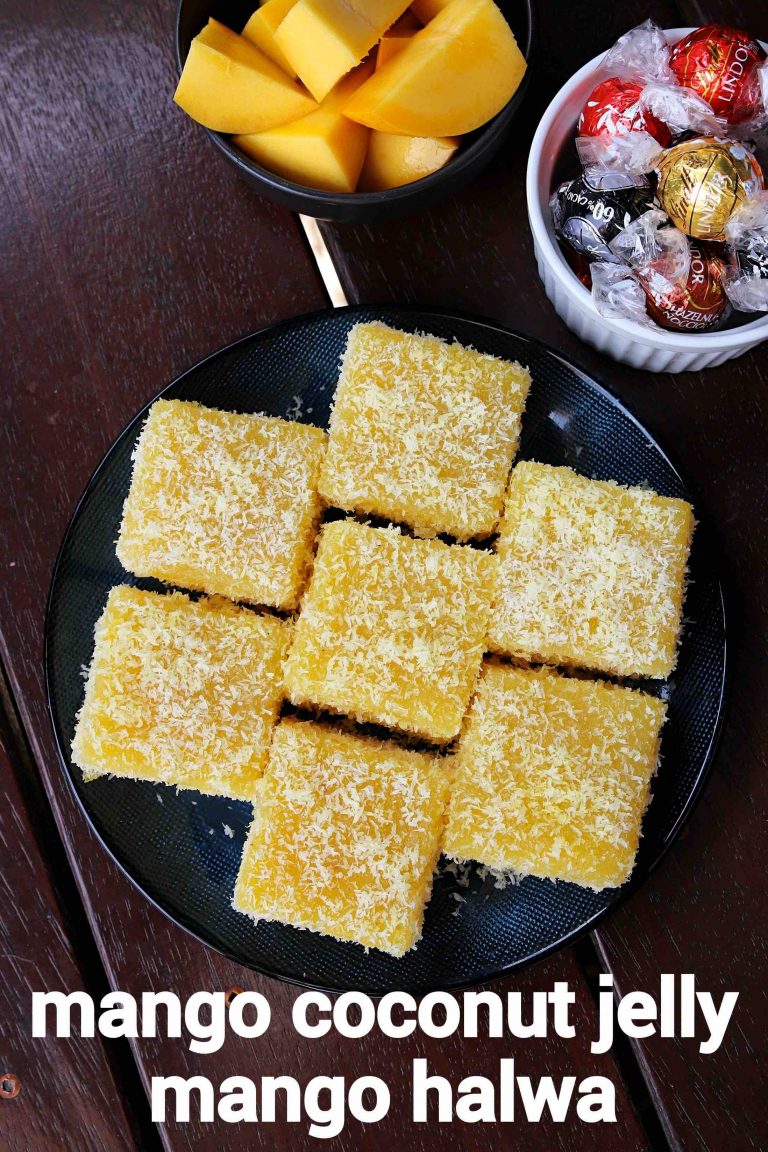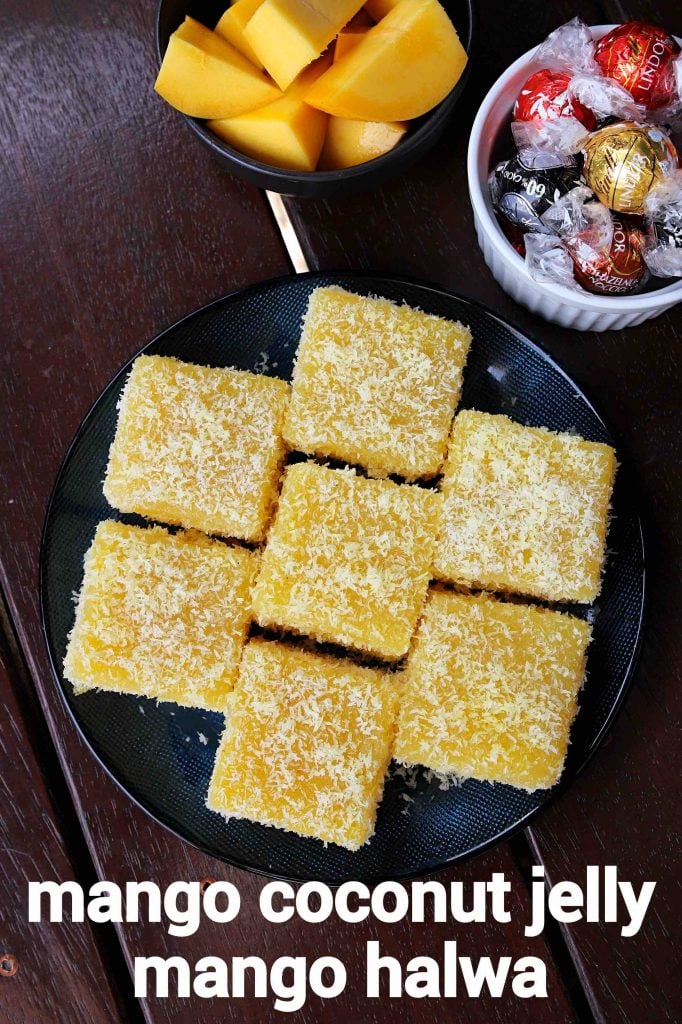 mango jelly recipe | mango halwa recipe | mango coconut jelly with step by step photo and video recipe. halwa recipes are ultra-popular across india and are made with different types of ingredients, vegetables and fruits. the south indian generally make it with fruit, grains or vegetables. whereas north indian make it with flour like besan or plain flour. however, this recipe of mango halwa is unique and has a fusion of both the cuisine flavour and texture.
as i mentioned earlier, the recipe is very similar to my previous post of bombay karachi halwa. as a matter of fact, the only difference between the mango halwa and karachi halwa is the use of mango pulp to flavour this recipe. otherwise, both recipes are made with cornflour and sugar syrup which helps to get the wobbly texture. generally for any jelly recipes, gelatine and for vegetarian it is agar-agar is the main source to get the jelly texture. however, the cornflour or corn starch can also be used for the same purpose and gives the same texture when mixed with sugar syrup. i personally like this way of making any jelly dessert rather than the other two options. even though the agar-agar is a vegetarian alternative, but can be very difficult to find in any indian grocery stores. hence corn starch can be an economical and thrifty option.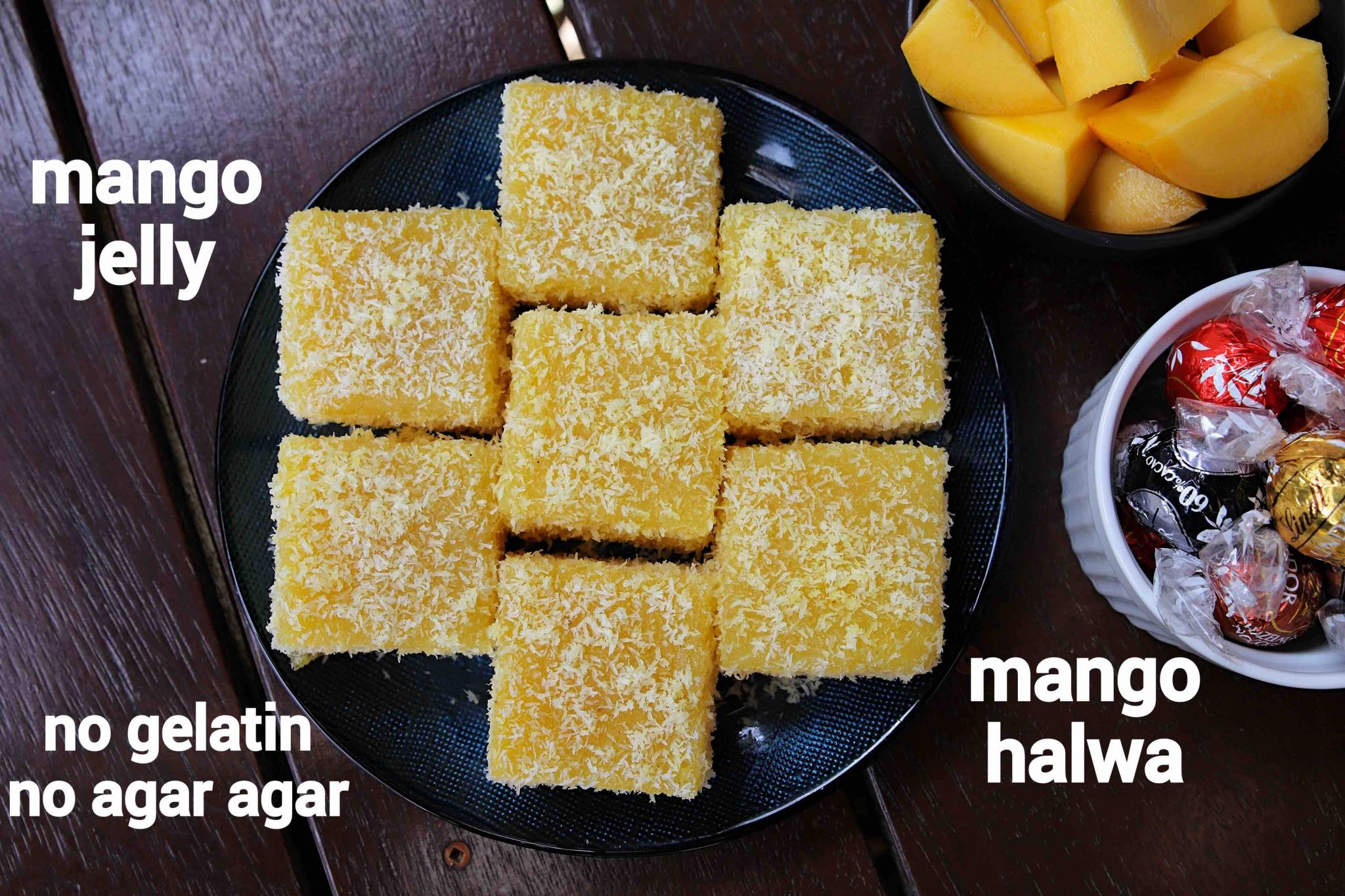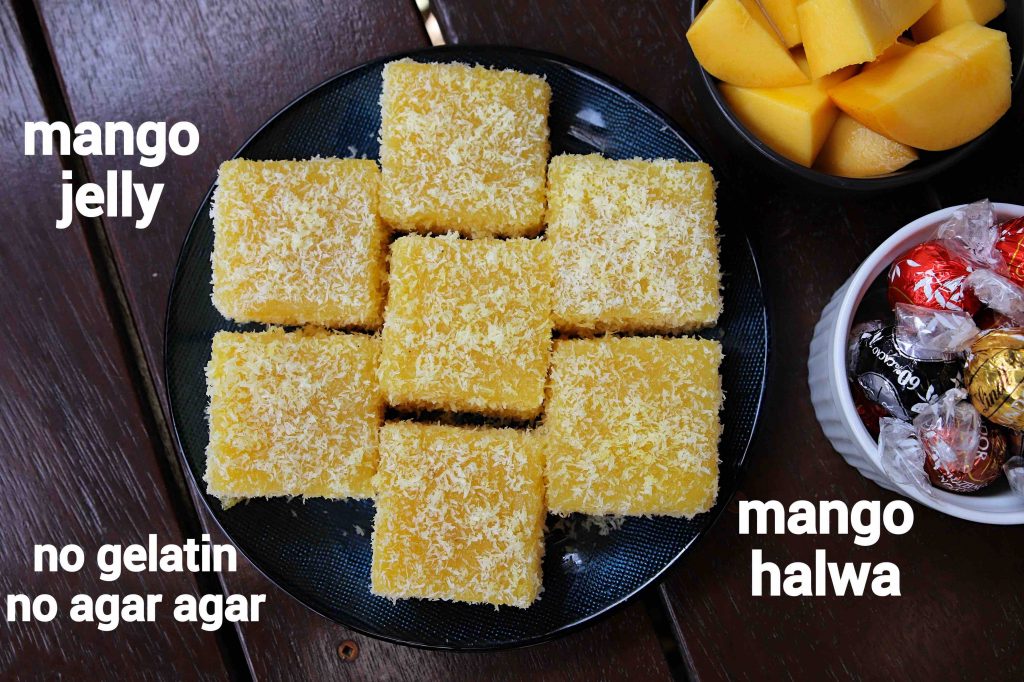 furthermore, before wrapping up some important tips, suggestions and variations for a perfect tasty mango jelly recipe. firstly, i would recommend using sweet and fully ripe mangoes for this recipe. avoid any sour and sweet combo mangoes as it would need more sugar to balance the taste. secondly, adding desiccated coconut is purely optional and you can skip if you do not like to. additionally, you can coat with other flavouring agents like chocolate powder, chopped dry fruits or sugar mints. lastly, once the jelly is made, store it in a cool and dry place so that it holds its shape. preferably store it in refrigerator and avoid near the gas stove or any heat-based cooking utensil.
finally, i request you to check my other dessert recipes collection with this post of mango jelly recipe. it mainly includes my other similar recipes collection like lapsi, chana dal payasam, ashoka halwa, apple kheer, chocolate custard, bread malai roll, fruit cocktail, mango popsicles, gadbad ice cream, mango custard. further to these i would also like to mention my other recipe categories like,
mango jelly video recipe:
recipe card for mango jelly recipe:
how to make mango halwa with step by step photo:
firstly, in a blender take 350 grams mango and blend to smooth puree. you can also use store brought mango pulp.

transfer the mango pulp to a large bowl.

add ½ cup cornflour and 1 cup water.

whisk and mix well making sure everything is well combined without any lumps. keep aside.


in a large kadai take ¾ cup sugar and 1 cup water.

stir and dissolve the sugar completely.

now add in the prepared mango cornflour mixture and stir continuously.


stir on low to medium flame until the mixture starts to thicken slightly.

add a tbsp of ghee and continue to stir until the mixture absorbs all the ghee.

further, add a tbsp more ghee and starts to mix continuously in batches.

after 30 minutes the mixture will start to turn glossy absorbing almost 4 tbsp of ghee.

now add 2 tbsp more ghee and ¼ tsp cardamom powder.

mix well until the ghee starts to release from sides. it takes almost 40 minutes to cook completely.

now transfer the halwa mixture to a greased pan and level it up.

rest for 2 hours or until it cools completely.

unmould the jelly and cut into desired shapes.

also roll into desiccated coconut for extra flavour.

finally, enjoy mango jelly or mango halwa for a week.

notes:
firstly, make sure to add ghee in batches and stir continuously to avoid any lump formation.
also, the resting time can be reduced by refrigerating for 30 minutes.
additionally, you can add dry fruits of your choice to have a crunchy bite.
finally, mango jelly recipe tastes great when prepared super soft.